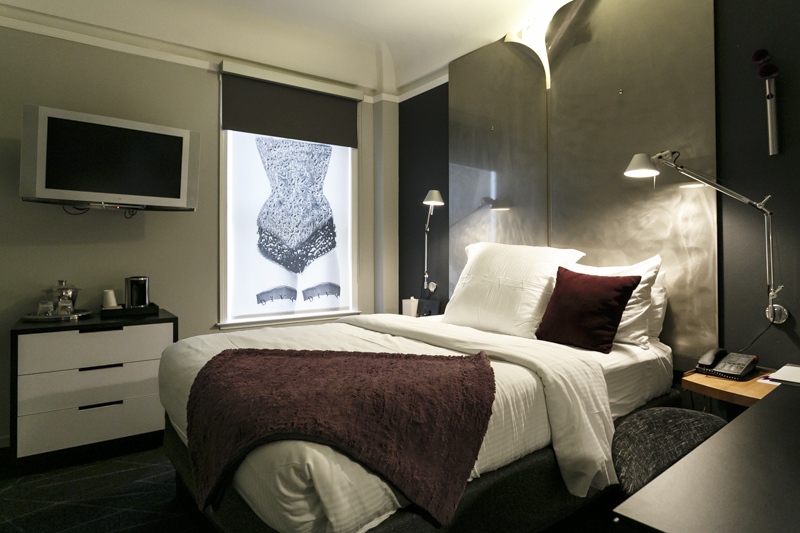 As you probably know by now, when it comes to travelling I like to feel like I have the inside scoop. There's nothing that makes me feel more like a cookie-cutter-tourist than staying where everyone else stays and eating where everyone else eats.
That's why I was so delighted to find Hotel Diva, in downtown San Francisco. It's in Geary Street, only a few blocks from both Union Square and Market Street, but it feels like something of a hidden gem. Step inside and you're treated to a glass of sake and a giant glass bowl full of navy-blue (plum) jelly beans. That's a good indivation of what's to come. It's a fashionable hub outside, with every big name brand you can imagine within walking distance, and a fashionable hub inside with cool grey and white rooms decorated with large black and white diva-esque prints on window blinds (think classy larger-than-life torsos of women in garters).
There's a touch of quirky to the hotel, too – the mirrors peel off the walls and the floor to ceiling steel headboards reveal hidden wall lights; the lifts are blue-lit and there are themed lounges on almost every floor, for when you're looking to unwind. My favourite was the Perrier lounge, complete with a chandelier of cascading glass bubbles and a swinging bubble chair. See what I mean about it being a hidden gem?
Although there are over 100 rooms at Hotel Diva, there's such a personal feel to the boutique hotel that it feels much smaller. This was our first stop in San Francisco, so we had one million questions for the concierge (everything from 'Where are we?' to 'Do you have a map?' to 'How do we get around?'). Every question was answered as if it was the first time it had been asked – a courtesy I really appreciate.
Hotel Diva gave us the space to explore San Francisco as if we'd been there much longer than just a few hours… And helped me feel anything but a cookie-cutter-tourist!
Images credit: Mark Peddle