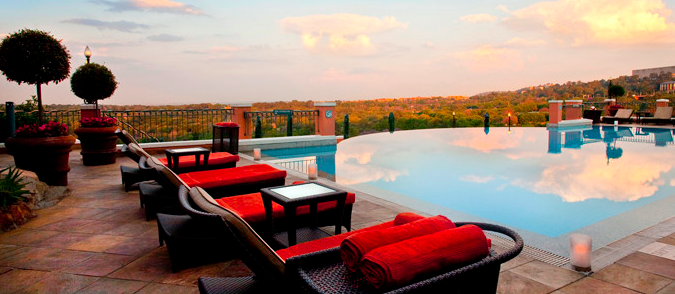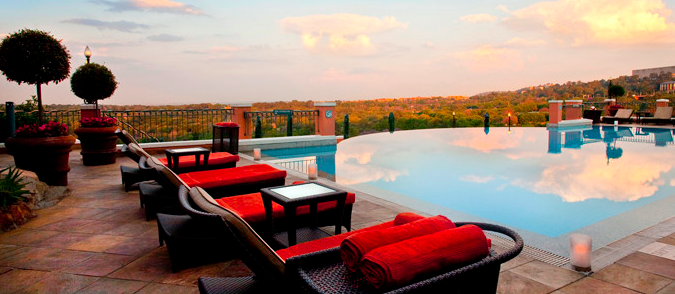 There really is no better way to end off a busy day in Joburg than with sundowners at The Westcliff Hotel – trust me on this one.
For starters, you will feel terribly la di da (that's fancy, for the uninitiated!) because The Westcliff is one of the most beautiful hotels in Joburg. But that's not (really) what sets it apart. What sets it apart is the view: an endless expanse of trees that serve as a reminder that Johannesburg is the city with the most trees in South Africa. Strange but true – there are over 10 million trees in the city of Johannesburg.
But back to that view. Looking out over the perfectly flat shimmer of swimming pool, you can gaze at a 180 degree view of Joburg that is rarely seen from any other vantage point. From here, the city looks small, and manageable. You wouldn't think it was the hub of business and money-making in South Africa. You would just think it was a particularly pretty – and tree-filled – city.
Of course, this isn't the only reason I love The Westcliff for sundowners. The drinks themselves are pretty wonderful – an exhaustive list of cocktails (many of them created specifically for The Westcliff), perfectly blended gin and tonics and of course all the usual wines and beers, served with impeccable service and delicious snacks… What's not to love?
If you want to end off your day in Joburg feeling like you've not only conquered the world, but also the city, head over to The Westcliff for sundowners. The Conservatory and Pool Bar is my personal favourite, but there's also the Polo Bar if you prefer being indoors. It's probably a good idea to book, because this is one of those hidden secrets that is only hidden from visitors. But it is a simply spectacular way to end off any day…
Cheers!