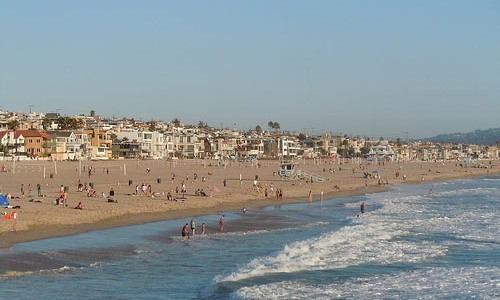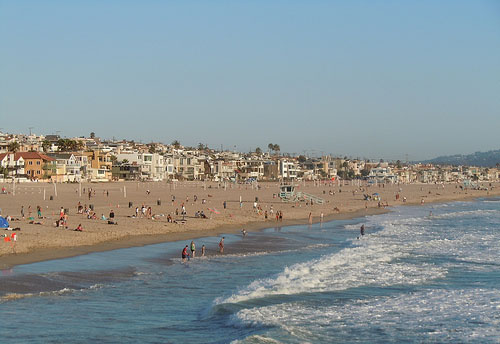 Manhattan Beach is a wealthy, beachfront city in the Los Angeles County, California. The beach serves as a hotspot for beach volleyball lovers and surfers in particular. Many professional athletes have made this city their home in the last few years, such as Maria Sharapova, Tiger Woods, Shaquille O'Neal and Lamar Odom. Since it's fairly close to Hollywood, it has also become a prime residential area for those in the entertainment industry. Everywhere you'll find beautiful, lavish homes. There's definitely a lot of money here.
A South African friend of mine has been living here for a couple of years. Here, Michele shares some insider info with us – hopefully future visitors:
Must-see?
Manhattan beach pier (below) is one of the best spots to visit in the city for sure. I makes for an incredible walk the views are also breathtaking.
Which are the best area(s) to stay in?
Manhattan beach is great anywhere you stay, particularly right on the beach – expect amazing sunsets.
How expensive is the city?
It's pretty pricey compared to surrounding areas, so be sure to save up before visiting.
Which local delicacy would you recommend?
Manhattan beach is full of local flavour and small intimate restaurants that serve fantastic seafood. There are so much to explore. I can definitely recommend "The kettle". It is open 24 hours and has a wide variety of delicious meals. Be sure to stop by!
How many days do you need ideally?
I would say round about four days. This should be enough time to thoroughly explore the area.
Fun facts?
Surfing is one of the main attractions here – annual surfing tournaments and competitions are very popular. You'll find that the area is buzzing during these times. Also, you'll be sure to spot lots of celebrities walking around the city.