South Africa's stunning landscapes have drawn travellers from near and far for unforgettable adventures. Top outdoor activities such as mountain biking, hiking and ziplining, as amazing as they are, are only among a few of the thrilling things to do in the country! Surfing in South Africa deserves more than just a passing mention since the surfing culture in SA is undoubtedly as strong in the country as it is anywhere else in the world. And there's the fact that the coastline is nearly 3,000 kilometres long. So, in no particular order, let's take a look at the top surfing spots around South Africa.
Eastern Cape
This southern province takes a chunk of SA's coast, offering you 800 kilometres of unspoilt beaches! A number of surfing spots in the Eastern Cape are on the list of favourites for surfers across the world.
Jeffreys Bay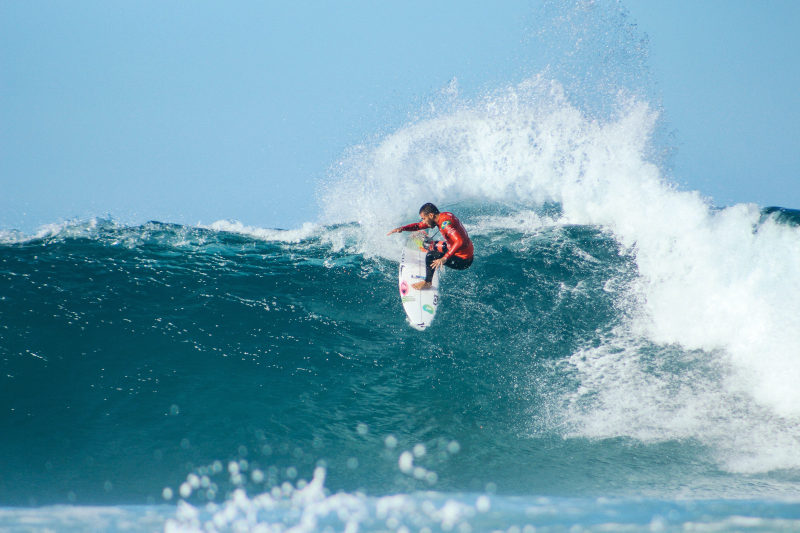 Many traveller guides say that the Jeffreys Bay surf is a paradise for surfers in South Africa. In fact, in 2013, Surfing Magazine and CNN put together their top 50 surf spots in the world, and listed Jeffreys Bay's Supertubes at number 2! Jeffreys Bay comes only second to Pipeline in Oahu, Hawaii. It's clear to see why this locale offers some of the best surfing in South Africa.
There are other major surfing spots on the Jeffreys Bay surf, such as Kitchen Windows, Magna Tubes, Boneyards, Impossibles, and The Point. Supertubes, though, is just the place for experts: it's where they can enjoy rides up to 300 metres long!
Jeffreys Bay is under an hour's drive from Port Elizabeth.
Make sure to check the surf forecast in Jeffreys Bay before heading out to catch the waves.
Wild Coast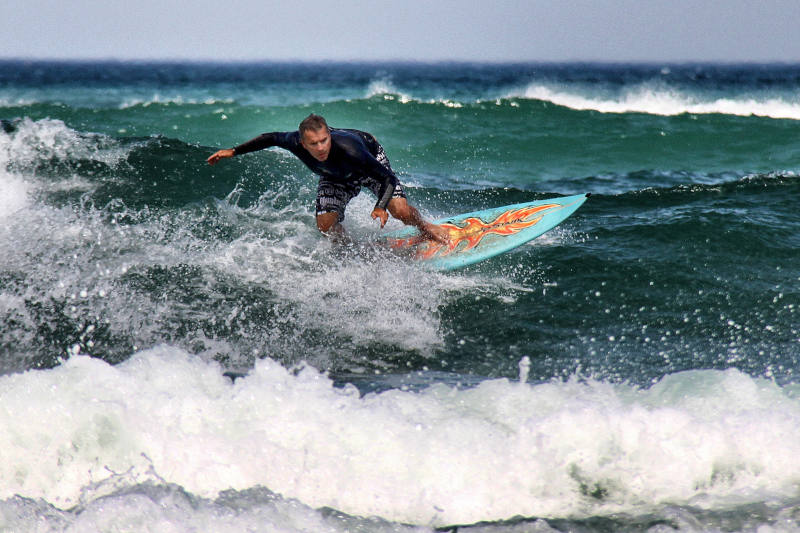 This is one of the locales in the Eastern Cape that draws visitors mainly because of its stunning scenery. While many come to relax and enjoy the combination of ocean and nature, the Wild Coast offers surfers thrilling rides on a well-exposed point break, making it one of the best places to enjoy surfing in South Africa.
One of the more notable spots to indulge in surfing along the Wild Coast is Ntlonyane (alternatively known as 'Breezy Point'), which is best enjoyed in the summer when the area is dry and warm.
Cape St. Francis
Another great spot to go surfing, the Eastern Cape offers more amazing thrills. Cape St. Francis's best-known wave, which makes selective appearances, is notoriously known as Bruce's Beauties. When this wave pumps down the arm of the bay, it creates barrels that actually roll on for kilometres! Other times, surfers can enjoy a variety of point and shore breaks, the best ones at Seal Point near the lighthouse.
KwaZulu-Natal
This province provides more of the top surfing in South Africa. With around 600 kilometres of subtropical beaches along the warm Indian Ocean, and fantastic weather all year (even in winter). Don't skip this stop while discovering the top surfing spots around South Africa.
Durban
The surfing opportunities in Durban are actually no surprise when you consider that the city is one of the top tourist destinations in the country.
It's easy to see why Durban provides some of the best surfing in South Africa. Its coastline isn't called "the Bay of Plenty" for nothing! There is hardly ever a day when you won't get a wave. For the newbies and anyone interested in learning to surf, the Durban surf offers more gentle swells south in Umhlanga, while up north in New Pier they get bigger.
Make time to visit Dairy Beach, where you will find out how the surfing champion Shaun Tomson learned his tricks.
Be mindful to respect the wishes of local surfers in Dairy and New Pier.
A big selection of surf shops in Durban are available close to the coast, such as Surf HQ Durban South Africa, Xpression On the Beach and Hurricane Surf.
South Coast
Treat yourself to this popular holiday destination that's home to golden beaches stretching on for 140 kilometres!. That's surely enough to have you adjust your plans to enjoy a surfing adventure.
The South Coast is home to numerous Blue Flag-awarded beaches, so it's no surprise that this locale is alternatively known as point break heaven! Besides the left-hand waves and a 2 to 5-metre swell, there are a variety of river inlets that provide estuaries and lagoons where surfers can just paddle and enjoy the views.
Top locations to surf in the South Coast include Uvongo, Amanzimtoti and Warner Beach.
North Coast
Alternatively known as "the Dolphin Coast", the North Coast stretches from the Zimbali to the Tugela River in the north, meaning around 60 kilometres of coastline.
The North Coast draws experienced and aspiring surfers every year for the major surf competition known as The Ballito Pro (late June to early July). Enjoy riding right and left-hand waves and swells ranging from 3 to 4 metres.
This locale offers unforgettable ways to enjoy surfing in South Africa, in places such as Umdloti, Richards Bay and Willard Beach.
Western Cape
Finally, we come to the top surf spots in Cape Town. The Western Cape boasts the longest coastline in the country, more than 1,000 kilometres! A great variety awaits you. There are the gentle swells for the beginners, contrasting with the giant reef breaks that reveal the true experts. Before heading to any of these spots, make sure to check the surf forecast for Cape Town.
Dungeons
For brave and experienced surfers, Dungeons is a legendary surfing spot. The swells here can ascend up to 20 metres! This location is so named because when that big wave comes, it catches everyone when it crashes down. It's no place for beginners. If you want a true adrenaline rush, don't skip Dungeons, it provides some of the best surfing in South Africa.
Situated just off Hout Bay, this surfing spot is only accessible by a boat ride from the harbour.
The ideal conditions you'll need to witness the magnificence of Dungeons are a light wind and a low tide.
Muizenberg
One of the more classic surfing spots in South Africa, Muizenberg is the place to go if you're new to riding the waves. Often referred to as "Surfer's Corner", it's where you can learn to surf, thanks to the gentle swells.
Plenty of surfing schools are available in Muizenberg. Among them, you can check out Gary's Surf School, Surfshack Surfschool, and Learn 2 Surf – Muizenberg Beach Hut.
A large concentration of surf shops in Cape Town are available in Muizenberg, such as Lifestyle Surf Shop, Surf Emporium Surf and Stand Up Paddle Board Shop and School, and The Corner Surf Shop.
Long Beach
Situated close to Kommetjie, this Cape Town surfing spot is just a 40-minute drive from the Mother City.
When the south-westerly wind blows, catch breaks to the left and the right. This surf spot caters to the intermediate and advanced surfers.
Take note, there are no surf shops or board rentals at Long Beach. Make sure to bring your own equipment and snacks.
Big Bay
A 30-minute drive from Cape Town, this locale offers more of the best of surfing in South Africa, since it's ideal for surfers of all skill levels. Big Bay sits between Melkbos and Bloubergstrand.
The spot is best on a day when the wind is blowing east to southeast. The small waves can be a short ride, ideal for beginners. Intermediate and advanced surfers don't need to worry, though, there are plenty of bigger wave days.
Other reasons Big Bay is one of the top surfing spots in Cape Town is the friendliness of the locals and a casual coffee shop across the lawn.
So, there you have it, some of the best surfing in South Africa. Do you know where you're going to start first?
Subscribe to our newsletter for awesome packages to many of the cities across South Africa and beyond to other destinations around the world.
Since there are other great surfing spots around South Africa, what's your favourite? Let us know in the comments!
Disclaimer
All information on this blog page was correct at the time of publishing and may change at any time without prior notice. Travelstart will not be held liable for loss or inconvenience resulting from the use of out-dated or incorrectly noted information.