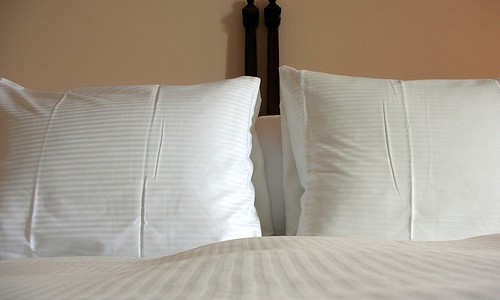 Next time you check into one of the Swissôtel Hotels & Resorts, you might be a tad surprised to see something else on the room service menu besides the ubiquitous club sandwich. The Swiss hotel chain is now offering a varied menu of different types of pillows across their hotels worldwide.
Hotel pillows are never as comfy as you want them to be. They are either too thick which makes you feel like you're sleeping sitting up, or paper thin which feels like you might as well be sleeping with no pillow at all.
Swissôtel Hotels & Resorts understands how important it is to sleep on the perfect pillow. At all of their hotels you can choose from a wide selection of gourmet pillows before turning in. All you need to do is pick up the phone and tell housekeeping which one you want and they will then bring it to your room. You can choose from the Swiss Pine pillow, filled with Swiss Stone Pine shavings that give off a soothing soporific resin smell, the neck-support pillow or the anti-allergenic pillow. For those who travel a lot and miss their other half, there is even a body cuddler pillow.
The menu also features mattress toppers and standard local pillows which vary depending on what location you're staying at.
For those guests who can't part with their choice of pillow from the Swissôtel pillow menu, there is the possibility to buy it and take it home.  This is fine if the chosen one is the Bultex pillow that controls the release of heat while you sleep or the spelt pillow which offers better support. However I just don't think it would fare very well with the other halves when they're being replaced by comfy Swissôtel body cuddler pillows.
[boilerplate bytitle="text"]