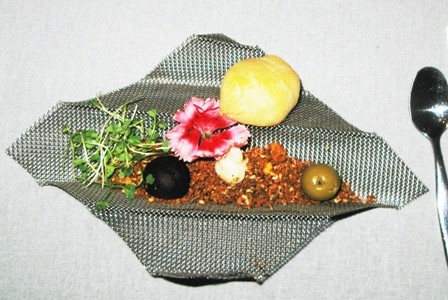 Self-taught and clearly talented, Jozi chef Dario de Angeli had Jo'burger's eating out of his hand – not literally, thankfully – when he opened his restaurant Yum in Greenside in late 2001 (if I'm not mistaken).
It was a time when UK chef Heston Blumenthal was blowing foodies minds' with his egg and bacon ice cream and snail porridge.
Dario, who's always loved bold experimentation in the kitchen wasn't shy to apply his own brand of Willy Wonka wackiness to an otherwise very staid food scene in Jo'burg.
In so doing, Dario accrued a legion of followers who have stuck with him long after Yum went seriously wonky, wobbled, and eventually fell over in 2006.
Dario's new sandpit is Cube Tasting Kitchen, located on 4th Street in trendy Parktown North, and you're invited to come and play. If food's merely fuel to you, or a side show to your main course of a Friday night jol, don't bother dinning at Cube.
Cube is a food experience that serves thoughtful, playful food for discerning diners looking to feed their cerebral cortices as much pleasure as their palates.
Modelled on a private dining room cum chef's table, with seating for just 27 pax, Cube is intimate and elegant with a slim, minimalist grey-white interior and down-lighters resembling the Milky Way strewn across the ceiling.
It's up to the food to generate the whizz-bang, and Dario's nano brigade of chefs (3 plus Dario) does just that. Keeping diners amused (and bemused) for 5 hours and 23 tasting courses!
Pleasantly ego-free for such an upmarket eating experience, Dario and his team do all the cooking, plating, and most of the serving.
Watching the super-energised chefs bustling between the tables, and personally explaining the concept of each course to diners before scurrying back to the open-plan kitchen to plate-up another shockingly delicious morsel is part of the theatre of Cube.

Experimental kitchens often make me nervous because I dread shelling out a monthly repayment on a small car for the 'privilege' of funding some Feran Adria wannabe's molecular kitchen nightmare.
Happily, Cube's food tastes superb. Fresh, quality ingredients are prepared with skill and precision (witness the flawlessly clear wild mushroom consommé), and presentation is especially innovative, from the origami mesh plates to the edible dessertspoons.
A bonus is their BYO policy (Cube is unlicensed) that excludes any corkage fee.
While not all elements of the meal were harmonious for me, the interplay of flavour, texture, technique, and presentation made for a deliciously entertaining food adventure.
Countless times during the meal, my hubby and I resorted to the old trick of "look there!" in order to distract the other person just long enough to steal a tasty titbit of salmon, or a tender sliver of ostrich off each other's plates.
Pace yourself at Cube, because as small as the portions seem, the menu's expansive and sumptuous, and you'll feel sated sooner than you'd wish.
Cube is a much-needed antidote to Jo'burg's same-old, same-old restaurant scene, and brings a fresh injection of top-notch contemporary cuisine to Jo'burg's handful of exceptional fine dining restaurants. Don't be square…go there.
Cube Tasting Kitchen
Shop 5, Parknorth Heights, 17 4th Avenue, Parktown North. Reservations 082 422 8158, or email cubetastingkitchen@gmail.com. Open for dinner only, Tuesday to Saturday. Booking is essential. Allow a minimum of 4 hours for your meal.
This review is unsponsored. The writer paid for all food and wine consumed during the meal.