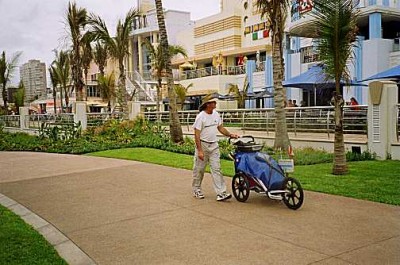 In a couple weeks time, a remarkable 11-year, 75,000 kilometre around the globe walk by one man will come to an end.
You read that first sentence correctly. Jean Béliveau has completed his World Wide Walk for Peace and Children, a journey that began in Québec, Canada on August 18 2000, and has taken him to six continents and more 64 countries.
His goal was to finish the walk on October 16th 2011 in Montreal Canada, 11 years and 2 months after he began. Beliveau is now 56 years of age, and was 45 when he embarked on his world wide trek.
Walking between 40-50km per day, Béliveau averaged roughly two months per country while covering over 75,000 kilometres (and going through 53 pairs of shoes). He made the journey alone, walking with a 3-wheeled stroller (see photo) that he used to transport his food, water, clothing, a first aid kit and camping materials.
He often relied on the kindness of strangers during the voyage, staying in an estimated 1,600 different homes along the way, allowing him to do the journey on a minimal budget. Despite this steady dose of friendliness and hospitality, he's stated in a recent media interview that loneliness was the largest hurdle to overcome. He is married and the father of two children at home.
Mr.  Béliveau isn't the first to attempt such a walk, and is in fact one of roughly 20 persons who have recently completed, or are currently on some type of around the world expedition raising awareness and money for various causes.
It seems that Béliveau will break at least one Guinness World Record for this journey, but that was never his primary ambition, which was to raise awareness for the United Nations proclamation of 2001-2010 as the International Decade for a Culture of Peace and Non-violence for the Children of the World.
Please help spread the word of Mr. Beliveau's World Wide Walk for Peace and Children.
* Photo courtesy of World Wide Walk for Peace and Children
[boilerplate bytitle="text"]