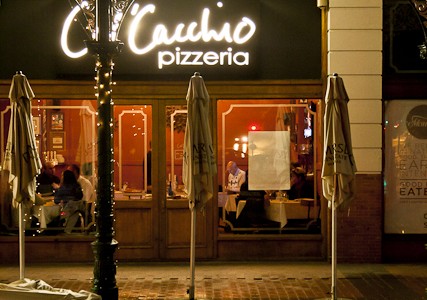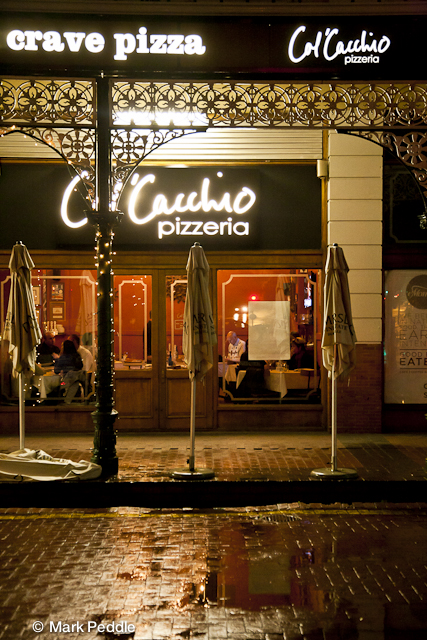 Who makes the best pizza in Cape Town is a hotly contested subject amongst Capetonians, but for my money the answer is clear: Col'Cacchio pizzeria.
Started by the 'Pizza Queen' Kinga Baranowska, Col'Cacchio specialises in interesting variations on the thin crust, superbly made pizza. It's technically a chain (there are now 17 outlets around South Africa), but it doesn't feel like one at all. The Col'Cacchio closest to us just so happens to be the original – a cosy, warm place in the Foreshore of Cape Town, that's always busy but not frantic, and guarantees relaxed, friendly service.
What I like about Col'Cacchio – apart from the fact that you'll always get a perfect pizza – is that they're constantly reinventing their menu. Seasonal favourites, new ideas and fun campaigns are part of the Col'Cacchio parcel, which means that it's the kind of place that won't ever get stale. At the moment, for example, they're running a Celebrity Chef Series (from May to August, the winter months). Each month, they'll serve a pizza designed by a celebrity chef, and R5 from the sale of each pizza goes to the Wildlands Sustainable Communities Project, which is a dynamic, innovative non-profit organisation working towards greening rural communities by encouraging members to grow trees. What makes the project interesting is that instead of just growing the trees, they grow the trees to a small sapling stage and then trade them for vouchers that can be used for food or education. The trees are then planted back into the community to rehabilitate under-greened areas. Find out more about them on www.wildlands.co.za
But back to the pizza! This month, Justin Bonello of Cooked in Africa fame has whipped up a fresh feast of a pizza called The Green Genie (after his wife!) It's a nutty wholewheat base piled high with roasted beetroot, butternut and garlic, shitake mushrooms and Danish feta, and then topped with fresh rocket, toasted seeds, fresh avo and a drizzle of balsamic glaze. Did someone say, 'delicious'?! Forget any preconceptions you might have had about pizza being unhealthy – this is a feast that any health nut would be proud to indulge in.
On the other side of the spectrum, we also tasted a fabulous Juventino – parma ham, fresh rocket, cherry tomatoes and parmesan. And started off with what might be the best salad I've ever had in my life – biltong, pear and brie, with rocket and caramelised seeds. Wow.
Last month Bertus Basson was the chef on stage, and July sees Marthinus Ferreira whipping up something splendid. Neil Jewell ends off the Celebrity Chef Series in August. So be sure to block out some pizza-eating time in the next few months! Find out more on www.colcacchio.co.za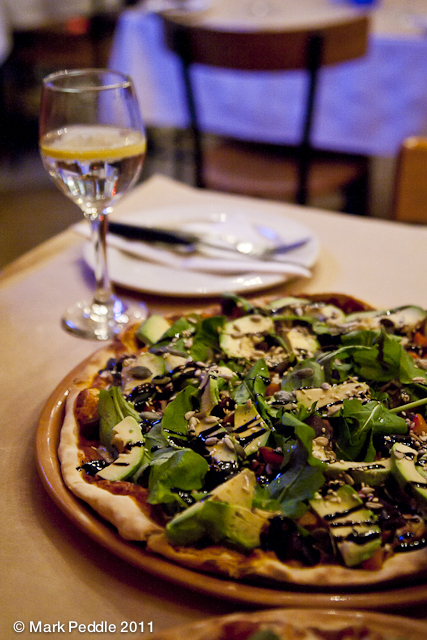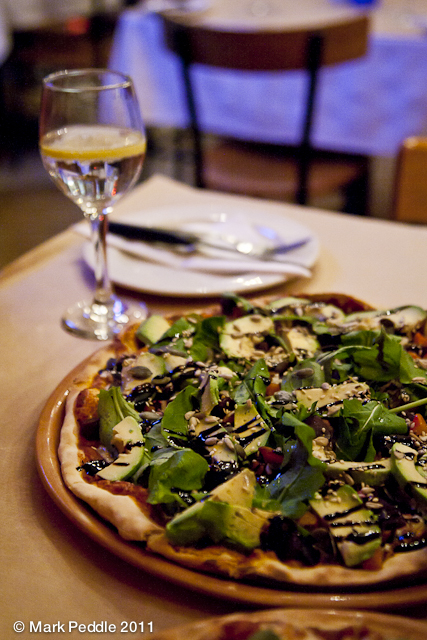 Images: Mark Peddle