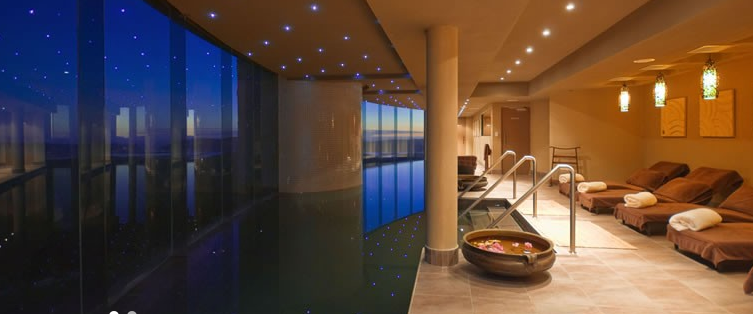 As with places to stay, Knysna is spoilt for choice when it comes to spas and spa treatments. It isn't, however, spoilt for choice for places to enjoy a Rasoul treatment, seeing as this is one of Simola Spa's signature treatments.
Simola is one of those places that looks really intimidating, but is actually completely warm and friendly once you arrive. The spa is deliciously scented (as most spas are) and the people who work there are just lovely. I was there for the Rasoul treatment as a birthday treat, and they went out of their way to make me feel special.
Essentially, the Rasoul treatment is like a facial for your body… only better. You're lead into a private Rasoul Room, where the lights are dimmed and candles flicker. They explain the process and leave you to it – it being a 45 minute treatment that leaves you feeling sublime.
Let me explain… Next to the private shower and changing room is a glass-fronted room: the Rasoul Room. You undress and go into this room, then cover yourself, neck to toe (no face) with a clay mask. Then the treatment begins – three phases, beginning with a hot blast of sauna air to bake the mask on, then a period of steam to open up the pores, and finally a gentle rain to wash away the mask. The room has a ceiling filled with twinkling lights that look like stars, and soft music is piped into the treatment area, so that it feels as if you're being whisked away to another land… The 45 minutes felt like a few hours, and my skin was deliciously soft and smooth afterwards.
Once the treatment is over, you're welcome to spend some time on the comfortable loungers next to the heated pool – an infinity pool with a wall of glass that looks out over an undulating landscape of trees and a vast open sky…. It really is that beautiful. I spent an hour or two dozing and reading the books they have laid out next to the loungers, sipping on lemon infused water, before quietly heading back into the real world.
The wonderful thing about the Simola Spa is that, unlike so many other estate spas that have a snooty atmosphere and just want to shuttle you in and out as quickly as possible, this was a real spa experience. It felt much longer than it actually was, and it left me feeling not only relaxed and pampered, but totally rejuvenated. A wonderful treat that I would highly recommend.