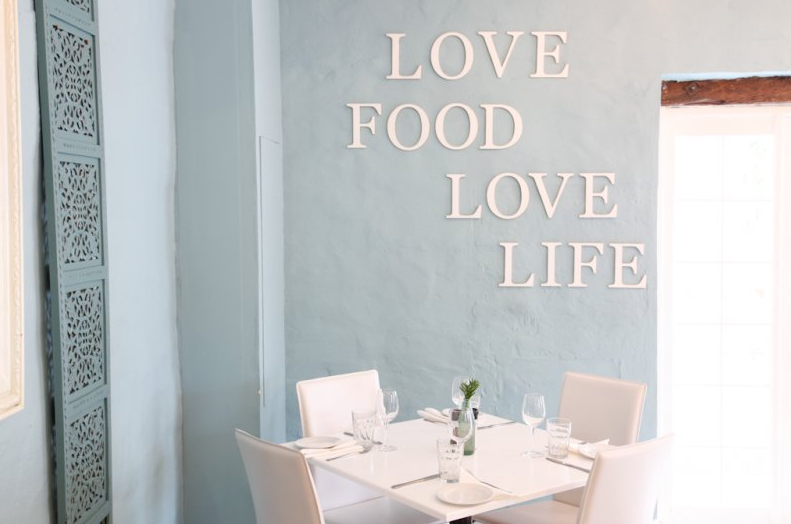 If you take the long trek over the mountain from Cape Town to Noordhoek, you will be rewarded with a meal that stays in your memory long after the last tastes have vanished from your palate. Think I'm getting a little carried away? Go for lunch or dinner at the Food Barn and then see how lyrical you become!
We first discovered the Food Barn a few years ago when my dad read about it in TIME magazine – they claimed it was one of the most exciting South African restaurants out, and we soon found out they weren't wrong. Since then, we've returned like pilgrims, always with new friends to wow with the food, and always entering with high expectations, and leaving with them fully met.
So what makes this restaurant so special? First of all, it is run by the very passionate chef and owner, Franck Dangereux. French-born Franck used to work at Constantia Uitsig and La Colombe, whipping up fine dining experiences and has brought all the expertise of those years to this new venture, but without the unnecessary frills. I say his 'new venture' but the Food Barn is now well established as one of the best places to go for food that is exceptional without being exceptionally expensive and stuffy.
The restaurant itself is housed in a large barn, and is comfortable and relaxed. Throughout winter, Franck holds a number of exciting evenings, from wine pairing events (4 course paired with 4 wines) to cooking demonstrations (every Wednesday, free with your dinner reservation) to chef's tables and winter specials (check out their 3, 4 and 5 course meals for a gastronomic delight!) Wine recommendations are made for each course, and if you choose them you'll get a carafe to go with your course (so be aware that you might need a designated driver beforehand!)
We missed out on the winter special, but we had the Autumn Bistro menu, which was simply splendid. A starter, a main and a dessert for R220 per person, and each dish beautifully prepared. I chose the Japanese mushroom and Ricotta Ravioli, served with homegrown tender leaves and a fontina and black truffle sauce (be still my beating heart! It was divine). I followed that with a superb rack of Karoo lamb served with a courgette and cherry tomato quiche (yum) and finished with a tarragon and tomato jus, and ended with a simply heavenly dark chocolate marquise rolled in soft biscuit and served with a  trio of sauces and a coffee-flavoured homemade ice cream. Wow.
What's so great about eating at the Food Barn is that you get 5 star service and food, but without 5 star stuffiness. It's a completely relaxed atmosphere that just happens to serve outstanding food. If you're looking for a meal that you (and your friends) will talk about for weeks afterwards, the Food Barn is the place to go.