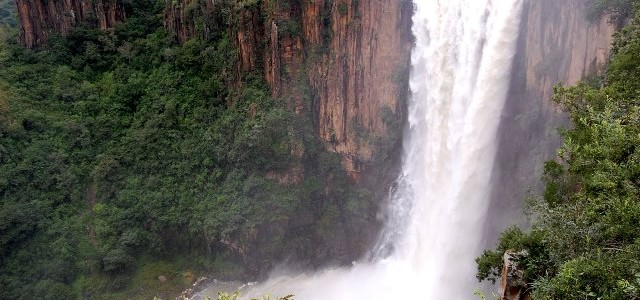 "I feel a fluttering in my stomach – we truly are lucky to live in a country that has so much to offer."
It was an early Sunday morning on the fragile cusp of spring that we set out from Cape Town for a two-week road trip around the country.
Leaving Table Mountain behind us in the dawn distance, we embarked on an epic journey that would meander from one iconic South African landmark to another.
While this had not been the purpose of the trip by any means – it was merely a family holiday – the magnitude of the experience really only hit me in retrospect.
Scrolling through my many photographs a couple of days after returning to the Mother City, an ocean of gratitude suddenly spilled through my veins and I exclaimed: good lord! We literally did the Great South African Road Trip… without even realising it!
From home way down south all the way up north to where the great Limpopo meets Zimbabwe's Shashe, from arid Karoo plains to lush Tstsikamma forests, from the mournful call of the bushveld's Fiery-necked Nightjar to the rhythmic crash of the Indian Ocean on Chintsa's shores. A circular route of more than 5 000km through 7 of our 9 provinces. 
Sure, we didn't even nearly cover it all, but what we had managed to pack into those short 15 days was mind-boggling! 
Here's a quick summary of our route…
Cape Town  Karoo National Park (460km)  Bloemfontein (582km)  Pretoria (2 nights) (467km)  Balerno Bush Lodge, just outside Alldays (456km)  Mapungubwe National Park (5km)  Punda Maria, Kruger National Park (264km)  Mopani, Kruger National Park (94km)  Olifants, Kruger National Park (86km)  Skukuza, Kruger National Park (147km)  Berg en Dal, Kruger National Park (172km)  Champagne Castle, Drakensberg (643km)  Margate (351km)  Chintsa (524km)  Tsitsikamma (447km)  Cape Town (615km) = +/-5 313km
And a couple of the iconic places it took us to:
Karoo National Park
Why iconic? Located just outside the town of Beaufort West, in the very heart of the Great Karoo, this national park is a popular overnight stop for travellers taking on the long road between Gauteng and the Western Cape. With more than 9 000 plant species, it's one of the world's richest desert flora areas and also home to an astounding diversity of bird and animal life.
What makes the Karoo National Park truly iconic, however, is its absolute raw ancientness. Staring out over the desolate landscape of the flat-topped Nuweberg mountain escarpment, you can't help but feel like you've been transported to a land before time. Learn all about its 225 million-year history by exploring the popular Fossil Trail on foot inside of the main rest camp, or go for a drive along the Klipspringer Pass. 
Gariep Dam
Why iconic? Located just a few kilometres off the N1 about 50km outside the Karoo town of Colesberg, the Gariep Dam is the largest storage reservoir in South Africa, covering a surface area of more than 370km² when full. It has a gross storage capacity of 5 500-million m³ and flows out into the Orange, the Great Fish and the Sundays River when full. It's only when standing on or driving along the massive wall that you can really start to appreciate the fine engineering and true immensity of this dam. Definitely a SA icon to see at least once in your life and show your kids!
Naval Hill, Bloemfontein
Why iconic? The highest point in the City of Roses, this hill gets its name from its use as a camp for a British Naval Brigade during the Anglo-Boer War in the early 1900s. Two British Naval guns are still on display to pay homage to this part of the hill's history. However, over the past century, it has grown to encapsulate a diverse range of significance. It is home to the 250ha Franklin Game Reserve, which was established in 1930. It is said to be the only game reserve in the world found right at the centre of a city!
Once the curious giraffes let you pass, a beautifully constructed viewing deck provides a panoramic view of Bloemfontein and surrounds, which you can enjoy alongside an 8m bronze sculpture of Madiba. Also keep your eyes peeled for a large stone sculpture of a white horse on the east side of Naval Hill, said to date from the Anglo-Boer War and declared a national monument in 1982.
Union Buildings, Pretoria
Why iconic? Gosh! Where do we even start? Arguably the most recognisable structures in the whole of South Africa, the Union Buildings are the official seat of the national government and houses the offices of the president. It has been at the centre of many-a defining political moment: the 200 000-strong women's march that took place on 9 August 1956, the swearing in of presidents (most notably Nelson Mandela in 1994) and also where Madiba lay in state for South Africans to pay their last respects during December 2013.
Not only do these buildings have major political and historical significance, they are also an architectural masterpiece. Designed by Sir Herbert Baker in 1909, the semi-circular shape is 285m long and divided into three sections: left offices, amphitheatre and right offices. A nine-metre tall bronze statue of Nelson Mandela stands at the lower centre of the amphitheatre, with arms outstretched to his beloved country. The buildings themselves are not open to the public, but you can explore the gardens and amphitheatre. The terraced lawns are a popular picnic spot.
Northern-most pub in SA
Why iconic? While it has by no means been officially declared, the owners of Balerno Bush Lodge just outside of Mapungubwe National Park have no doubt that their pub is the last South African outpost for a cold one before crossing over into Botswana via the Pont Drift border post some 10km away. We indulged in an icy beer or two while enjoying a braai in an open lapa under the bushveld stars.
Mapungubwe National Park
Why iconic? Apart from being the northernmost national park in South Africa and the spot where Zimbabwe, South Africa and Botswana meet at the confluence of the Shashe and Limpopo Rivers, Mapubgubwe has a rich cultural history.
The park protects the historical site of Mapungubwe Hill which has been a treasure trove of archaeological findings over the past century. Said to be the capital of the Kingdom of Mapungubwe, the hill was once home to a community of regal hunter-gatherers who, among other things, had the ability to craft beautiful figurines using precious metals. This advanced culture was established almost 1 000 years ago, traded with China and India and then mysteriously abandoned their capital round about the 14th century. Their almost untouched palaces and surrounding settlements were rediscovered in 1923 and the site remains one of the most historically significant in Southern Africa.
The most notable discovery to date upon this hill was a gold-plated rhino, which has become a symbol of the hill community's vast riches. Pay a visit to the exceptional interpretation centre to find out more about this complex history and how its influence still lingers today. 
Kruger National Park – North to South
Why iconic? Proclaimed in 1898, the Kruger National Park is the oldest national park in South Africa and at almost 2 000 000ha, also the largest. The park is home to an impressive array of species, including 336 trees, 49 fish, 34 amphibians, 114 reptiles, 507 birds and 147 mammals, among which of course, the Big 5. Kruger is considered to be South Africa's flagship national park, drawing thousands of international tourists every year. However, it is also a firm favourite among South Africans, who revel in exploring the network of gravel and tarred roads in search of spectacular scenery and special sightings.
Apart from the wildlife, the park has a rich history with many significant sites for visitors to explore. These include the Letaba Elephant Museum, Crook's Corner, Jock of the Bushveld route in the south of the park, Stevenson-Hamilton memorial library at Skukuza, Wolhuter's windmill, the gnarled Baobab tree in the centre of Mopani rest camp and many more.
Our 4 days and 5 nights in the park were spent making our way from the very north at Pafuri gate and Punda Maria Rest Camp to the far south, exiting through Malelane Gate after overnighting at Berg-en-Dal. This is not ideal for game viewing or exploring, but it gives a great overall impression of what the park has to offer.   
Champagne Castle, Drakensberg
Why iconic? Located in the central Drakensberg, Champagne Castle is the second highest peak in South Africa and contains a series of subsidiary peaks, including Monk's Cowl, Cathkin Peak and Dragon's Back.
We spent the night in a cosy self-catering cottage at Wits End Mountain Resort, waking up to the morning breaking majestically over the twin peaks of Cathkin and Champagne Castle. This is undoubtedly one of the most picturesque areas in South Africa and I was very sad to have only a few hours to appreciate its beauty. Nonetheless, my appetite has been whet! Don't you worry, Drakensberg, I'll be back… and this time I'll bring my hiking gear.
Howick Falls, Howick
Why iconic? The KZN Midlands is awash with quaint towns, historical landmarks and natural beauty. It is, however, Howick that is considered to be both the hub and the heartbeat. The village is any browser's dream, with an array of book shops, coffee shops, restaurants, trinket shops and much more to explore.
What drew us into its midst, though, is the mass of water dropping 95m into a swirling pool of foam, rainbows and mist, known as the Howick Falls. The waterfall is located right in town, with a viewing deck providing a perfect view from a safe distance. Despite their mesmerising beauty, there is a dark side to the Howick Falls, as it has been the site of more than 40 deaths: some accidental, some suicides and some murders. The first was recorded in 1851.
Old Transkei
#MyEasternCape #Mybirthplace #Transkei #ubomibegoduka #roadtrip #villagegirl #villagelife #contrast. Uyayazi imvelaphi yakho? Izithethe namasiko wona? Urban living is the lifestyle I have adopted, village life still lives in me as it keeps calling ever so often, my roots are planted firmly where I was conceived and born to this life. The land of my forefathers.

A photo posted by Lumka (@luthebrand) on
Why iconic? There is a section of the N2 that takes you right into the very soul of the rural Eastern Cape, formerly known as the Transkei. This 400+km part of the national road often gets a bad rap for being dangerous due to the presence of rogue farm animals and potholes. While the odd cow or goat does find its way into the road, making it advisable to stick to below the speed limit, potholes are hardly a problem these days.
The road is well maintained and gives travellers insight into the Transkei's transformation from an independent state (enforced under Apartheid rule) into a fully integrated area of the Eastern Cape. Notable cities and towns include Mthatha (once the capital), Butterworth, Mount Ayliff and Idutywa.   
Buccaneer's Backpackers, Chintsa
Why iconic? While the past few decades have seen backpackers in all shapes and forms pop up in every corner of South Africa, Buccaneer's in Chintsa can be considered one of the most legendary. They celebrated their 21st birthday in October 2015 (a mere month after we visited) and have been instrumental in developing the culture of youth travel and volunteering holidays in South Africa.
This may all sound geared very much toward international travellers, but it's a spot locals should definitely include on their road trip itinerary as well. Accommodation takes the form of hostels, self-catering cottages and camping, making it highly accessible to everyone. The property is surrounded by lush subtropical vegetation and looks out over the pristine Chintsa beach, which is a popular spot for surfing as well as swimming and sunbathing. If you're there on a Sunday morning, treat yourself to their homely and delicious free breakfast. Also be sure to try out the locally-brewed Emerald Vale beer at the bar. 
Storm's River Suspension Bridge, Tsitsikamma
Why iconic? One of the defining features of the Storms River rest camp in the Tsitsikamma section of the Garden Route National Park, this slinky suspension bridge is a must-visit destination for both locals and tourists alike. The bridge stretches 77m across the Storms River and was originally built in 1969, but was renovated in recent years to up its safety. It provides a dramatic vantage point for equally dramatic views of mountain, valleys, ocean and river.
It has also become a popular spot to hang love locks, in keeping with the tradition of immortalising a love affair by locking your initials onto a bridge with a view, started on the Pont des Arts in Paris. 
As I reflect on this whirlwind adventure that took me all around South Africa, I feel a fluttering in my stomach – we truly are lucky to live in a country that has so much to offer. If you feel yourself forgetting this, save up and hit the road. Even if it's just a 50km roundtrip to the next town, you're bound to be blown away by something, iconic or not.