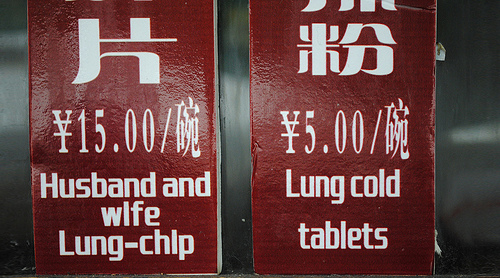 As endearing as it is to see unusual signs with clumsy translations from the local language into English when you travel, the Korean Tourism Organisation or KTO wants to put a stop to it. It has launched a competition which is open for entries from people living around the world. The tourism board wants people to send in photos of signs they have found in the streets of Korea that boast funny examples of this so called Chinglish. Even if the word Chinglish is a contraction of the words Chinese and English, it's not restricted to China alone. Hence this campaign in Korea.
Participants will be rewarded with a cheque of $57. So basically every participant is a winner unless your entry is not clear or useful and it can't be a photo of a badly written menu, traffic signs or travel guides either. The Korean Tourism Organisation will then use these entries to try and amend the signs and add the correct translations.
For those of you who are unfamiliar with this exotic language called Chinglish, here are a few examples: A sign in a supermarket in China that says you'll find crack in aisle 4, or a sign at a restaurant that says there is no porking here. And my personal favourite is this one found at a national panda reserve also in China: Wildlife is not food.  Not sure if they usually have visitors eating the panda's or if they just don't want visitors to feed them.
It seems that the Korean Tourism Organisation no longer wants to be the laughing stock of the English speaking world, but I think it's a shame they're trying to ban the signs in Chinglish. It certainly always brings a smile to my face when I happen on one during my travels around the world.
[boilerplate bytitle="text"]