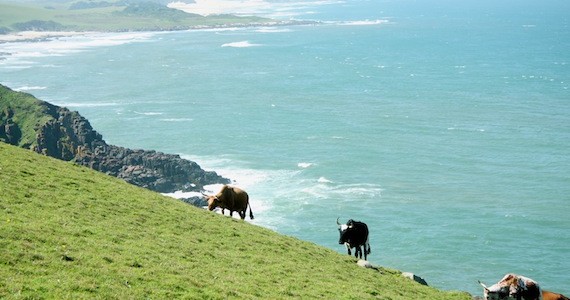 Sometimes you just need to get away from it all, find a secluded part of the world, free of any schedule or cell phone signal. A few months ago, my wife and I found such place in the lower reaches of the old Transkei – the Dwesa Nature Reserve in the Eastern Cape. There is a reason that this place is away from the hustle and bustle of everyday life – it is quite a drive, you need a vehicle with high suspension and the patience and tenacity to drive bumpy, and at times, intimidating, roads.
But once you get there, the dense coastal forests, natural lagoons and beaches are pretty much all yours. Well, that was our experience at any rate but I suppose we were lucky (and there out of season). During our five-day stay, we only encountered about ten people. We swam in the sea, read in our rustic but comfortable cabin and walked along the beach.
We went on some great hikes along the coast with one of the very knowledgeable local guides where we encountered the mandatory cows on the beach, as well kite spiders, loads of butterflies and a whole host of local flora and fauna, including a fair few puff adders. If you are looking for an isolated beach holiday with a bit of adventure thrown in for good measure, look no further than Dwesa!