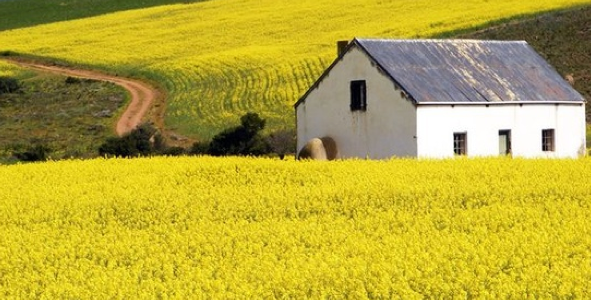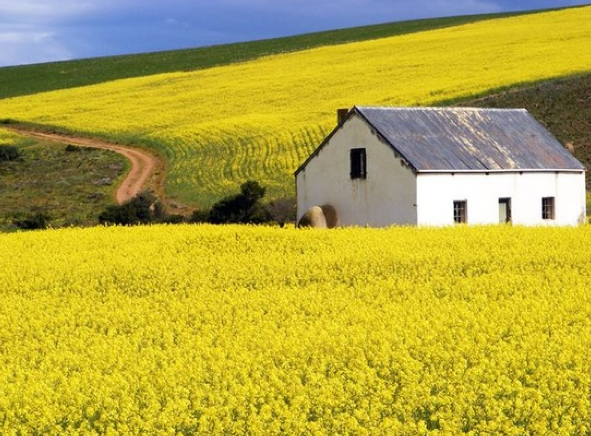 Image credit
Just an hour and a bit out of Cape Town lies the bread basket of the Western Cape: the Overberg. Most people only experience the Overberg en route to somewhere, because it lies in the valley after the Sir Lowry Pass, which is pretty much the dividing line between work and holiday for most Capetonians! But the Overberg is lovely enough to deserve its own weekend away – not en route to anywhere…
So what makes it so special? The beauty, to begin with. The rolling fields of the Overberg are different colours depending on the season – the bright green and yellow of wheat and canola in summer, the muted greys and browns of the harvest in winter, all against the backdrop of a gloriously blue expanse of sky. The hills seem to roll on endlessly, and it's hard to distinguish, sometimes, whether what you're looking at is real or a painting – that's how beautiful it is.
The Overberg is also home to South Africa's national bird: the blue crane. This endangered beauty – large and distinctly blue – struts around the fields of the Overberg amongst the many flocks of sheep, looking far happier than you could imagine an endangered species would look. It's an amazing thing to see our national bird up close and personal, and this is one of the only places in South Africa that you can do so.
Finally, the Overberg offers a number of quaint country towns, most of them with either a Saturday market or a padstal to their name (and really, what more can you ask for from a weekend away than one of these two sources of fresh fruit, homebaked bread, and fine cheese?) My personal favourites are Caledon, Greyton and Stanford, but there's also the lovely Pringle Bay, Hermanus and Kleinmond – all well worth a wander.
Next time you're looking for a  weekend away somewhere special, why not hop over to the Overberg?