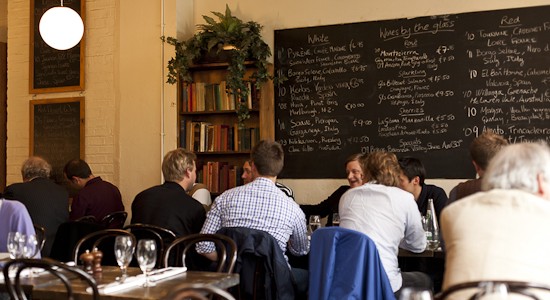 Images credit: Mark Peddle
Is there any feeling as sweet as finding a hidden gem in a foreign city? One that none of the other tourists have found, that only locals seem to frequent and that is, quite simply, amazing? I don't think so. That's why I've decided to share The Winding Stair restaurant in Dublin with you: it's that good.
Walk up a winding wooden staircase over The Winding Stair bookshop and you will find yourself in a charming nook of Dublin life. Grab a window table (if you can) and you'll have one of the best views in the city – out over the Liffey River and the most-photographed bridge in Dublin (the Ha'penny) with popular Temple Bar just across the way. Apparently The Winding Stair used to be the bookstore's café, and you could come up and order a cup of tea to sip while you browsed the books or chose one to read. These days it's been transformed into a superb restaurant serving modern Irish cuisine, but retains the friendly vibe of the bookstore café. In fact, the vibe is one of the things I loved most about The Winding Stair. That is, until the food arrived.
We had the extremely reasonable lunch menu (3 courses for 24 euros) and it was some of the best food we ate in Ireland. For starters, we had fresh mozzarella with baby gem, roasted beef tomato and watercress puree (fresh and lovely) and free roaming chicken liver paté with toast, apricot and parsnip crisps. Both were excellent. For mains, we had fresh Pollock with parsley and anchovy fried potato, served with a delicious sorrel sauce, and homemade Irish meatloaf with colcannon, pearl onions and gravy. Desserts were a superb double chocolate pudding and a sticky ginger and pear cake that was just right.
What makes the food so special at The Winding Stair is that it's all fresh, seasonal and local (so the raw ingredients are as good as they can get) prepared in interesting combinations: a twist on the traditional. Next time you find yourself in Dublin, be sure to visit The Winding Stair. Not only will you feel like a local for a few hours, you'll feel like a very well-fed local!