Known for its iconic eats, steep landscapes and engineering feats, San Francisco is a tourist's delight. There are so many memorable things to do in San Francisco and most of the top tourist sites are located close together. Capture the best of the postcard-perfect scenes, made famous by many a movie and television show, with 12 of the best things to enjoy in the Golden Gate City.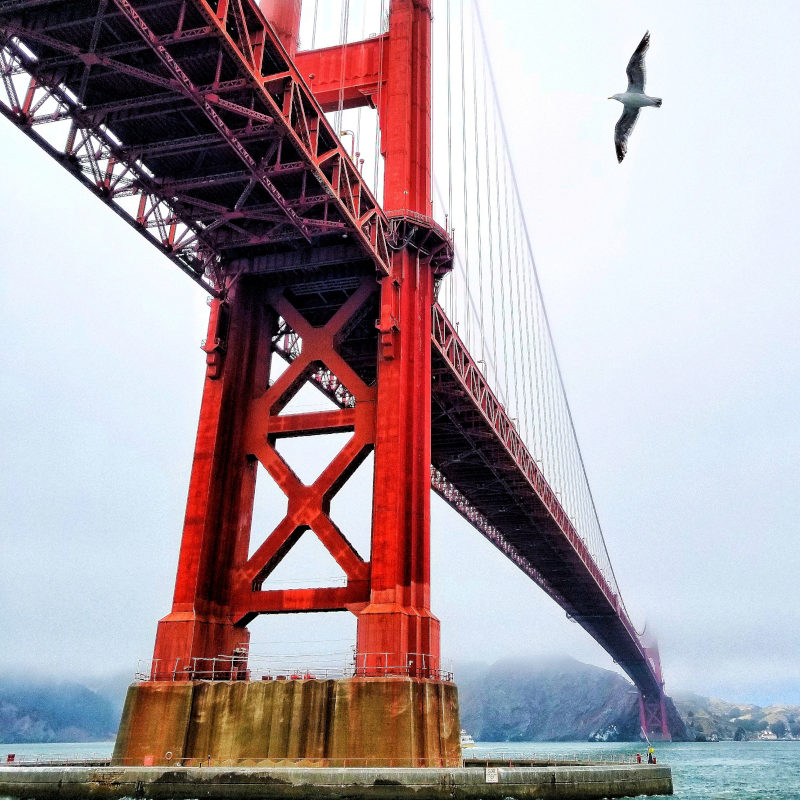 1. The Golden Gate Bridge
The orange-hued, art deco themed suspension bridge is an iconic symbol synonymous with San Francisco, spanning the strait that connects the Pacific Ocean with San Francisco Bay. Finished in 1937, it was the longest of its kind in the world at the time of completion.
The bridge has earned its status as one of the Seven Wonders of the Modern World and one of the most photographed too – making it one of the most popular things to do in San Francisco. Take a slow stroll across the almost 3000-metre span by foot, or a 40-minute drive one way.
Where is it located: The bridge connects the city of San Francisco to the northern counties of California, in its location on the U.S. Highway 101. It can be crossed by way of car, bus, bicycle or by foot.
2. Alcatraz Island
The notorious former prison and now National Park, Alcatraz has found its way onto both the screens of Hollywood and into the hearts of those who visit the historical island locale. Although no prisoners have lived on the island since 1963, you can take a guided tour of the prior home of Al Capone and experience the federal penitentiary which still lies intact. As part of the Golden Gate National Recreation Area, the island is also a bird sanctuary and once acted as a Civil War fortress.
Where is it located: The island is located approximately two kilometres offshore from San Francisco, in San Francisco Bay. Navigate the Bay via a ferry ride or boat cruise.
3. The Golden Gate Park
Spanning almost five kilometres to the western side of San Francisco, the Golden Gate Park is an urban oasis of sprawling lawns, botanical gardens, resident flora and fauna, lakes, museums and plenty of platforms for outdoorsy activities. Not to be confused with the Golden Gate National Recreation Area, which is across the Bay. One of the top Golden Gate Park attractions is the Conservatory of Flowers, a Victorian-era greenhouse brimming with foliage and flowers.
Where is it located: The rectangular park spans over four square kilometres of land and is located on the western side of San Francisco, with a portion of the park flanked by the ocean.
4. The Walt Disney Family Museum
No doubt you are familiar with the exquisite masterpieces produced by the Walt Disney Studios, but for those who would like to learn more about the life story and legacy of the remarkable man himself, pay a visit to the Walt Disney Family Museum – one of the best family-friendly things to do in San Francisco and a trip down memory lane for most.
Where is it located: The museum is located in the Presidio of San Francisco, a park and former military post located at 104 Montgomery Street. It can be accessed by car, bus, train, bicycle and on foot.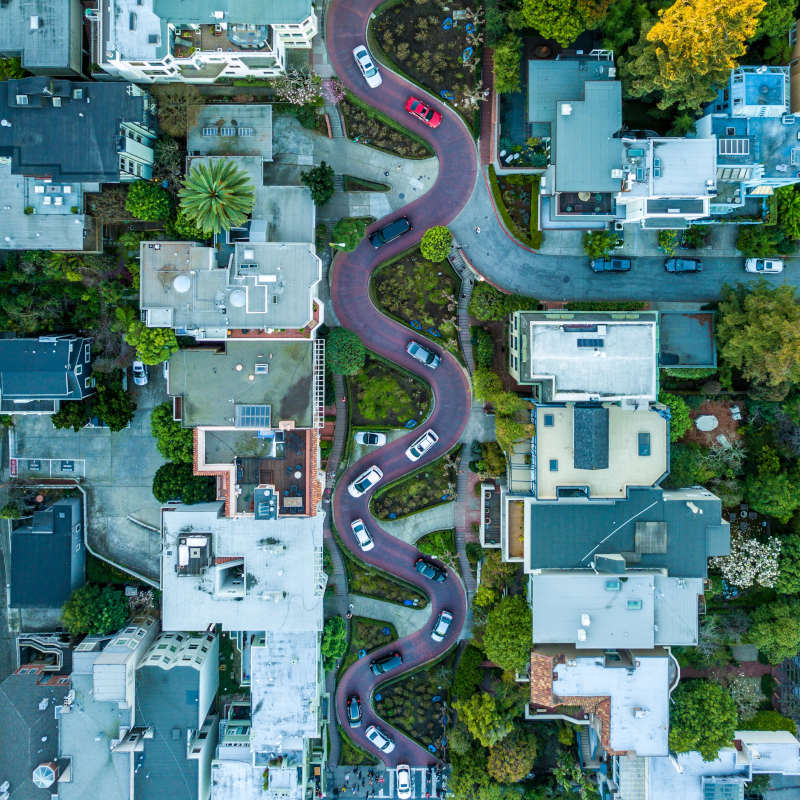 5. Lombard Street
Take in a birds-eye view of famed Lombard Street and you'll see why it's steeply sloped hairpin turns have earned it the Guinness World Records title of 'most crooked road'. A huge drawcard and 'must-see and do' in San Francisco, you can take a slow drive or walk along its red brick paving – but be advised you might queue for some time to take a turn (or eight).
Where is it located: The famous hairpin bends begin at the meeting of Hyde and Lombard Streets, and run for just shy of 200 metres down a one-way, red-brick road.
6. Fisherman's Wharf
Nestled on San Francisco's northern waterfront, Fisherman's Wharf is an obligatory stop mid-way between the Golden Gate Bridge and one of the longest suspension bridges in the USA – the Bay Bridge. The busy waterfront is home to a handful of 'San Fran' sights, seafood restaurants, shopping and events. It's one of those touristy but unmissable things to do in San Francisco.
Where is it located: Arriving at 100 Jefferson Street will take you to the heart-centre of the Fisherman's Wharf. From here you can navigate to Ghirardelli Square, PIER 39 and Boudin Bakery.
Ghirardelli Square
The public square and former chocolate factory, Ghirardelli Square is a landmark of San Francisco. The popular retail complex dates back to 1852 when it was once the Ghirardelli Chocolate Company. Browse artisanal products, sample local cuisine or enjoy drinks with a view at Ghirardelli Square, before moving on to explore the remainder of the busy Fisherman's Wharf.
Where is it located: Find Ghirardelli Square at 900 North Point Street, San Francisco.
PIER 39
Located within the Fisherman's Wharf, San Francisco's waterfront is home to the well-visited PIER 39 – a top destination for dining, shopping and entertainment, with views of the Golden Gate Bridge, the surrounding city and San Francisco Bay. Rub shoulders with local sea lions, ride the San Francisco Carousel and enjoy daily street performances. PIER 39 Marina is an excellent jumping-off point for one of the most memorable things to do in San Francisco – a cruise of the bay!
Where is it located: Find PIER 39 at the Embarcadero, the eastern shoreline of San Francisco.
Boudin Bakery
Tuck into San Fran's famous sourdough bread at its origin, Boudin at the Fisherman's Wharf. Taste the result of a longstanding tradition of breadmaking with a sourdough loaf at Pier 39 and watch the bakers demonstrating what they do best, through a large observation window.
Where is it located: Find the Boudin Bakery & Cafe at PIER 39 and another at Baker's Hall on 160 Jefferson Street in the Fisherman's Wharf.
7. The San Francisco Ferry Building
Housing the Ferry Building Marketplace – an artisanal food community – the Ferry Building is a gathering place to enjoy local products, rub shoulders with locals and visitors alike and catch a ferry across the San Francisco Bay! Dating back as far as 1898, the Ferry Building can also be reached by San Fran's historic trolley cars – combining a number of the best things to do in San Francisco into a single trip.
Where is it located: The San Francisco Ferry Building and marketplace are located at 1 Ferry Building, San Francisco.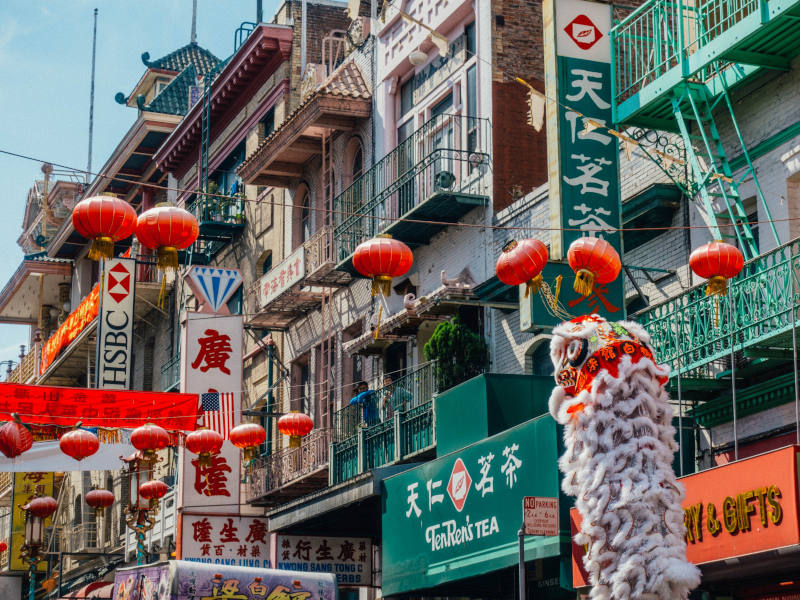 8. Chinatown
Enter the Dragon's Gate off of one of San Francisco's oldest streets, Grant Avenue, to discover the traditional eateries, karaoke bars, shops and temples that line its streets. While you are likely to find plenty of gift shops dotted along Grant Street, head to Stockton Street for authentic Chinese cuisine and produce markets. If you find good fortune and manage to locate the elusive Fortune Cookie Factory on Ross Street, you're in for a sweet treat!
Where is it located: Enter Chinatown from the corner of Bush Street and Grant Avenue, or via Stockton Street.
9. Union Square
Downtown San Francisco plays host to the sprawling public plaza, Union Square. A smorgasbord of hotels, trendy bars, artistic haunts and shopping heaven, the square also serves as an ice skating rink at Christmas. Historically the square was named after the rallies that took place there in support of the Union Army, during the time of the American Civil War.
Where is it located: The square is located in downtown San Francisco and bordered by Post, Stockton, Geary and Powell Streets.
10. The Painted Ladies
The Victorian terrace houses that line Steiner Street, across from Alamo Square Park, have been aptly named the 'Painted Ladies' thanks to their candy-coloured facades. Enjoying a cameo feature in many films and television shows, the 'Postcard Row' is most notably recognised from scenes in Full House and Mrs Doubtfire.
Where is it located: The Painted Ladies are located on Steiner Street, between Grove and Hayes Streets.
11. Twin Peaks
For expansive views of San Francisco's city and bay areas, head for Twin Peaks. Located at San Fran's geographic centre, the towering peaks are looped by Twin Peaks Boulevard and offer scenic viewing points, hikes and a challenging cycle route. Once you've enjoyed taking in the abundant natural beauty, flora and fauna, the central location leads to many other nearby San Francisco attractions.
Where is it located: These panoramic peaks can be summited via Twin Peaks Boulevard.
12. Cable Car System
These iconic San Francisco fixtures are representative of the world's last manually operated cable car system. Just three lines remain out of 23, since their establishment from 1873 to 1890. The cable cars are mostly used today by visitors and are one of the most well-known of all the San Francisco tourist attractions.
Where is it located: The Powell/Hyde and Powell/Mason lines begin at the intersection of Powell and Market Streets, while the California/Van Ness line begins at California and Market Streets.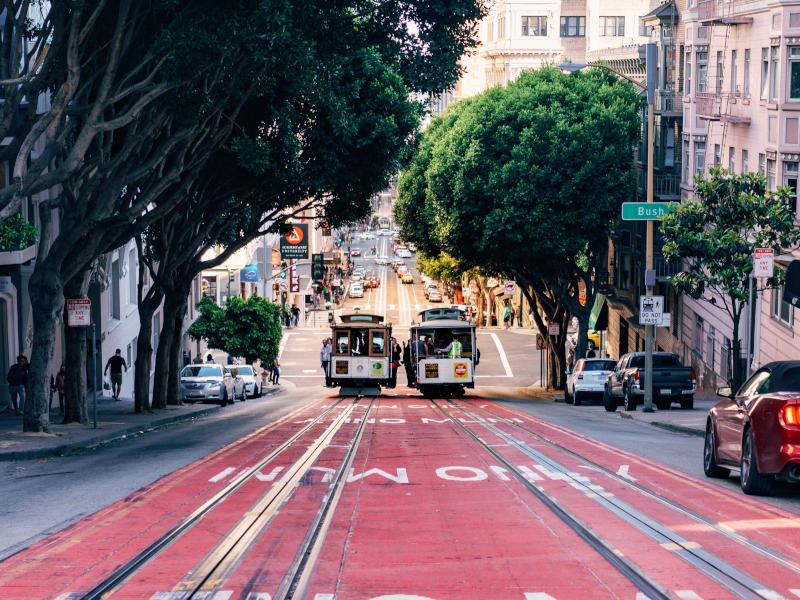 With all the incredible things to do in San Francisco just awaiting your arrival, why not consider Travelstart car hire? You get to determine the course of your trip, cover more ground and see the city like a local! We can also hook you up with great hotel accommodation and flight specials.
Have you discovered any of these or other hidden gems in San Fran? Let us know in the comments below!