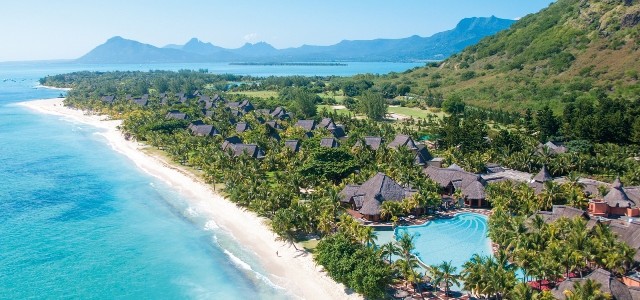 Mauritius can be a great family holiday, but your holiday accommodation can also turn into a claustrophobic crèche unless you plan correctly and know what you have available. We recently visited two resorts, Dinarobin and Le Victoria, along with the 6-year-old and the 3-year-old, and figured a few things out.
Accommodation
If you're with your children, do the homework and find accommodation with inter-leading rooms. It's fairly easily available. We secured a huge room, with another huge room alongside it, with a shared and safe balcony. Kids had their beds and TV, while we had our little bit of privacy. Came at normal cost, it was just one of the options that Le Victoria offered.
Kiddies Club
Many resorts have Kiddies Clubs, where the children are entertained for hours on end while the parents can chill and get their breath back. The entry level for the Kiddies Club is generally four years old however, and they're strict, obviously. Our 6-year-old and our 3-year-old are inseparable, so Kiddies Club didn't work out for us. Next year it should.
Also see:
Kiddies Club Eating Area
At Le Victoria there was a cute little children's restaurant alongside the main eating hall, called Bob Marlin. The kids' dinner was served early, off a kids' menu. It was a fun menu, with all sorts of cute meals and extras, with trained staff looking attentively after the children and their needs. I hung around as well, but wasn't allowed to sit with them while they ate, as my double gin and tonic wasn't allowed in their restaurant. It was blissful. I sat outside the restaurant and watched all the brats eat and throw tomato sauce around, while up in the room my wife prepared herself for dinner, and for a few minutes I managed to drift off to my warm place.
Nannies
We enquired about a nanny service, and the sweetest local Mauritian lady presented herself to us. She politely and efficiently looked after our kids for a night, and we were so impressed we hired her two more times. She was thorough, asking many questions like "do they have any allergies?" and "which restaurant will you be eating in tonight?" and "what TV are they allowed to watch?" She charged R70/hour and one night I overpaid her by mistake and she came straight back to our room and gave us the extra money back, saying that there had been a mistake.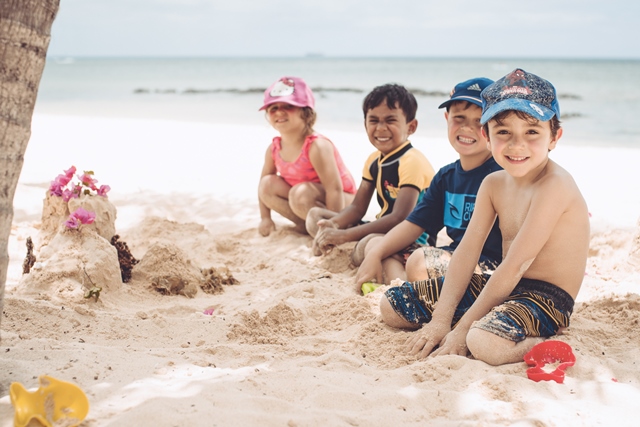 Air Mauritius Specials
During low season – outside of school holidays – Air Mauritius offers their Travel Smart Program, with big discounts and upgrade offers.
If you travel during these months you can book two adult tickets, your two children can travel for free. You will still have to pay airport taxes, however. We pulled this off, and it helped the plastic.
There is also the last minute upgrade option, in which R1500 per person will get you a Business Class upgrade depending on availability. Travel Smart Program also offers additional baggage allowances, sporting equipment allowances and a discount for the bride for honeymooners, which had no value to us whatsoever after nearly a decade of married life.
Heated Pools
It's a good idea to find a resort with heated pools like Dinarobin. Kids love them. If you're travelling during the winter months or if the weather does turn and the beach or the main resort pool becomes chilly, a heated pool is going to be one amazing resource. We lay by the side of the pool, chucked a few toys in, and our kids would literally play for hours on end, side by side, while we ordered cocktails and spoke about life.
iPads
While this may not be on offer, they are indispensable, particularly while travelling. There is always some way to get onto Wi-Fi in airports and resorts, and you can load plenty of material that doesn't need Wi-Fi anyway. Just make sure that you have a few games loaded, a fully charged battery, headphones and some children's reading materials like Dr Seuss and some mags or cartoons. Our kids played on the iPads on the plane pretty much the whole way there and back, stopping only when they ate or slept. Some people think that its better to get an educational tablet like a LeapPad or something similar, but we just kept check of what games were loaded, and deleted all of them that contained drooling zombies and heads being popped etc.
Kids on Air Mauritius
Air Mauritius has a 'feed kids first' policy, which is amazing, and they also hand out little tin Toys and Games suitcases to all the children. Inside there are some games, a colouring in book, some crayons and a Rubik's Cube amongst other things. This did cause great excitement and was looked at occasionally between iPad playing, but once we were settled into our resort and the iPads were put away mostly, the Air Mauritius cases came out again to much excitement and amusement, and the Rubik's Cubes were destroyed shortly thereafter.
All Inclusive
We stayed all-inclusive at all resorts, which really helped with the kid's constant need for something to eat and something to drink, and definitely ended up cheaper. I still find it hard to comprehend how much food and drink a 6-year-old can get through in a 24-hour period.