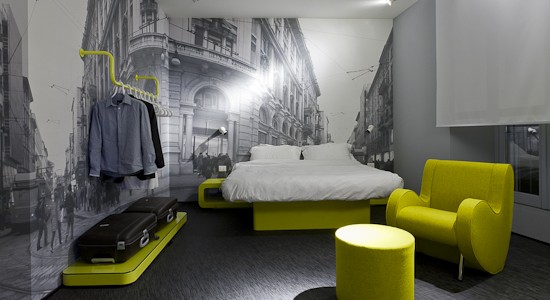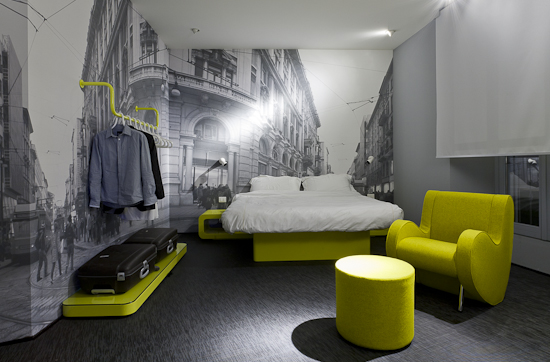 Images credit: Mark Peddle
Before we went to Milan, people kept telling us that it was a difficult city to get to know – fast-paced, all about business and fashion, tough to get a feel for it. That might be true if you're staying in any old hotel, but not if you're staying at one of the TownHouse Street hotels – TownHouse Street Duomo, if you're really lucky.
Just a few steps from the famous Duomo Cathedral and the gasp-worthy Galleria, TownHouse Street Duomo still manages to feel like a haven of peace – right in the heart of the city. It's a boutique hotel in the most beautiful sense of the word, with clean lines and modernist, fantastic design touches, and a lot of personal attention for the guests in the seven studios. Black and white photographs line the walls as near-life-sized street scenes of Milan, and pops of yellow (the armchair, the fridge, the clothes rack) add a playful touch. It is right in the best part of the city – across the road from Cioccolat'Italiani (the finest gelato you will ever eat) and 200m from TownHouse 8, where you check in and eat a superb breakfast at the Seven Stars Galleria.
TownHouse Street Duomo is the latest addition to the TownHouse brand, and has only been open since May 2012. All the entrances to the TownHouse hotels are secret and private, and the intention is to make you feel as if you're at home, not in a hotel (if your home happened to be fabulously stylish, that is). These are not just rooms, they are spaces to live in – with living rooms and loads of space to unwind in, windows that open out into the city, and a fridge stocked with drinks you can help yourself to without worrying about minibar prices. The concierge is on hand should you need help with anything (travel advice, adapters, bookings) but if you just want to blend into the city, that's perfectly fine too.
In short, TownHouse Street Duomo is a hotel built by and for travellers. Which means it's an absolute joy to stay there.