Travelling to Nairobi, you'll discover a city alive with colour, eclectic art, friendly faces and delicious things to eat. Kenya's capital is so much more than a stopover on the way to that European summer holiday you have planned. If you're flying through Nairobi with Kenya Airways, it's time to make it less of a thoroughfare and more of destination…
For years, European travellers on their way to fancy safaris and the chase of the great wildebeest migration in East Africa, have revelled in the delights of Nairobi. Recently too, South Africans are spending a little time in the city before moving on, and are getting rewarded for their efforts when they do.
What to see when travelling to Nairobi
The first thing a lot of travellers discover when researching Nairobi as travellers, is that there really is so much to do. A few attractions stick out above the rest though, including the David Sheldrick Wildlife Trust, the Giraffe Centre and the travelling Maasai Market.
The David Sheldrick Wildlife Trust is a haven for orphaned elephants. Each morning, the baby ellies are brought in from foraging on the large property that the trust operates from for their morning bottles. As guests stand by, the herd run in playfully to frolic in the mud pools and slurp down two-litre bottles. Each ellie is introduced by name, and the reason of how they came to be in care at the trust is explained.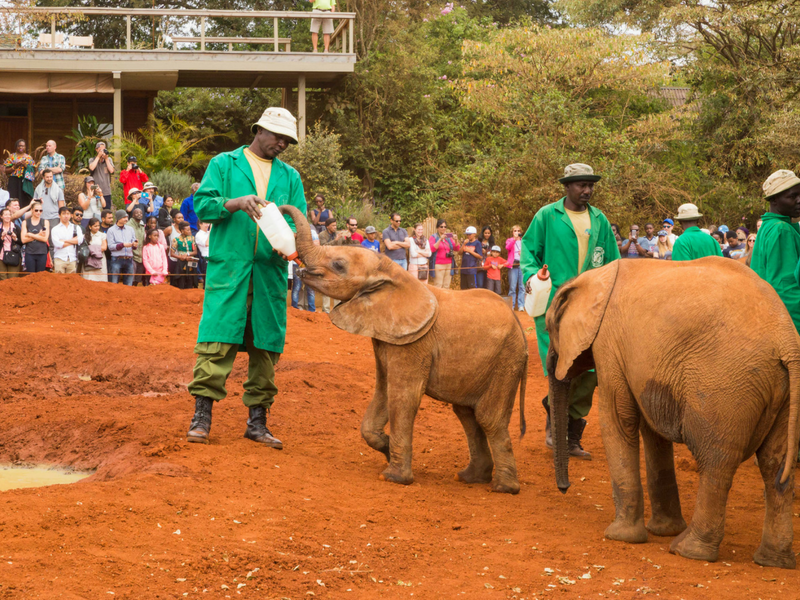 Baby elephants in Nairobi. Photo: Kate Els.
Nearby, the famous Giraffe Centre, which is located adjacent to the famous Giraffe Manor, travellers can get up close with the endangered Rothschild giraffe at this specialist conservation project. Discover more about the plight of this endangered giraffe species and how the centre is helping conserve these large, loping animals.
Feeding the giraffes. Photo: Kate Els.
Nairobi offers one of the most unique game parks in the world with Nairobi National Park. Sitting adjacent to the Nairobi business district, this park offers views over flat grassy savannahs coupled with the outline of the city's skyline. Travellers love the chance to get a snapshot of the grazing zebras with the reflective glass of the city's tallest buildings in the background!
The unique skyline opportunity in Nairobi. Photo: Kate Els.
Although it can be a little difficult to track down, the Maasai Market of Nairobi is another must if you're in the city. The market changes its location daily, moving to different spots across the city. It's one of the best places when travelling to Nairobi to get your hands on a few authentic local souvenirs including handwoven baskets, long, beaded necklaces and carved sculptures. What's a trip without a memento after all?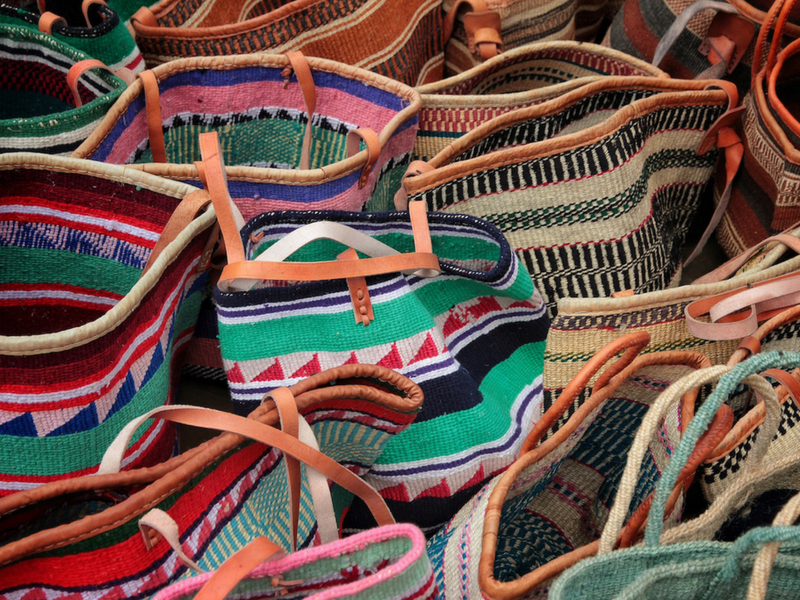 Shopping at the market. Photo: Kate Els.
The Karen Blixen Museum is another highlight in Nairobi, particularly for history buffs. Here, you can learn all about the often romanticised life of the author who penned her biography under the title 'Out of Africa', which later became a movie released to much acclaim. While the house certainly belongs to a different time period in the history of Kenya, it's also worth a visit to Tamambo near the museum. This restaurant offers delicious meals in lush gardens, while local artists display exquisite paintings for sale.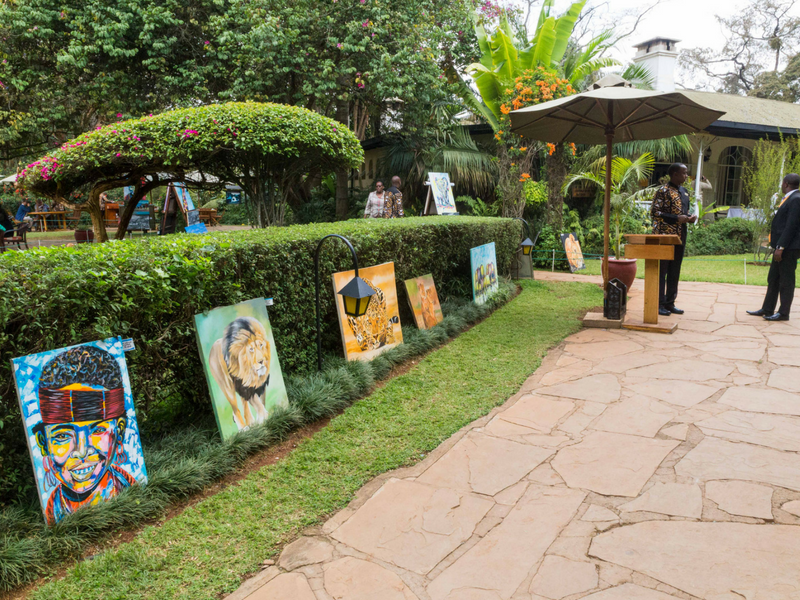 Local art for sale in Nairobi. Photo: Kate Els.
What to eat in Nairobi
Trying to decide where to eat in Nairobi is pretty difficult. Not because there's a lack of options, but rather because there are just so many! With its cosmopolitan population, the city is bursting with dining options that can cater to any palette. Because the city sprawls over a large area, and of course the clog of traffic a consideration, you might be limited to where you can get to, but here are our top suggestions on where to eat when travelling to Nairobi:
This new-age urban eatery is Nairobi's answer to a gastropub. Patrons can enjoy a number of craft brews coupled with some delicious fare and a dose of local culture. This is a great spot to stay out late, and even better when there's a heated sports match on the go!
Offering an Eritrean dining experience in the upmarket suburb of Westlands, Asmara is casual dining at its best. Opt for one of the traditional meat dishes such as Tsahli Tibsi, goat meat with peppers and chillies, served with traditional Injera, a sourdough flatbread that is eaten with your hands (perfect for mopping up all the leftover sauce on your plate)
If you can't quite decide on one type of cuisines, then Urban Eatery is the ideal place to go. With four different kitchens, a frozen yoghurt counter and a vibey bar, patrons can choose from an all-day dining cafe, sushi and Asian-style noodles, Mexican fare or Indian dishes.

The grilled delights of Carnivore. Photo: Kate Els.
Although Carnivore is packed with tourists, it isn't without reason. Other than the 'all you can eat meat' options, Carnivore offers up local dishes and drinks with a touch of theatre. And of course, where else are you going to get the chance to eat some bull's balls?
Finally, the best view in Nairobi
We promised a view for when travelling to Nairobi and we're going to deliver on it. Nairobi, of course, has a variety of vantage points spread across the city, but none so fine as the view from the helipad of the Kenyatta International Conference Centre.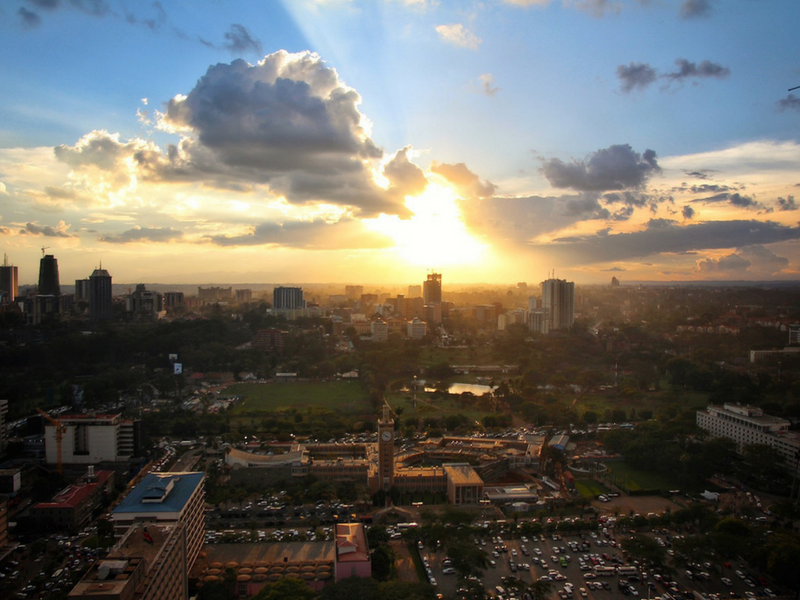 The view from the conference centre helipad. Photo: Kate Els.
This 360-degree view of the city is absolutely superb, and is even better at sunset if you can make it there for then. Open between 07h00 and 18h00 during the week, and between 08h00 and 17h00 on weekends, non-resident visitors pay Kes 500 (about R70) to travel to the top of the conference centre and enjoy the view.
We know Nairobi has a lot more to see, do and eat. Let us know your favourites when travelling to Nairobi in the comment section below!