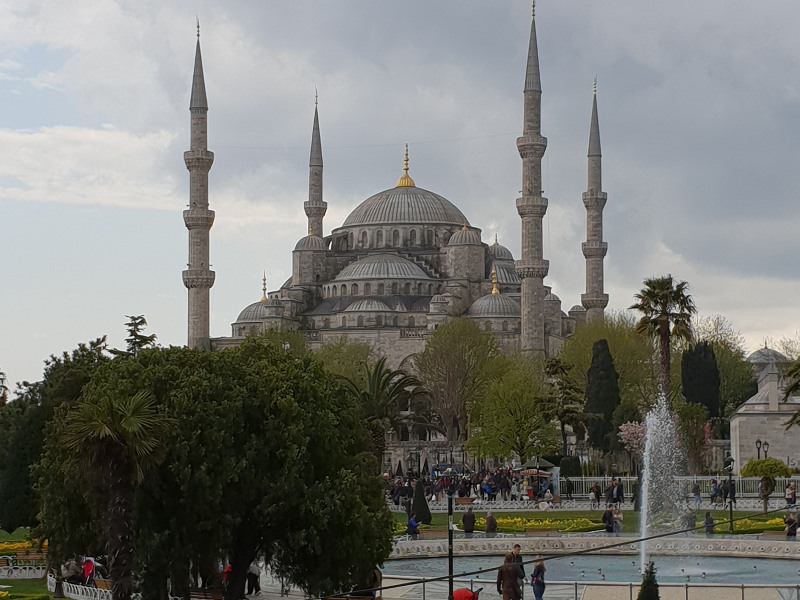 "If the Earth were a single state, Istanbul would be its capital." Napolean Bonaparte.
Imagine a world where we could just fly direct from one international destination to the other. Well, unfortunately, this may never be the case for many long-haul flights as the destinations are simply too far apart. Some layovers are shorter than others but for the most part, they are unavoidable. What if we told you, you could plan your layovers a little better and turn them into a mini trip? Think of it as an extension of your holiday, but for FREE!
Well, we've got news for you. If you fly Fly with Turkish Airlines, via Istanbul on your next long-haul international flight you can experience TourIstanbul, a free layover tour created by Turkish Airlines for its international passengers. Could you think of a better opportunity to visit a new city? In particular Istanbul, the most inspiring city in the world?
TourIstanbul with Turkish Airlines: We're in the future

Most would see a layover as a curse unless of course, you are flying with Turkish Airlines In which case you've pretty much hit the jackpot. What you need, however, is a layover that is no less than 6 hours, and no more than 24 hours. If it's your first time flying via Istanbul, you should make every effort to book a flight which will land in Istanbul first thing in the morning, allowing you the opportunity to take advantage of the day tour. Many may have already travelled to Istanbul on a number of occasions and would prefer to just relax and unwind before their connecting flight. That's ok too. It simply means you need to contact the Turkish Airlines hotel desk to make the necessary arrangements to rest your weary head at Turkish Airline's preferred stopover hotel, the Clarion Hotel Golden Horn. All this at zero cost to the passenger.
Travelstart travels to Istanbul
Turkish Airlines recently extended an invitation to Travelstart to fly to Istanbul and experience the layover and stopover programme first-hand. Without batting an eyelid, we grabbed the opportunity with both hands and took off (no pun intended) leaving a dust cloud in our wake.
Did someone say business class?
Giddy with excitement two Travelstarters headed towards Cape Town International. Our excitement was escalated when we arrived to the check in counter and discovered that we had been upgraded to Business Class! The bar had been set, and we knew the balance of our trip would be nothing short of spectacular. We stepped on to the plane with our minimal hand luggage and a lot of swag. Two virgin Turkish Airlines passengers were off on an adventure.
Turkish Airlines is known for its fantastic cuisine, great service, and comfortable seating, but it has to be said, business class is really something quite special.  Roll out the red carpet.
We had barely settled into our front row seats when we received a hearty welcome from the cabin crew and flying chef, and the first of many refreshments, once again, setting the tone for the flight ahead.
After many courses of Turkish deliciousness, satisfying the most discerning of palates, we reclined our seats into fully fledged beds and retired for the evening.
HOW TO APPLY FOR THE ISTANBUL STOPOVER TOUR
There are a few prerequisites before you can qualify for the layover tour or the stopover accommodation option:
You need to make sure that you have an international transit/connecting flight through Istanbul with Turkish Airlines on the same journey.
Your layover needs to be at a minimum of 6 hours and maximum 24 hours.
Proceed to the Hotel Desk in the International Arrival Hall at Ataturk International Airport half an hour before the tour starts. (Next to Starbucks)
Make sure you have applied for your visa For South Africans, this can be completed online in minutes.
Without the above, you will unfortunately not pass for the layover or stopover accommodation, which would be a huge pity.
You will find the hotel desk just outside Starbucks, which, I would like to add was a sight for sore eyes after travelling 11hours from South Africa, where you will confirm your seat on the tour with your boarding pass.
The tours run from 9 am in the morning until 9 pm at night. Make sure you get there at least 30mins before your tour so you can check-in and secure your seat. There are a number of tours depending on (a) your preference, and (b) the time you land at Ataturk Airport. The sites in Istanbul are endless so it would be impossible to see them all in the space of 24 hours, however with guidance from Turkish Airlines we were able to experience the sites which are an absolute must, given the shortage of time.
Option 1: Day Tour
The tour bus leaves promptly at 9 am and nestles into the unavoidable traffic of Istanbul, which is expected in a city which inhabits 20 million people (which is huge if you consider that the entire country's population is 80million).
The day kicks off with breakfast at a local restaurant, which introduces us to a first-hand experience of a traditional Turkish breakfast which comprises of freshly boiled eggs, olives, fresh tomato and cucumber slices, feta cheese, bread, coffee and traditional chai, aka black Turkish tea.
Bosphorus Tour
After fuelling our "weary" bodies for a full day of back to back action, we set off to the docks of Eminönü where we boarded a ferry and began our private Bosphorus cruise tour. While 6 hours is a fair amount of time, in a city like Istanbul you will barely scrape the surface in terms of soaking up as many of the sites as possible, however, the Bosphorus tour is a fantastic way to get a glimpse of some of Istanbul's most popular historical sites in the quickest and most convenient way.
The Bosphorus tour is so special, it connects Europe and Asia, and the Black Sea and the Mediterranean. The Bosphorus is the epicentre of the magic of Istanbul.
As you cruise under the Galata Bridge your local guide will breathe life into the ancient history of the famous Galata Tower, Dolmabahce Palace, countless mosques, and so much more.
We were fortunate enough to be in Istanbul at the start of spring which meant the weather was completely bearable during the day in fact sometimes rather warm, dropping right down to lower temperatures in the evenings.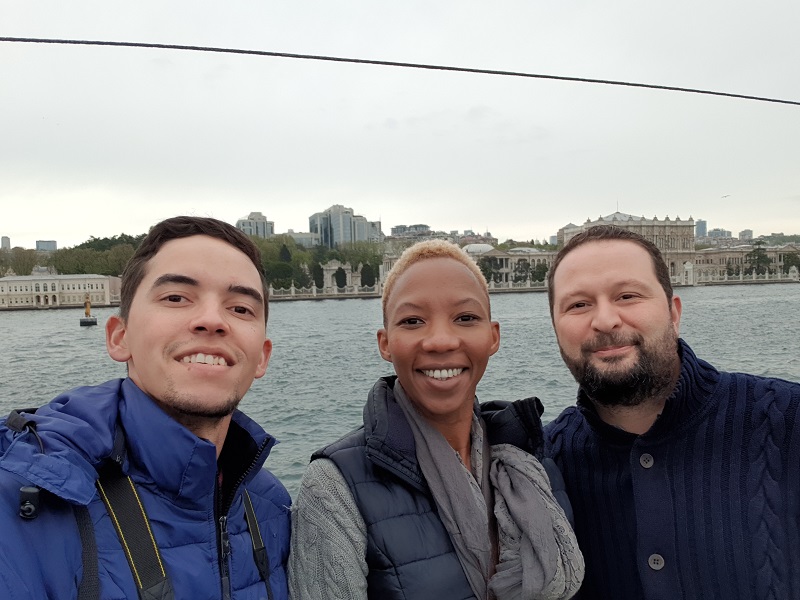 *Team Travelstart with Turkish Airlines on the private Bosphorus Cruise tour.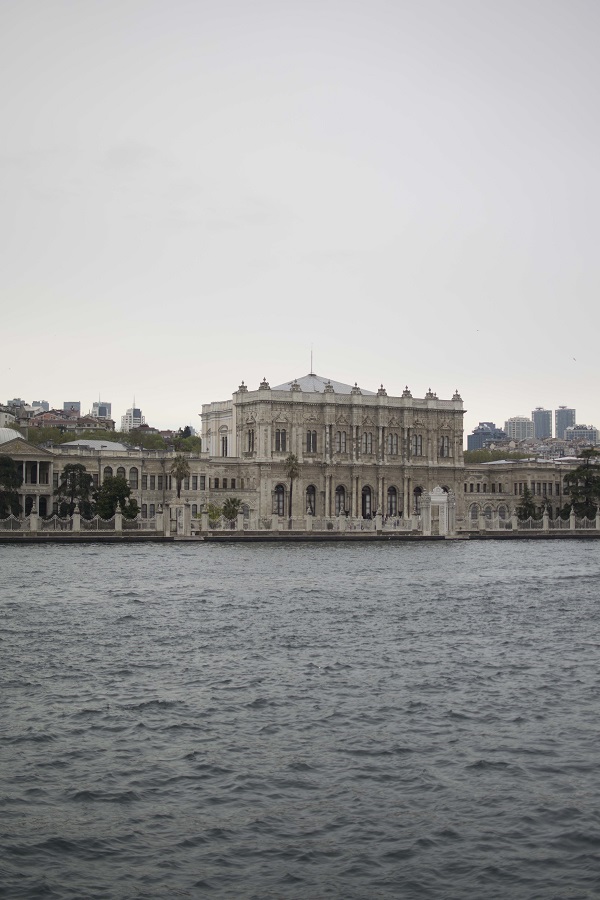 *Dolmabahce Palace
Lunch
We then headed back to the restaurant for some more Turkish goodness, which comprised of traditional lentil soup, local beef or chicken kebab, accompanied with salad, bread and cheese. Vegetarians and vegans, you won't be disappointed, fresh vegetables were plentiful.
Unfortunately for those who only had 6 hours to kill, their half day tour was over and would sadly have to make their way back to the airport to be back shortly after 3 pm. Those who had more than 6 hours would be able to continue with the full day tour in the Old City, Sultanahmet.
Sultanahmet, the Old City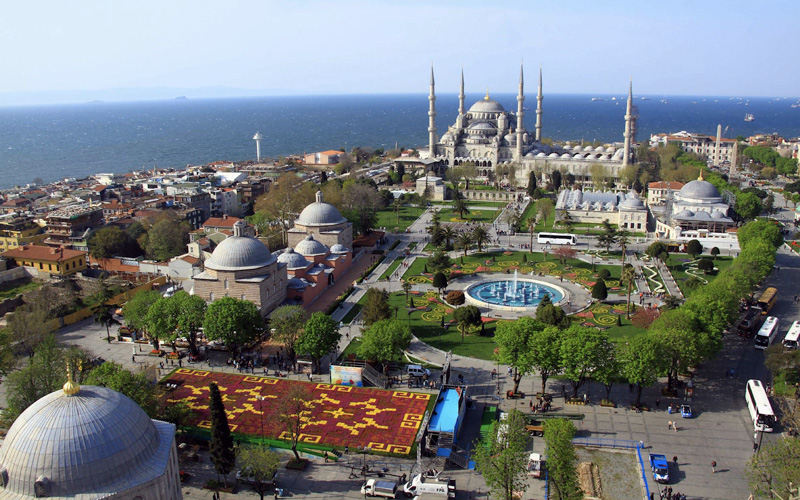 *Sultanahmet (Old City)
Sultanahmet (Old City) on the European side of the city, is home to Istanbul's most visited and treasured sites. Not only is it the oldest district, but also the heart of the city, which was previously known as Constantinople.
On this particular Friday, Sultanahmet was heaving with tourists and locals alike which is quite common this time of the year, and only gets progressively worse as summer quickly approaches, so our time was limited leaving only enough time to visit the beautiful Hagia Sophia, often referred to as the eighth wonder of the world, and has one of the most turbulent histories of any museum in the world, and The Blue Mosque. Due to the mosque being under construction, we were only able to visit the perimeter. We are happy to announce that the Blue Mosque doors shall reopen again in June 2018, according to our trusted tour guide.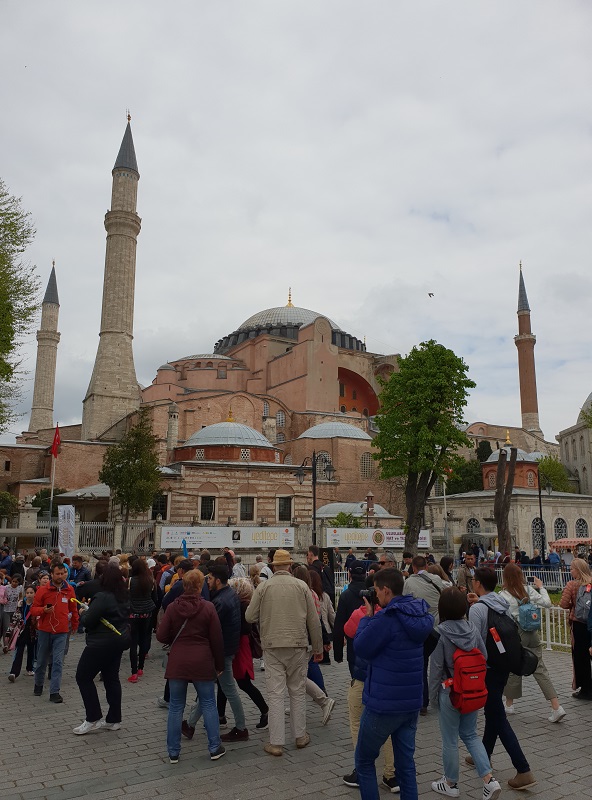 *Hagia Sophia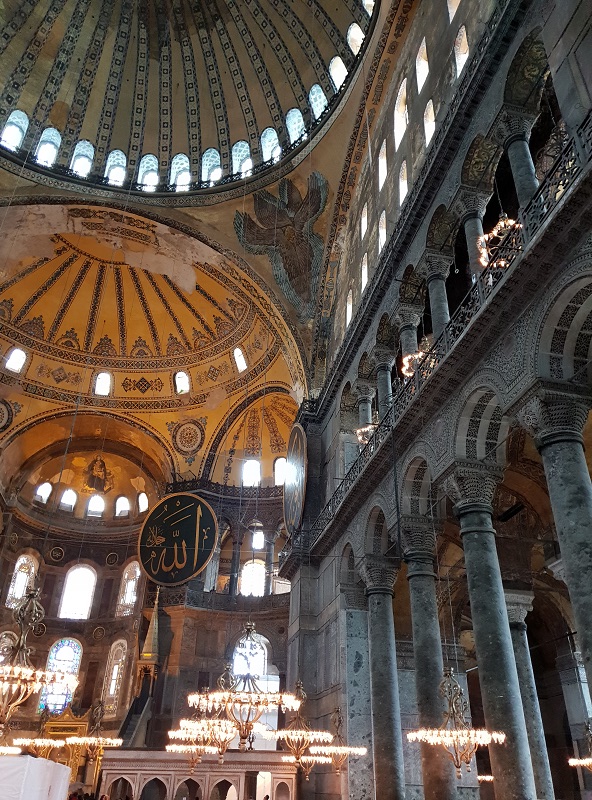 *Inside the Hagia Sophia
*The Blue Mosque
It is unlikely that you will have any spare time for your own personal adventure, but if you do, I would strongly advise a quick stroll along Divan Yolu, a road which historically lead from Constantinople to Rome, now the main avenue through historic Old Istanbul, starting at Sultanahmet Square and the Hippodrome and heading westward to the Grand Bazaar. Maybe even a spot of shopping. Nothing says, "been there, done that", like a souvenir from the Grand Bazaar.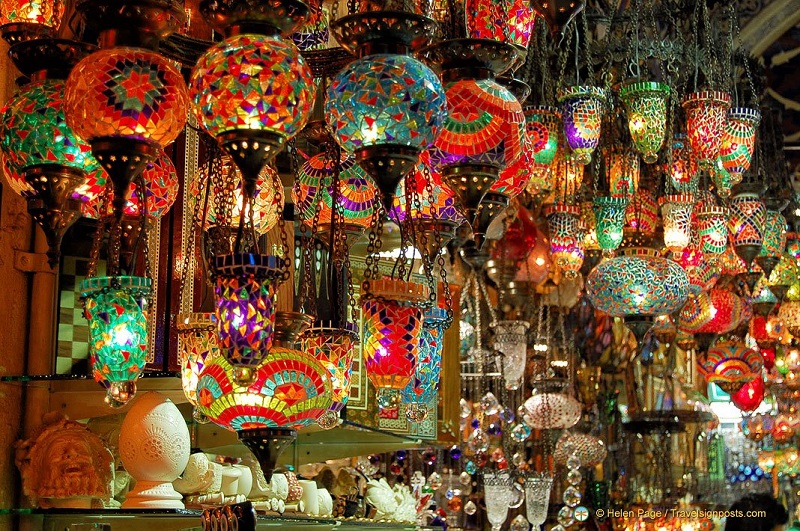 *Grand Bazaar
Our tour came to an abrupt end as we hopped back onto the bus to make our way back to the airport for the passengers who would catch their connecting flights later that evening.
Typically you would only be able to choose one of the options, but for the purpose of this once off experience, we would be staying the night at the Clarion Hotel.
Once again, if you would prefer to rather rest at the hotel between your connecting flight, you would need to contact the Turkish Airlines hotel desk for all the terms and conditions and they will be able to confirm with you whether or not your booking is eligible for the accommodation or not.
Option 2: Clarion Hotel, Golden Horn
Less than 20km away from the Ataturk International Airport is the Clarion Hotel in the Golden Horn district. The hotel makes for the perfect sanctuary after a long and possibly uncomfortable flight. Due to the Turks adopting a very cosmopolitan way of life, it goes without saying that the Turks are friendly and the Clarion hotel staff were particularly welcoming on our arrival.
The standard rooms exceeded our expectations. One would expect nothing less from Turkish Airlines. Everything you needed for a good rest or some much-needed downtime was at your disposal, from a breakfast spread suitable for a king, to a gym to get the circulation going, and a business centre for any urgent business calls.
The standard rooms were equipped with air conditioner; fruit, nuts and biscuits, tea and coffee and a hot shower containing all your personal needs. If you're lucky, you may even get a room with a balcony overlooking the inlet of the Bosphorus, and all the beautiful buildings just beyond the waterway.
"Istanbul owes its extraordinary situation to Golden Horn, Marmara Sea and The Bosphorus." Edmondo De Amicis 
Napolean once said, "If the Earth were a single state, Istanbul would be its capital." It was only when we were taken on a historical journey through the city were we able to truly understand these words. Istanbul whispers a story of many civilisations, a story of old and new, fast and slow, accompanied with the peaceful humming of a nearby mosque. To understand the magic this city holds you would have to experience it for yourself because no amount of words or pictures could do it justice.
If you haven't booked your holiday yet, it's never too late to book with Turkish Airlines. You'll thank us later for sure!