When Travelstart CEO Stephan Ekbergh discovered the Thembalitsha School of Hope in early 2009 they were struggling to stay open. Heavily reliant on funding from the corporate world, School of Hope was nearly forced to shut their doors as financial backers all but disappeared in the wake of the global financial crisis. Travelstart stepped in providing funding for teachers' salaries, general office administration, books and stationery; equipping the pupils on their road to success.
Today School of Hope is alive and well. The Class of 2011's Matric results are in and the 100% pass rate is testament to their admirable weathering of the financial storm that plagued them 3 years ago. Dedicated teachers at School of Hope, together with students that are encouraged to take responsibility for themselves, have been a winning recipe for the school as they convincingly beat the overall South African Matric pass rate of 70.2% as well as the provincial pass rate of 82.9% in the Western Cape.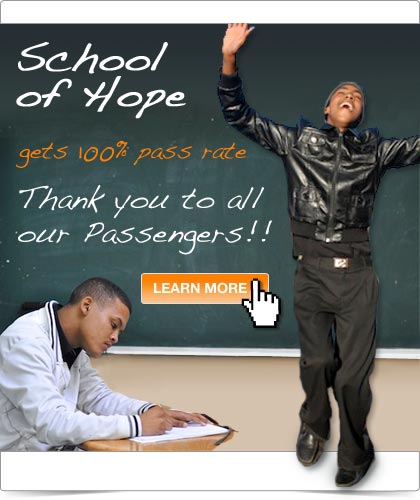 Class of 2011
I contacted Laura Collura, Principal at School of Hope, and she was kind enough to give me some stories from some of the 2011 graduates.
"I enrolled at School of Hope in 2008 because in 2006 I had a rough patch in my life. I went into a deep depression and attempted suicide. I had dropped out of school and was working, doing upholstery. I was also in a gang, fighting, partying, and experimenting with various drugs. It continued this way until I came to my senses and decided to go back to school but no school could admit me because of my age. That's when i discovered this amazing School of Hope. I was enrolled for four years and never looked back. Passing Grade 12 this year is a dream come true. I worked hard and struggled against many temptations to make it through the year. Now i begin a new chapter in my life which I am very excited about. My plan is to study to be a flight attendant – and to be a great one, by the way!" – Robin Bailey, 21, Class of 2011

"My matric year was a very challenging year, but there were more ups then downs. The year started off with a bang, lots of practical's in Tourism and Hospitality, some were quite enjoyable. The teachers did an awesome job by equipping us to do our utmost best in this final year. The matriculants of 2011 were sent on a mentoring trip to New York for two weeks. When we returned, inspired to excel at all costs, the hard work and sacrifices for both teachers and students began with extra classes on Saturdays and during the school holidays. As I look back on this year, I once again can only give God all the glory for being with us through this year. My future plans include studying psychology but I am also keen to gain experience in the work place as a personal assistant. Thank you, Travelstart and well done class of 2011!" – Tamsyn Willemse, 19, Class of 2011
About School of Hope
School of Hope is located in Athlone, Cape Town and forms part of the larger Thembalitsha Foundation of which Travelstart is a proud supporter.
The school offers hope through education for Youth at Risk (those who have dropped out of or forced out of school due to issues like gangsterism, teenage pregnancy, neglect, homelessness etc.) and Vulnerable Youth (those in danger of dropping out of school due to being orphaned or abused).
You can follow the school on their blog or visit Thembalitsha's website if you want to find out more about the larger organisation.
[boilerplate bytitle="text"]