News hot off the press is that after months of careful development, Travelstart, South Africa's first and largest online travel agency has launched a first of it's kind – a public booking engine for low cost carriers designed for mobile phones. As of yet, no other travel agency or airline in South Africa offers such a service, allowing you to browse available flights on multiple airlines, book and pay all from your phone, without needing to even turn on your PC!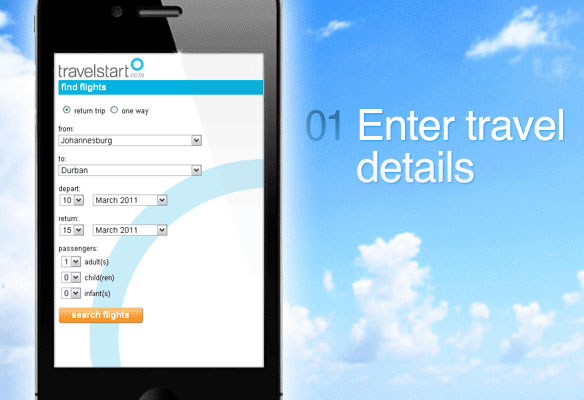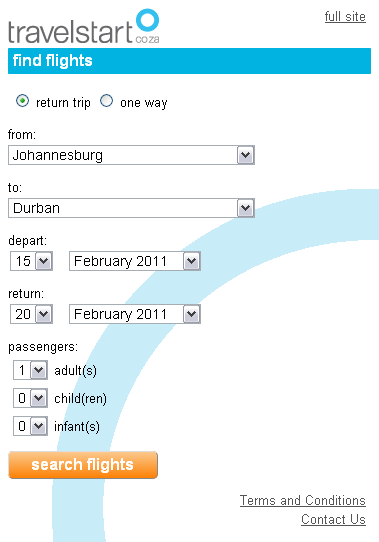 Pages designed for use on desktop and laptop computers are difficult to load on most phones – Travelstart's new easy-to-use mobile version allows for quick browsing, booking and paying on all web-enabled phones. It doesn't matter if your phone isn't a fancy iPhone or the latest BlackBerry, it works on all major cell-phone brands like Samsung, Nokia and SonyEriksson too, it just needs to support internet browsing.
Accessing the mobile site could not be simpler, just go to m.travelstart.co.za from your mobile internet browser to access the page shown to the left and begin browsing. To start off Travelstart have featured the low cost domestic carriers like 1Time, Kulula and Mango and will gradually roll out full-service domestic airlines (British Airways and SAA) and finally full-service international ones too. You'll have the entire world of air-travel in your pocket, making booking a ticket on the go, easier than ever.
What's more, book a ticket on m.travelstart.co.za to stand a chance to win a BlackBerry! Winners will be drawn at the end of January 2011.
This is more than just a first for Travelstart, this is a first for you South Africa!