When most South Africans fantasise about a tropical beach holiday, the likes of Bali, Thailand and Mauritius spring to mind. Yet, just a hop across the border and less than an hour's flight from Joburg, lie the dreamy sands of Mozambique.
It's one of those places that will take you by surprise. We were recently invited on a trip to Mozambique to experience what a few days in this beautiful country can do for your body and soul. Often described as the "Pearl of the Indian Ocean", Mozambique has a lot to offer, whether it's a weekend beach break, bush retreat or relaxing getaway with the family. Its caramel beaches, warm water, exotic flavours, historical architecture and welcoming locals are just some of the wonderful things you can experience.
Sure, Mozambique can be a little rough around the edges, but that's all part of its charm. We were pleasantly surprised at Mozambique's alluring beauty and how it's flourishing into a prominent tourist hub in Africa.
These are just some of the reasons we'd plan another trip to Mozambique any time:
1. The beaches are sublime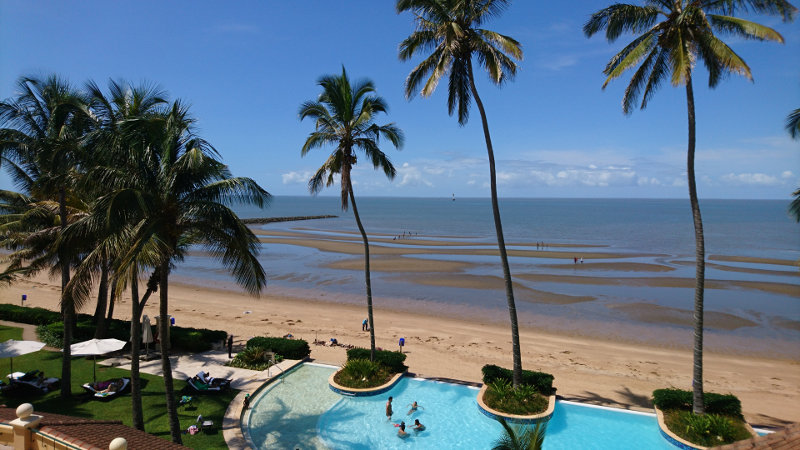 You'd be forgiven for thinking you were lying on Koh Samui or Grand Baie because the beaches in Mozambique are nothing short of spectacular. The coastline stretches across 2,600 kilometres of deserted silky-white beaches, turquoise lagoons, hidden coves and remote islands. Whether you're looking for thrilling water sports or the exclusivity of relaxing beach life, Mozambique has it all.
Pemba is the gateway to the Quirimbas Archipelago, where some 30 islands are home to an abundance of marine life and luxurious beach resorts. Further south, a short ferry ride from Vilanculos, lie the palm-fringed beaches of Bazaruto. Let's not forget the beautiful seaside of Inhambane – where honeymooners can frolic along the Barra Peninsula, and surfers can enjoy the swells along Tofo Beach. If you really want to get away from it all and have a private beach haven to yourself, Ponta do Ouro is the place to go.
2. You will eat your heart out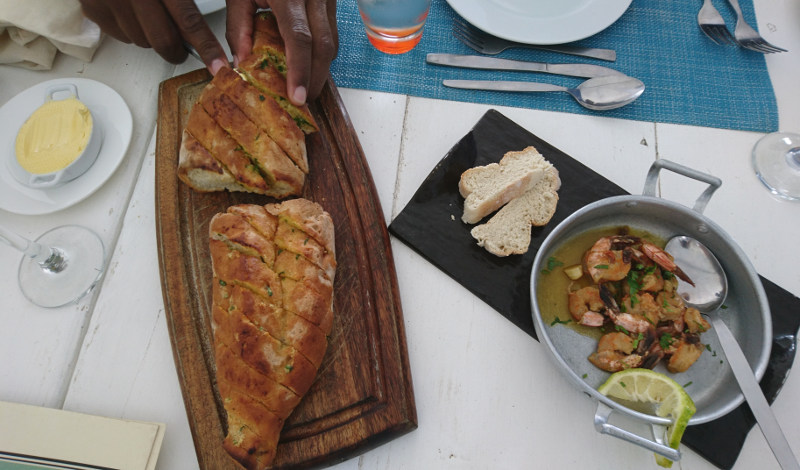 If the way to a person's heart is through their stomach, then be prepared to leave your heart in Mozambique. A trip to Mozambique is synonymous with delicious seafood. You'll never look at a seafood platter in the same way again once you've tasted the fresh lobster, crab and succulent peri-peri prawns that seem to find their way on just about every menu. The locals really know how to combine flavours, and you'll seldom find yourself without lemon, garlic, chilli and a signature dish of matapa at the table. While we might not recommend the sometimes questionable-looking street food, when it comes to your hotel buffet, dig in! 
Do like the locals and wash down your meal with a 2M ("Doysh-em") Beer, or sip on a classic Tipo Tinto cocktail to get the party started. And don't forget to treat yourself to a glorious bottle of Portuguese wine – it's so worth it!
3. Luxury resorts or backpacking – it's entirely up to you

The beauty of travelling to Mozambique is that you can do it your way. You have the option to glam it up at a five-star beach resort, or you can tone it down at a backpacker's lodge. If you're travelling on a budget in search of sun, sea and surf, then Ponta do Ouro is a great stop. It's a backpackers' haven with fresh seafood, cheap beer, souvenir markets stretching for days, forex facilities, a pharmacy, diving centres, and plenty of beach huts and chalets sprawled across the beach. Check out Kaya Kweru for a basic, no-frills stay – ideal for solo travellers or a group of friends. There are plenty of cheap accommodation options in Mozambique – just make sure you book ahead of time, especially during the festive season.
If you're looking to splurge, Mozambique is not short of idyllic beach resorts and five-star hotels. Whether it's a friends' getaway, romantic splurge, or business trip to Mozambique, you can expect first-class service and facilities.
Our top picks include:
White Pearl Resort, Ponta Mamoli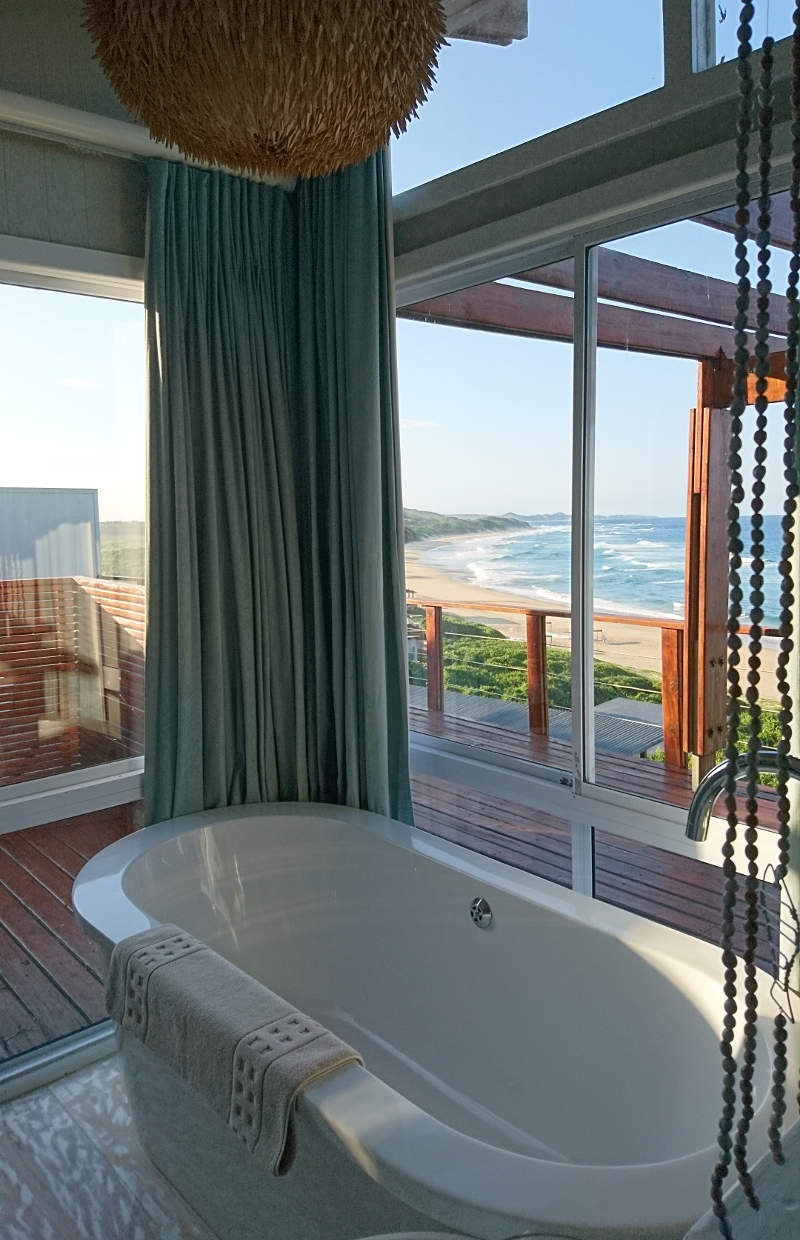 Why we love it: The attention to detail, from bottomless daily snacks in your room to the outdoor shower, bubble bath, and private plunge pool overlooking the beach. White Pearl is the epitome of elegance and luxury, featuring a spa, reading room, formal dining area, pool bar, dive centre, horse riding, and game drives.
Southern Sun Maputo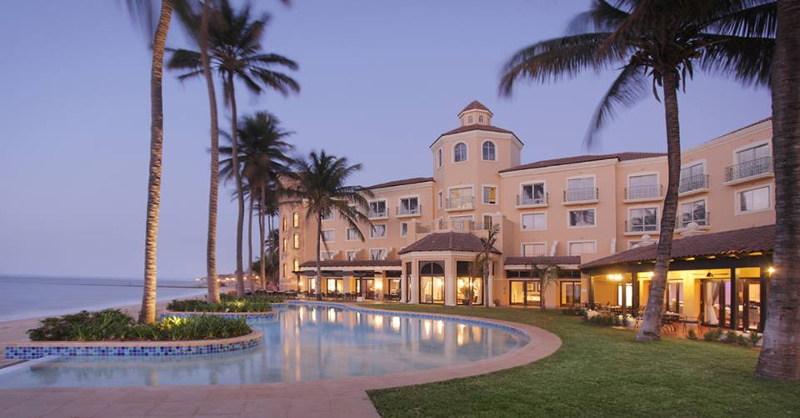 Why we love it: Sunset cocktails from the infinity pool! From a spa, gym and conference venues to gourmet breakfasts and family sea-facing rooms, you'll be more than comfortable at the Southern Sun Maputo. Plus, kids under 18 stay free!
Book your stay at Southern Sun Maputo
Montebelo Girassol Maputo

Why we love it: Their spacious and comfortable rooms. This chic hotel has just been refurbished and is kitted out with private working pods, a gym, relaxing pool area and multifunctional conference rooms. Its central location makes it ideal for business travellers and those on the move.
Book your stay at Montebelo Girassol
Meliá Maputo Sky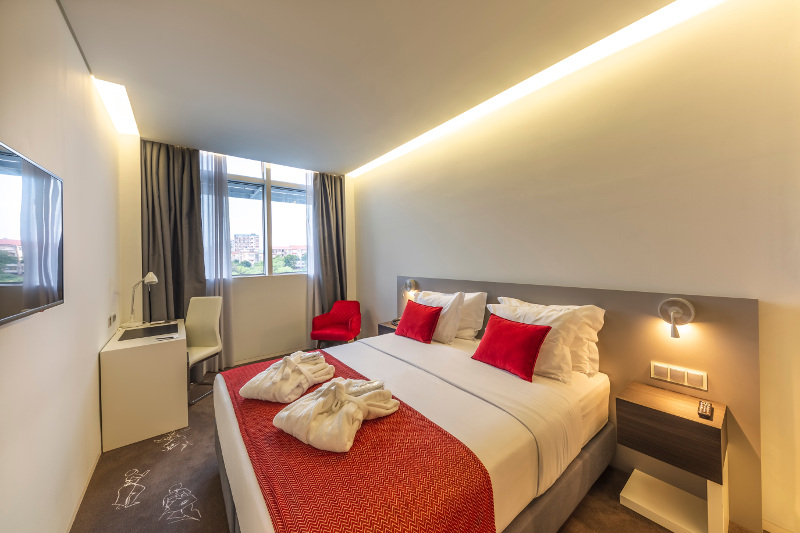 Why we love it: Jazz nights at the Sky Bar! Meliá Maputo Sky has all the features you want for a comfortable city stay. It is especially great for those on a short city stay or business trip to Mozambique, with its spacious auditoriums, gourmet dinners, health spa and gym, and personalised smart TV in each room. Relax after a busy day with a cocktail or a glass of champagne at the Sky Bar, with gorgeous views of Maputo Bay.
Book your stay at Meliá Maputo Sky
4. Discover historical Maputo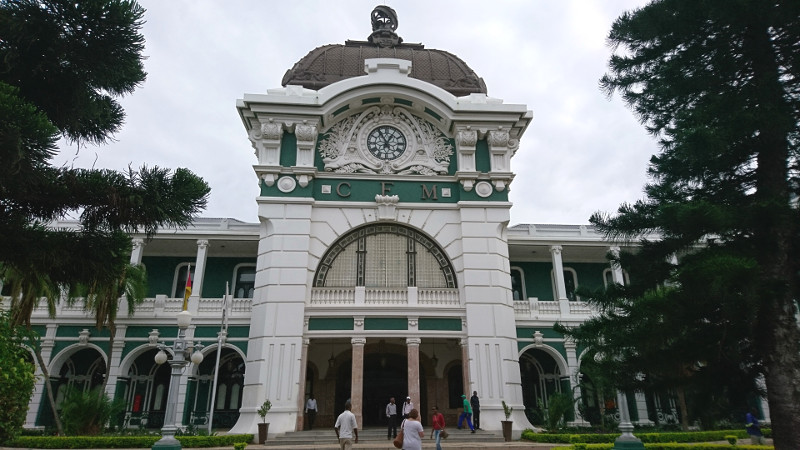 You could describe Maputo as 'organised chaos'. Nevertheless, it is the financial hub of the country and is a great starting point from where to begin your holiday. For a developing city, it's surprisingly quiet and you can easily lose yourself meandering between the streets downtown, where derelict buildings with rugged facades give way to modern skyscrapers. Wandering around Maputo for a day or two will allow you to explore its monuments, gardens, museums and markets, all attesting to Mozambique's colonial history and beautiful blend of cultures, including its Portuguese, African and Arabic influences. A few noteworthy stops to include on your downtown day tour include the wrought-iron Central Railway Station, Botanical Gardens, Museum of Natural History, and Casa de Ferro "The Iron House" (designed by Gustav Eiffel).
5. Bargain shopping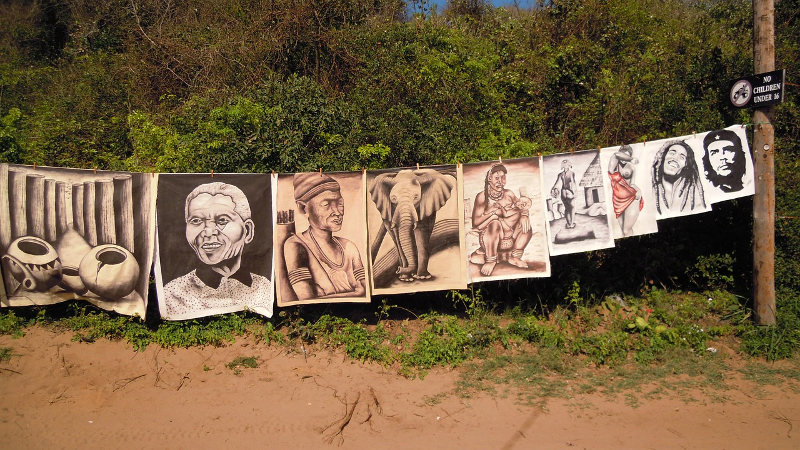 Mozambique is like Africa's version of Southeast Asia, where haggling for the best price is the order of the day. From fried chicken and cold beers, heaps of roasted cashew nuts, spices, and homemade peri-peri sauce to beautifully woven kikois, painted batiks, coconut-shell bags, and everything in between, shopping your way through the beach huts and markets is all part of the adventure.
6. Experience a unique kind of safari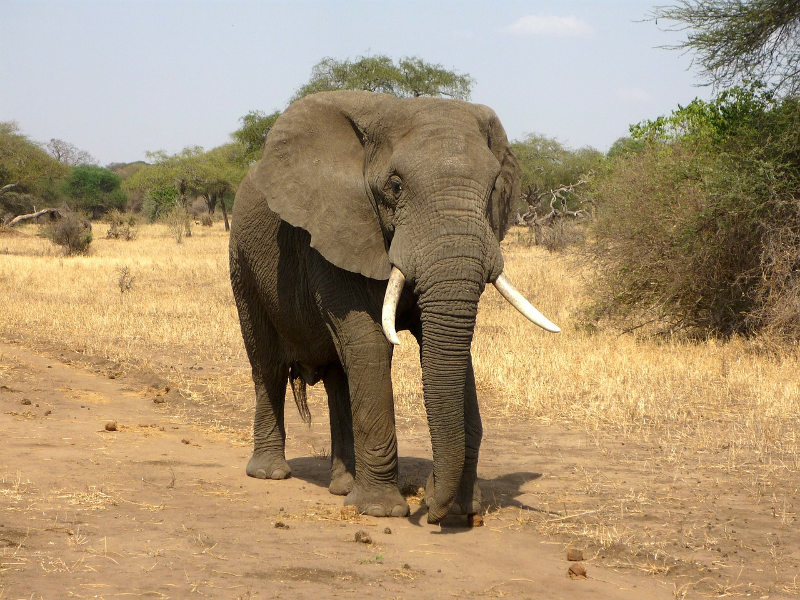 While South Africa is not shy of its own incredible game reserves, Mozambique's national parks and marine reserves hum with abundant wildlife and over 400 species of birds. Spend a few nights at Gorongosa National Park where you can stay at Montebelo Gorongosa Lodge & Safari for as little as $45 (R645) a night. While the Kruger National Park might be the obvious choice for local safari lovers, there is something truly special and unique about Gorongosa. Explore its plunging waterfalls, lush rainforests, remarkable animals, vast coffee plantations, and research centre dedicated to the park's welfare and sustainable development of the surrounding community. The best part? You can combine your safari trip with a beach break to Vilanculos, just a short drive away!
7. Discover an ocean paradise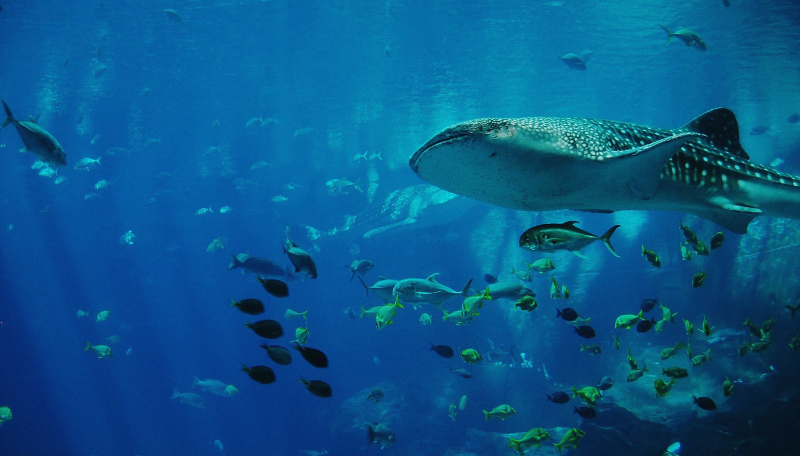 If there's one thing Mozambique can boast about, it's the array of ocean activities that'll capture the adventurer in you. For a more relaxing time on the water, a sunset dhow cruise is a must, and whale watching is a highlight from July to September.
Mozambique is renowned for its deep-sea fishing, and avid fishermen come from all over to catch barracuda, black marlin, dorado, kingfish and mackerel. There are plenty of half and full-day trips to choose from. Other popular activities include kitesurfing, sailing, scuba diving and snorkelling. The best snorkelling spots can be found from Ponta do Ouro down south, right up to Pemba in the north.
Diving enthusiasts know that Mozambique is home to some of the best diving in the world. A select few resorts, like White Pearl in Ponta Mamoli, have their own dive centre where experienced dive masters can take you from beginner reefs to the most advanced diving spots. We got lucky on our first day out on the ocean, as a school of dolphins sidled up next to our boat. Before we knew it, we were ocean deep swimming beside these playful creatures!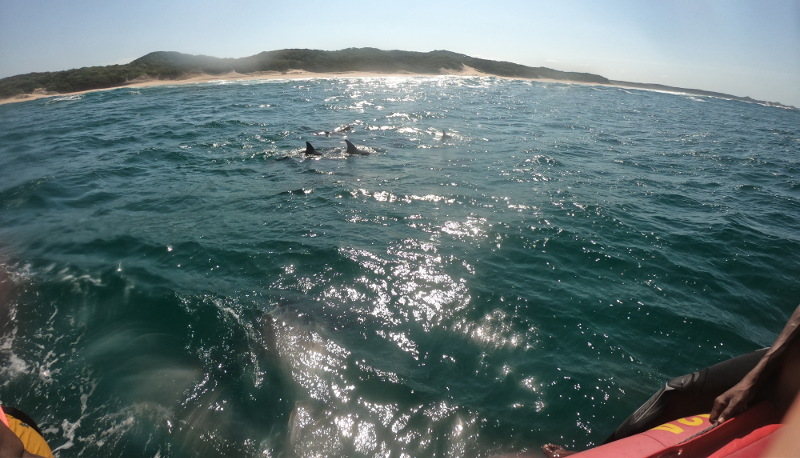 Did you know that in Mozambique you can dive with whale sharks throughout the year? Just another reason this destination gets our top vote. A trip to Mozambique just isn't complete without diving with these gentle giants.
8. It's an hour's flight away!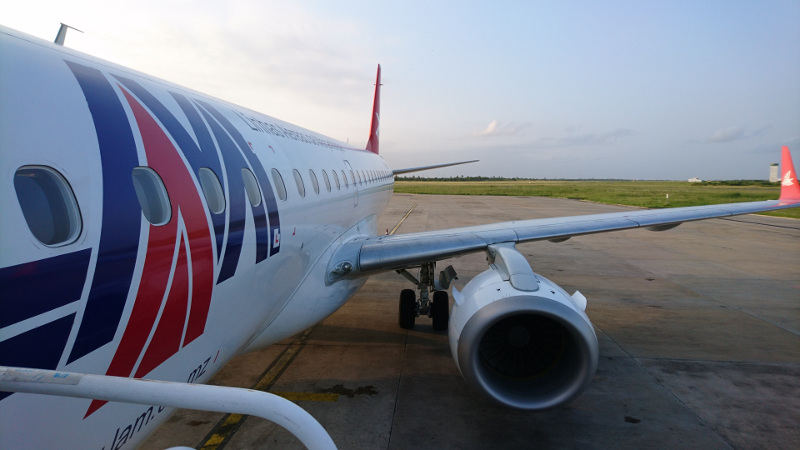 One of the best things about planning a trip to Mozambique is that you can get there in less than an hour! LAM Mozambique offers direct flights from Johannesburg to Maputo, twice a day, from Monday to Sunday. Upgrade yourself to a Business Class ticket and get free access to the Flamingo Lounge, where you can kick back and relax before boarding your flight back home. LAM – Mozambique Airlines also operates flights from Johannesburg to Vilanculos, Pemba, Nampula and Beira. Alternatively, a scenic overland trip from Durban will get you to Ponta do Ouro, just over the Kosi Bay border, in roughly five hours. If you don't have an off-road vehicle, you can easily hire a car for your holiday.
Also read: How to 4×4 Mozambique like a boss
Some things to note:
Avoid drinking tap water, stay hydrated with bottled water.

Anti-malaria medication is strongly recommended, especially if you're travelling beyond Maputo.

If you're driving up, make sure you have car insurance and your original car documents on hand.

Keep your passport with you at all times.

Most places accept US Dollars and South African Rand but always carry some local cash with you.

Almost everyone speaks English. If you can speak Portuguese, even better!
Best time to visit: May to November (dry season). Be cautious of heavy rain causing occasional flooding between December and April. For more information, check out the best time to visit Mozambique.
In light of the recent cyclones and floods that have struck the northern parts of the country, please be sensitive to the relief efforts and plight of the local communities. If you plan to travel during the rainy season, make sure you check weather alerts. We highly recommend that you take out comprehensive travel insurance, especially if you're venturing out to remote areas.
So, before you go jetting off on an expensive island holiday, remember that Mozambique is a much more affordable and equally beautiful destination a lot closer to home. Whether it's a romantic retreat, a getaway with friends, incentivised travel package, or family holiday, Travelstart will customise the ideal package to suit you.
An unexplored paradise of sublime beaches, national parks and a beautiful blend of cultures, lying just over the border, make Mozambique your next holiday stop!
Share your experience in Mozambique in the comments below. If you haven't visited yet, you'll definitely want to sign up to our newsletter to be first in line for our flight specials to Mozambique and more amazing destinations!
Also read: Our favourite things about holidaying in Mozambique
Disclaimer: All information on this blog page was correct at the time of publishing and may change at any time without prior notice.