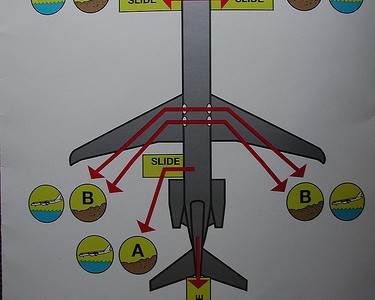 If you're a Man U supporter, next time you fly Turkish Airlines you might be pleasantly surprised to find your favourite Manchester United players telling you to wear your seatbelt and to turn off your mobile phones and all other electronic devices before take-off.
However, before you whip out your credit card and start booking your flight to Istanbul I have to add that unfortunately they will not be doing so in person. Although this would actually make the the new safety video a lot more interesting if you ask me.
Turkish Airlines who are now the proud official sponsor of Man U, have ditched the attractive flight attendants and added the (unattractive) Wayne Rooney, Nani, Chris Smalling, Darren Fletcher and twins Rafael and Fabio da Silva to act in their somewhat cheesy in-flight safety instructions video. In the film that lasts over 5 minutes, which is way too long for my taste, you see the boys weight lifting with heavy suitcases, cuddling footballs as if it were their babies, and creating all sorts of other supposedly funny mayhem. For every instruction they cheekily disobey, they are told off by a belligerent sounding voice over that gives them a string of red cards.
I'm sure it's difficult for airlines to come up with different and original ways to get the attention of weary frequent travellers to make sure that they know what to do in the unlikely event of a crash, but surely this video is probably doing the opposite. If anything this movie made me want to open the emergency exit door and escape down the inflatable slides fast. Honestly, it doesn't get any cringier than this. Check it out for yourself on youtube:
[boilerplate bytitle="text"]