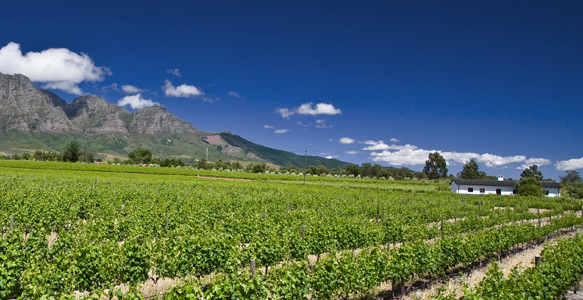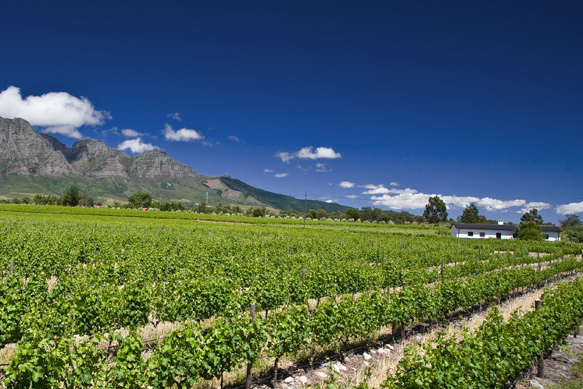 Franschhoek, for the uninitiated, is a little slice of France just outside Cape Town. The charming streets, the many cafés and restaurants, the profusion of French names everywhere you look – it's a fabulous place to while away an afternoon. But if you're looking for two truly fabulous ways to spend a day in Franschhoek, allow me to recommend Allee Bleue and Graham Beck. And here's why: There are many, many wine farms in Franschhoek (and in Cape Town and the surrounds), and sometimes it can get a little overwhelming choosing which ones to go to.
How do you decide which wine farm is worthy of your time, your tastebuds, your money? How do you choose when all the whitewashed entrances look the same? Here's how – you choose Allee Bleue for the food and wine pairing, and Graham Beck for the bubbly. Allee Bleue is one of the oldest vineyards in the Cape, and has some truly lovely thatched, whitewashed buildings nestled amongst its vines. The service is impeccable, the location superb, but what really sets it apart is their food and wine pairing – be sure to ask about it. The tasting platter we were given was laden with smoked salmon, Spanish paprika prawns, warm chorizo sausage, mozzarella balls, olives and puff pastry sticks, which combined simply perfectly with their refreshing white wine, smooth rosé and decadent red wine. It's such a treat not to rush through a wine tasting, but to fully experience what it would be like to take this wine home, share it with friends, and drink it while eating some simply superb food. Once you've eaten (and drunk) your fill, you can take a stroll around the picturesque gardens, or you can head on to the next fabulous destination: Graham Beck.
Now, in my eyes, Graham Beck is famous for one thing and one thing only: their delicious bubbly. The Graham Beck Brut MCC and  Brut Rose MCC are right at the top of my list of favourite things to drink in this world, and if you feel similarly about bubbly, then you will be delighted to hear that for a mere R75 you can taste a grand total of five (five!) bubblies from the Graham Beck stable. Of course, you could also go for the free wine tasting (which includes their excellent pinotage) or the very tempting wine and chocolate pairing (doesn't that sound like a splendid idea?!) but I really can't recommend the bubbly tasting highly enough. Especially seeing as once you're done there are more wonderful grounds to explore, artworks to inspect and, of course, the cellar which is an Aladdin's Cave full of treasures.
So next time you're in Franschhoek, be sure to save some time from wandering the streets and sipping lattes at the cafés, and visit these two fabulous wine farms. I'm sure you won't leave empty handed!
Image credit