During the 2010 World Cup Durban's beachfront promenade was revitalized and has since become the place to spend time taking in the salty sea air while getting in a quick workout. Runners, walkers, skaters, and riders adorn the promenade as they embark on their daily exercise regimes, morning and noon.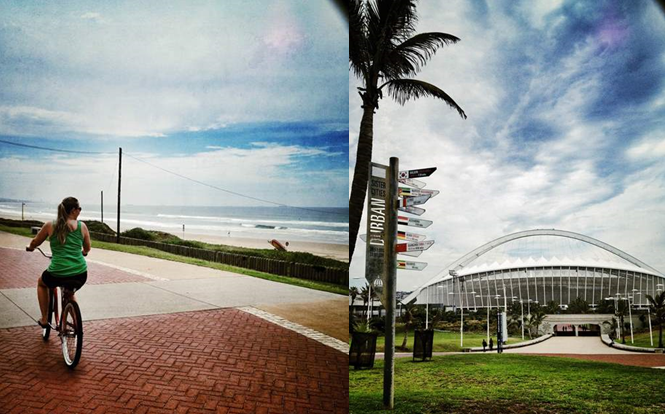 New to the promenade, however, are a number of bicycle hire shops. One can hire a bicycle for around R50 an hour and enjoy a leisurely or more vigorous ride from one end of the promenade to the other, alongside the magnificent Indian Ocean. A good 14km ride with distance markers along the way, this activity is quickly becoming a new craze amongst both locals and tourists.
For someone like myself who doesn't own a bicycle I thoroughly enjoy the ease in popping down to the beach and getting in a good cycle for only 50 bucks. I feel there are so many wins in this new craze, its affordable, there is no admin of bike racks, and you get to stare at the glorious ocean while forgetting about those aching limbs.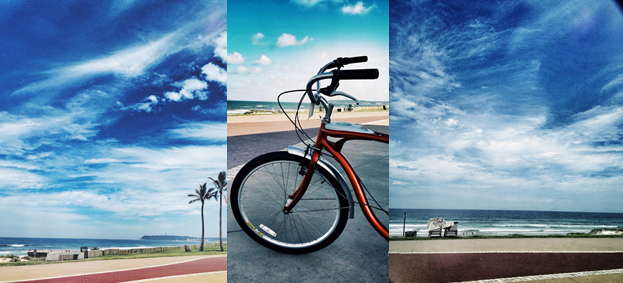 Just north of SunCoast Casino is Country Club Beach and this has become one of my most frequented beaches in 2014. It is quieter than the other beaches, and there is a phenomenal coffee shop on the promenade called Bike & Bean. Bike & Bean hire out bicycles, skateboards, surf boards, even baby trolleys to attach to your bike. They serve up a mean cappuccino using Colombo Coffee's Sidamo blend of beans, and they offer a number of cold drinks, pre-packed sandwiches and smaller snacks.
Before 8am bicycle hire is R40/hour so you can arrive early and get yourself going with a caffeine boost before your cycle. This new biking craze in Durban creates such a friendly energy on the promenade, and I would recommend anyone visiting Durban to get involved. The sun, the surf, and the sublime surroundings are what makes this city activity one for the books, and let's be honest everyone loves a fun activity that burns calories at the same time.