São Tomé and Príncipe
Located on the equator and off the West Coast of Africa, is the dual-island country of São Tomé and Príncipe, also the second smallest country in Africa. Off the tourist beaten path with warm, friendly people, stunning lush green rain forests, beautiful beaches, very few crowds plus, endless hiking, birding and snorkelling options—it indeed is an untouched African paradise. It also has bragging rights of being one of the best chocolate producers in the world! If you are looking for something different, unexplored and new, São Tomé and Príncipe are a little Shangri-La's waiting to be discovered.
Getting there
TAAG operates three times a week into São Tomé (TMS) from either Cape Town or Johannesburg via Luanda. Total flying time is around 6 hours excluding a short 2-hour layover in Angola. TAAG's economy class offering is comfortable, modern, offers good on board meals and a 3-3-3 seating arrangement with free pre-seating at time of booking. Their Business Class has a 2-3-2 seating configuration from Joburg or Cape Town to Luanda with spacious seats, good on board meals, lounge access and priority boarding.
TAAG flight schedule:
Cape Town or Johannesburg– Luanda – São Tomé Wednesdays/Fridays/Sundays
São Tomé -Luanda- Johannesburg or Cape Town Mondays/Thursdays/Saturdays
Internal flights from São Tomé and Príncipe are operated daily by STP Airways –  the flight is very short (about 35 minutes) and the aircraft has a tiny baggage allowance of 15 kg which is strictly enforced. Due to the limited schedule, it's highly advisable to pre-book your seat as your only other "option" is a gruelling 6-8 hour local boat ride ☹
Terrified of booking flights online? Booking a complicated trip? Travelling in a large group? Want a holiday package and a little lazy to plan? Never fear, Travelstart live is here.They're just a call away
Visa requirements
South Africans require tourist visas unless you have a valid USA visa in your passport. For visa requirements and queries you can email the consulate in Belgium on ambassade@saotomeeprincipe.be
Vaccinations
A Yellow Fever vaccination is a mandatory requirement to enter São Tomé– it's the first stop on arrival at São Tomé International airport so make sure you have your original yellow fever card with you. Malarial precautions are recommended but not compulsory-please check requirements with your local travel clinic.
All things green and shiny
São Tomé and Príncipe is far from being a budget-friendly destination. The local currency is the Dobra – we didn't spot a single ATM during our 7-day stay and credit cards are not much use either. Cash is King in São Tomé so I suggest you bring lots of Euros in cash which are accepted everywhere and even the local supermarkets give you change in Euros- we didn't have to exchange our Euros into Dobras.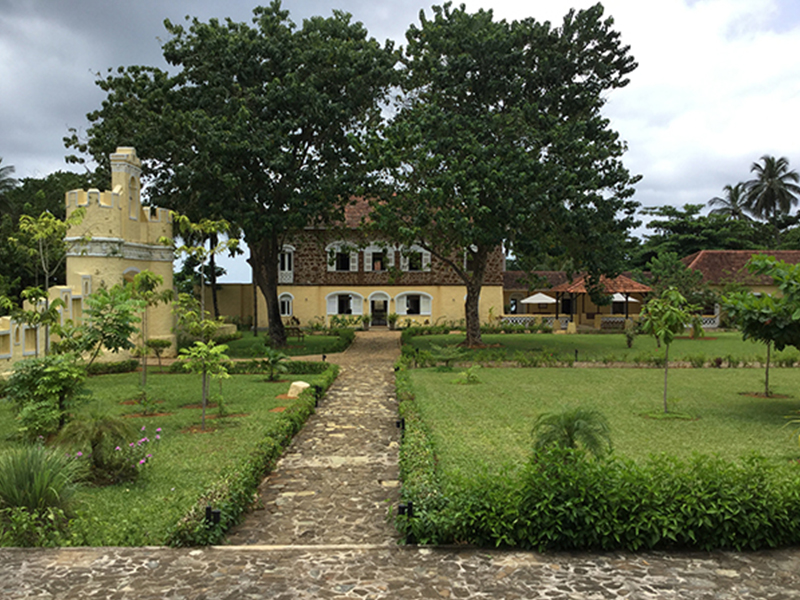 São Tomé– where to stay and what to do
There are a wide range of accommodation options from local guesthouses to five-star hotels. As the flight from Luanda arrives around midnight, we opted for the São Pedro Guesthouse which is a comfortable place to overnight with a welcoming swimming pool and provides transfers to and from the airport which is located only about 10 minutes away. A triple room was priced around R550 per person per night, including breakfast.
Mucumbli was the most rustic and affordable accommodation we stayed at (R450 per person per night including breakfast). Located in the North West, the location is fantastic – although with no swimming pool and a very steep downhill trek to a rocky beach it's not a great option if you are looking to cool off as the days can get very hot and humid.
The restaurant is fantastic offering substantial steaming bowls of pasta and other delicious meals. Breakfast was included, the bungalows are basic with ceiling fans and no air-conditioning. The staff is friendly and helpful, and the restaurant also offers WiFi.
We arranged a few day trips through the hotel staff
1. A hike from the guesthouse to the local coffee plantation and into the surrounding villages gave us a better glimpse of how the locals live and how coffee is produced.
2. Day trip down to the southern part of the island where you can take a small local motorboat over to Ilhéu das Rolas. After a short hike to the top of the hill, you can stand on the Equator Line with amazing views followed by a delicious fish braai on the beach catered for by the local fishermen and their families. On the drive to the south of the island, you will get to see the needle-shaped volcanic plug peak landmark – Pico Cão Grande
3. A must go to in São Tomé is Roca Sao Joao de Angolares (you can reserve a table by Facebook Messenger) for a sublime delicious tasting lunch with so many delightful combinations of flavours and textures. The restaurant is housed in a beautiful plantation house with lots of local art and craftwork (you will need to arrange a taxi from your hotel for the trip). The chef uses local ingredients, and the restaurant overlooks the nearby hills and beach with magnificent views – really well worth the drive to get there.
4. One of the most amazing experiences of our trip was visiting the Turtle Breeding Sanctuary near Guadalupe on São Tomé. Following a short tour through the small museum, we watched baby turtles hatching and helped release them into the Atlantic Ocean. It was an incredible experience, and we were the only people on the beach with the turtles so, we decided to give them names before releasing them into the ocean. Their nesting season runs from September to March peaking from November-February. You can contact them via Facebook: Programa Tatô
Príncipe – where to stay and what to do
We left São Tomé early on the second morning for Principe where we spent one night at the stunning Hotel Roça Belo Monte – our single regret of the trip was not staying there for all three nights. It's a gorgeous stylish luxury plantation hotel with beautiful lush gardens. Perched on the top of a cliff with fantastic sea views and run by an incredibly friendly South African management team, the rooms were luxurious, and the meals were delicious.
A short transfer downhill to Banana Beach is where we enjoyed a beach braai, snorkelling and some beach R&R. Best of all is the conservation work they are doing which is so inspiring and essential, they are protecting and researching the unique biodiversity of the island and are in the process of setting up a natural history museum on site and sponsoring exciting projects.
Bom Bom Príncipe is one of the more well-known hotels on the island and was our home for two nights– it's owned by South African entrepreneur Mark Shuttleworth's venture capital company. The location is sublime – nestled between two beaches and backed by a jungle with a long wooden walkway which takes you out over the sea to Bom Bom Island itself, where the restaurant is. Twenty or so wooden bungalows are located either by the pool or the beach. The only downside is that the resort is very overpriced for the South African market and in desperate need of some renovations.
However, the food was delicious, and behind the restaurant, you can take a short 2 km hike on Bom Bom Island with some pretty impressive views. The resort can arrange 4×4 excursions, boat trips along the coast, sports fishing, whale and dolphin watching (in season) and biosphere trails.
From the resort its worth taking a trip into "town" – Santo António – for a cup of coffee at a local restaurant and to walk around to admire the handful of art galleries, shops, local schools and parks.
Príncipe even offers the physics geeks something special- the historic Sundy plantation. It's the biggest plantation on Príncipe, and where Einstein's theory of relativity was first proven by the astronomer, Sir Arthur Eddington in 1919.
It rains a lot in São Tomé and Príncipe! We spent weeks researching online and trying to figure out when the best time to visit would be—our verdict was that it rains most of the year, the weather is hot, humid and tropical with little variation in temperatures.
We fell in love with São Tomé and Príncipe – if you're adventurous and looking for a safe and undiscovered holiday destination then this could be the next adventure for you!
• Flights from Johannesburg or Cape Town to São Tomé (TMS) can be booked on TAAG  from R6,289 pp (in economy class) or R16,659 (in business class)
• The accommodation was booked either direct with the hotels or through our hotels website.
• Please check your Visa Requirements and ensure that you have a valid Yellow Fever Card and consult your local Travel Clinic for any other health requirements and recommendations.
Did you find this post helpful? Would you like to visit São Tomé and Príncipe? Let us know in the comments below!
*Disclaimer!
All information on this blog page was correct at the time of publishing and may change at any time without prior notice. Travelstart will not be held liable for loss or inconvenience resulting from the use of out-dated or incorrectly noted information.