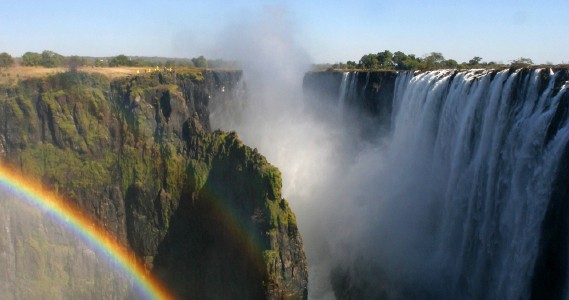 Vic Falls Holiday Package for R5165
This week's Travelstart special conjures up thoughts of pioneering great David Livingstone as he trekked across a wild and untamed Southern Africa  in 1855 eventually happening upon the beautiful Victoria Falls as he tried in vain to navigate the mighty Zambezi River. The Falls were so breathtaking Livingstone felt compelled to name them after his beloved Queen Victoria.
The region boasts a UNESCO World Heritage Site with abundant wildlife & exotic vegetation and the closest town to this natural wonder is the aptly named Livingstone (the town of Victoria Falls is a lot closer but Livingstone is the town you'll fly into). It has its own airport called Livingstone Airport and is the airport you'll fly into on a flight from South Africa to Vic Falls. The Travelstart package to Vic Falls costs R5165 and includes:
Return flights with British Airways
3 nights' accommodation at the David Livingstone Safari Lodge
Breakfast & dinner daily
A sundowner cruise on the Zambezi River
Return airport transfers to/from Livingstone Airport
All pre-payable airport taxes, surcharges and fees
David Livingstone Safari Lodge & Spa
The David Livingstone Safari Lodge & Spa honours the famous British explorer and is conveniently positioned about 5km from the town and 7km from Vic Falls. Set on the banks of the Zambezi River, this 4 Star hotel in Zambia has 72 en suite rooms with satellite TV, telephones, Internet and air conditioning. Each room has a private balcony overlooking the Zambezi River. The lodge's Camelot Spa offers a variety of world class treatments all within earshot of the Mosi-oa-Tunya – the Smoke that Thunders.
Adventure Activities at Vic Falls
In recent years, the Falls have been a mecca for adrenaline junkies offering an array of extreme sports, including bungee jumping from the Victoria Falls Bridge. The David Livingstone Safari Lodge offers a variety of adventure activities including:
Tandem Kayaking
Abseiling
Jet Boating
White Water Rafting on the Zambezi River
If you're brave enough you can also take a dip in Devil's Pool. This is a naturally formed safe swimming pool near the cusp of the falls and when the river is at a safe level you can swim close to the edge without falling over. Just check with those in the know whether or not Devil's Pool is safe for swimming.
Flights to Zambia
Your flights to Zambia depart Johannesburg on British Airways. The flight takes about 1h45m from Johannesburg.
Residents in other parts of South Africa – you can also take advantage of this Vic Falls holiday package. Simply call our travel consultants on 0861 878 278 (select option 5) and they'll be happy to help you book your trip.
Book your Vic Falls holiday package now.
Yellow Fever Vaccination for Zambia
South Africans don't need a Visa for Zambia but you will need a Yellow Fever injection. The WHO, that's the World Health Organisation – not the band, has advised that all passengers travelling from Zambia into South Africa must produce a Yellow Fever Certificate to gain entry into the country.
So in order to return home, you will need a Yellow Fever vaccination. The injection isn't sore and you can go for it at your local travel clinic at least 2 weeks prior to departure.
The 'Hidden' Costs
The following Zambian government taxes are payable locally and include:
$10 bed levy per person per night
$10 per person usage fee for the sunset river cruise
The taxes above aren't included in the price of this Travelstart special package and are only payable at your destination.
Book this Vic Falls holiday package now.
"I am prepared to go anywhere, provided it be forward." – David Livingstone
Images from: David Livingstone Safari Lodge & Spa