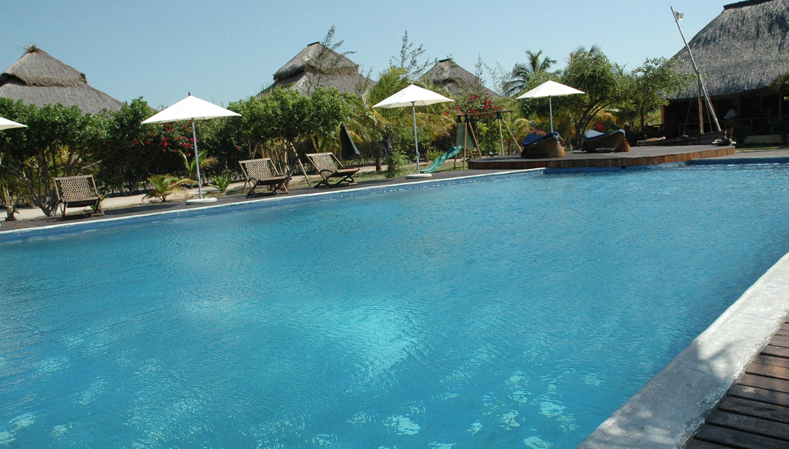 You'd be forgiven for thinking that you're driving off the map of the known world, en route to Villas do Indico just outside VIlanculos. 'Just outside' is perhaps a bit of a misnomer, actually. It's about 45 minutes out of the town centre, along a very long and very sandy road that can only be tackled with a very big car.
Once you arrive at Villas do Indico, though, you'll forget how long the road was and only be glad that nobody will be able to find you – because you certainly won't want to be going anywhere! Villas do Indico is, in a word, beautiful. Created by husband and wife team Victor and Ana Paola, both form Portugal, they have been working on their passion project for the last year and a half – turning it into the kind of hotel they would want to stay at. The result is the kind of hotel I was very very happy to stay at.
One of the main reasons for this is the simply wonderful chef, Rui, who whips up three or four course masterpieces every evening that are so delicious it's impossible to stop eating until every last morsel is gone. It's lucky, then, that there's not too much to do except lie around and let your food digest.
Villas is home to a stunning infinity pool that looks out over the ocean, at least five (and possibly seven) varieties of comfortable loungers in every position from full shade to full sun, and delightful rooms with private balconies that were made for sipping sundowners and looking out over the sea.
In the not too distant future, there are plans for an on-site spa with all kinds of holistic health treatments that will make it 100% impossible to leave. But, for now, it's just possible to tear yourself away from the lodge for long enough to go on a dhow safari – as long as you can come back for dinner that night.
What makes Villas do Indico such a special place to stay – apart from the fact that it is on its own stretch of beautiful Mozambican beach, with warm water to swim in and a heavenly pool to dive into post-swim – is that there is such care shown in each element of the hotel. From the giant mosquito nets that stretch from the roof to the floor, to the handmade woven hats you are given on arrival to the attention you are given by all the staff, this is one hotel who really cares about their guests. So much so that when we left we felt as if we were saying goodbye to friends.
Go and stay there and you'll see what I mean… Just make sure you tell my new friends that I say hi!
Image: Villas do Indico