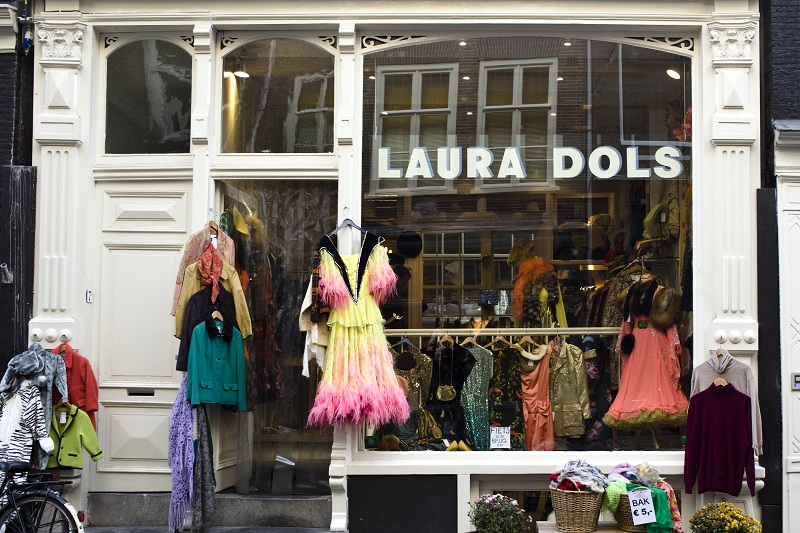 After enjoying more than your share of the scrumptious stroopwafels on offer at Albert Heijn; and you're done strolling around Amsterdam's famous Red Light District, head down along the grachten for some retail therapy. The area of Negen Straatjes is known for its fantastic treasure troves. The first place to go is Laura Dols on Wolvenstraat. It's a perfectly petite find not to be overlooked – and ladies have got to see the shoes! They also have a delightful 'bak' or basket in front of the shop every day with quirky items for only €5.
Guys should head over to the famous Episode – one of their stores is located on Waterlooplein and another on Berenstraat. It's not strictly vintage per se (as in old), but rather modern fabrics that were designed to appear as if from another era. I bought a retro looking black-and-white scarf here for only €5 – to give you some idea of pricing.
Next, jet off to Haarlemmerstraat, which has some fantastic clothing stores, coffee shops and bars. Here you'll find Wini Vintage where you'll find fantastic glam accessories to match with a plain black-and-white outfit. I found a white-and-red floral blouse here for only €10.
Then pay a visit to Bij Ons Vintage, situated on Nieuwezijds Voorburgwal. They have some dirt-cheap furniture and gadgets. Get into some 1970s and 80s oversized printed sweaters for less than €10 or, if you're eager to find some cool accessories, they have a great assortment of old style clip-on earrings in all colours for €4 a pair.
Lastly, I Love Vintage is located on the picturesque Prinsengracht (there's also an amazing online store at www.ilovevintage.com). This delightful blast from the past offers a range of (clean) retro looks made from modern textiles. Now they are a bit pricier, but you'll still find unbelievable items here like leather handbags and earrings – all for under €20.
Photos via Laura Dols