Welcome to Iceland the land of fire and ice. This is a place of mythical landscapes- icy glaciers, geothermal pools, ice caves and plunging waterfalls. It's no wonder that numerous scenes from Game of Thrones are filmed here. Slightly smaller than Cuba, Iceland packs a lot of incredible natural attractions into a small area from black sand volcanic beaches to turquoise geothermal pools. Not to mention the wild Icelandic horses, Middle-Earth-like turf houses, unusual cuisine (Kæstur hákarl – treated shark) and adventure around every corner.
The famous Golden Circle is a popular tourism route in south-west Iceland which encompasses the Þingvellir National Park, the Gullfoss waterfall, the geothermal area in Haukadalur and the Kerid Crater Lake.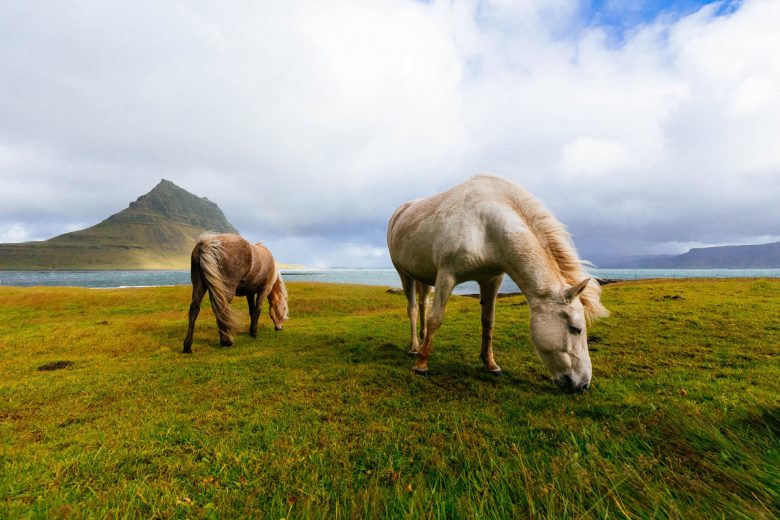 Budget savvy or splurge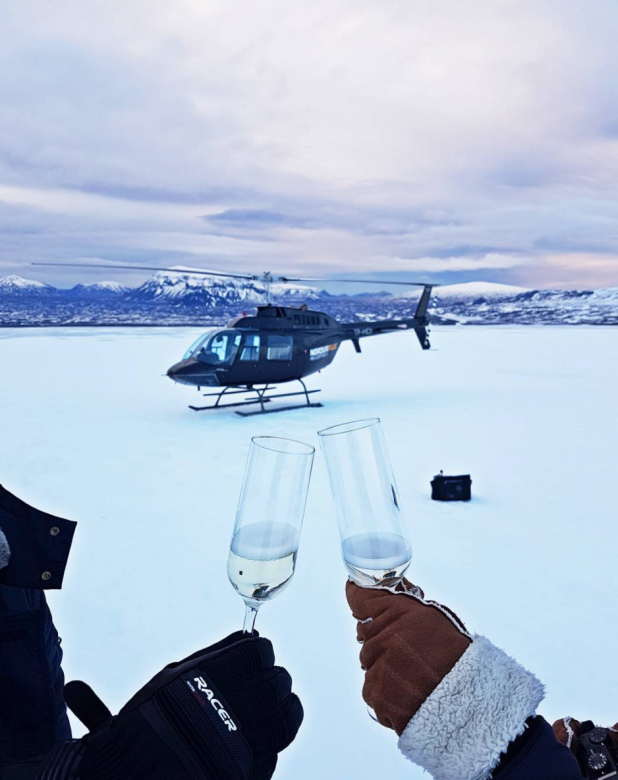 Image courtesy of @nordurflug via Instagram
You can tailor your Icelandic trip to any budget, a 6-hour bus tour of the Golden Circle costs around R1100, book here. Or you could splurge and book a dramatic helicopter and champagne tour which lands on a glacier for around R12 500 (the ultimate anniversary or birthday celebration for two). Airbnb accommodation is reasonable and there are many cosy and beautifully-designed apartments and cottages dotted around Iceland. A great way to explore Iceland is to split the cost of a 4×4 rental between 4 friends and do a self-drive around the country. The roads are modern and well-maintained and there are many resources to assist travelers such as the Icelandic road conditions site. Expect to pay around R11 000 for a 4×4 rental for 10 days- split between friends this would only be R2750 each, and fuel would cost around R1500. Return tickets from Johannesburg average around R13000.
Find amazing tickets to Reykjavik here.
How long should I go for?
It really depends on how much time you have available and your budget. If you have 5 days you will be able to explore Iceland's Golden Circle properly, in fact if you have just a day you can experience the 4 main attractions in a 6-hour bus tour, though driving Iceland's Ring Road over the course of 10-12 days is ideal and will really give you the opportunity to go off the beaten track and discover the beauty and mystery of Iceland at your own pace.
4 main attractions on Iceland's Golden Circle Tour: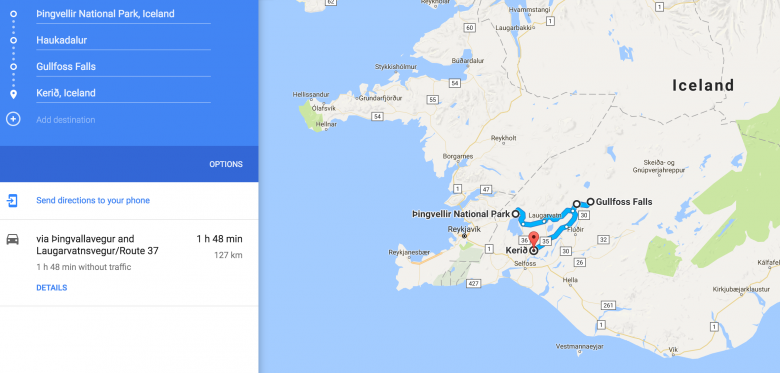 The Icelandic Ring Road: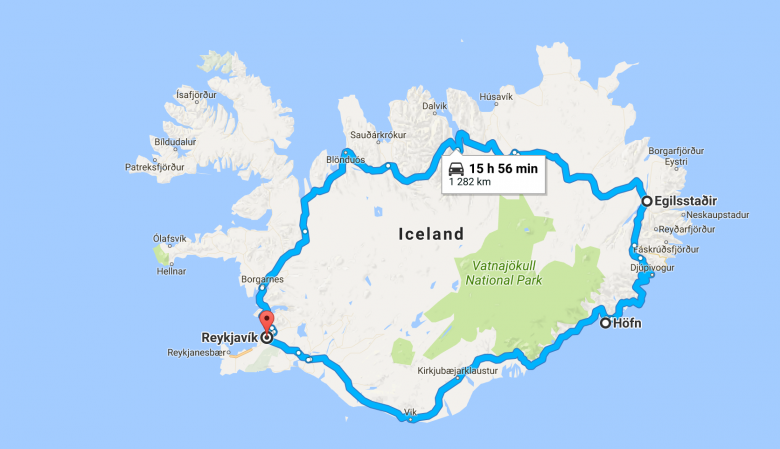 When is the best time to go?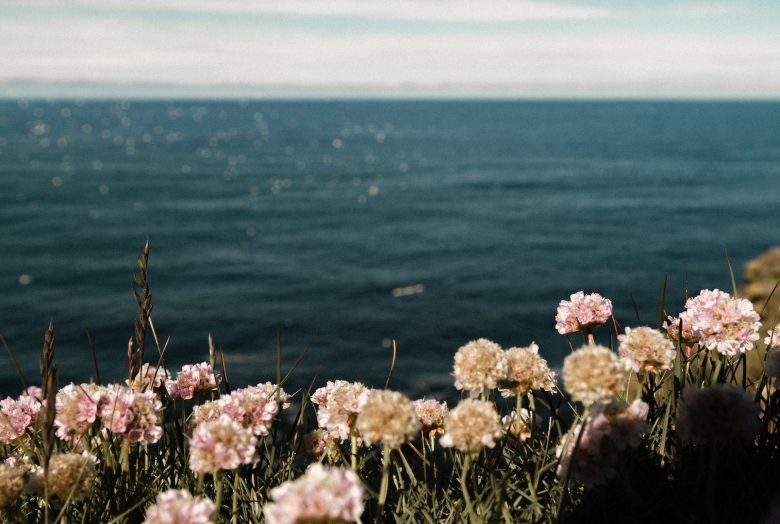 The summer months of June, July and August have temperatures that average around 15 degrees Celsius in the day. In Iceland the famous Midnight Sun is visible from late May until July and during the summer solstice on the 21 June it is visible for nearly 24 hours, setting after midnight and rising again at 3am.
If you would like to avoid high tourist season then the best time to visit is the slightly chillier months of late March to early May and September to early November. Hotel rates will be lower and there will be much fewer tourists at the Golden Circle attractions.The Northern lights are visible in the darker months of September through April.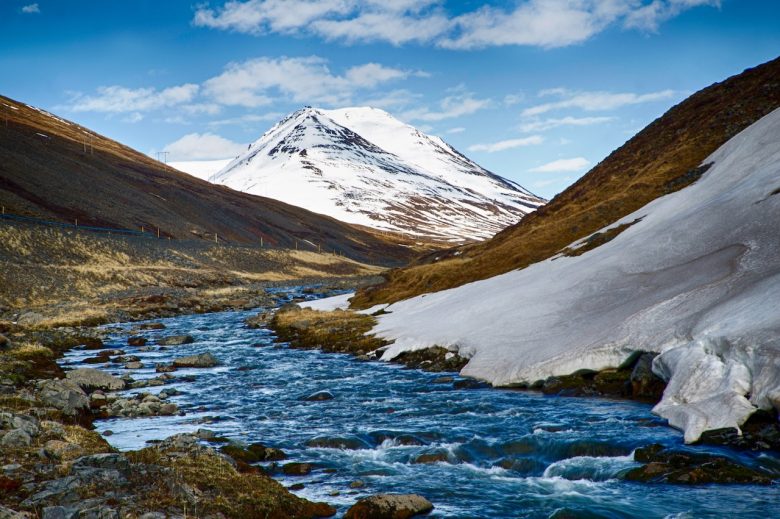 Useful links
Updates on Icelandic road conditions here.
Vedur is a fantastic app for helping you locate the famous Northern lights. Ideally you are looking for the light green parts of the map where there is some, but not a lot of cloud cover. Remember to take along a tripod if you plan to record this amazing light show.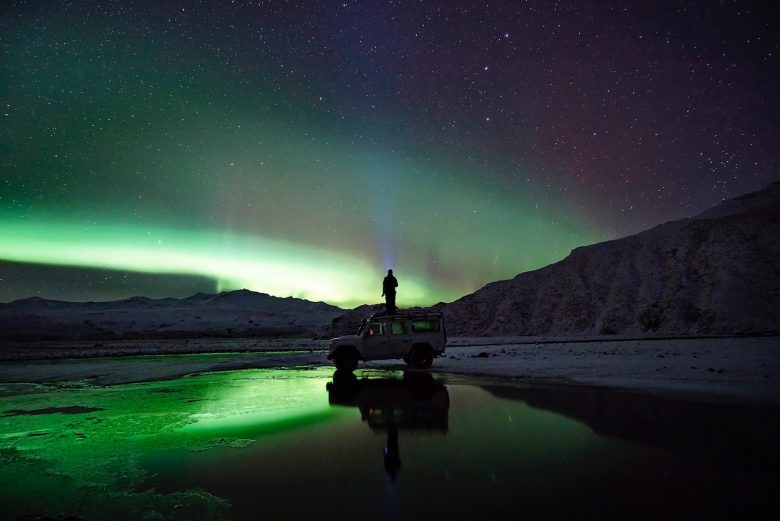 Visas
South Africans will need a Schengen visa which you can apply for through the Danish embassies in SA here. Plan for a waiting period of 15 days.
Currency
Iceland uses the Krona, you should take some along but credit cards are accepted in most places.
Today's exchange rate is R1 to 7.8 Krona. Eating out is expensive, expect to pay R280 for an inexpensive meal, and R50 for a local beer.
What to pack
Waterproof hiking boots, a waterproof jacket, gloves, thermals and insulating clothing.
Highlights on the Golden Circle Route:
Dive between two continents in the famous Thingvellir National Park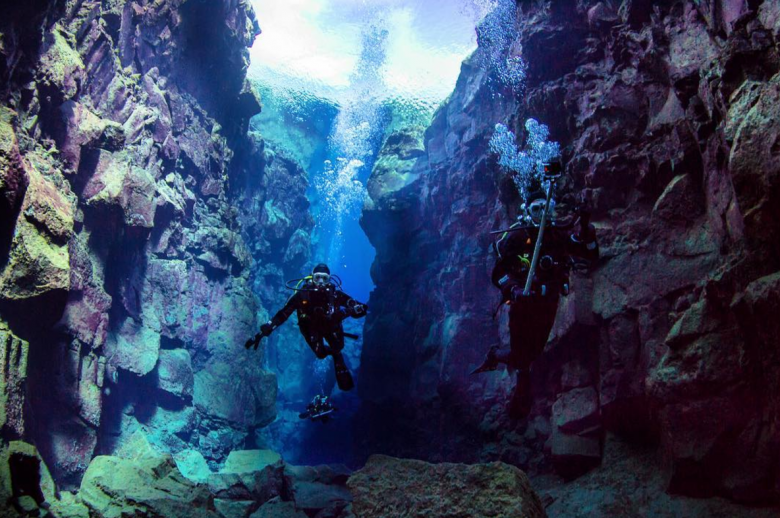 Image courtesy of @jmadler via Instagram
The Silfra fissure is the only place in the world were you can dive between two continents. The North American and Eurasian continents are drifting apart at a rate of 2cm per year and this is a rare experience with water visibility of up to 100 metres.
You can also snorkel in the fissure, however if you are a certified diver at the level of PADI Open Water or equivalent and proof of dry suit certification or 10 logged dry suit dives within two years of tour date you may do the dive tour. The all-inclusive dive tour costs R5179 per person. Book here.
Strokkur Geyser in Haukadalur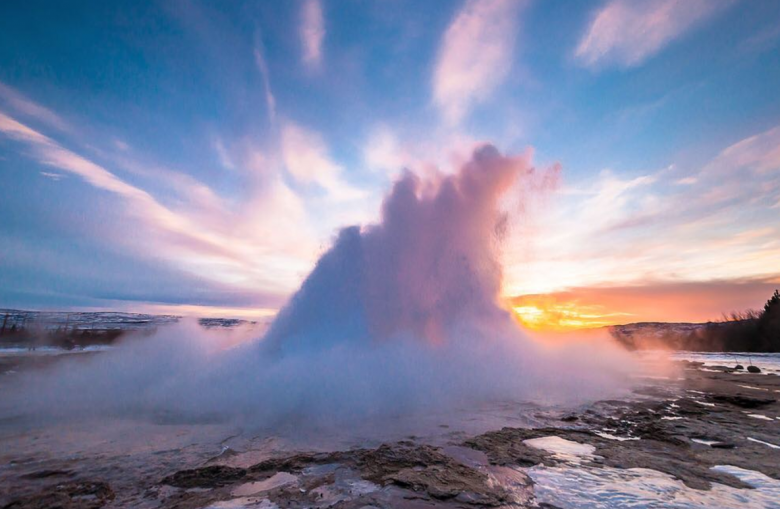 The Strokkur Geyser erupts like clockwork every 6 to 10 minutes and reaches heights between 20 and 40 metres.
The Golfuss Falls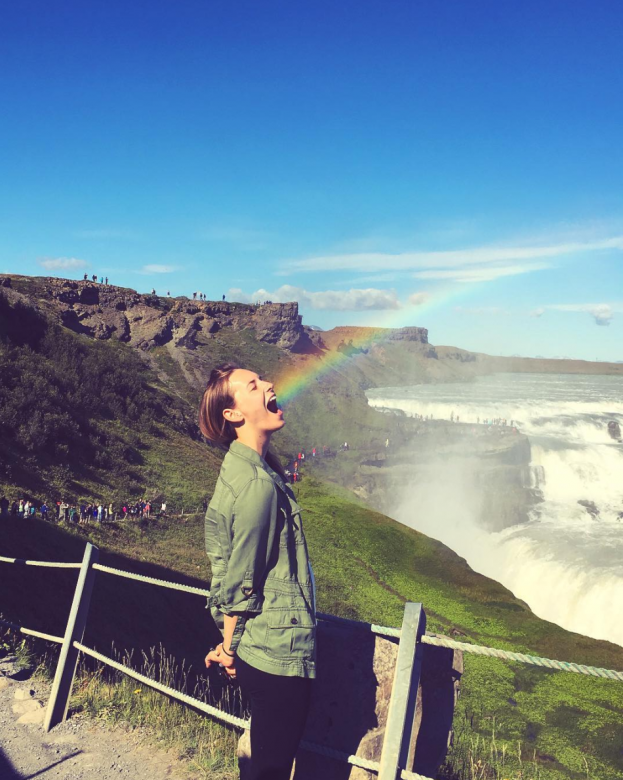 Image courtesy of @peacelovejacq via Instagram
At first approach it appears as if the mighty Hvítá river simply disappears into the earth. This picturesque spot is one of the most popular attractions in Iceland.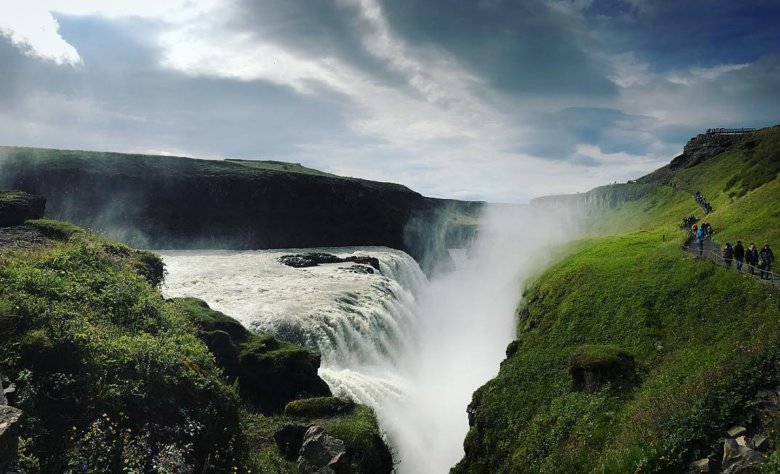 Image courtesy of @heidi.beth.92
via Instagram
Þingvellir National Park
Just 40km Northeast of the capital, Thingvellir National Park is significant both geologically and historically. Althing, the national parliament of Iceland, was founded at the site in 930 AD and continued to be held here until 1798.
Kerið the volcanic crater lake
Image courtesy of @martine.murray via Instagram
The fourth stop on the Golden Circle is the vivid Kerid Crater Lake formed around 6,500 years.
The cheapest way to see the Golden Circle is on a bus tour, however if you value doing things at your own pace, a self-drive is a wonderful choice and it will enable you to add so many other amazing attractions to your itinerary. The Blue Lagoon outdoor geothermal spa is world famous however there are many other amazing geothermal baths such as the Myvatn Nature Baths. Also add photo opportunities with Icelandic horses to your roadtrip list, and a visit to the black sand volcanic beaches!
Icelandic is a country of mythical landscapes but modern infrastructure and progressive cities. Once you're natured-out there's a fantastic culinary scene in Reykjavik to enjoy.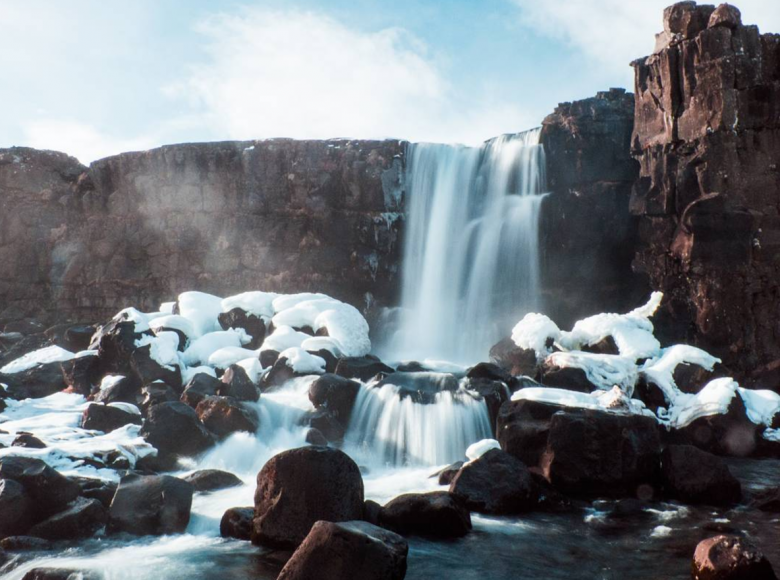 Image courtesy of @graciebaisee via Instagram