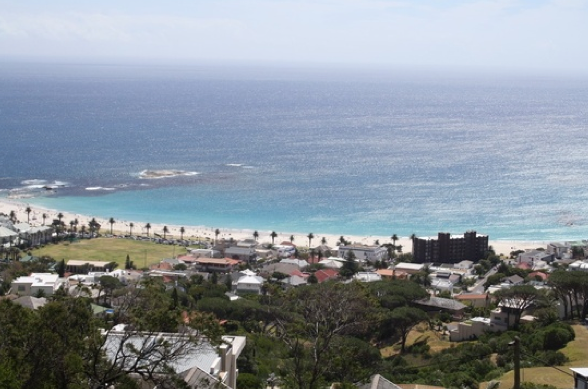 One of the things I always try to do when I'm in a new town is walk. As much as possible. I know it's often easier to take public transport or a taxi, but walking lets you see so much more. Not just because you're moving at a slower pace and obviously more receptive to things, but because you're walking alongside locals, and taking in some of the feeling of what it's like to live in the place you're visiting.
One of the most beautiful (and popular) road walks in Cape Town is from Sea Point to Camps Bay. Yes, you could quite easily drive along the same road, and I have many times. But as you're driving you can only catch tantalising glimpses of the ocean views that you get to look at properly while you're walking.
If you want to walk the round trip, it's a little under 10km (if you start around the Sea Point swimming pools), but luckily Camps Bay is filled with all kinds of delectable spots to have a cooldrink, or a coffee, or even a lazy lunch. The walk itself meanders along the coast the whole way – up and out of Sea Point, through Bantry Bay with all the plush houses perched on the cliff, past Clifton, where the road winds up from the beach and you get to look at the stunning sea views and many bungalows below the road, and on into Camps Bay, home of the rich and famous. The views are breathtaking at every turn (well, in between the houses at every turn) and it's a popular route for walkers and runners every weekend, so you'll get a good cross-section of South African life.
Have you taken any fantastic road walks that you could recommend?
Image credit