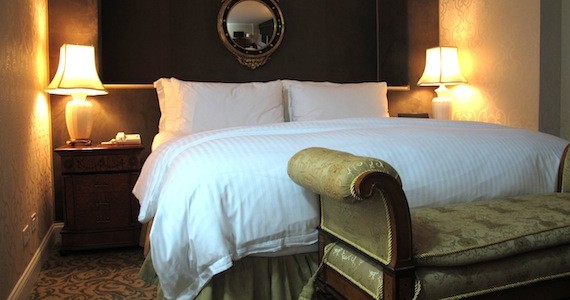 I am a small town kind of guy. Born and raised in Durban, I am not used to the hustle and bustle of big cities. So, after travelling through two global hubs, Paris and London, and en route to an even bigger one, New York City (NYC), I was looking forward to somewhere to rest my weary head and escape the big city lights. For our first night in NYC, we stayed at the Kimberly Hotel. My wife and I arrived from Paris late in the evening (by that stage it was 3am European time) and our main needs were a comfortable bed, a hot shower and some peace and quiet to forget about the hassle of airports, flights and customs officials. The Kimberly more than ticked all of those boxes!
After a swift check in we ascended to the 25th floor where we found our room – a home away from home, albeit a far more luxurious one! Our room was very large, a rarity for NYC, with a separate lounge and well furnished kitchenette area. The king-size bed was extremely comfortable with soft sheets and fluffy pillows. Perfect for sleeping off the stress of travelling and recycled aeroplane air! We even had our own balcony and once we made it past the anxiety of looking down from the 25th floor, we were able to enjoy impressive views of NYC's colossal skyscrapers.
To find awesome flights to New York go here.
In the morning, after a much-needed night's rest and a quick breakfast at 'Upstairs at the Kimberly', the hotel's rooftop terrace lounge, we appreciated our location in midtown Manhattan. We had the choice of a run along the East River or a visit to Central Park, which were both just a few blocks away. Kevin, the bellhop, knew the area extremely well, gave us directions and was full of good suggestions of things to see and do. Perfect for NYC newbies like us! The Kimberly Hotel is a great base from which to explore NYC and is suited to families, business travellers and individuals alike. The beauty of the place is that it feels like home, amidst the concrete jungle that is NYC.