A Mediterranean delight, Malta is hands down one of the best island destinations that need to be on your radar. You may have heard about this island nation, but like most people, you might be wondering where is Malta?
Where is Malta located?
This small island nation of Malta is situated in the centre of the Mediterranean sea in Europe. You'll find it nestled between the south of Sicily and the North African coast. It consists of three islands; the main island Malta, Comino and Gozo.
Map of Malta
Do you still need some more information to grasp where is Malta? Take a look at this interactive map.
Dive into a brief background of Malta
Majorly steeped in folklore and religion, the Maltese customs can be seen throughout homes and the streets. The strong Catholic faith influences the culture, ethics and everyday life of the Maltese. The people of Malta are extremely friendly, with a small population of approximately 460,500 people, it really is a case of everybody knows everybody with a strong sense of community.
Tips to help you navigate through Malta with ease:
English is the second official language. 76% of the population speaks English.
Drivers tend to prefer driving in the shade and indicators are not always used. If a car in front of you does bother to indicate, don't be surprised if it turns in the opposite direction from that indicated.
It's best to hire a car to get around. Especially when you're sightseeing.
Avoid talking about politics. The Maltese take their politics very seriously so it's best to leave the subject matter altogether.
Why visit Malta?
Architecture
There is so much beautiful architecture to see in cities like Valetta. You'll see the influence of various Mediterranean and British cultures. The gallerias are a beautiful attraction in the heart of Valetta. You'll discover the visual wonders of the Maltese landscape. Set your eyes on the wonderful Baroque architecture. The buildings on the islands are a true masterpiece to be marvelled at. Notable buildings you should see include the Grand Masters Palace in Valetta, the Church of the Assumption in Mosta and the Mdina Cathedral in Mdina.
Scuba Diving
Malta's water provides plenty of diving locations for all levels. It offers some of the best diving locations in Europe. Enjoy the Mediterranean waters and the year-round temperate climate. Scuba diving is accessible from all sides of the island. Head to Gozo for the popular dive site, the Blue Hole. Some of the best sites to dive in Malta include Um El Faroud, Cirkewwa, and in Comino, you'll find Santa Marija caves.
Food and Drink
Experience the authentic flavours of the island nation. A true Mediterranean showcase of dishes awaits. You'll taste the historical influence of the islanders and the many civilisations who occupied the Maltese islands throughout the centuries. Traditional Maltese foods that you can expect include lampuki pie (fish pie), rabbit stew and bragioli (beef olives). Head to Marsaxlokk fish market on a Sunday morning and soak up the Maltese village culture and taste a variety of fish dishes. You can also go on wine tours and indulge in some excellent Sauvignon and Chardonnay. Try the local beverage, Kinnie, and Maltese bread for an authentic taste of the island nation.
History
Learn about the almost 6000 years of history on the island. After discovering exactly where is Malta, get to know the incredible history of this island nation. The Neolithic temples are still present in the south of the island of Malta (Hagar Qim, Mnajdra, Tarxien Temples) and in Gozo, you'll find Ggantija.
Popeye Village
What was first a film set for the 1980 musical production 'Popeye', is now one of Malta's major tourist attractions. Located in Mellieha, Popeye Village is a repurposed theme park that has so much fun to offer. Young and old can enjoy activities such as water games, a mini-golf course and animation shows.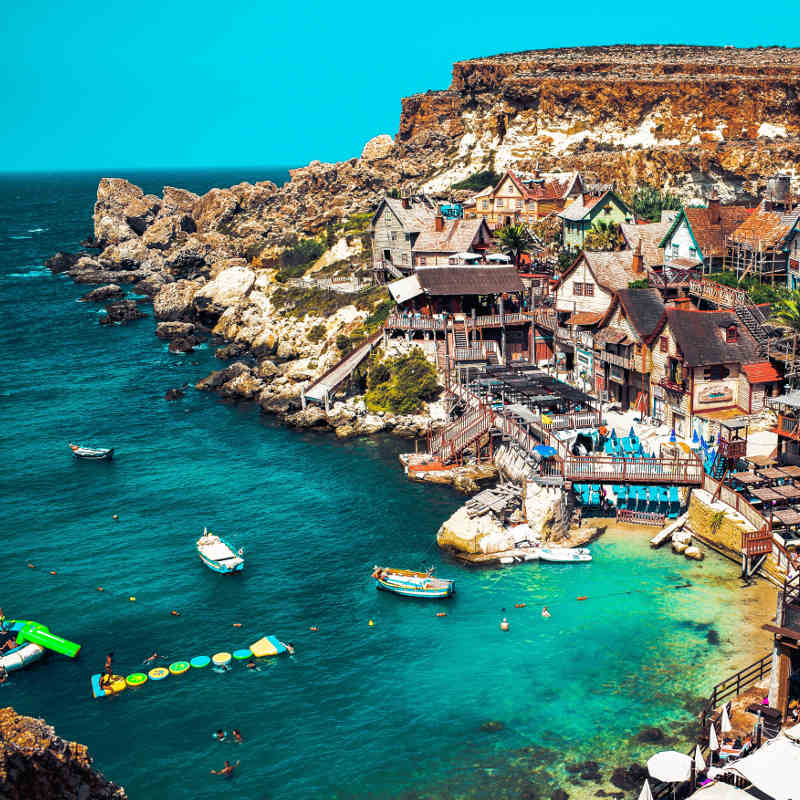 When is the best time to visit Malta?
One of the drawcards of Malta is that the climate is generally great year-round. Its Mediterranean climate with mild winters and hot summers provide the perfect playground for a European island getaway. The best time to visit Malta depends on what you're aiming to get out of your island holiday. If you'd love to soak up the sun and go diving in the surrounding Mediterranean seas, April to September is the best time to visit Malta. Winter (December to February) can also be a pleasant time to visit Malta if you do not mind the occasional downpour of rain. The average temperatures in winter are 15-20 degrees Celsius with sea temperatures averaging 16 degrees Celsius.
How to get around in Malta?
Thanks to the small size of the Maltese Islands, getting around is considered easy and hassle-free. There are many transport options tourists can make use of to get around in Malta.
Rent a car – Ideal for those times when you want to get to the farther reaches of the island. There is a variety of well-known budget to high-end vehicles to choose from, located in Malta and Gozo.
Rent a scooter, motorbike or bicycle – This is also a great option, do take note that bicycle lanes on major roads are limited and might be nerve-wracking to navigate if you're new to the island.
White taxi service – This reputable service will collect passengers from most places in Malta, except bus stops. Taxi services work with a fixed tariff.
Ferry service – Take advantage of the 20-minute ferry ride that links Malta and Gozo. There are also boat services between the two islands and Comino.
What is the best area to stay in Malta?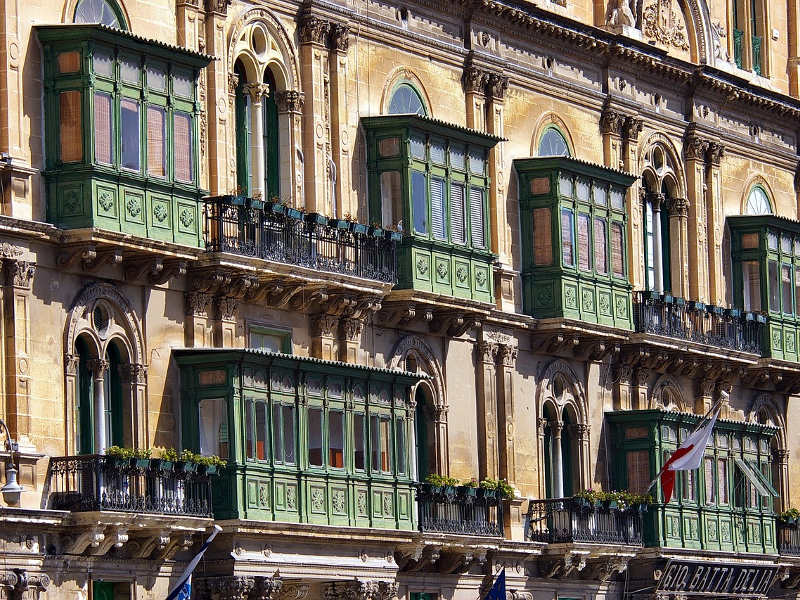 Valetta
Prepare to splurge on accommodation in the capital city. Valetta offers the best traditional luxury and comfort with spectacular views. Choose amongst villa-like hotels, apartments and well-preserved authentic buildings for the perfect stay. Reside in this historic city and find yourself close to an array of beautiful architecture. Valetta has been a UNESCO World Heritage Site for nearly 40 years.
Sliema
This resort town is a favourite amongst tourists. You can enjoy incredible panoramic views looking over Valetta. The town offers a variety of boutique hotels, B&B accommodations and luxury apartments. Sliema is a great option if you're in search of a lively area with bars set along the promenade and fun rocky beaches to unwind at. You'll have access to all the necessary amenities during your stay, including clothing stores and supermarkets.
The fishing villages
Malta's fishing villages are a superb choice if you're in search of laid-back destinations and avoiding crowded streets. Accommodation is also relatively cheap here. They come with their own incredible attractions such as historical towers and spacious promenades. There are short-let rentals and apartments for you to choose from. Marsaxlokk is a popular tourist fishing village on the island of Malta.
How do you get to Malta?
You can catch a flight to Malta with at least one stopover from South Africa. Malta International Airport serves all the Maltese Islands. There are also two ferry routes operating between Sicily and Malta, both transporting you to the capital city, Valetta.
Is it expensive to visit Malta?
When compared with other European destinations, Malta can be a bit expensive. With savvy saving tips, you can make it an affordable holiday destination. Visit during the wintertime if you're travelling on a budget. Take note that there are also some areas that will see you spending more money than in others. So, keep a lookout for areas like Bugibba and Qawra where you'll find reasonable prices.
Do you need a visa for Malta?
South African passport holders require a Malta Schengen visa to enter the island nation. Follow our step-by-step Schengen visa application process to ensure you're well prepared!
Next time someone asks "where is Malta?", you'll be able to share your knowledge of this incredible European island nation. We're sure you're ready to venture to this amazing destination for an unforgettable holiday.
Sign up to our newsletter and get the best flight deals.
Have you recently been to Malta? Tell us about your experience. Where is Malta's best restaurants, bars and scuba diving spots?
Also read: Discover the Breath-Taking Game of Thrones Sets Across the World!
All information on this blog page was correct at the time of publishing and may change at any time without prior notice. Travelstart will not be held liable for loss or inconvenience resulting from the use of out-dated or incorrectly noted information.