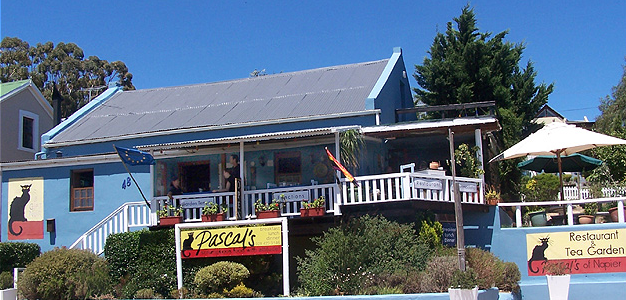 One of the first things I always want to know when we're going away for the weekend is: where are we going to eat? Now, many times a weekend away is an exercise in abundant self-catering, and I do love that – who doesn't love buying way too much food and then having to get through it so you don't have to cart it all back home?
But I also love discovering new restaurants, which is why I was so delighted to stumble on Pascal's when we spent the night in Napier. Pascal's serves delicious food, with attitude. Luckily, that attitude is one of warmth and friendliness. As soon as you step into Pascal's, its walls lined with quirky décor items of every kind (from a real violin to vintage posters, elaborate paintings, sculptures and china ornaments) you know you're in for a treat. We were given a table next to the fire, and a feast of a meal that I'm still thinking about a week later…
The menu at Pascal's is surprisingly varied, considering it's a village restaurant. We started with their special of the day (pea and ham soup) as well as prawn and vegetable tempura and chilli poppers – so a little bit of British, Asian and Mexican there! For mains, we went for classics: chicken pie, lamb shank, lamb neck curry and rump steak. All of them were superbly done, obviously cooked with care and attention, and served in generous portions that left us all groaning happily. Luckily, there was space for dessert – excellent buttery Crepes Suzette, splendid chocolate ganache pots and delicious lemon meringue pie.
All this, and an interesting wine menu, great service and a vibe that had us planning our return (as soon as possible). What a gem of a find…