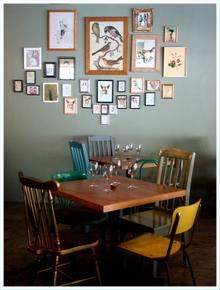 The City Bowl of Cape Town is all abuzz about a magical new spot called the Woodlands Eatery. 'Magical' might seem a bit of an exaggeration for what is, essentially, a restaurant, but step into this quirky haven of great food and interesting décor and you'll feel transported to another place… Somewhere where things like stress and deadlines fall away, and all that is important is to sit at one of the wooden tables on a mismatched chair, admire the lampshade display and the hand-drawn framed prints, and sip on a nectarine mojito while you contemplate what to have for lunch, or dinner.
Why yes, yes I did just say a nectarine mojito, served in a large jam jar and perfectly mixed. The cocktail of the day varies from day to day, though, as does the menu, so you're never quite sure what to expect. There are a few guaranteed favourites that will always grace the menu, not least the roast lamb pizza – a giant, crispy-based pizza loaded with succulent roast lamb. That's one of the defining characteristics of this new gem, in fact – generous portions. Whether it's homemade classics like crispy battered fish and chips, or simple pastas, burgers or steaks, everything is served with flair, a special touch, and a lot of friends on the plate.
More than the portions, though, it's the vibe you'll love. Run by husband and wife team, Larry and Sara Steenkamp, you can see that everything from the carefully chosen décor to the constantly changing menu has been created with love. The people who come to this charming spot are here because they appreciate the thought and attention that has gone into it, and because it's simply a lovely place to hang out. Oh yes, and the food is delicious. And those nectarine mojitos are heaven-sent.
Larry was previously the chef at the very well-regarded Emily Moon in Plettenberg Bay, and although he describes himself as a cook not a chef (hence the comfortable food without any unnecessary froths and frills), you'll no doubt be delighted by what he has to offer at his new spot.
Open for lunch and dinner Tuesdays to Sunday lunch, this is a really special place to celebrate a birthday, anniversary, or just a meeting of friends. Find it just above Deer Park Café in Vredehoek, visit their new website here, or call them on 021 801 5799.
Images: Woodlands Eatery