Planning a trip to the US, but dreading the long flight and layovers in between? Capetonians can heave a sigh of relief as United Airlines launches a direct flight from Cape Town to New York, starting this festive season!
This brand new route to The Big Apple takes flight from 16 December 2019 until 27 March 2020, with the possibility to extend. Flights depart Cape Town International Airport and land at Newark Liberty International Airport (EWR) in just over 14 hours, shaving four hours off the current flight time.
At 12,580 kilometres, this is the airline's sixth-longest route and is much welcomed by those travelling for both business and leisure.
What's even better – the centre of Manhattan is just a 30-minute taxi ride away! When returning to the airport, simply hop on the train at Penn Station and you'll be there in 30 minutes.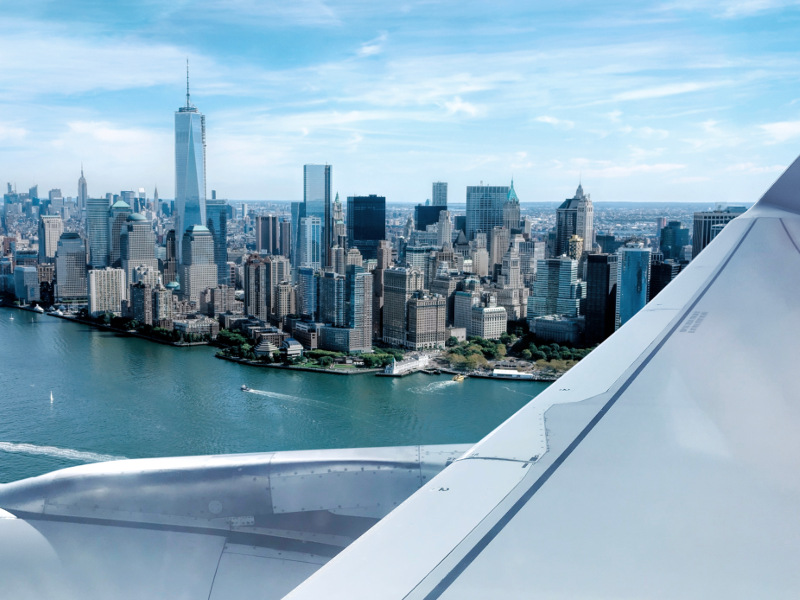 How often are the flights?
Flights from Cape Town to New York are scheduled to depart three times a week on Mondays, Thursdays and Saturdays at 20:50, arriving at 05:45 the following calendar day.
Flights from New York to Cape Town depart on Wednesdays, Fridays and Sundays at 20:30, landing back home at 18:00 the following calendar day.
What you can look forward to on board
Fly to New York in comfort and style aboard the Boeing 787-9 Dreamliner. The aircraft features 48 seats in Business Class and can accommodate up to 204 passengers in Economy.
United Polaris® Business Class travellers can look forward to the royal treatment on board this flight. Pampering features include:
luxury bedding and linen (from Saks Fifth Avenue)
cool-gel memory foam pillows
spa-quality products and amenity kits
fully lie-flat beds
personal device entertainment with noise-cancelling headphones
access to the United Polaris® lounge at Newark Airport before take-off
menus designed by award-winning chefs, with world-class wines and champagne to match
If a Business Class ticket is out of your budget, the Economy cabins are just as comfortable. You can fly to New York with:
ergonomically-designed reclinable seats
extra legroom
complimentary drinks throughout your flight
a delicious three-course meal during your flight
all the latest Hollywood blockbusters and full entertainment library
Perks of flying with United Airlines:
As if their new direct flight from Cape Town to New York isn't enough, here are a few other perks for flying with United Airlines:
Their modern fleet is incredibly fuel efficient, so you'll feel better about your carbon footprint while you're thousands of feet in the air.
They have numerous awards under their belt, including for the best frequent flyer programme (MileagePlus), so get on it!
Wi-Fi is available to purchase on board if you need to stay connected to the outside world.
Ready to book your next direct flight to New York?
See what visa requirements you'll need to enter the USA.
And if you're still not convinced why you should book a flight to The Big Apple, read up on these iconic things to do in New York City.
Whether you're planning a family holiday over December or a much-anticipated business trip, at least you know the journey there will be a seamless and much shorter one.