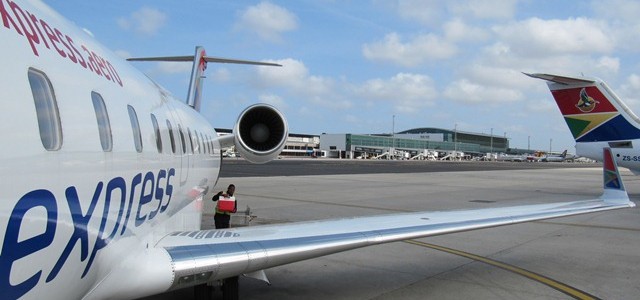 SA Express – Cape Town to Hoedspruit
I was recently invited by SA Express to experience their new Cape Town to Hoedspruit route. The route officially launched in July 2011 and it's a perennial (all year) direct flight lasting about 2 hours and 40 minutes – ample time to check out SA Express' offerings and get a feel for this longer than average internal flight.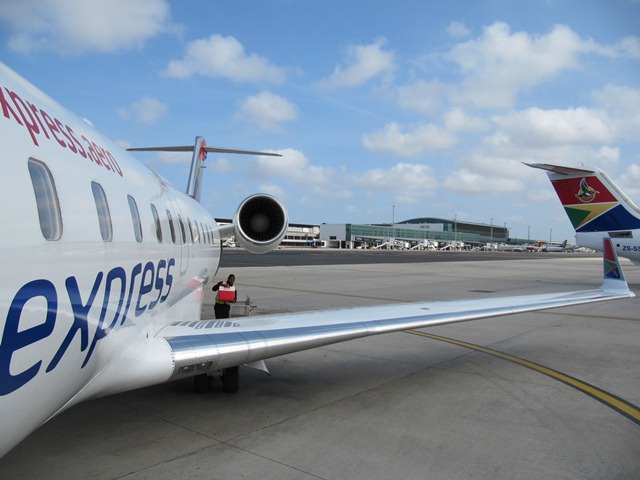 I met SA Express' representative Vicky Liggins at Cape Town Airport on the morning of 27th September; check in went smoothly (thanks to the efficient SA Express team on the ground) and soon enough we were waiting terminal side for the bus to take us out to the CRJ 200 Canadian Regional Jet at the opposite end of the apron.
The CRJ 200 seats 50 passengers but I'm told that this will be upgraded by August 2012 to an 86 seater as demand is expected to increase for flights from Cape Town (CPT) to Hoedspruit (HDS).
Book cheap flights to Hoedspruit on Travelstart.
Up in the Air
Our flight departed Cape Town International as scheduled and soon I had the birds-eye-view perspective of False Bay – from Gordon's Bay in the north to Simonstown and beyond in the south. The plane banked to the left and we were on our way inland; a welcome time for the commencement of the in-flight service and I was looking forward to settling into a leisurely light breakfast and some coffee.

As I hoped, the food came quickly and flew in the face of the stigma attached to 'typical plane food'. I enjoyed a light brunch of pasta salad, some chicken, whole-wheat biscuits and cheese, and a lemon cheesecake for dessert. It's worth mentioning that we were given the same food on the outbound flight as we were on the inbound. Variety is the spice of life so perhaps SA Express should consider varying the menu, if only for the sake of passengers that fly the route regularly.
I spent the rest of the journey browsing through Indwe – SA Express' inflight magazine.
Hoedspruit's Eastgate Airport
The moment you land at Hoedspruit Airport (check out the video I shot below) the feeling of an authentic African safari adventure washes over you. It was hot and dry when we landed and I wouldn't have been surprised if I had spotted an elephant chewing at a Marula tree next to the runway (I didn't). The private airport (not part of ACSA) is quaint and rustic and definitely one of the most relaxed I've ever experienced. Instead of the typical scramble around the baggage carousel your luggage is brought straight to the car park.
After piling into the transfer vehicle we set off for our accommodation at Motswari Private Game Reserve. Motswari is about an hour's drive from Hoedspruit Eastgate Airport and it felt like a game drive in its own right. As soon as you pass through the Timbavati Reserve gate (about 10 minutes from the airport) your chances of spotting Big 5 game immediately increase.


– Book Hoedspruit flights –
SA Express Cape Town-Hoedspruit Flight Schedule
Currently, flights to Hoedspruit from Cape Town depart/return twice weekly.
Tuesday: Depart Cape Town 09h30 – Arrive Hoedspruit 12h10
Tuesday: Depart Hoedspruit 12h45 – Arrive Cape Town 15h25
Thursday: Depart Cape Town 09h30 – Arrive Hoedspruit 12h10
Thursday: Depart Hoedspruit 12h45 – Arrive Cape Town 15h25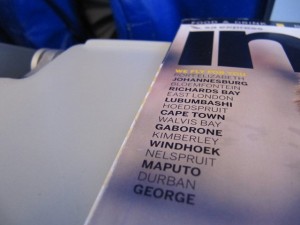 From 9th October 2011 (that's this Sunday!) SA Express will offer flights from Cape Town to Hoedspruit every Sunday. This is really convenient if you're in Cape Town and need a weekend break to the Kruger Park. The route eliminates flying to JHB and then having to drive to Kruger; also cutting costs you'd pay for transfers or a rental car between JHB and the Kruger Park.
When I was at Motswari I spoke to some German tourists; they'd come up from Cape Town and were staying at Kruger for a few nights before heading back to Germany through Johannesburg's O.R. Tambo Airport. They mentioned that they probably would've gone back to Cape Town for a few days had they found a direct flight from Hoedspruit. Thankfully, SA Express' direct flights to Hoedspruit from Cape Town allow tourists to escape to Kruger for a few days and then head back to Cape Town to enjoy the rest of their holiday.
That's it – from Cape Town to the bush in less than 3 hours! You can book direct SA Express flights from Cape Town to Hoedspruit with Travelstart right now.
I'd like to extend a special thanks to Moonira Ramathula and Vicky Liggins from SA Express for being fantastic hosts.
All SA Express and Hoedspruit-Cape Town media: Russell Jarvis
Zoom out on the map below showing the distance between Cape Town and Hoedspruit/Kruger. Too long to drive? SA Express offer direct flights from Cape Town to Hoedspruit.