Cape Town's Tuk Tuks are the Hippest Way to Get Around town
Update: Cape Town Tuk Tuk operations are currently suspended. Click here to sign the petition to help get the Monarch Tuksi Company back on the road.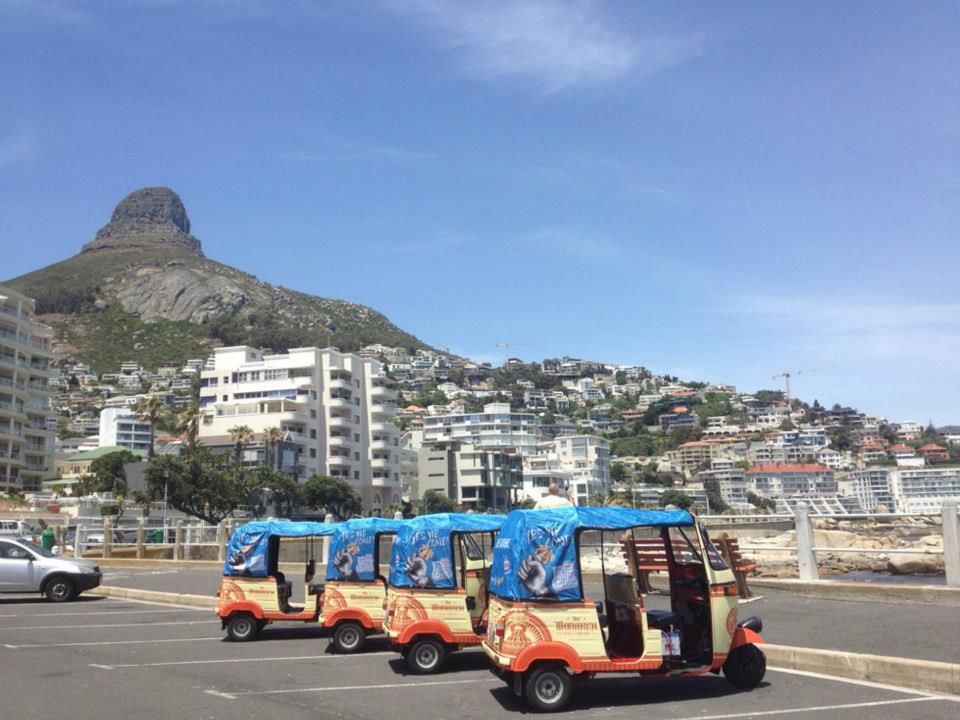 Cape Town's beaches are among the best in the world but have you tried finding parking close to Clifton on a 35 degree day? If your answer to this question is a resounding and fuming "Yes!" then we don't have to tell you what a mission it can be to track down the elusive parking bays.
By the time you've kicked your slops off you're a hot, sweaty mess as you scan the white sands for the nearest ice lolly seller ("Lolly to make you jolly, Water for your daughter?"). Congested roads, pricey taxi-fares, and parking nightmares could be the bane of your summer unless you find an alternative way to get to the beach.
The Monarch Tuksi Company
Enter the Monarch Tuksi Company – the newest addition to Cape Town roads providing a fun, affordable and convenient twist to public transport in the Mother of all cities.
Two brothers, James and Dan, came up with the ultimate fun way to travel in Cape Town and surrounds without the hassle; the Monarch Tuksi.
Yes, Cape Town's roads are great, and there are plenty of buses and sedan taxis, but unless you want to constantly watch the meter to ensure that you have sufficient cash on you to pay the fare, or don't mind driving around in circles for hours trying to find parking, then these fun three-wheeled motorized tricycles are for you!
Tuksis are the coolest way to zip around the city for young and old alike - they allow you to taste the freedom of the sun and sea air! There are no set routes, just the ability and the will to get you from where you are to where you want to be in a fun, privately chauffeured, open-sided vehicle. Whether you want to go to Sea Point, the City Bowl, Clifton, Bantry Bay, Camps Bay, Green Point, or anywhere in between, the tuksi is the way to go!
The Concept
The idea for the Monarch Tuksi Company originated in Thailand, and is the first of its kind in South Africa; it is a private chauffeur co-operative and media business. Monarch Tuksi's do not transport the general public; they only transport shareholders, who they treat like royalty.
If you would like to be part of the Monarch Tuksi Royalty and become a shareholder, it is very easy; all you have to do is buy one share in The Monarch for R40, which entitles you to a single trip anywhere within the operating zones, and you will receive a shareholders certificate.
How to Tuksi around Cape Town
Buying a share to
go wherever you want on the Atlantic Seaboard
is very easy, all you have to do is to phone, BBM, or
tweet Monarch
and you will be collected by one of the
fleet of 10 vehicles
. Once you enter the tuksi, sign the shares register; sit back and relax with the confidence that you will arrive at your destination safely, after having enjoyed the fresh air and sunshine of a very stress-free ride. Many of the chauffeurs will also keep you entertained with local tales.
"As you can see it doesn't cost a King's ransom to buy shares in the Monarch Tuksi Company"
If you are in Cape Town this 2013 Season, you will be driven in a tuksi that carries the Nestlé King Cone brand, as part of a current promotion; R25 per person for a ride and a King Cone ice-cream, and if you buy a King Cone ice cream you can use it to redeem a free trip anywhere in the operating zone. Some enterprising locals even cajoled their parents into filling their freezer with King Cones, which bought them a whole summer holiday's worth of free rides.
Monarch Tuksis are also available on a rental basis for functions such as birthday parties, corporate luncheons, marketing launches, or a night on the town. So the next time you have a function, you can invite your guests to buy shares in Monarch, or buy them shares, so that they can party hard and have a few drinks in the knowledge that they will be taken home safely in one of these zippy little tuksis.
Operating Hours
Mon - Tue: 9:00 am - 5:00 pm
Wed - Sat: 9:00 am - 1:00 am
Sunday: 9:00 am - 5:00 pm
Contact Details
Cell: 083 641 5453
BBM: 2171028A
Routes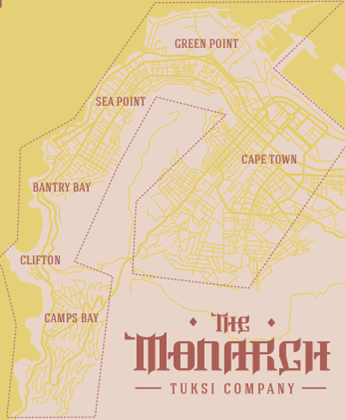 ---
Share the news