[Updated July 2020]
Following hot on the heels of our article on the 20 best beaches in South Africa, we have uncovered some of the best untouched and secluded beaches in the country to escape the crowds.
1. Chintsa
This is one of the most incredible secluded beaches, about an hour up the coast from East London. Situated at the river mouth, there's a quiet lagoon and a broad stretch of sand ideal for horse-back riding and learning to surf. This is a rustic spot, free from the regular distractions of tourist-trafficked spots.
2. Morgan Bay
About an hour from East London is Morgan Bay, a beautiful village set atop dunes and hills overlooking the expansive sandy beach. Many travellers who visit this gorgeous spot have been doing so for generations, returning year after year and it's not hard to see why! It's got everything you need: a big secluded beach for walking and sunbathing, warm water to swim in, a calm lagoon to canoe in, fishing, mountain-biking, horse-back riding and no big shops, nightclubs or bars. In a word: Heaven.
3. Mazeppa Bay
About three hours up the coast from East London is a little slice of paradise called Mazeppa Bay. If the village of Morgan Bay was too 'big city' for you, this should hit the spot. With only a small huddle of buildings overlooking a small, quiet beach, Mazeppa also has its own island, connected to the mainland by this quaint little suspension bridge.
4. Coffee Bay
Cows on a beach, beat that! Another Eastern Cape gem, this beach is all about getting away from it all. Famous for being the "biggest" village near to the even more famous Hole-in-the-Wall rock formation, you'll find endless opportunities to be alone with your thoughts on this spectacular bay. Warning: you may never want to leave!
5. Kosi Bay
Beyond the reach of many, this beach is so far north in KwaZulu-Natal that it may as well be in Mozambique. The lake, which goes by the same name, is something amazing to witness; rich in fish, the Tsonga people still catch them using traditional reed traps. The beach at the mouth of the estuary is wild and broad with its swirls of sand and clear water making for a mesmerising spectacle.
Also read: Adventures along the north coast of KZN
6. Kogel Bay
This beach is just outside of Cape Town's south-easternmost corner, Gordon's Bay. On the famous Clarens Drive towards Rooi Els and Hermanus, you'll find virtually no buildings, except for those at the camping resort. There's 1,9 kilometres of pristine sandy beach sandwiched between the spectacular mountains and icy False Bay – also a popular spot for brave surfers. On certain nights you can witness an amazing natural phenomenon where the waves light up with the gentle blue of bio-phosphorescence.
7. Struisbaai
A beach on the southern tip of Africa! It's about as far as you can get from the urban hustle and bustle. Struisbaai is the first big beach on the Indian Ocean, less than 10 kilometres from Cape Agulhas and is long, wide and flat with gorgeous white sand and vivid, azure waters.
8. Tietiesbaai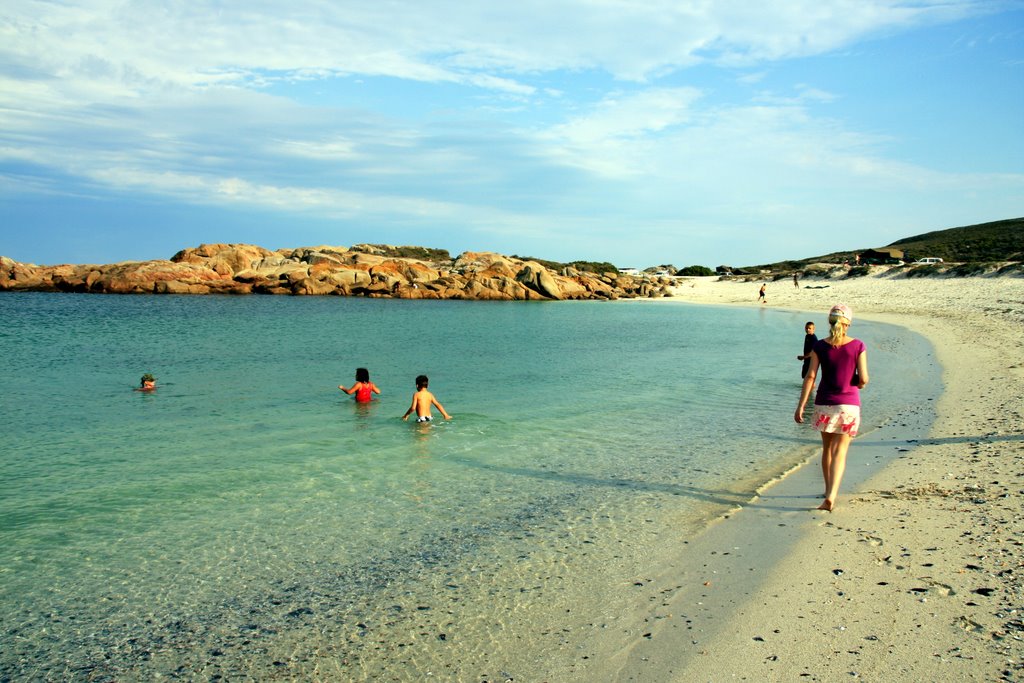 No giggling, okay? This unusually named beach is for those of you in the Western Cape who find even Paternoster too fast-paced. This is really where you'll be getting away from it all with a stunningly located campsite on the crescent-shaped bay complete with white sand and unusually calm water for the West Coast.
9. Nature's Valley
While it may be an obvious choice, Nature's Valley offers a wonderful escape from the craziness of nearby Plettenberg Bay. Just 35 kilometres away you'll find this gorgeous, wide, golden beach with its small town somewhat cut off from the outside world by thick forest and steep mountains.
10. Noordhoek
How can a beach just 40 minutes from Cape Town's city centre be a crowd-free beach? Well, simple: it's just so massive. At over eight kilometres long and somewhat hard to reach by most of the tourists in regular hotel zones (by virtue of the fact that it's accessible only via one of two mountain passes or a winding coastal road) there's plenty of space to escape the crowds. The village of Noordhoek is extremely popular with the horse-riding community and so there's no shortage of riding jaunts you can take on the beach either. For Capetonians wanting some relaxation, this is one of the best secluded beaches to escape to.
Got a beach you think we missed? We'd love to hear your suggestion in the comments below.
Don't forget to sign up to our newsletter to stay on top of flight deals, travel tips and so much more.
---
All information on this blog page was correct at the time of publishing and may change at any time without prior notice. Travelstart will not be held liable for loss or inconvenience resulting from the use of out-dated or incorrectly noted information.