[Updated: 25 September 2018]
We recently asked our fans on Facebook what they thought were the best beaches in South Africa. We had quite a large number of responses and had votes for spots all the way up the West Coast to the wild, subtropical dunes of northern KZN. Here are the 20 receiving the most votes from our sun, sea and sand worshippers:
20. Umhlanga
One of KZN's most popular beaches for locals and holiday-makers alike, the warm Indian Ocean draws millions the world over to Umhlanga's gorgeous golden sands. It doesn't hurt that the town has great nightlife, hotels and shopping too!
19. Hobie Beach
Port Elizabeth has a wealth of stunning beaches and Hobie Beach is one of the best, especially considering its location, near to all the most popular restaurants, the casino and hotels. The flat beaches of "the Windy City" are hugely popular with sailing enthusiasts with the eponymous Hobie Cat being a firm favourite here.
18. Bloubergstrand
Home to one of the most iconic views in the world, Cape Town's Bloubergstrand is a lovely spot to ogle at one of the New 7 Wonders of the world – Table Mountain. The long beach has gentle waves, lots of beautiful white sand and many restaurants and bars nearby to sip a sundowner and kiss your worries goodbye.
17. Gonubie
East London is not the first place you generally think of when looking for a great beach town, but the Buffalo City and surrounding towns are full of stunning sandy stretches. The town of Gonubie is set on the river with the same name, and the beach can be found at the mouth of the river as it enters the warm Indian Ocean. With hillsides covered in lush vegetation and only a few houses peeking through, you would hardly know that you were a mere 10km from the city.
16. Plettenberg Bay
Okay, so while Plettenberg Bay doesn't have just one beach, this Western Cape town does offer a lot for a range of different interests. Beaches like Keurboomstrand and Robberg offer long quiet walks while Central Beach is great for families with lifeguards on duty in season and loads of activities to keep everyone busy.
15. Buffels Bay
Another Western Cape gem, this often forgotten about beach is just a stone's throw from busy Knysna and is a great place to escape the stresses of daily life. The long beach stretches some 5km between the village of Buffels Bay and Brenton on Sea and is part of the Goukamma Nature reserve. Keep a lookout for dolphins in late winter and spring!
14. Durban, South Beach
Another great one which needs no introduction, Durban's South Beach is right in the heart of the city's famous beachfront and is a great spot for swimming or just lazing about people watching.
13. Strand
What could be better than a beach simply called "beach"? Well, meet Strand, technically a suburb of Cape Town, the town itself looks like a mini-Dubai with its skyscrapers and its own Burj al-Arab lookalike. The beach is wonderful for kids, its incredibly flat and the water is often unusually warm for Cape Town.
12. Paternoster
Also home to a few beaches, this West Coast fishing village is the definition of quaint. Popular with Capetonians looking to escape the hecticness of their lazy craft-beer swigging city lives, Paternoster is just about 2 hours from Central Cape Town. The beach is long, flat and usually devoid of much human life making it ideal for unwinding and catching your breath.
11. Ballito
KZN's Dolphin Coast may be rockier than the Hibiscus Coast in the south but what it lacks in big open space it makes up for in festive atmosphere and probably more importantly great surf conditions – no wonder then that the annual Mr Price Pro surfing contest is held here.
10. Diaz Beach, Mossel Bay
Come December there may be more people on this beach than are left in the whole of Gauteng, Mpumalanga, Northwest, Limpopo and the Free State combined, but they come for a very good reason! The amazingly warm water, the flat, rock-free beach, and gentle waves make Diaz a firm favourite for many.
9. Sodwana Bay
Northern KZN is something special, those long wild swathes of coppery sand flanked on one side by lush sub-tropical forest-covered dunes, and on the other by the balmy Indian Ocean. Sodwana is probably the crown jewel in the province's ribbon of beautiful beaches and is ever popular with 4x4ers, fisherman and really anyone wanting to get as far away from the bright city lights as one can get in KZN.
8. Muizenberg
No surprises here! Muizenberg's wide, flat, white sandy beach is popular with all sorts of people. It's great for kids since the waves which break on the shore are rather small, it's great for surfers too as further out some bigger waves break and the town has grown quite the reputation as one of the best places in the world to learn how to surf.
7. Cape Vidal
Another Northern KZN beach and Cape Vidal really is a mighty sight to behold. This wild beach right next to Lake St Lucia and is an adventure lover's dream. 'Nuff said!
6. Gordon's Bay
Gordon's Bay has 2 main beaches and offers some great variety for visitors. The beach in the centre of town is wide, flat and great for kids wanting to wade or paddle in the warm water (warm for Cape Town). The second beach is Bikini Beach, next to the naval harbour; it's smaller but more popular with students coming down from Stellenbosch – there are plenty of bronzed beach bodies to check out here!
5. Clifton
Cape Town's famous Clifton beach is actually a set of 4 beaches, creatively named 1st, 2nd, 3rd and 4th. This is a great retreat when the wind is howling elsewhere on summer days and it's almost entirely wind-free. It's a great spot to watch the sun set, both in summer and in winter.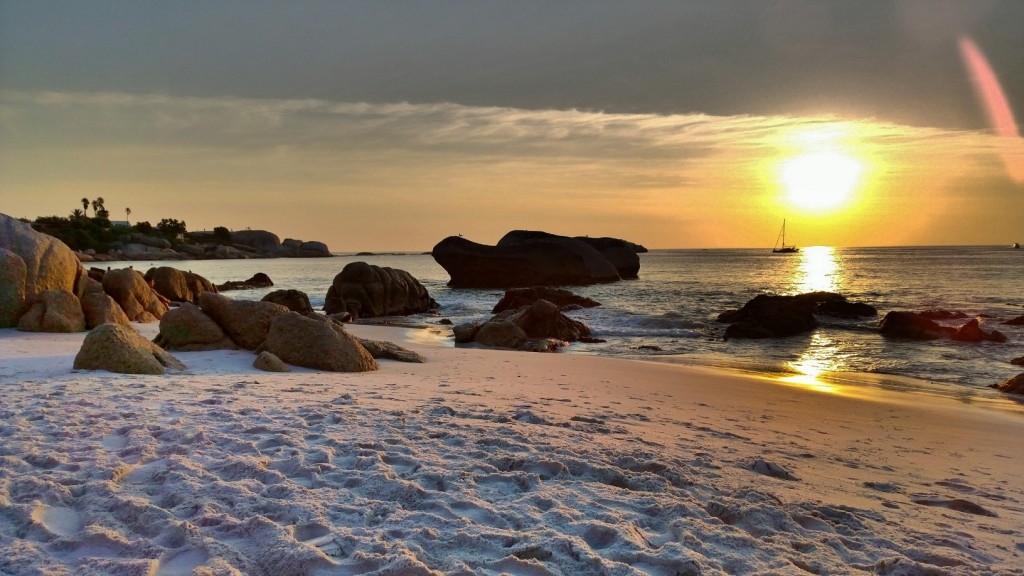 4. Nahoon
You may be surprised to see this East London beach at number 4, but there's a reason it's the city's most popular beach. Whether it's lazing on the soft sand, swimming in the warm Indian Ocean, surfing some of the epic waves or taking a stroll on the boardwalk through the dunes, this is a beach which won't disappoint.
3. North Beach, Durban
Bodyboarders, beach bums and skaters, Durban's North Beach is what it is: the king of holiday beaches. Also how epic is this night shot?
2. Santos Beach, Mossel Bay
Yes, another Mossel Bay beach, and it's at number 2. This one is hugely popular with local tourists. Why? There's quaint little tram, you can stay in a train carriage on the beach, there's an old Victorian pavilion and a wonderful stretch of sand slung across a bay which is warm and great for a nice long swim.
1. Camps Bay
If Durban's North Beach is the King of Beaches, Camps Bay would be the Emperor, getting into number 1 spot with a landslide of votes, there are plenty of reasons why this is SA's most popular spot. Sip on a cocktail at any one of the trendy spots like the iconic Caprice Bar, grab an ice-cream at Sinful and gawk at the bodies playing volleyball on the sand. Sandwiched in between the spectacular 12 Apostles and the sparkling Atlantic Ocean, the postcard picture image of Cape Town, is Camps Bay.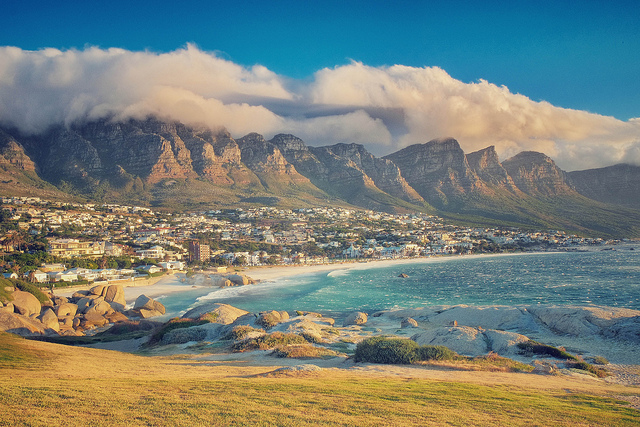 And for something a little different, South Africa also has a small collection of nude beaches for those wanting to bare it all.
What is your favourite beach in South Africa? Tell us in the comments section below. And sign up for our newsletter to stay in the loop about the latest flight specials and travel articles.
Also see: