South Africans have a lot to be proud of. We are rated third in the world in supplying safe, drinkable tap water, and despite Eskom's bad reputation, we enjoy some of the cheapest electricity in the world. More than these basic human necessities, our colourful nation draws visitors from near and far for its natural beauty, world cities, people and unique wildlife. The diversity South Africa offers is unparalleled to many other countries – after a redeye flight from London, you can be reclining on a beach in Cape Town in the morning and by the afternoon you could be jostling from side to side on a game viewing vehicle in the Kruger National Park.
In April, Stats SA noted a record number of visitors to our shores with nearly one million tourists visiting South Africa in December 2013 alone. Cape Town continues to capture the imagination of the global community with the city continuing to receive many accolades throughout 2014.
Each of the destinations you see below is numbered; however, don't take this as a ranking or rating. There's no bias here; this is simply 101 of the best destinations in South Africa.
101. Maboneng Precinct, Johannesburg
Located in the eastern part of Johannesburg's former CBD, this brand new artsy area is one of several being created to uplift the industrialized city centre. The Maboneng Precinct is full of modern loft apartments, stunning shops, restaurants and entertainment areas, as well as offices, a hotel and a museum. Maboneng means "Place of Light" in Sotho, and it has become just that, a creative hub for artists and designers that includes a cultural entertainment centre called Arts on Main, where residents and visitors come to eat, play and shop. Its home to numerous art galleries, advertising agencies, shops and private studios, including one belonging to world-famous local artist William Kentridge. The newer development, Main Street Life, is houses the 12 Decades Johannesburg Art Hotel, featuring individually designed rooms, as well as an independent cinema, shops, apartments and a rooftop events venue.
Visit the Maboneng Precinct on facebook
Find your Mango flights to Johannesburg with popular flight routes from Cape Town to Johannesburg or Durban to Johannesburg.
100. Whale Watching, Hermanus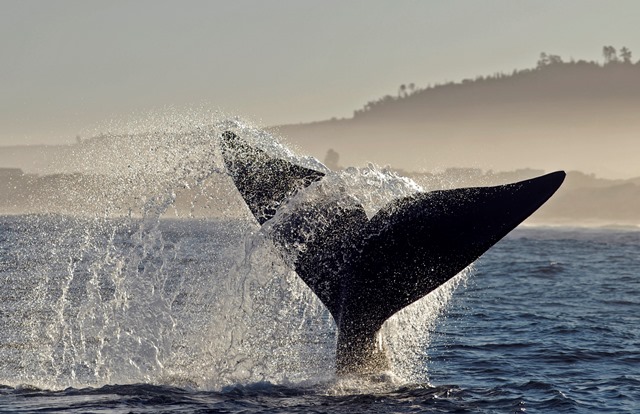 The Cape as a whole offers unparalleled opportunities for whale watching, but Hermanus is largely recognised as the official home of this recreation. It hosts the annual whale festival, and is coasted by the Whale Coast on either side. See also some of the wonderful accommodation in Hermanus, to stay over for a few nights!
Visit Southern Right Charters on facebook
99. Cango Caves, Oudtshoorn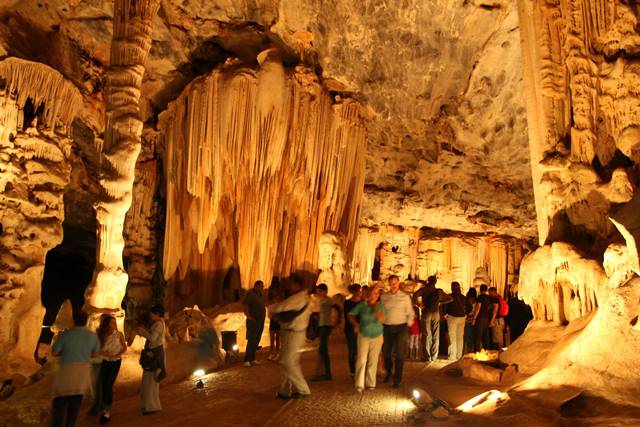 Image by Michael McCrae
As popular as the ostriches are in nearby Oudtshoorn, the Cango Caves is a 20-million year-old system of caves that cut deep into the limestone. Located just 30km from Oudtshoorn in the Klein Karoo, the caves are considered one of the world's great Natural Wonders. These vast hidden chambers make up Africa's largest cave system and were inhabited all the way back in the Stone Age. They have been a popular South African tourist attraction since they were discovered in the 1800s as they boast some of the largest stalagmite formations in the world. Not all of the caverns are open to the public but those that are offer an amazing subterranean adventure through chambers and tunnels. One of the highlights of a visit to the Cango Caves is Cleopatra's Needle, a 9m-high formation that is believed to be more than 150 000 years old!
Visit the Cango Caves on facebook
98. Golden Gate Highlands National Park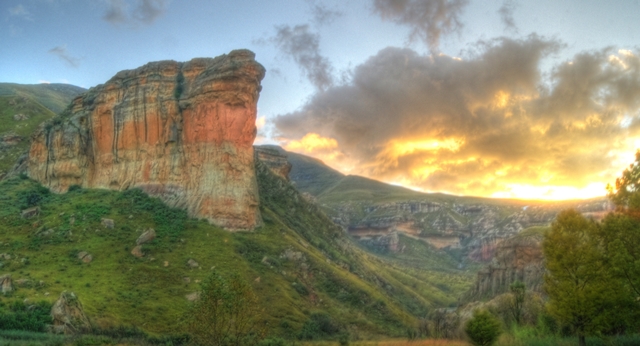 Image by Jonathan Gill from: flickr.com
Named for the glittering golden shades of its sandstone cliffs, the Golden Gate Highlands National Park is located about 120km from Bloemfontein in the Northern Free State. Nestled in the Maluti Mountains, the park is home to a variety of wildlife, including zebra, wildebeest and species of buck, and some extremely rare birds such as the bald ibis and the bearded vulture. Activities abound, and visitors enjoy nature trails, game viewing, horse riding, swimming, and environmental education courses here.
97. Oyster Box Hotel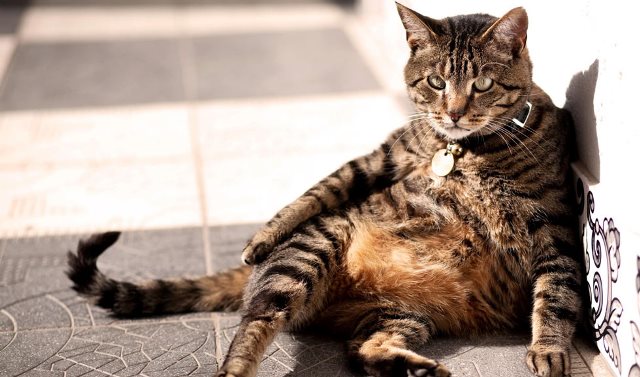 A favourite among visiting Royals, the high-brow surroundings of Umhlanga's long-standing Oyster Box Hotel has been the envy of us mere mortals for decades. Despite the hotel's plush surroundings and impeccable old school service, many guests agree that the one feature that keeps them coming back is the hotel cat Skabenga.
Visit the Oyster Box Hotel on facebook
96. Ronnie's Sex Shop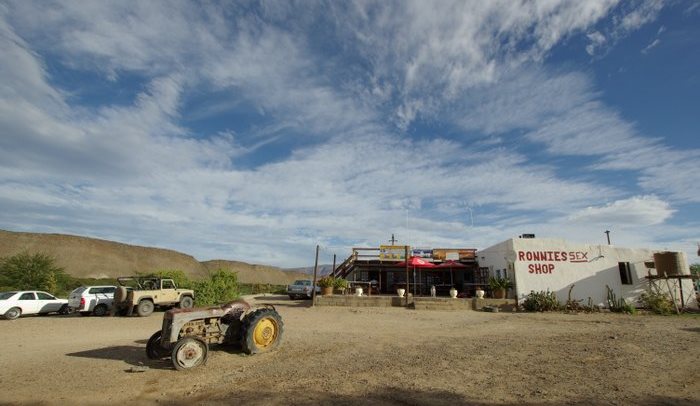 Image by Tours and Tales from: flickr.com
South Africa's famous Klein Karoo sex shop is anything but; Ronnie's Sex Shop is actually a popular pub and a regular stopover for locals, as well as bikers and visitors to the area. Located on Route 62, the shop which is named after its owner, began as a farm stall selling fresh produce to passersby. However, Ronnie complained of business being slow, so, in a booze fuelled prank, Ronnie's friends amended the painted "Ronnie's Shop" sign to Ronnie's Sex Shop. Suddenly business was booming, and the rest, as they say, is history. The pub is one of the most popular in the Karoo and tourists from near and far stop to photograph themselves next to the sign after enjoying a pint or two.
Visit Ronnie's Sex Shop on facebook
95. KZN Midlands Meander
KZN's most recognizable meander offers various routes of discovery throughout the scenic Natal Midlands. Located just an hour's drive from Durban, the Midlands Meander is an 80km stretch of thriving arts and crafts communities, and more than 160 places to eat, sleep, shop and be entertained. You'll come into contact with all sorts of craftsmen, from those growing herbs or producing cheese and craft beer to weavers, potters, artists, leather workers, wood carvers and much more. Nearby Midmar Dam is a haven for water sports enthusiasts where sailing, boating, canoeing and windsurfing are particularly popular.
Visit the Midlands Meander on facebook
94. Cape Agulhas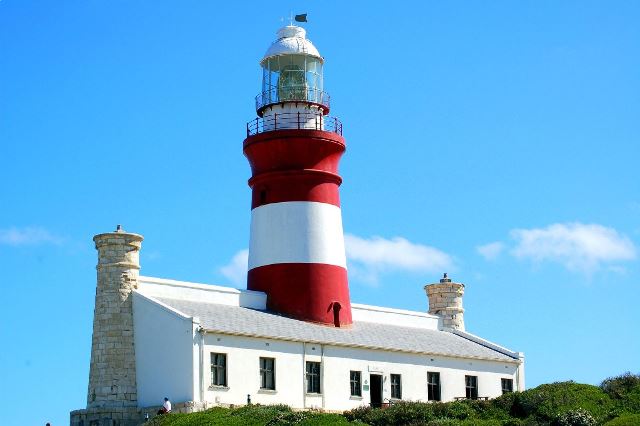 Situated at the southernmost tip of Africa where the Indian and Atlantic Oceans meet, Cape Agulhas, with its signature red and white lighthouse, is a place of mystery and adventure. The legendary "Cape of Storms" with its treacherous coastline was the catalyst for many ships' undoing. At the Agulhas National Park you can see archeological wonders, including the well-reserved shell middens, as well as fish-traps used by the Khoi people. You might even be lucky enough to spot the Southern Right Whale on this remote stretch of South Africa's coast.
93. Kgalagadi Transfrontier Park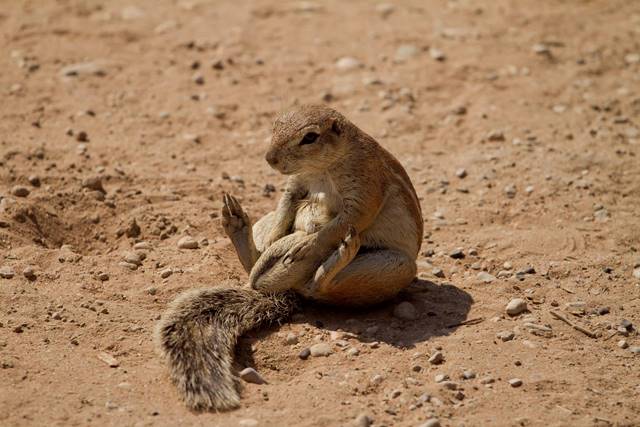 Image by Michael McCrae
This is the first formal trans-border conservation area in Africa, launched in 2000 on the border between South Africa and Botswana. Located around 250km from Upington in the Northern Cape and 904km from Johannesburg, the Kgalagadi Transfrontier Park is the result of joining the Kalahari Gemsbok Park in South Africa with the Gemsbok National Park in Botswana. Today, the park has a combined protected area of 38 000 square kilometres. Of that area, 28 400km are situated in Botswana and 9600km in South Africa. It covers the southern Kalahari Desert, an arid, desolate environment uninhabited by humans, and offers superb rare and endangered species game viewing opportunities from a number of game lodges.
Join the SANParks – Kgalagadi Transfrontier Park group on facebook
92. Supertubes, Jeffreys Bay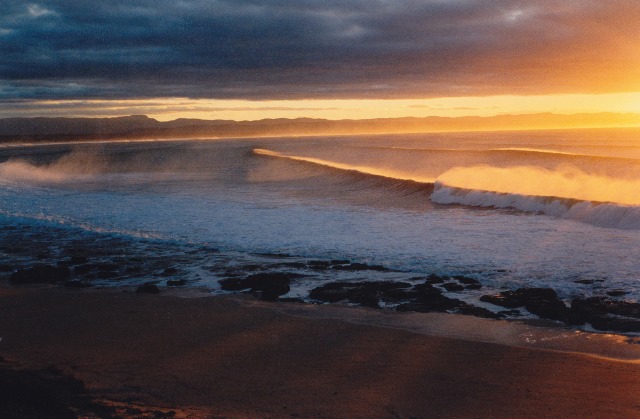 Image by Rian Saunders from: flickr.com
Located 65km from Port Elizabeth, Jeffreys Bay is one of the five top surfing destinations on earth, and the primary reason for this is what is largely considered one of the most predictable and perfect right hand point breaks in the world in Supertubes. This high speed wave reaches anything from 1.2 to 3 metres in height and varies in length from 150m to 300m. The best waves occur in winter between May and mid-September.
91. Moses Mabhida Stadium, Durban
Image by Andrew Ashton from: flickr.com
This modern stadium is well-known for hosting international sports and music concerts, but these days it's become a popular tourist attraction in South Africa for other reasons. Now visitors can take a trip on the SkyCar to the top of the stadium's arch, or enjoy a 500-step adventure walk to the arch for an unbeatable panoramic view of the city and the sea. The more adventurous can even take the Big Rush Big Swing, the only stadium swing in the world, which plunges off the 106m arch, and those who enjoy less active pursuits can explore the stadium on a tour, go shopping or enjoy a meal or a snack at one of the restaurants on the property.
Visit Moses Mabhida Stadium on facebook
Find your Mango flight to Durban with routes from Johannesburg to Durban.
90. Sutherland
Image by Michael Morris from: trekkingtripod.com
It's South Africa's coldest town, however, many gloss over the fact that it's also one of the clearest and darkest towns in the world thanks to its remote location and altitude. Obviously this makes it a sought after spot for stargazing, and it helps that the largest single optical telescope in the Southern Hemisphere is located nearby.
89. Union Buildings, Pretoria
Located in Tshwane, the Union Buildings are the official seat of South Africa's national government. This semi-circular structure was designed by the famous architect Sir Herbert Baker and comprises three separate sections, an amphitheater with official offices on either side. Surrounded by lush gardens, the structure is considered an architectural masterpiece. Aside from its architectural significance, the Union Buildings are also considered a symbol of South Africa's transition to democracy. This is where Nelson Mandela was inaugurated as the first President of a free South Africa, and long before that, it was the site of a women's protest against the country's strict Apartheid pass laws on what is now a public holiday called Women's Day.
88. Table Mountain Aerial Cableway, Cape Town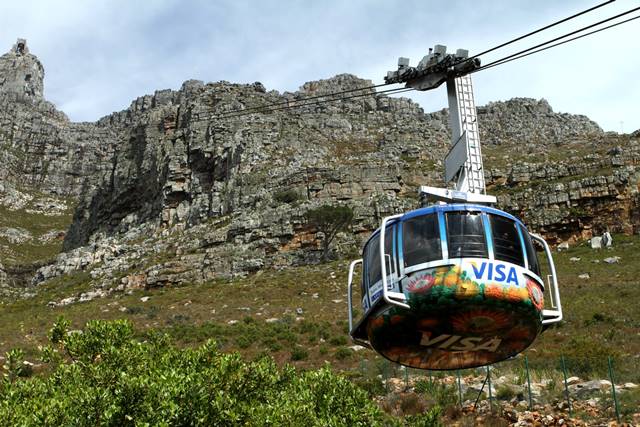 Image by Michael McCrae
A must-do activity on a trip to Cape Town is a journey to the top of the Mother City's most iconic natural landmark – Table Mountain. Seeing the city and sea spread below you from 1085m above is a gasp-worthy sight like no other. Reaching the flat-topped summit is easy with the Table Mountain Aerial Cableway; the modern cableway accommodates 65 passengers in each of its 2 cars, and the interior floor rotates 360 degrees on its 5-10 minute ascent and descent. Travelling upwards and downwards at around 10m per second, cable car riders enjoy an unmatched view of the beautiful Mother City, and from the top, the panorama is legendary. Table Mountain is also a nature reserve, home to a variety of indigenous animals and plants, with various paths to explore.
Visit the Table Mountain Aerial Cableway on facebook
87. Sun City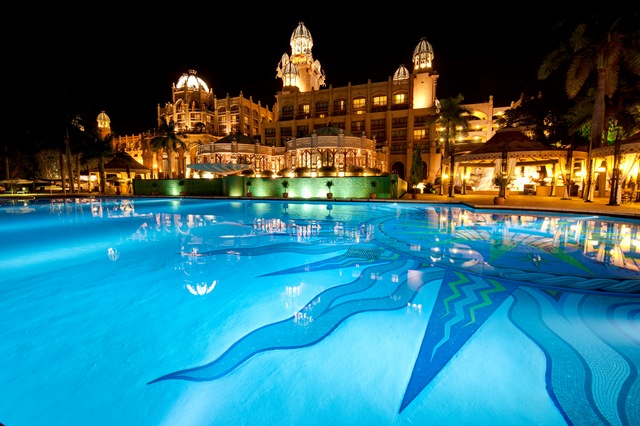 Just an hour and a half outside Johannesburg one finds the famous entertainment complex, Sun City, home to various hotels, a world class golf course and a seemingly never-ending variety of world class entertainment options. Locals and tourists flock here to enjoy the famous waterpark, the Valley of the Waves with its simulated beach and manmade waves, gamble at the Casino, enjoy Vegas style entertainment at the Sun City Superbowl and go game viewing to see elephants, rhino, lions and antelope in the nearby Pilanesberg National Park. The lavish Palace of the Lost City is a major draw card; this five star hotel offers every facility for a romantic African holiday, and there are various other accommodation offerings including the 4-star Sun City Hotel and the 3-star Cabanas. Alternatively, there are game lodges and camping establishments nearby, or one can visit Sun City for the day.
86. Riebeek Kasteel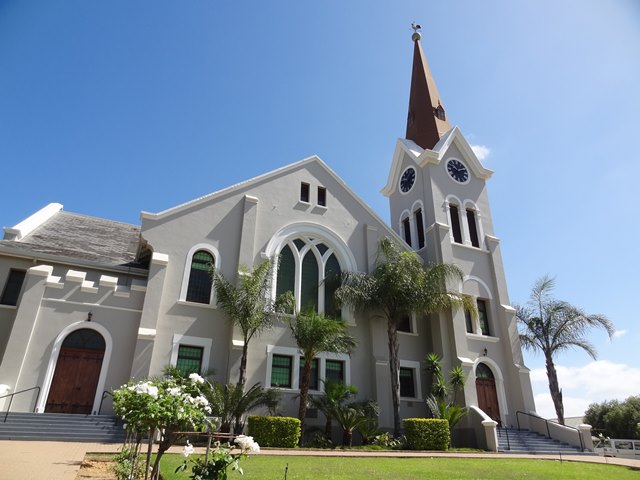 Image by Werner Bayer from: flickr.com
Nestled in the beautiful Riebeek Valley, this is one of South Africa's oldest towns teeming with restaurants, coffee shops, creativity, and wine and olive culture. Stumble on bric-a-brac shops; spend time sorting through reams of treasures, then grab fresh coffee and a croissant at one of the homey bakeries in town. It's only 80km from Cape Town (about 1 hours' drive) so it's easily accessible … you'll only wish you'd discovered it earlier! Leave Cape Town on the N1, peel on to the N7 near Canal Walk, turn off at Malmesbury and take the R46; Riebeek Kasteel is about 20 minutes further down the road.
85. Hole in the Wall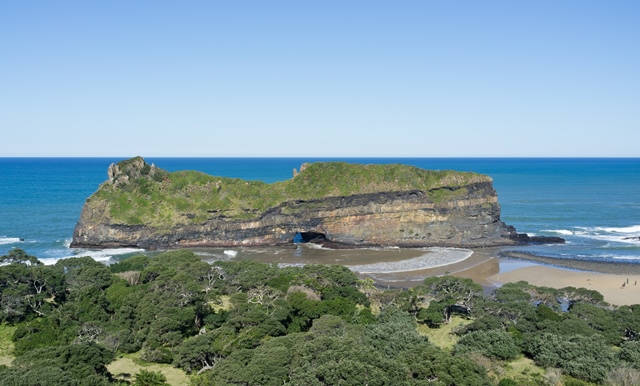 Image by alcuin lai from: flickr.com
The Hole in the Wall is a rocky archway on the Eastern Cape's Wild Coast that was created millions of years ago by the relentless action of the waves crashing against the sandstone. The little holiday village of the same name overlooks this surreal rocky phenomenon that is located at the mouth of the Mpako River in Coffee Bay. Of course, Hole in the Wall has many legends attached to it, including a charming Xhosa tale about a young woman who fell in love with a mythical "sea person"; the hole formed in the rock face so the sea person could reach the woman.
Visit the Hole in the Wall Hotel & Holiday Village on facebook
84. God's Window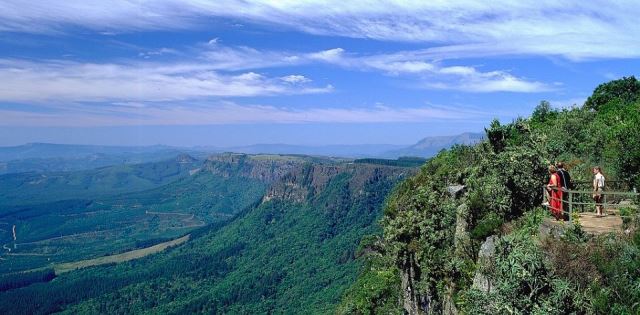 You know it's going to be a holy sight if it's called "God's Window", and the views from various points here are quite extraordinary. On a clear day, you can literally see all the way to the Kruger Park and South Africa's border with Mozambique. Close by, the sheerness of the cliffs as they plunge 700m downwards into the gorge below, the lush ravine, canyons and waterfalls are nothing short of spectacular. This dramatic setting forms part of the Lowveld's 250km-long Panorama Route, which includes Lydenberg, White River, Sabie, Graskop, Hazyview and Hoedspruit. It's also where you will find some of the country's best game lodges, all offering a variety of activities, including superb game viewing, walking trails, horse riding and more.
83. Clarens, Free State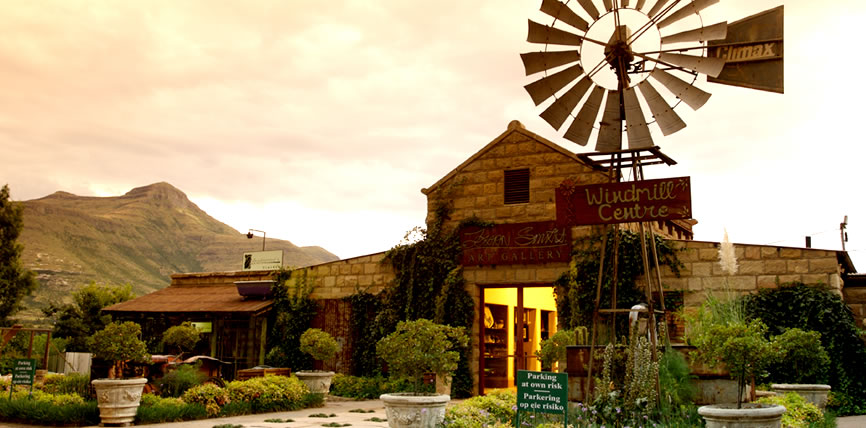 Nestling at the foot of the Maluti Mountains is the tranquil Free State village of Clarens, an artistic community rich with galleries and the creativity that has become synonymous with small town South Africa. Its close proximity to Johannesburg, Durban and Bloemfontein (300km from each of these cities) makes Clarens a favourite weekend destination for urbanites. The area is scenically beautiful, and is a popular stopover for those en route to view wildlife in nearby Golden Gate National Park. There are also a number of prehistoric rock paintings in the area, as well as a Basotho Cultural Village, and excellent opportunities for fly fishing, hiking and abseiling.
82. Huey Helicopter Combat Missions, Cape Town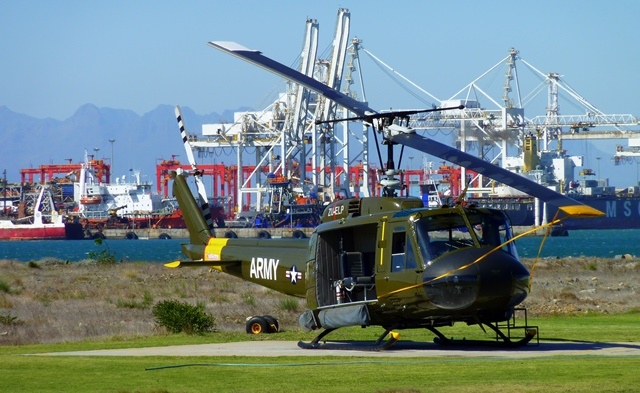 Image by Christopher Griner from: flickr.com
Where men become boys again. Reenact airborne Vietnam missions as you hug the Cape coast on a real Huey helicopter in combat mode. If the deep 'whopping' hum of the blades overhead isn't enough to get your heart racing then the aerial perspectives of Cape Town certainly will be. At R2700 per person for a 30 minute Combat Mission these aerial jaunts don't come cheap, but if you're looking to live out your army aspirations in real life then it doesn't get much better than this!
Visit Huey Helicopter Combat Missions on facebook
81. Victoria Street Market, Durban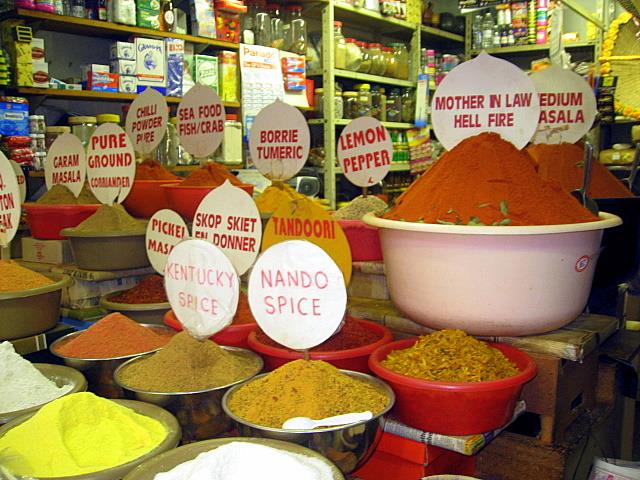 Image by jit bag from: flickr.com
This flea market is completely unique, a heady mix of Oriental spices and African magic. First opened in the 1980s to replace the original turn-of-the century market that was destroyed in a fire, the Vic, as the market is called locally, offers more than 170 stalls selling an eclectic combination of products indigenous to both India and South Africa. Visitors and locals flock here to purchase all sorts of treasures, from saris and spices to incense, African herbs, fresh produce and seafood, crafts and jewellery.
80. Tiffindell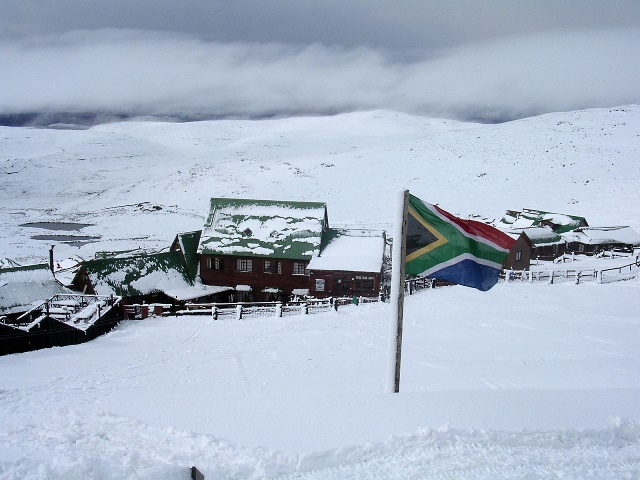 Tiffindell Ski Resort is South Africa's only ski and snowboarding resort. Located in the Eastern Cape, the resort is 2720m above sea level, and offers winter skiing each year by way of natural and man-made snow!  And those who don't want to make awkward, pizza shaped movements on skis can come and enjoy a unique African snow experience, making snowmen, throwing snow balls or tobogganing.
Visit Tiffindell Ski Resort on facebook
79. Grootbos Private Nature Reserve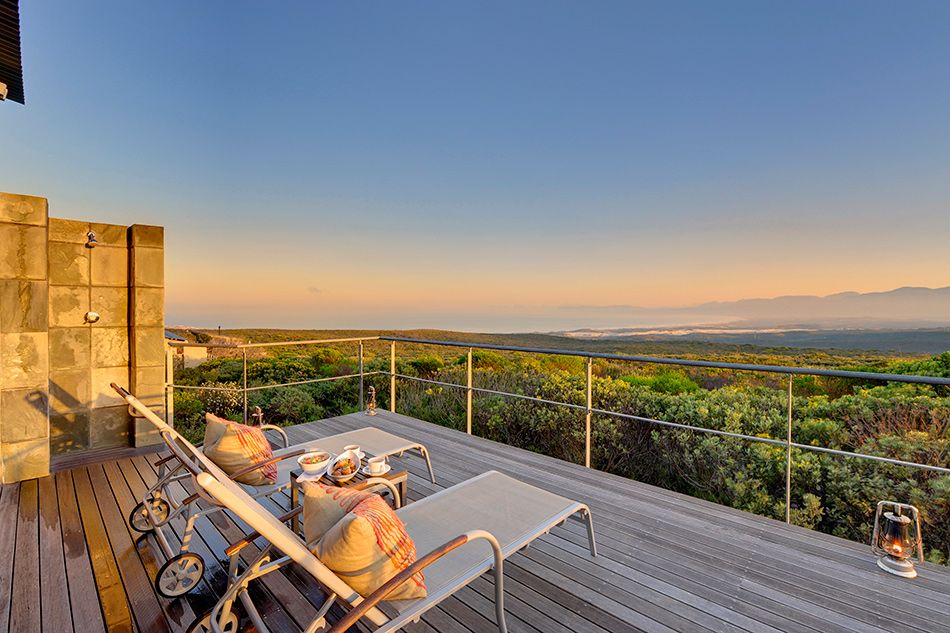 Only 2 hours from Cape Town and 30 minutes from Hermanus en route to the Garden Route, Grootbos showcases the remarkable flora and marine life found near the southern most parts of Africa. The 5-Star luxury accommodation here complements the spectacular forest views and whale watching to be had in Walker Bay.
Visit Grootbos Private Nature Reserve on facebook
78. Wave House, Durban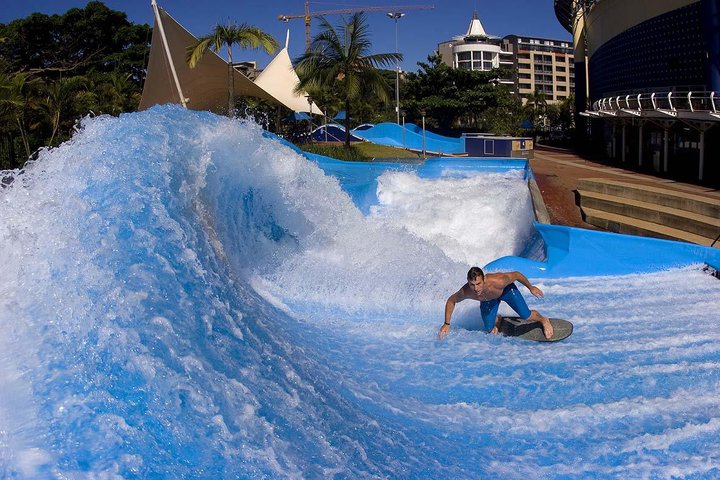 When the waves behind Durban's piers are six foot plus and grinding, or when they're one foot and sloppy, you can guarantee the Wave House at the Gateway Theatre of Shopping in Umhlanga will be offering up ride after ride of pseudo surf perfection. The D-Rex (pictured) is the main event, and at 10-feet high it's the largest manmade wave in the world and the ideal cross-trainer for surfers, snowboarders, skaters and wake boarders. The Wave House also features a 4000-square-metre skate park, as well as frequent concerts and events. There's also a climbing rock, which, at 22.5 metres, is the highest in the world.
Get your Mango flight to Durban with routes from Cape Town to Durban and Lanseria to Durban.
77. Bill Harrop's 'Original' Balloon Safaris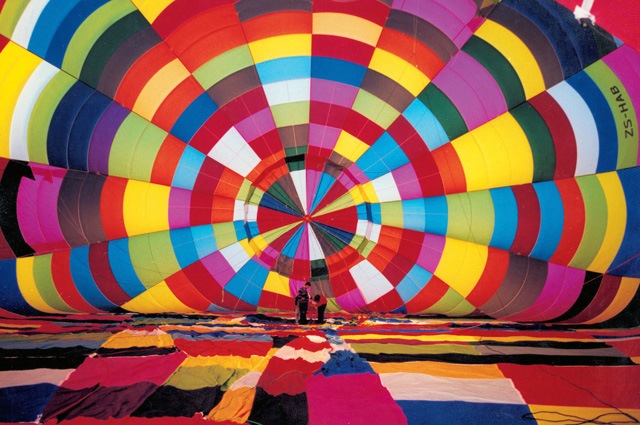 An hour-long hot air balloon ride in the magnificent Magalies River Valley is one of the most unforgettable experiences, something that Bill Harrop's "Original" Balloon Safaris has been offering visitors for the past 33 years. From your unique vantage point above the treetops, glide above the magnificent Cradle of Humankind and Magaliesberg Mountain range. On landing, you will enjoy an excellent breakfast in the clubhouse. There is an excellent range of accommodation nearby, although Bill Harrop's headquarters, at Skeerpoort Country Base, is just 45 minutes' drive from Johannesburg.
Visit Bill Harrop's "Original" Balloon Safaris on facebook
76. Kalk Bay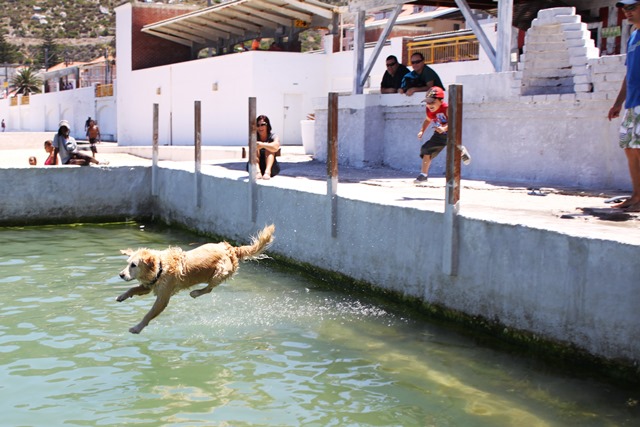 The picturesque fishing enclave on the 'other side' of the Peninsula is a longtime favourite for its coffee shops, antique shops, steep cobbled streets and the laidback vibe that floods the place to its core. For fine dining in Kalk Bay check out Polana; for something more fitting of the chilled ambience swig a few at the Brass Bell where you're practically in the surf, or suss out Kalky's for fish fresh off the boats which rock just a few feet away from the tables.
Visit the Brass Bell in Kalk Bay on facebook
75. Safari Ostrich Show Farm, Oudtshoorn
Image by Michael McCrae
Oudtshoorn is ostrich country, and a stop at the Safari Ostrich Show Farm 6km from town is highly recommended. The farm, which has been operating since 1956, offers insights into how these large birds are bred. Watch a unique ostrich race with colourfully dressed jockeys racing the birds up to 70km per hour. Here you can also ride an ostrich, take photographs of nests and eggs and feed the tame birds as well as cuddle their baby chicks. The store stocks numerous ostrich products, including leather handbags, eggs and feather boas.
Visit the Safari Ostrich Show Farm on facebook
74. The Big Hole, Kimberley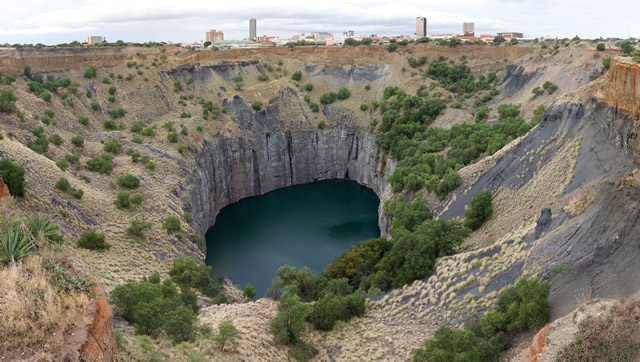 It's not the biggest hole in the city, but the 500m-wide Big Hole in Kimberley is its main attraction. This is where diamonds were first found on top of a flat-topped hill in 1871. Of course, the gaping hole that measures 215m deep was created through mining, which became a big industry for the city, with more than 13.6 million carats of diamonds being found by De Beers Diamond Mines in 1914. To see the famous Big Hole you need to visit Kimberley Mine Museum, which offers an excellent insight into the city's sparkling history. View the Big Hole from a platform suspended above it, which was formed as diggers used their picks and shovels to find treasure during the diamond rush. The Underground Mine Experience offers a view of what a mine shaft looked like in the 19th Century, while the short film overviews the history of Kimberley's diamonds. See various items on display and explore meticulously preserved old buildings, including a Church and a tavern.
Visit The Big Hole on facebook
73. Vredefort Dome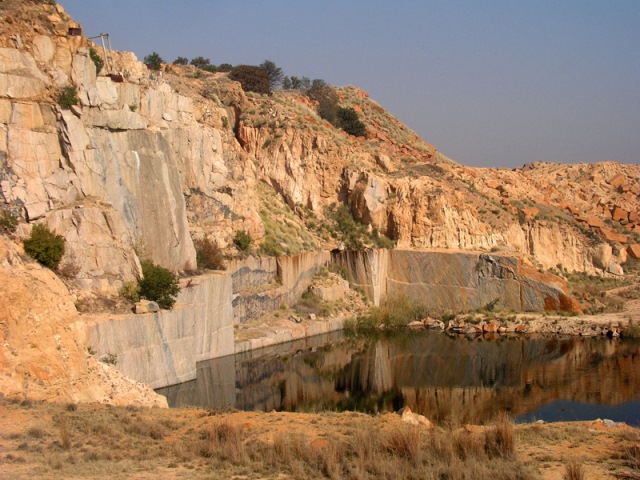 The largest meteorite impact site on earth is located in the Free State at Vredefort. It's estimated to have been around 300km wide and is also the oldest impact crater in the world, so it comes as no surprise that this is another of South Africa's World Heritage Sites. The crater was formed when a meteorite fell to Earth more than 4 billion years ago hitting our planet near Vredefort. This small, idyllic farming town located only 120km from Johannesburg is home to just 3000 residents. The area is a popular destination for horse riding, mountain biking, river rafting, archery and walking.
Visit Vredefort Dome on facebook
72. Robben Island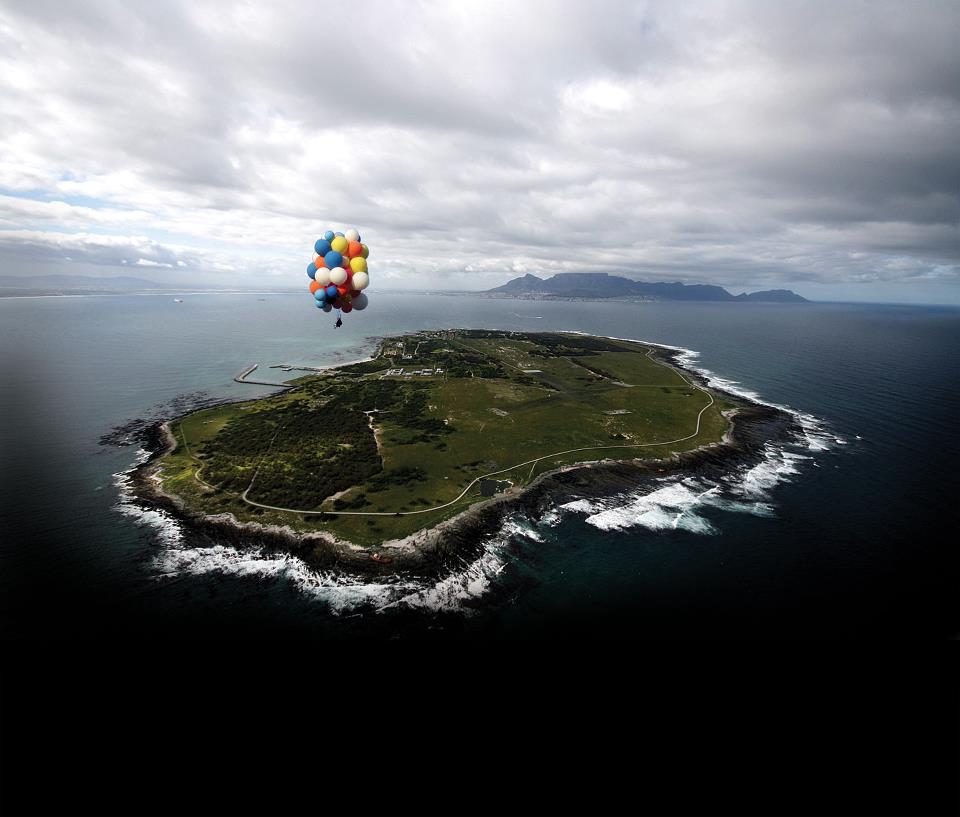 The infamous island prison where Nelson Mandela was incarcerated for 18 years is a World Heritage Site. Located just 5.5km off the shores of Cape Town, the trip to Robben Island starts at the V&A Waterfront at the Nelson Mandela Gateway. The Robben Island Ferries depart on the hour, and each tour takes approximately three and a half hours. Previous political prisoners lead you around the island and offer a personal account into the 400-year history of Robben Island and its daily life. Visitors stop off at Mandela's former cell, and explore the lime quarry where he and his fellow inmates were tasked with grueling hard labour.
71. The Three Rondavels
Image by Chris Eason from: flickr.com
These three giant mountain peaks that resemble traditional African huts are a sight to behold, and also the viewpoint for a dramatic panorama of the Blyde River Canyon below. Located at the start of the Canyon, the rondavels, which used to be called the Three Sisters, are just one of the exquisite highlights of a visit to Mpumalanga's renowned Panorama Route. Towering 700m above the impressive valley, these three rocks offer a view over the Canyon all the way to the distant Drakensberg Mountains.
70. Howick Falls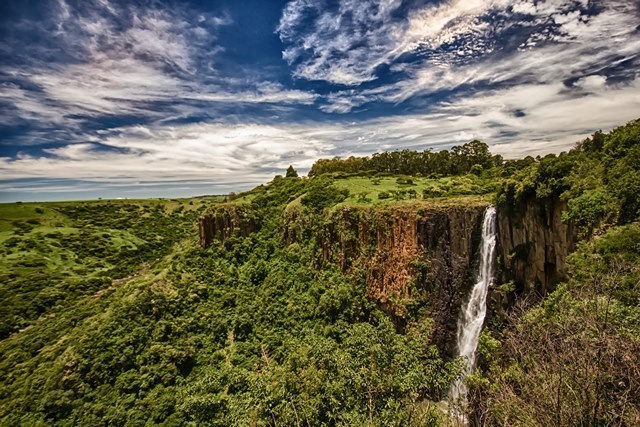 Image by Greg Horne from: pixmag.ning.com
Located 24km from Pietermaritzburg en route to Durban within the lush, rolling KwaZulu-Natal Midlands you'll find Howick Falls. The name means "The Place of the Tall One" in Zulu because of the great height (95m) from which the water travels to reach the Umgeni River below. Legend has it that the Falls are home to a mythical snake-like creature, but that's not the only reason people come here. The scenic beauty from the top of the Falls is mesmerising, and there are numerous walking trails to enjoy. A walk from the top to the bottom of the Falls takes about an hour.
69. Hartbeespoort Dam
Nestled within the magnificent Magaliesberg Mountains just 45 minutes from Johannesburg and Pretoria is Hartbeespoort Dam – a welcome respite from busy city life for locals and visitors alike. The dam, which covers 1620 hectares, is a popular resort destination and offers a variety of outdoor and watersport activities. Aside from sailing, jet skiing, para-sailing and waterskiing, there are also scenic walks to enjoy, more challenging hikes, an aerial cableway and excellent bird watching, as well as sunset cruises. There's also a wide selection of restaurants and accommodation on offer making it ideal for day trips and weekend breakaways.
Visit the Harties Cableway on facebook
68. Big Pineapple, Bathurst
Image by Randy OHC from: flickr.com
Pineapple country around Bathurst has its very own landmark, the largest pineapple on earth. Located just outside the town on Summerhill Farm in the Eastern Cape, this 16.7m tall structure celebrates one of the region's biggest natural exports – the pineapple, the only fruit to grow in the area, first planted here in 1865. The giant pineapple is actually a building, home to a souvenir store, a 60-seat auditorium, some fascinating displays and an observation deck.
67. Rovos Rail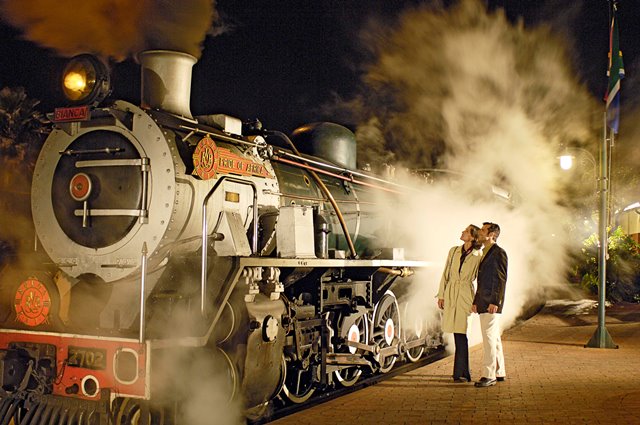 Largely considered the most luxurious passenger train in the world, the old world Rovos Rail carries passengers from Pretoria to Cape Town through the arid Karoo in sumptuous 1920s-style locomotive accommodation. There are also longer journeys available from Cape Town all the way to Victoria Falls in Zimbabwe. The observation car at the back of the train offers unsurpassed views as the train clacks along. Carrying a maximum of 72 passengers in their 36 luxury wood-paneled suites, the trains are hauled by steam, electricity or diesel at various stages along the route. Established in 1989, this famous train company offers a superior level of service including fine dining, much like the famous Orient Express that travels through Europe. With room service available 24 hours a day and every luxury on tap, passengers enjoy an unforgettable adventure on board.
66. Bay Harbour Market, Hout Bay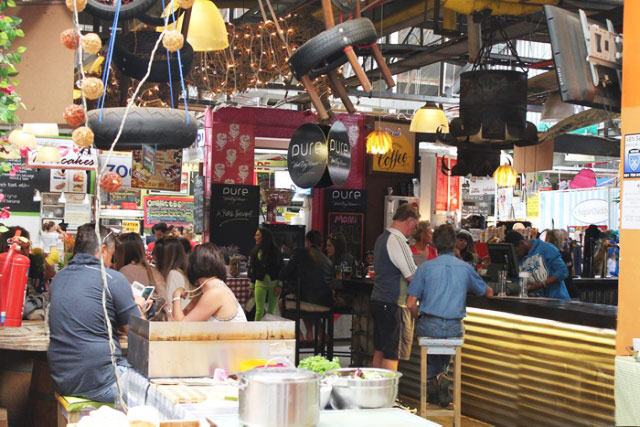 Beautiful Hout Bay, located just outside Cape Town, is home to a colourful weekend market, called Bay Harbour Market. Formed as an initiative and social upliftment project for the local community, the market is located in an old fish factory on the harbour front. It houses more than 100 stalls offering a variety of wares, from art, souvenirs and gifts to food and fashion. Live music enriches the Bay Harbour Market experience.
Visit Bay Harbour Market on facebook
65. Matroosberg Private Nature Reserve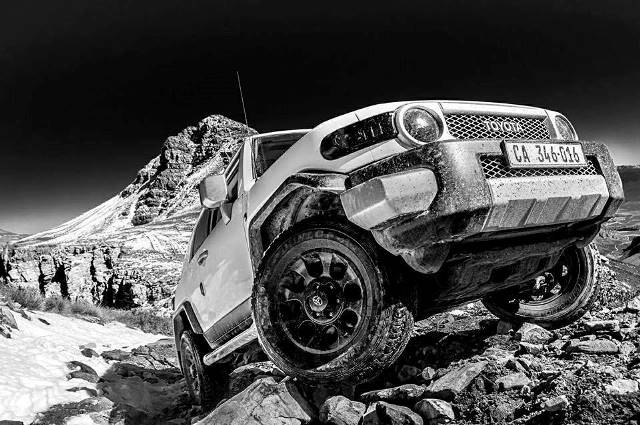 Image by James Black
Matroosberg offers a variety of fun activities for the whole family, and is a popular weekend/day getaway during the winter and summer months. Offroaders will love the scenic 4×4 route that leads 2240 metres up Matroosberg Peak and offers magnificent views and rock formations, or another that travels along the river bed. Less nerve-wracking pursuits include farm tours (the reserve is located on the farm Erfdeel), bird watching, quad biking, snow boarding, fishing, abseiling, hiking and horse riding. In winter, you can even ski here on the private ski slope.
Visit Matroosberg Private Nature Reserve on facebook
64. Valley of Desolation, Graaff-Reinet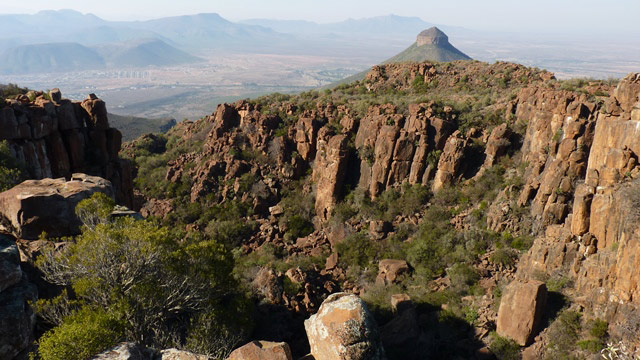 Image by David Siu from: flickr.com
The eerily named Valley of Desolation offers a variety of viewpoints and trails where the highlight is a sheer cliff face. Located amongst barren Karoo landscape in the Camdeboo National Park just 14km from the town of Graaff-Reinet, the Valley of Desolation is a series of vertical dolerite cliffs and columns that hang 12 metres above the valley below. This unusual sight took more than 100 million years to form and stands majestic and proud amongst scenic vegetation where more than 220 species of birds and 43 animal species roam free. There's a circular hiking trail offering spectacular views of Graaff-Reinet and the Valley itself.
63. uShaka Marine World, Durban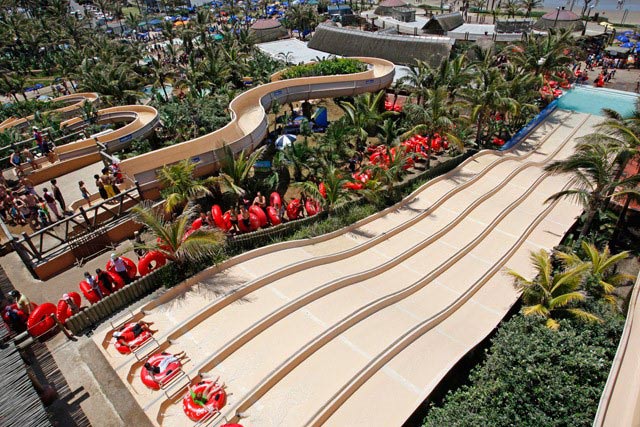 Located on Addington Beach at the southern end of Durban's Golden Mile, this marine themed entertainment complex is the largest aquatic theme park in Africa. It offers all sorts of amusement, including a vast aquarium with indoor and outdoor displays, a range of restaurants and shops, and a variety of activities for families. A highlight here is Wet 'n Wild, a fresh water wonderland with river rides, swimming pools, and super tubes aplenty.
Visit uShaka Marine World on facebook
Find your Mango flight to Durban with popular routes from Bloemfontein to Durban.
62. Constitution Hill, Johannesburg
Image by Jorge in Brazil from: flickr.com
Today, Constitution Hill is the seat of South Africa's Constitutional Court, a symbol of freedom, but in days past, it housed the famous Old Fort Prison, which was built in the late 19th Century and symbolized exactly the opposite. Located in Braamfontein, close to the city's university, the Old Fort was once a high security prison for Anglo Boer war prisoners. Later, Number Four, a prison for non-whites, and a women's prison were added and The Old Fort became a politically-based prison where striking mineworkers and political dissidents were jailed. Both former President Nelson Mandela and Mahatma Gandhi served time there. Today Constitutional Hill is a symbol of freedom, and the court's aim is to uphold human dignity and human rights.
Visit Constitution Hill on facebook
61. Kirstenbosch Gardens, Cape Town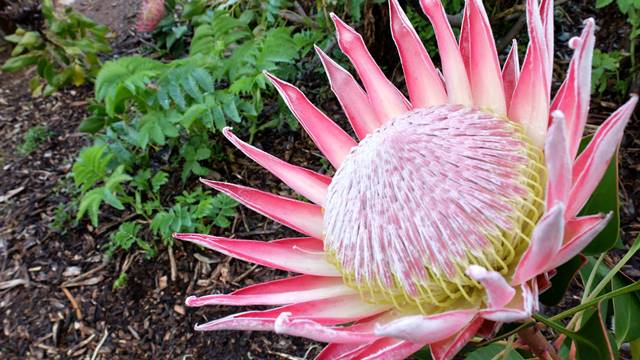 Image by Michael McCrae
More than a century old and still one of the most popular locations to visit in Cape Town, the Kirstenbosch National Botanical Garden is a scenic natural paradise which is famous the world over for its natural beauty. As part of the garden's centenary, a magnificent 130m-long treetop canopy boardwalk was installed in May 2014, weaving between the branches of the Garden's famous Arboretum. Nicknamed the "Boomslang", the walkway offers a unique vantage point up to 12m above the ground from which visitors savour the spectacular scenery in this magnificent 36-hectare Botanical Gardens. In the summer months, garden guests can enjoy outdoor musical concerts at sunset in what must be one of the most spectacular settings on earth.
60. Addo Elephant Park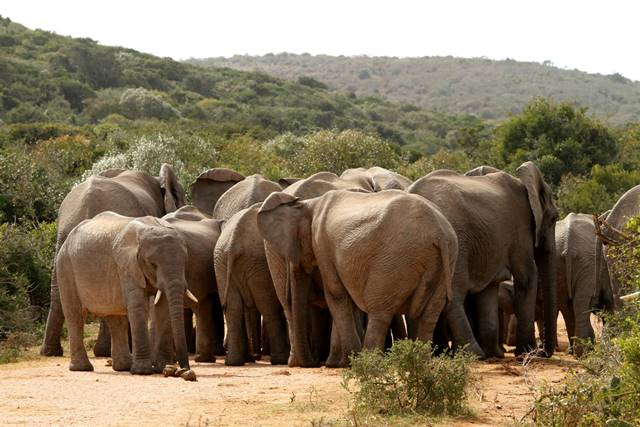 Image by Michael McCrae
Stretching over 180 000 hectares in the Eastern Cape, Addo Elephant Park is the third largest game park in South Africa. Originally a park with just 11 elephants, the park has transformed into a major wildlife sanctuary and is now home to more than 600 elephants as well as a variety of other animals, including lion, buffalo, black rhino, leopard, zebra and more. It's famous for the Big Seven, the Big Five wild animals plus the Great White Shark and the Southern Right Whale, as well as a huge population of penguins.
Join the SANParks – Addo Elephant National Park group on facebook
59. Freedom Park, Pretoria
Located on 52 hectares on Salvokop Hill in Pretoria, Freedom Park is a permanent reminder to locals and visitors of South Africa's turbulent past, and a symbol of the country's heart and soul. It's a place where people come to contemplate what happened before, and how far the country has come. This monument to liberty, humanity and South African heritage features a number of fascinating sights, including the Wall of Names that lists those who died during eight different conflicts in our history, an Eternal Flame and Isivavane, a symbolic burial place for those who died heroically. The Pan African Archives is home to research material about the country's history and there's a Gallery of Leaders that features displays of local and international leaders who have contributed to freedom and humanity.
Visit Freedom Park on facebook
58. Knysna Heads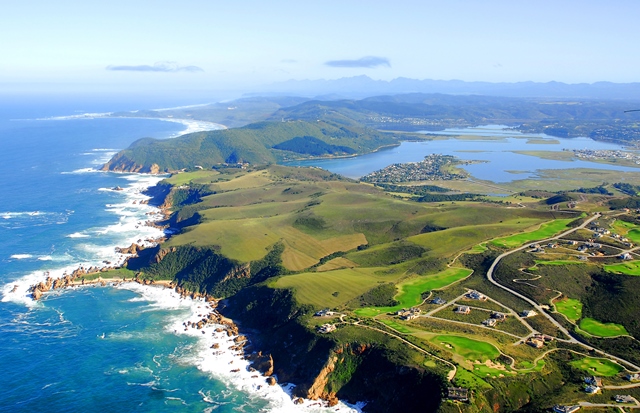 Located on the magnificent Garden Route in the Western Cape, Knysna is a popular resort town, home to some of the area's most breathtaking scenery, including the famous Knysna Heads. Knysna is built on a natural lagoon, and these two dramatic cliffs guard its entrance in the sea. The Western Head is home to a privately owned nature reserve called Featherbed which visitors can explore, while the Eastern Head offers an observation point with stunning views. One of the more popular trips to Knysna Heads is on a champagne and oyster cruise at sunset.
57. Augrabies Falls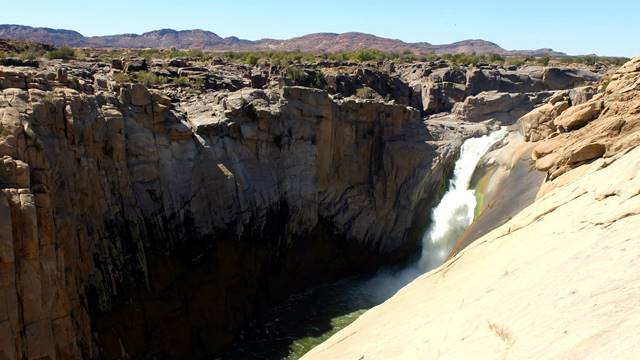 Image by Michael McCrae
Known by the Khoisan people as "The Place of Noise", Augrabies Falls is a deafening 56m waterfall located 120km from Upington in the Northern Cape. This scenic area is full of indigenous animals including various buck, while the iconic Quiver tree, from which the Khoi hunters used to make their quivers, is a treat to see. In May and June the wildflowers transform the landscape into a yellow splashed wonderland. The best vantage point to see the Falls and the entire park in the Orange River Gorge is from the top of Moon Rock but there's an easier 2.5km route along which you can see the Gorge, as well as Arrow Point and the Twin Falls.
Join the SANParks – Augrabies Falls National Park group on facebook
56. Hluhluwe-Umfolozi Nature Reserve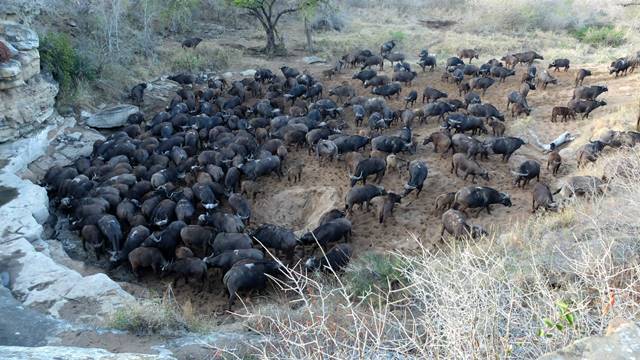 Image by Michael McCrae
Combined, the Umfolozi Game Reserve and its neighbour, the Hluhluwe Game Reserve in KwaZulu-Natal, form the oldest and largest Big Five game reserve in South Africa. The reserve is home to a diversity of wildlife, including the famous Big Five and the rare White Rhino, which is currently under conservation here. The reserve offers a wide selection of lodges and camps from where you can enjoy game drives, walking trails and boat safaris on the Hluhluwe Dam. Established in 1895, this famous reserve is located in the heart of Zululand, where Zulu kings hunted and then set up conservation laws. The reserve is also renowned for its Game Capture unit, where animals are captured and secured for sustainable purposes.
55. Tsitsikamma Zipline Tours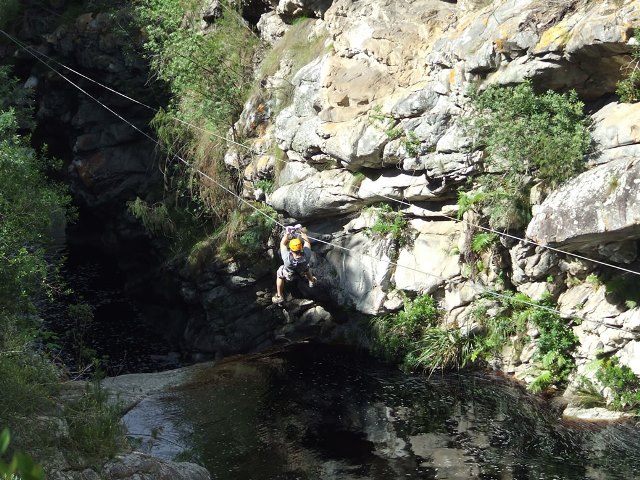 For a unique adventure, why not go ziplining across the Kruis River? This exciting experience is available within the Tsitsikamma region, 8km from the Storms River Bridge. There are eight slides in all, the longest of which is 211m, and those brave enough can zip across the river gorge, up to 50m above the water. What's more, you can control the speed of your trip across the gorge, so that you can stop en route to take in the spectacular scenery. Guides offer commentary about the area. If you prefer another type of adventure, there are also quad biking tours, wall climbing and abseiling.
Visit Canopy Tours South Africa on facebook
54. Clifton Beaches, Cape Town
Cape Town's famous four secluded beaches at Clifton are also the location for some of the most expensive residential properties in Africa. These beautiful white sand beaches are separated by boulders and rocks, and only accessible via steep stairways from the road above. Although the water is cold, people enjoy its calmness, but that's not the reason people flock here. This is the "it" place to visit, the most beautiful beaches in the Mother City, and securing a spot in the sand in December and January alongside the jet set can be a challenging task. Vendors stroll around offering drinks and refreshments so that you don't have to move. Each of the four beaches (named First, Second, Third and Fourth) has its own special personality, so it's best to sample each to find your favourite.
Visit Clifton Beach on facebook
53. Kruger Park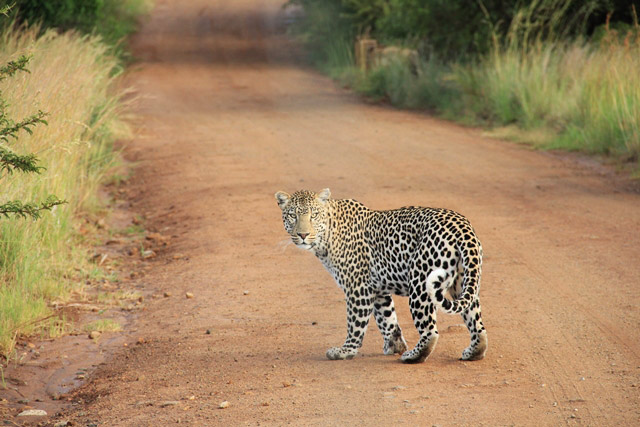 South Africa's largest and most legendary game reserve, the Kruger National Park straddles the provinces of Limpopo and Mpumalanga in the northeastern section of the country. The park, which on its own is larger than the State of Israel, recently became part of the Great Limpopo Transfrontier Park, a peace park that includes Zimbabwe's Gonarezhou National Park and the Limpopo National Park.  Fences are being removed between the parks so that wildlife can roam free.  The Kruger Park is most famous for its Big Five encounters, as well as numerous other species of wildlife, an incredible selection of birdlife and some of the most exquisite trees in Africa, including baobabs, Marula, mopane and fever trees.
Join the SANParks – Kruger National Park group on facebook
52. Genadendal Mission Museum, Greyton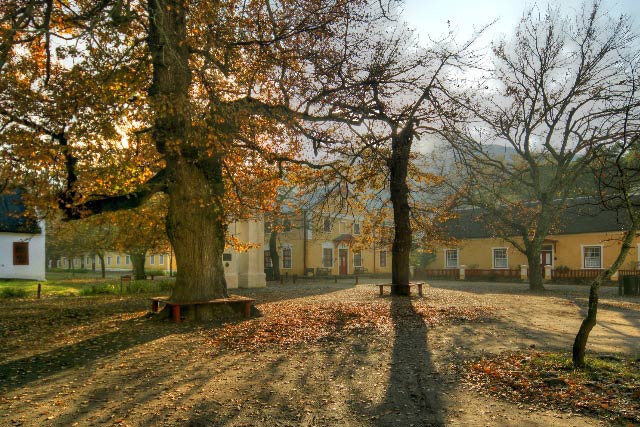 Image by Leon Oosthuizen from: flickr.com
Located outside the town of Greyton, Genadendal has to be one of South Africa's most fascinating museums. The Genadendal Mission Museum boasts displays of some of the first books, tools and everyday items brought to South Africa in the 18th and 19th Centuries by Moravian Missionaries. It's hard to believe that this almost deserted spot was once the second-largest settlement in the Cape, next to Cape Town. Here, Afrikaans as a language was developed, and some of the first Afrikaans literature was printed. All the buildings on the town's Church Square were declared national monuments in 1980 and are open to explore.
Visit the Genadendal Mission Museum on facebook
51. uKhahlamba-Drakensberg Park
Image by Michael McCrae
Located just two hours from Durban and four hours from Gauteng, South Africa's highest mountain range, the Drakensberg, was designated a World Heritage Site in 2000. Stretching for some 150km, its home to various spectacular locations, including Cathedral Peak and Giant's Castle, as well as a 5km wall of rock called the Amphitheatre. From its summit, at famous Mont-aux-Sources, the Tugela Falls plummets 1000m. Hiking, rock climbing and fly fishing are the most popular pastimes here, and the area is also home to a number of game parks. Some 30 000 San rock paintings found in more than 600 caves and overhangs tell the story of the indigenous San people, with scenes showing dancing, fighting, food gathering, rituals and hunting.
50. Boulders Beach Penguin Colony, Simonstown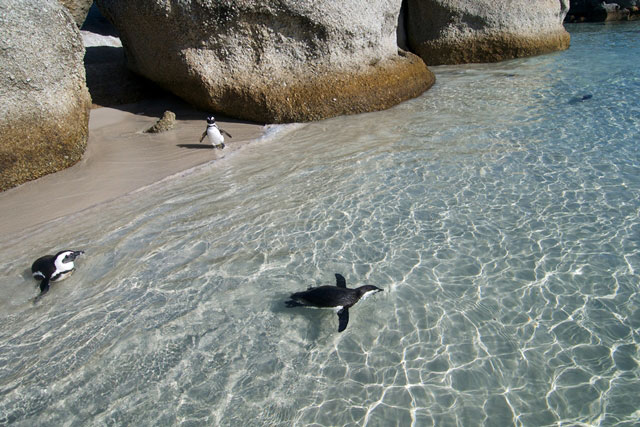 One of the most beautiful beaches on the Cape Peninsula, Boulders, is located just outside of Cape Town in the naval town of Simonstown. Not only is the beach itself very scenic, but it's also home to a breeding colony of more than 2000 endangered African penguins. In fact, Boulders and neighbouring Foxy Beach are part of the Table Mountain National Park Marine Protected Area, and one has to pay a fee to enter and share the sandy beaches and their various little coves with these tame birds. Take the wooden walkway to see the penguins' nesting and breeding sites, and then enjoy the warmth of the sun, sea and sand on an unforgettable stretch of coast.
[Tweet "The penguin colony at Boulders thrives thanks to the cold Atlantic currents #MeetSouthAfrica"]
49. St Lucia Wetland Park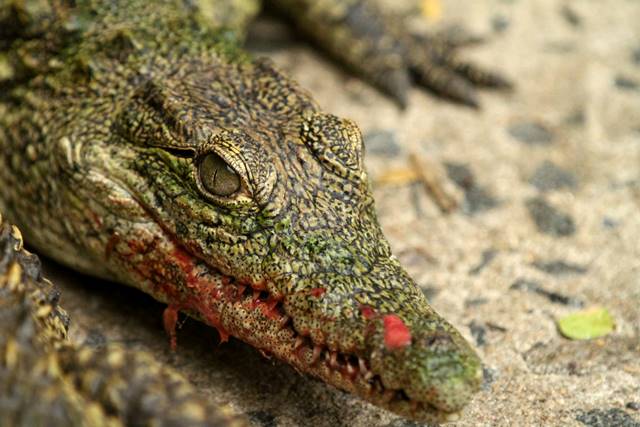 Image by Michael McCrae
Extending northwards from Cape St Lucia to Kosi Bay Nature Reserve, this magnificent 332 000-hectare park was designated South Africa's first World Heritage Site. Its name, iSimangaliso, means "miracle and wonder" and this is a perfect description, as St Lucia is made up of three main lake systems, eight different interlinking ecosystems, most of the country's swamp forests and the largest estuarine system in Africa. This paradise setting is also home to 526 different species of birds, and coastal dunes that have withstood the elements for more than 25 000 years. A visit here will see you exploring endless beaches, hiking scenic trails and routes through mountains, coastal forests and the rolling grasslands around Lake St Lucia. Magnificent scuba diving and snorkeling in spectacular coral reefs will keep the water babies occupied, while horse riding, camping, kayak trips and game viewing to see the largest population of hippo in the country are great options too.
48. Barberton Makhonjwa Geotrail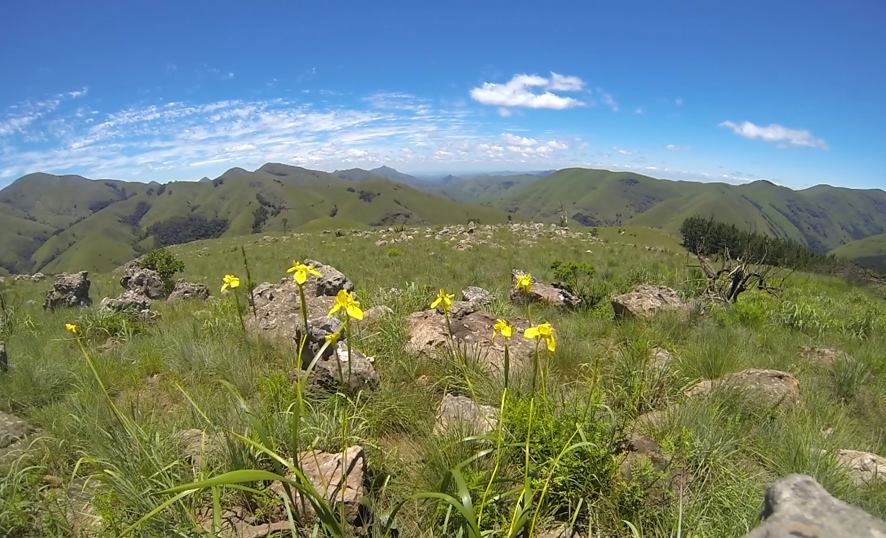 Here's an opportunity to step back in time to the very beginning of our planets recorded history. The Barberton Makhonjwa Mountains, part of the Barberton Greenstone Belt, are on the list to be designated a UNESCO World Heritage Site. This ancient geotrail stops off at various geological sites of interest along a designated route, each well-illustrated and with information that explains the significance of this Belt, which is more than three billion years old and is believed to be one of the most complete pictures of what the earth looked like billions of years ago. Travel the route and explore the world from the beginning of time, a 350-million year sequence of Archaean rocks, and ancient volcanic and sedimentary rocks that are still being researched today to discover the origins of life, how continents emerged and the earliest oceans came into being.
Visit the Barberton Geotrail on facebook
47. South African National Museum of Military History, Johannesburg
Located next door to Johannesburg Zoo, the National Museum of Military History showcases various weapons used in some of South Africa's most notorious historical conflicts. These include the Anglo Boer War, the Anglo-Zulu War, the First and Second World Wars and battles between South Africa and Namibia; then called South West Africa. Amongst the 44 000 items on display are weaponry, rare military aircraft, medals, journals, books and uniforms.
46. Two Oceans Aquarium
Image by flowcomm from: flickr.com
With sea life from both the Indian and Atlantic Oceans, Cape Town's Two Oceans Aquarium has a lot to offer. Located at the popular V&A Waterfront, the aquarium is renowned for being one of the world's finest. It is home to more than 30 000 sea creatures, including a variety of fish, sharks, seals, penguins and turtles. Aside from its superb displays, many of which are interactive, visitors with diving certificates can even scuba dive with predators. The aquarium is divided into different sections, including the Atlantic and Ocean Galleries, a Children's Centre and a Predator Exhibit.
Visit the Two Oceans Aquarium on facebook
45. Hazyview Elephant Sanctuary
Image by Fiona Henderson from: flickr.com
This exquisite sanctuary is a halfway house for young elephants, after which they are released into the wild. Located just 5km from Hazyview in Mpumalanga Province, the sanctuary offers a once-in-a-lifetime opportunity to spend time with elephants, interacting with these gentle giants, feeding them, walking trunk-in-hand with them and getting to know them. There are elevated wooden walkways, viewing decks overlooking the water and of course the opportunity to learn all about the large mammals, their history and future in the African wilds.
44. Tswaing Crater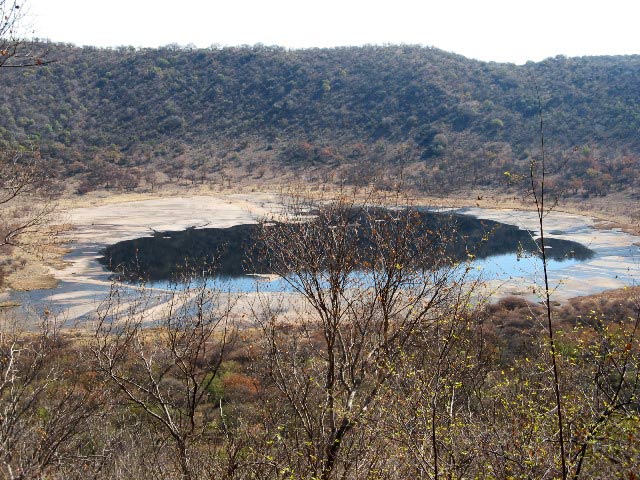 Image by Paul Jacobson from: flickr.com
40km outside of Pretoria one finds the Tswaing Crater; an impact crater left by a meteorite that hit the earth more than 200 000 years ago. The name of the crater, which measures 100 metres high, 200 metres deep and 1km in diameter, translates to "Salt Pan", in both Afrikaans and the local dialect, Setswana. The crater is filled with water which used to be mined for its high concentration of salt and soda ash. The remains of the factory, which closed in 1956, are located nearby. Also next to the crater is a museum and you can stroll around the perimeter and down to the lake. The area, which is full of indigenous plants and trees, is regarded as a birding paradise.
43. Chapman's Peak Drive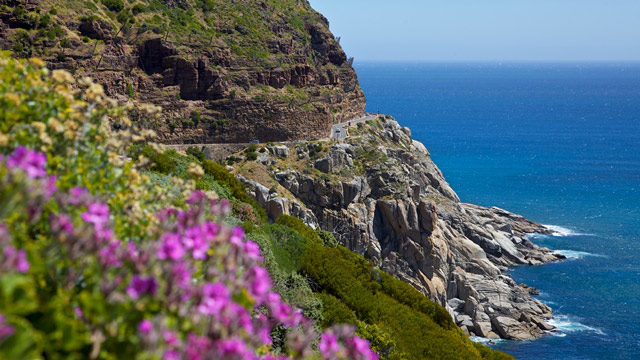 One of the most thrilling routes on the Cape Peninsula is along Chapman's Peak Drive between Hout Bay and Noordhoek, hugging the coastline with the azure sea on one side and sheer cliff face on the other. Climbing steadily from Hout Bay's harbour upwards, the toll road follows the rugged coastline, curving 114 times and offering some of the most breathtaking views in the world. This 9km stretch is one of Cape Town's most famous, and well travelled, and is also known as one of the most ambitious engineering projects ever undertaken. There are various vantage points along the route where drivers can stop and soak up the scenery. Sometimes whales and dolphins are to be seen, and troops of baboons are often viewed watching passersby.
Visit Chapman's Peak on facebook
42. Shongweni Farmers & Craft Market
With more than 90 stalls to browse through, the Shongweni Farmer's and Craft Market in the KwaZulu-Natal foothills is a joy to explore. Most of the stall holders offer either organic fresh produce or handmade souvenirs, and the variety of fresh foods and home-made dishes is endless. If you're in the area at breakfast time, you can enjoy one of the hearty meals that the market is famous for, and then explore for hours, savouring tidbits and exquisite arts and crafts created by local craftsmen and women. Beer lovers can also enjoy handcrafted beers including some exotic fruit varieties.
Visit the Shongweni Farmer's and Craft Market on facebook
41. Blyde River Canyon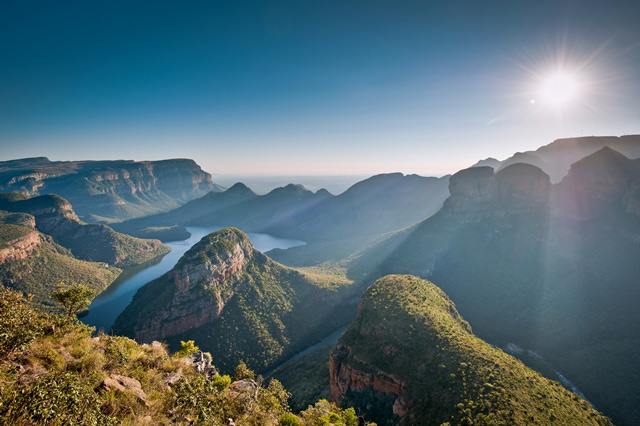 Mpumalanga's scenic Panorama Route is home to the famous Blyde River Canyon – the largest green canyon in the world, with a number of famous viewpoints along the route such as God's Window, Wonder View and The Pinnacle offering some of the most breathtaking panoramic scenery in South Africa. The canyon, which stretches for 60km from Graskop all the way up the Abel Erasmus Pass, is the third largest canyon in the world. Now called the Motlatse River Canyon, it boasts a variation of plant and animal life including a number of rare species, many of which can be viewed on game drives in the Nature Reserve.
40. Babylonstoren, Paarl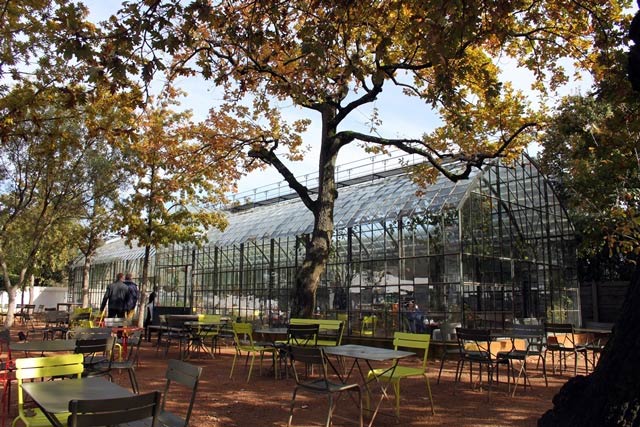 Image by flowcomm from: flickr.com
Modelled on the Mother City's Company's Garden, Babylonstoren is a far cry from the hustle and bustle of the inner city greenbelt. Set on acres of land just outside Paarl, the massive working garden is like something out of a fairytale. Stay in one of the 13 cottages with their complimentary bottles of Shiraz and Chenin Blanc produced on the farm, or just pop in for the day to enjoy the immaculate grounds and the Glaskas – a conservatory where organic food and herbal teas straight from the garden are the order of the day.
Visit Babylonstoren on facebook
39. The Golden Mile, Durban Beachfront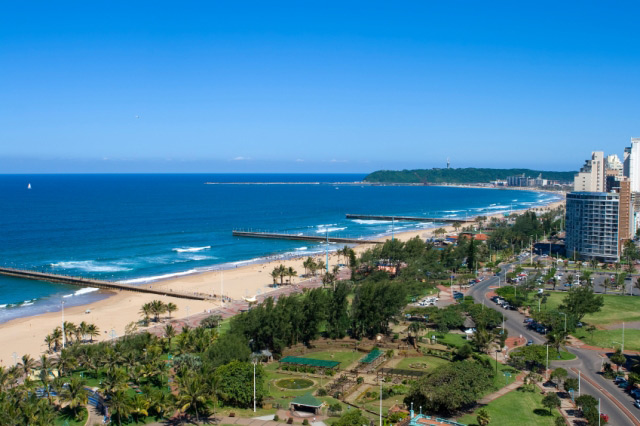 Durban Beachfront, also known as the Golden Mile, stretches all the way from uShaka Marine World at South Beach to Suncoast Casino in the North. The high-rise hotel and palm tree fringed promenade will remind you of Miami; however, a distinct African twist is evident in the sand sculptures that spring from the sand; the work of many talented sculptors who make their livelihood here.  The traditional Rickshaw ride has been a common activity since the early days, but what most people come to Durban for is to cycle, swim, surf, or just soak up the sun on its hot beaches. And with weather that is warm year-round, this is a very regular activity.
38. Spier, Stellenbosch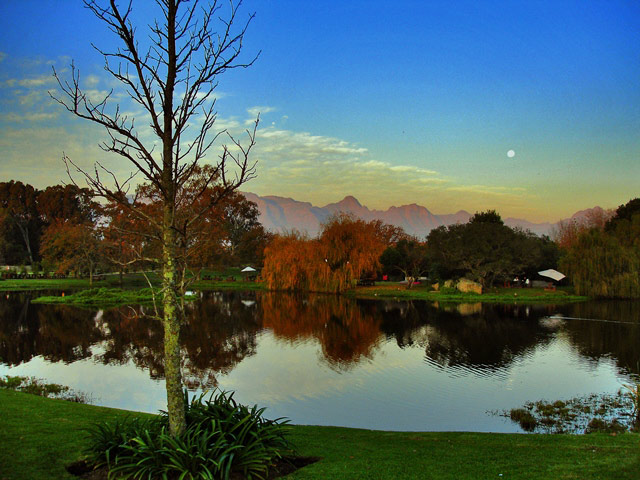 Image by Andy Jou from: flickr.com
One of the oldest wine farms in the country, Spier, which was built in the 17th Century, is now a superb four star hotel and winery where some of South Africa's most superb vintages are sipped in an idyllic setting. Situated on the bank of the Eerste River the tasting room offers innovative wine pairings, while superb food can be enjoyed at Spier's farm-to-table Eight. There's also a deli where one can purchase fresh produce; all you need for a picnic on the estate grounds.
Visit Spier Wine Farm on facebook
37. Vilakazi Street, Soweto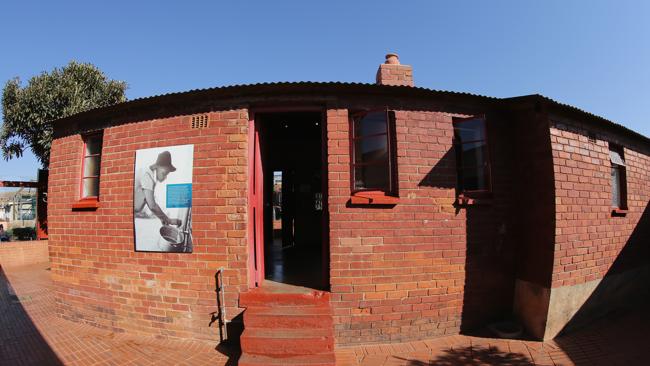 Soweto's most famous street was once the home of two Nobel Prize laureates in Nelson Mandela and Archbishop Desmond Tutu.  The Archbishop still owns his house in Vilakazi Street, while Madiba's house, at number 8115, has been converted into the Mandela Family Museum. The street is historically significant having been the site of a massive students uprising in 1976 where protestor Hector Pieterson was killed. There are also some famous restaurants here where visitors can sample traditional local dishes as well as the community TV station, Soweto TV, broadcast from a classroom at the local primary school.
36. Bourke's Luck Potholes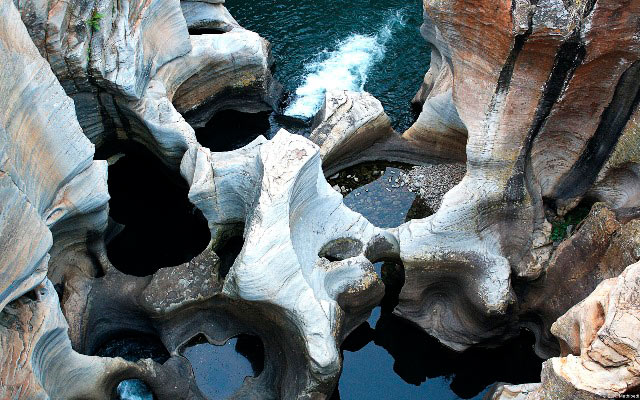 Image by Juan Alberto Garcia Rivera from: flickr.com
Carved by nature into the bedrock, the Bourke's Luck Potholes are a spectacular geological phenomenon in Mpumalanga Province. Over centuries, sand and rock carried by the rivers have eroded into these fascinating cylindrical pothole-like sculptures located at the start of the Blyde River Canyon where the Blyde and Treur Rivers join. Tom Bourke, after whom the potholes are named, was a luckless gold prospector who never found any gold, but he did find fame after all. There's a 700m trail to the potholes as well as a choice of two 5km trails to the canyon itself – the Bushman Nature Trail and the Interpretive Trail.
35. Fancourt, George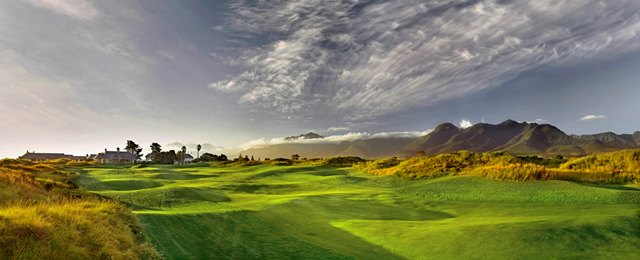 Tee off at Fancourt , one of Africa's premier golfing destinations with a Links course that was ranked number one in the world by Golf Digest USA. As if its enviable Garden Route location wasn't enough, the resort is superbly landscaped on 613 hectares of lush countryside set against the moody Outeniqua Mountains.
34. Orange River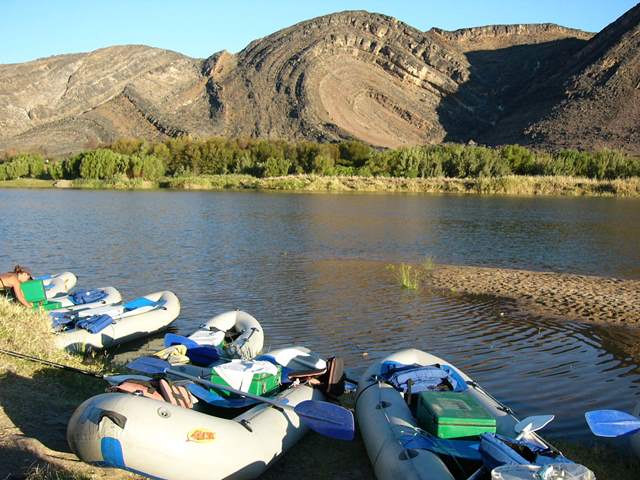 Image by SA Places from: flickr.com
The lush area on the banks of the Orange River offers a unique stretch of natural beauty that is worth exploring, especially after a winter of heavy rains. The landscape transforms into a paradise of colourful flowers, and the opportunities for enjoying nature are endless. There are half-day river rafting trips on offer, from Upington to Oukamps. Many tourists come here to relish in the Orange River Wine Route, known as the Green Kalahari because of its lushness in the midst of the arid surrounds. Starting at Groblershoop on the N14, the vineyards stretch out for about 300km along the river, past Upington, Keimoes, Kakamas and Grootdrink. The area is famous for its white wines, a combination of dessert, semi-sweet wines and blends, which you can sample at the various wineries en route.
33. Sani Pass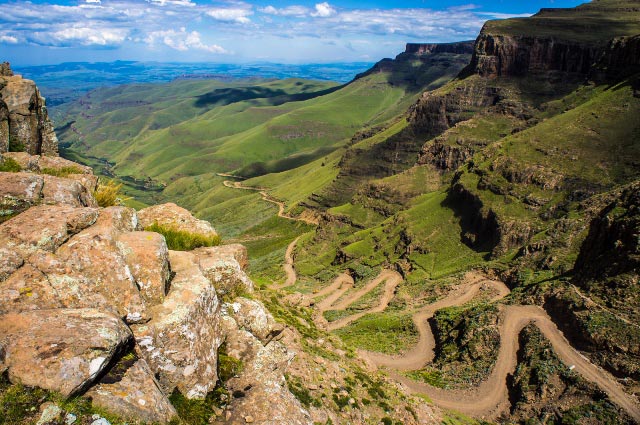 Image by Vaiz Ha from: flickr.com
One of South Africa's most magnificent mountain passes, Sani Pass is known as the "Roof of Africa", because the views of the spectacular Drakensberg Mountains as it climbs upwards are quite something. Also located right at the top of the Pass is the highest pub in the world, 2874m above sea level. The Pass is located in KwaZulu-Natal, close to the Lesotho border, so passports are required when travelling through. The trip to the top takes two hours from the berg town of Underberg. Sani Pass is popular with hikers, climbers, mountain bikers and 4×4 enthusiasts.
Visit the Sani Pass Hotel on facebook
32. Milnerton Market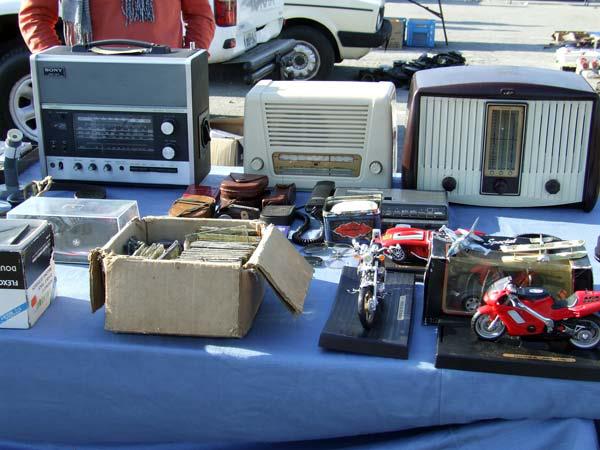 Located near the sea on Marine Drive, this open-air weekend market outside Milnerton offers a magnificent view of Table Mountain and the harbour 8km away. Bargain hunters come here to pick up a variety of wares, from furniture and caravans to clothing and tents, but there are often valuable vintage finds for those with a keen eye. But it's not just the goods on offer that make Milnerton Market such fun; there are a variety of tasty refreshments and foods on offer, including hot pancakes and fresh ginger beer. And it's the fun of discovering a hidden treasure that makes a visit here so worthwhile. Open Friday, Saturday and public holidays.
31. Dullstroom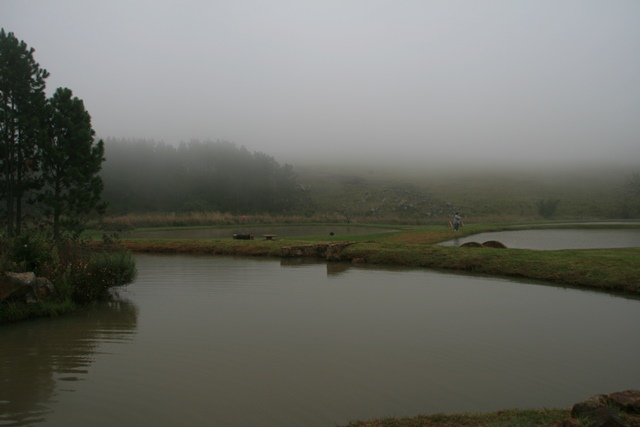 Just two hours from Johannesburg on the way to the famous Kruger National Park, one finds the charming settlement of Dullstroom. This region of Mpumalanga is well-loved for its sparkling rivers, lakes and streams and spectacular scenery, and Dullstroom is largely considered a trout fishing destination for two specific species of trout – Rainbow and Brown. The area is also home to three endangered species of cranes, numerous beautiful wild flowers and some rare animals, too. Aside from spending hours relaxing whilst fishing, there are numerous other countryside activities on offer, including horseback riding and bird watching.
30. Madikwe Game Reserve
Image by Nina Hale from: flickr.com
Despite being the fifth largest game reserve in South Africa, the 60 000-hectare Madikwe Reserve is one of the country's lesser known reserves. It's a hidden gem, a malaria-free zone that offers sightings of the Big Five as well as a choice of some of the most luxurious game lodges in the country. Once farmland, Madikwe was taken over by the government in 1994 and filled with game to uplift the region. Today it boasts more than 66 large species of animals and about 300 different bird species. Located about 90km from Zeerust, alongside the border with Botswana, the reserve is easily accessible, about three and a half hours' drive from Johannesburg or Pretoria.
Visit Madikwe Game Reserve on facebook
29. Bloukrans Bridge Bungy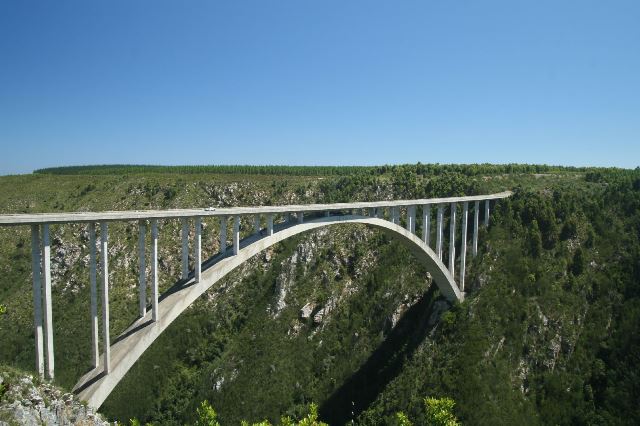 Image by seanbjack from: flickr.com
For many adrenaline junkies, a highlight of visiting the spectacular Tsitsikamma Forest on the Garden Route is to bungee jump off the Bloukrans Bridge. The bridge, which is located 40km from Plettenberg Bay, is the highest single span arch bridge in the world and offers the highest commercially operated bungee jump on earth. Those brave enough walk along a gangway that is tucked under the bridge, before plunging 216m towards the valley below. Of course, the bungy technology ensures their safety, but if you prefer, walking tours of the bridge are also offered.
Visit Face Adrenalin (Bloukrans Bungy) on facebook
28. Nelson Mandela Museum
Opened in 2000, on the 10th anniversary of Nelson Mandela's release from prison, this museum is also located at the statesman's birthplace, Qunu, in the Eastern Cape. Madiba insisted that the museum serve to uplift and develop the surrounding community, instead of being just a tribute to him. The museum covers three separate locations – Bhunga, a building in Umtata which tells the story of Madiba's life in the leader's own words from his book, "The Long Walk to Freedom", the open-air museum called Mvezo, where he was born, and the Nelson Mandela Heritage and Youth Centre in the village of Qunu, where he spent his childhood. Visitors enjoy guided tours and a heritage trail that follows in Mandela's footsteps and also get to see some of the gifts given to him when he was President.
Visit the Nelson Mandela Museum on facebook
27. Long Street, Cape Town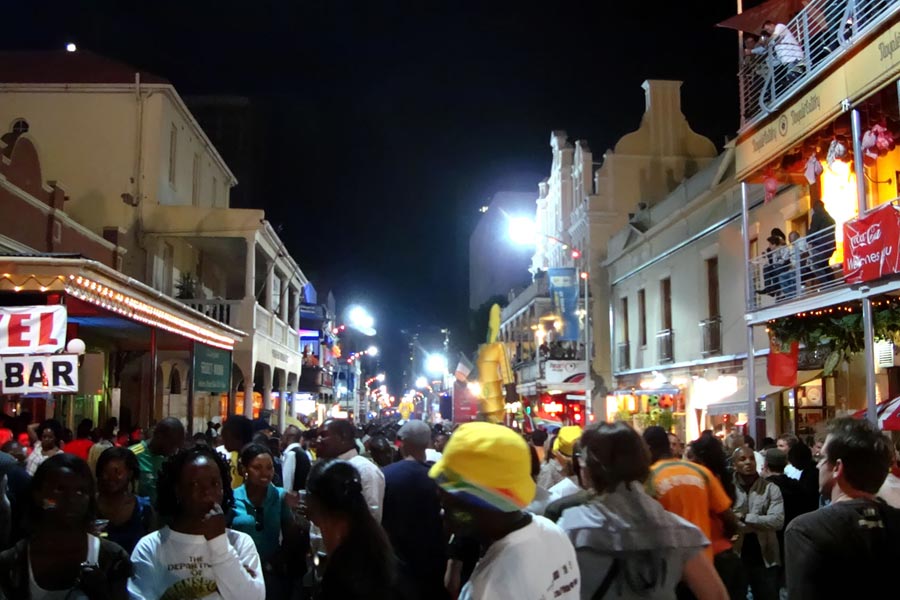 Image by warrenski from: flickr.com
The centre of Cape Town's nightlife action, Long Street is packed with pavement cafes, restaurants, vintage boutiques, bars and nightclubs. During the day it's a hive of shopping and eating activity, and after dark the people party on the streets and the rooftops till the wee hours. In Long Street there's always something new to explore and to savour, and if you're looking to stay out all night, this is the place to go. The food stalls are excellent and you can sample a variety of cuisines, from Indian, Chinese and Kurdish delights to ostrich steak, best-ever burgers and Mozambican prawns. And the pubs are legendary, too. The Dubliner offers cigars and live jazz, or enjoy comedy and poetry at Zula Sound Bar. If you'd like to stay in the midst of the action, book a room at the Grand Daddy Hotel, a Long Street institution.
26. Nottingham Road
Image by Midlands Meander from: facebook.com
Located in the heart of the KwaZulu-Natal Midlands, Nottingham Road is a little village nestling in the foothills of the Drakensberg Mountains. The surroundings are lush and picturesque and the area forms part of the Midlands Meander, an arts and crafts route full of various galleries, restaurants, country taverns, holiday accommodation, cattle ranches and sheep farms. The town started out as a tented military camp in 1856 and today it's home to the rustic Nottingham Road Brewing Company, a brewery that produces a variety of artisanal beers. These days, polo and mock fox hunts are big attractions, while trout fishing, horse riding and other country pursuits are very popular.
25. Pilgrim's Rest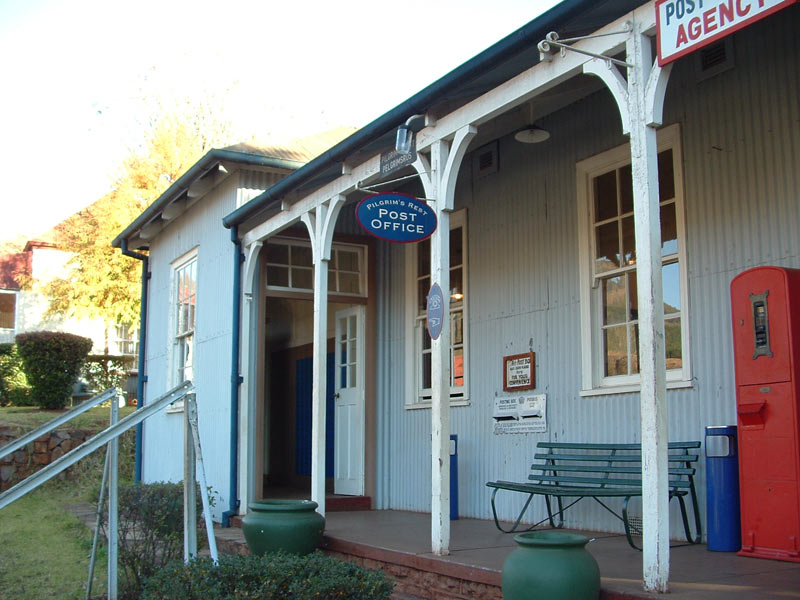 Image by Kieran Lamb from: flickr.com
Step back in time as you explore the 19th Century gold mining town of Pilgrim's Rest in Mpumalanga. This perfectly preserved little town tells the story of the Gold Rush and how miners and residents lived and played way back then. Hear of a time when a round of drinks was paid for with a gold nugget and where the surrounding hills were full of the sounds of digging as treasure hunters panned for gold. You can explore many of the buildings in the town, all meticulously restored to their former glory, such as the Edwardian-style Alanglade Museum, once home to the mine manager. Stores sell antiques, crafts and collectables and you can enjoy refreshments and baked goods prepared as they were more than a century ago.
[Tweet "The world's largest diamond was the Cullinan Diamond, found in South Africa in 1905. It weighed 3,106.75 carats uncut #MeetSouthAfrica"]
24. Theewaterskloof Dam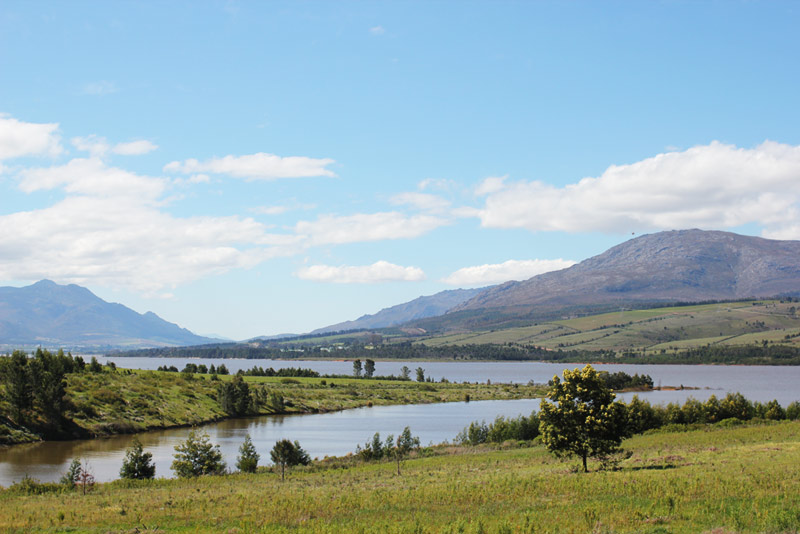 Image by SA-Venues.com from: flickr.com
Along the road linking Franschhoek and Villiersdorp, about an hour and a half outside Cape Town, lies the Theewaterskloof Dam. This inland catchment, which is approximately 48 square kilometers in size, is part of a river project to provide water to the Cape by capturing surplus winter run-off. The dam is a popular spot for bass fishing, and there are seven campsites located on its eastern shore. Its Sports Club has grown in popularity, and offers a variety of watersports including power boating, jet skiing and dinghy sailing. The setting is idyllic, with rolling farmlands, beautiful mountains and a variety of flora and fauna.
23. Mount Nelson Hotel, Cape Town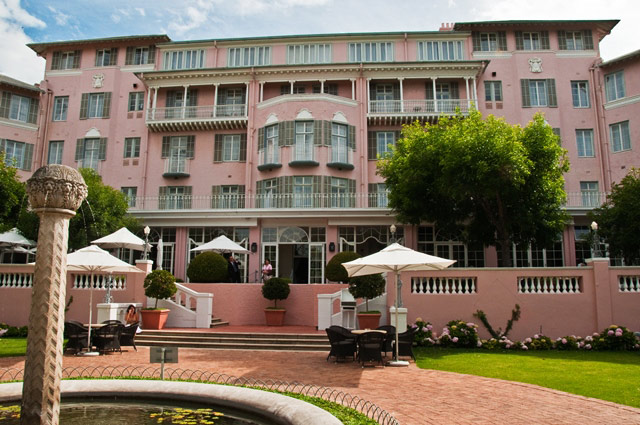 Image by Graeme Churchard from: flickr.com
Big, sugary pink, iconic; standing front and centre in the Mother City with Table Mountain watching over it, the 'Nellie' has long been THE place to stay in Cape Town for statesmen, royalty and A-Listers. With a magnificent setting at the foot of Table Mountain, the hotel, which is surrounded by 9 acres of lush greenery, has been the accommodation of choice for the rich and famous for more than a century. Of course, it offers every luxury, including two swimming pools, two excellent restaurants, the stylish Planet Bar and plush accommodation. It's also renowned for its lavish Afternoon Tea and a very sumptuous spa.
Visit The Mount Nelson on facebook
22. Cradle of Humankind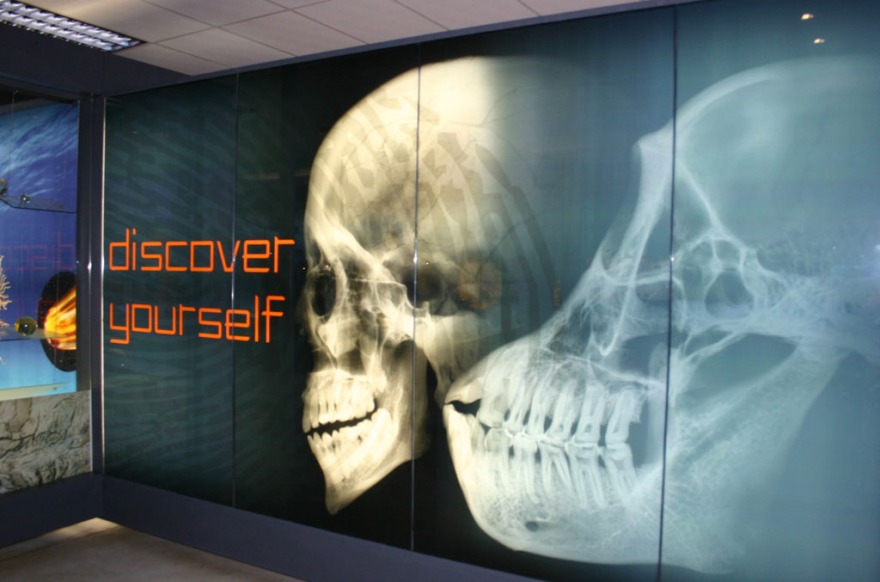 One of eight World Heritage Sites in South Africa, the Cradle of Humankind is the richest hominid site in the world, as 40% of the world's human ancestor fossils have been found here. The area, which covers 53 000 hectares, is also home to a number of birds, plants and animals, many of them rare and endangered species. The Cradle itself is a strip of 12 dolomitic limestone caves that are home to the fossilised remains of ancient animals, plants and more than 850 hominid fossils. Located mainly where Gauteng meets the North-West, sites like Maropeng and Sterkfontein Caves offers a window into early life on the planet dating back five or six million years.
21. Gold Reef City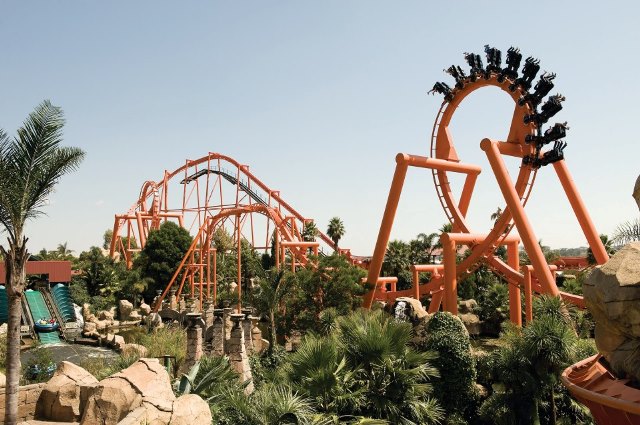 Located 8km from Johannesburg, Gold Reef City has long been a popular entertainment destination on the Gauteng itinerary. The complex includes an amusement park themed on the Gold Rush which gave way to the Joburg we know today, a variety of chain restaurants and unique eateries, theatres, a casino and more than 30 thrilling rides. Guests can also visit an authentic gold mine and learn about Johannesburg's beginnings as a mining town. Gold Reef City also has two hotels, one of which is Gold Reef City Theme Park Hotel, designed to look like a gold mining town, with rooms and public areas resembling buildings of that period.
Visit Gold Reef City on facebook
20. Aliwal Shoal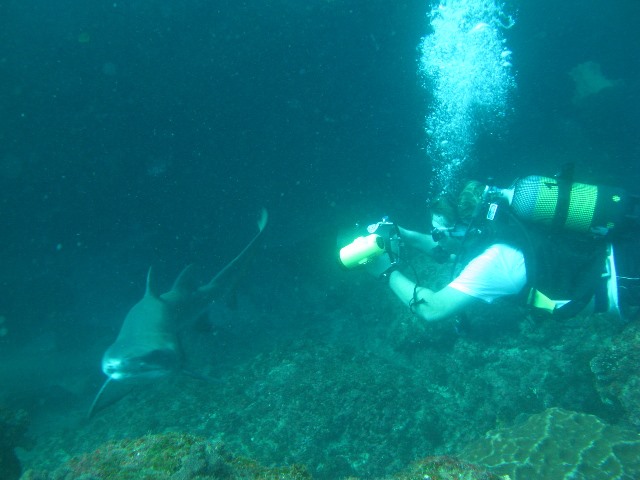 Image by Santhan Naidoo from: flickr.com
Just half an hour south of Durban lies one of the top 10 dive spots on earth in Aliwal Shoal. Located 5km off the coast near the little seaside town of Umkomaas on the south coast of KwaZulu-Natal, its home to some spectacular marine life. Shoals of the reasonably docile ragged tooth shark are found here between July and December (no divers have ever been attacked by this species), as well as an array of fish, turtles, dolphins and whales. The coral reef, which is a marine protected area, boasts a spectacular hole called The Cathedral, as well as various scenic spots along the 5km stretch and the wrecks of two ships.
Visit Aliwal Shoal Adventures on facebook
19. Otter Trail, Garden Route
Image by SA-Venues.com from: flickr.com
Embark on a coastal trail of discovery along the famous Otter Trail, from Storms River Mouth through the spectacular Tsitsikamma Forest to Nature's Valley in the breathtaking Garden Route National Park. This exciting 5-day adventure encompasses 42km of trails on cliff tops along the shoreline, and offers an exceptional diversity of scenery and experiences. Hikers cross rivers and explore fascinating sights en route, stopping off to camp overnight. The Otter Trail is an experience of a lifetime along one of the most beautiful trails in the world.
18. Steenberg Farm, Cape Town
Located in the Cape's oldest wine region, Steenberg is a gracious five star hotel renowned for its excellent winery and 18-hole championship golf course. Set in the pretty suburb of Constantia just 20 minutes from Cape Town's CBD, the hotel, which was originally built in 1682, offers an unsurpassed experience that includes superb cuisine, a countryside atmosphere, personalised service and every modern facility. Aside from wine tasting and relaxing in the magnificent surrounds, guests also enjoy treatments at the spa, or a relaxing game of golf.
Visit Steenberg Estate on facebook
17. Matjiesfontein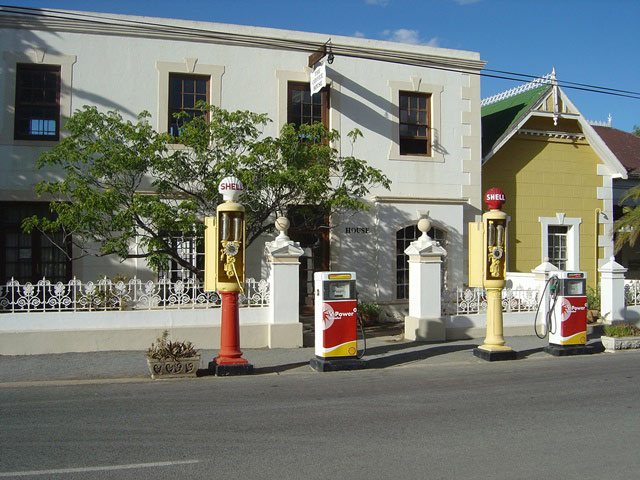 Image by Gary Bembridge from: flickr.com
Untouched by time, Matjiesfontein is a tiny Victorian town in the Little Karoo that has been designated a national monument. White-washed little houses line its main street, as well as a traditional Victorian hotel, the Lord Milner, which is believed to be haunted. The railway line is an integral part of the town, which was a popular luxury health resort in the late 19th Century. Restored to its former glory in 1970, Matjiesfontein is a well-kept secret worth discovering. Visitors can explore the little town on a red double decker bus and learn about its history, which is very much a part of the Cape's fascinating past, and then enjoy refreshments in the wooden Laird's Arms Bar.
Visit The Lord Milner Matjiesfontein on facebook
16. Sunlands Baobab Bar, Limpopo
This ancient giant baobab tree is believed to be around 6000 years old. Located in Limpopo Province near Tzaneen on a mango farm called Sunlands, home to many such trees, this baobab stands out from the crowd. After a baobab has reached the age of a thousand years, it becomes hollow inside. The Sunlands Baobab is not only immense, but its hollows have been filled with a world-renowned little bar, one of the most unusual places in the world to stop for a drink. The bar, which has been serving drinks since 1933, is an excellent base from which to explore the surroundings, including Magoebaskloof.
Visit the Sunlands Baobab on facebook
15. Neighbourgoods Market, Braamfontein
Based on the popular Old Biscuit Mill in Cape Town, the Neighbourgoods Market is a market set up every Saturday in Juta Street in Braamfontein. This Johannesburg suburb on the edge of the city is in the process of being regenerated, and the market has proved itself to be a successful part of the project. Located in a two-storey heritage building, the Neighbourgoods Market boasts around 100 fabulous food stalls offering fresh specialty, organic and local fare, everything from burgers to paella, with artisan products thrown in too. The beer garden on the top floor spills out onto a verandah where people relax for hours. Various events are regularly held at the market, which has fast become an institution.
Visit the Neighbourgoods Market Johannesburg on facebook
14. Cheetah Experience, Bloemfontein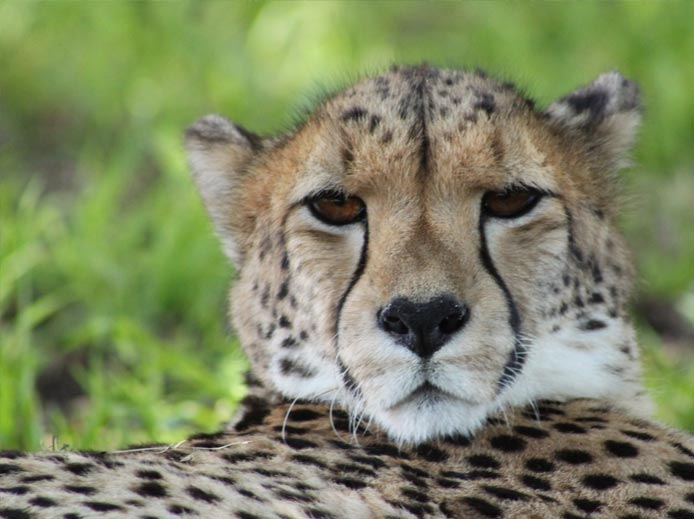 The perfect opportunity to get up close to cheetah, the Cheetah Experience is a sanctuary for big cats set up for conservation purposes. Owner Riana van Vieuwenhuizen founded this non-profit 10-hectare sanctuary for cheetah, lion, leopards, tigers, jaguars and other animals in Bloemfontein in 2006 to ensure the animals' long-term survival. People come from all over the world to visit, and many stay for between 3 weeks and 3 months as volunteers. Visitors enjoy game viewing in the sanctuary and learn all about cheetah and other endangered species.
Visit the Cheetah Experience on facebook
Find your Mango flight to Bloemfontein with Travelstart!
13. Johannesburg Botanical Gardens & Emmarentia Dam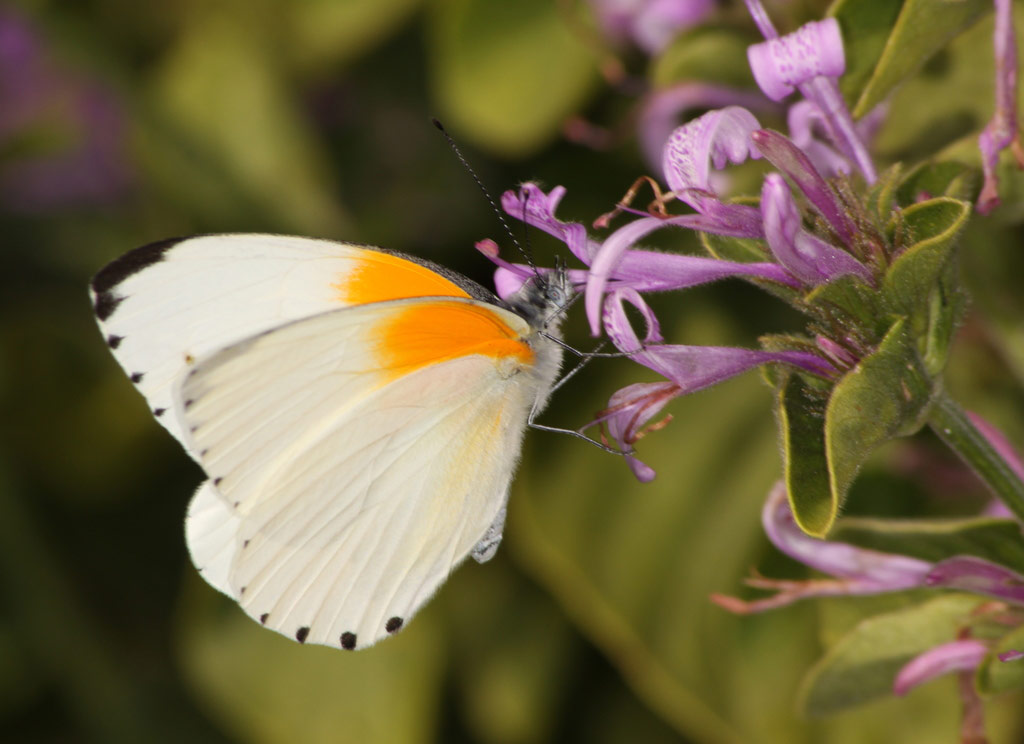 Image by Derek Keats from: flickr.com
Nestling in one of Johannesburg's oldest suburbs 6km from the city centre one finds the 7.5 hectare Emmarentia Dam and the neighbouring Botanical Gardens. Both create an oasis amidst the hubbub of this vast city, and are visited by residents and tourists alike, especially on weekends. The Dam is a great spot for picnics, sailing and long walks, and the Gardens are quite spectacular and worth exploring. Divided into seven different sections, they include a Herb Garden, Hedge Garden, Chapel Garden, The Shakespeare Garden, a spectacular Rose Garden, the Succulent Garden and the Arboretum, which is full of beautiful trees.
12. Battlefields of KwaZulu-Natal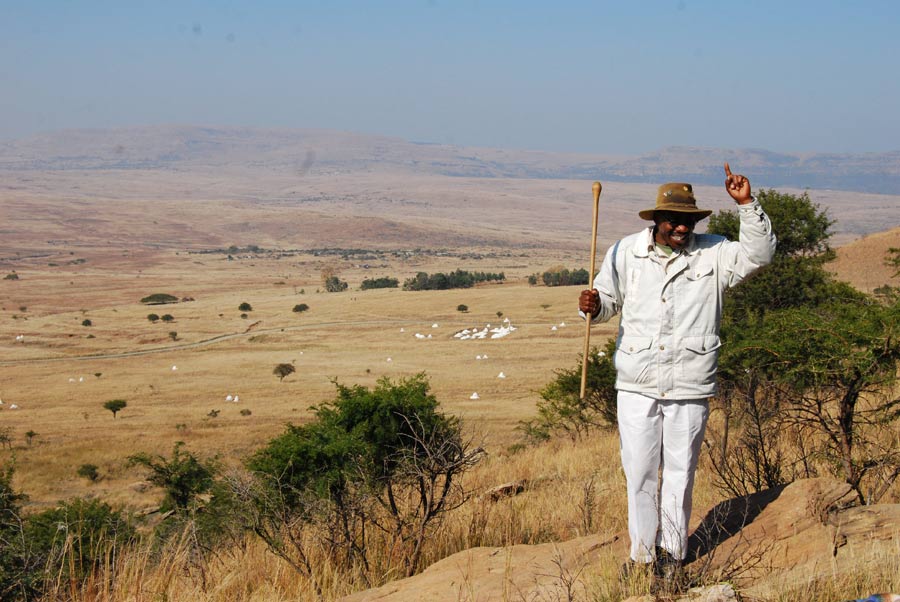 Image by Rob from: flickr.com
If you are interested in learning about some of the bloodiest battles fought on South African soil between the British, the Dutch-born Boers and the Zulu nation, then head for the famous Battlefields Route in KwaZulu-Natal. Home to more than 82 battlefields, as well as museums, forts and memorials, this route takes visitors through a selection of wars in different periods. The best way to explore is by choosing a specific war or period and then following the relevant route to see the historic sights. The more famous battles include Isandlwana and Rourke's Drift, and these routes, as well as the others, are best explored with an experienced guide.
Visit the KZN Battlefields Route on facebook
11. Baxter Theatre, Cape Town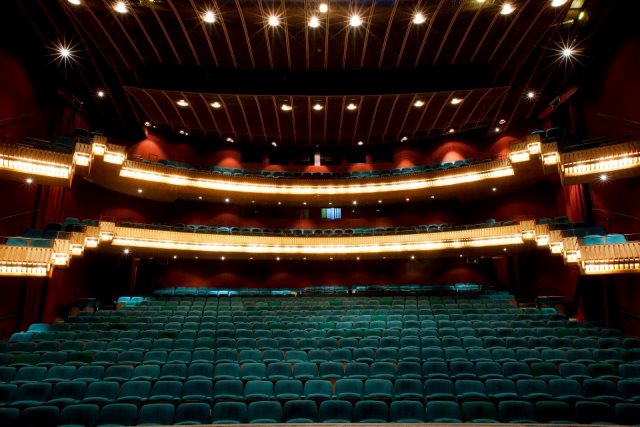 A Cape Town cultural landmark, the Baxter Theatre opened in 1977 on the University of Cape Town's campus. The main theatre seats 666, and there's also a concert hall with 683 seats and a small 162-seat theatre. The theatre provides a forum for theatre, dance and music in Cape Town and is renowned for its superb and varied performances, including classical music, opera, dance, dramatic theatre and comedy.
Visit the Baxter Theatre on facebook
10. Baviaanskloof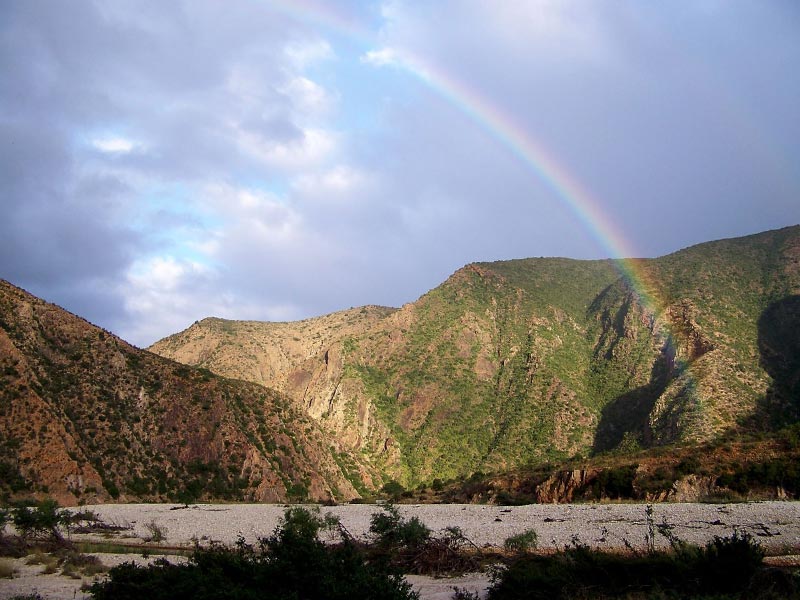 Image by Ralph Pina from: flickr.com
Baviaanskloof means "Valley of Baboons" in Dutch, and this magnificent narrow valley is a World Heritage Site not only because of its scenic beauty, but also because it's one of the few places on earth with evidence of human history going back a million years! The valley is a little less than 200km in length and nestles between two mountain ranges, the Baviaanskloof Mountains on one side, and the Kouga Mountains on the other. Here, a variety of wild animals and birds have made their home in a wilderness that is not only scenic but extremely tranquil and remote.
9. Shamwari Game Reserve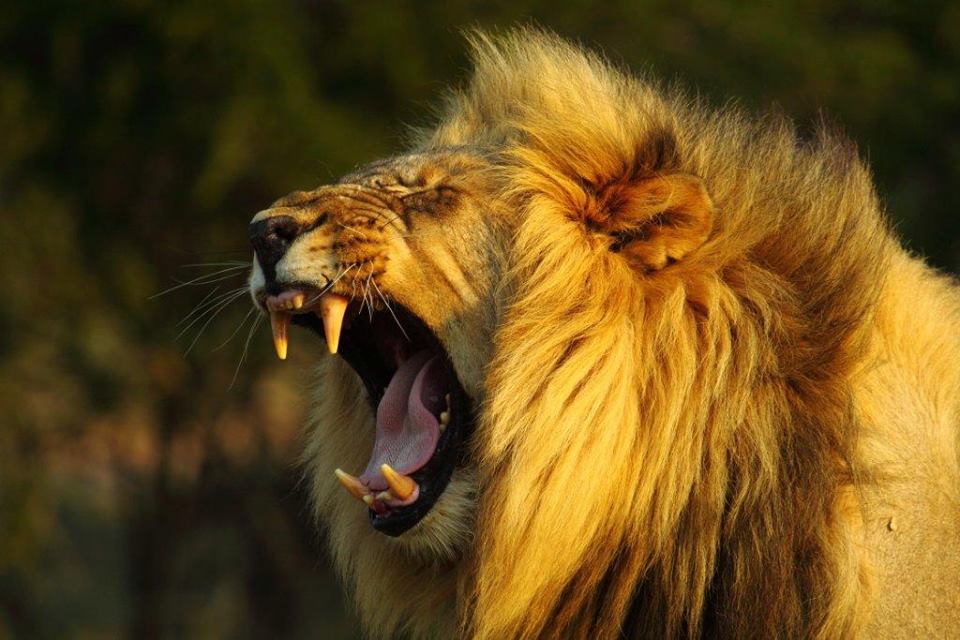 The award winning Shamwari Private Game Reserve is situated in the malaria free Eastern Cape, only an hour away from Port Elizabeth Airport. The reserve has been running for almost 20 years and offers a wide variety of animal life, including Big 5 encounters. Shamwari's biggest concern is conserving a vanishing way of life, as such their primary objective is to protect the wild flora and fauna of Southern Africa and share her immense but fragile beauty with the rest of the world.
Visit Shamwari Game Reserve on facebook
8. West Coast National Park
Located slightly inland from Saldanha Bay and surrounding Langebaan Lagoon, the West Coast National Park is home to thousands of seabirds, magnificent stretches of golden beaches and spectacular salt marshes. Just one and a half hours by car from Cape Town, the Park is a bird watcher's paradise, home to thousands of waders that gather in the salt marshes and the lagoon. The Park is also famous for its antelope that reside in the idyllic Postberg Reserve, which is only open to the public in the summer when the multi-coloured wildflowers are blooming. Animals and spectacular flora have made this paradise their home, and in the Atlantic Ocean, passing whales and dolphins appear in the waves.
Visit the West Coast National Park on facebook
7. Valley of 1000 Hills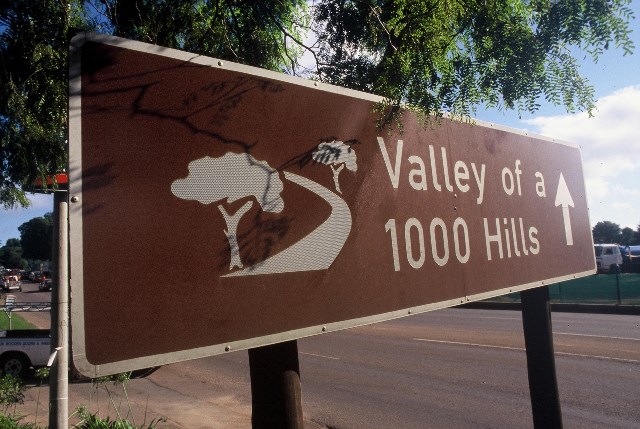 One of scenic KwaZulu-Natal's hidden gems, the Valley of 1000 Hills is a spectacular region that stretches from Botha's Hill and follows the Umgeni River through Drummond, Assagay and Shongweni to the Indian Ocean with various hills and valleys to explore en route. Visitors to this region can gain an insight into age-old Zulu traditions and culture through various attractions and activities. The climate is tropical and warm, the scenery dramatic, and the diversity of landscape, from rolling hills to beautiful windswept beaches, is unmatched.
Visit 1000 Hills Tourism on facebook
6. Apartheid Museum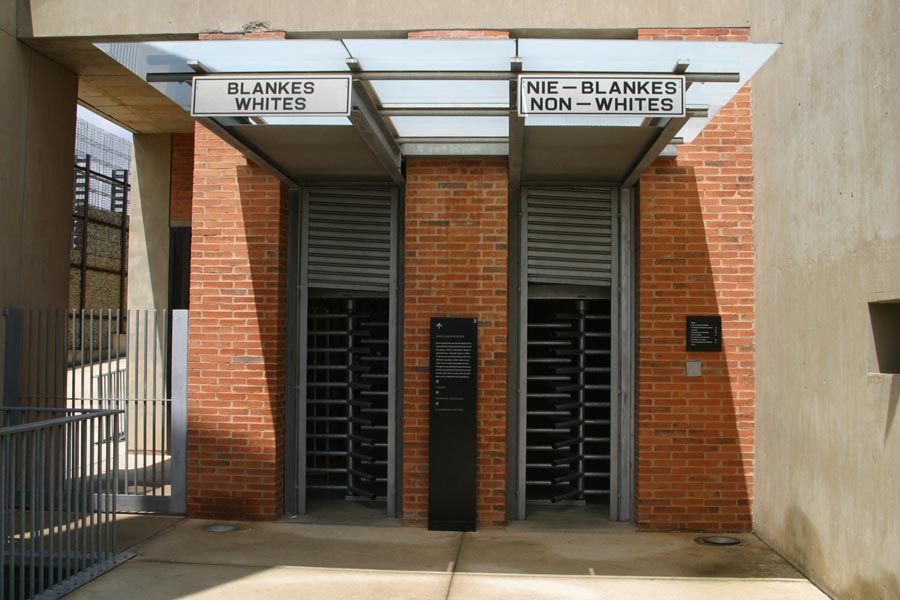 Image by thomas_sly from: flickr.com
This fascinating museum educates people about the horrors of South Africa's Apartheid regime through photographs, research, films and artifacts. It reenacts the life of people who lived in the townships at that time, constantly being watched by security police, how they rebelled, and were suppressed. Located south of Johannesburg's CBD, it's an important place to visit, to understand the suffering of the oppressed and how they triumphed over adversity.
Visit the Apartheid Museum on facebook
5. Route 62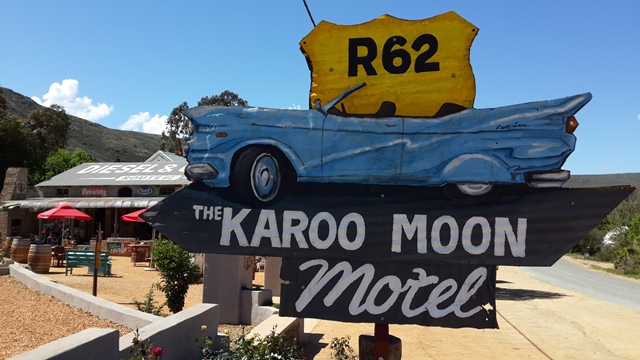 Image by Russell Jarvis
Stretching between Cape Town and Oudtshoorn, and further up the East coast to Port Elizabeth, Route 62, also known as the Mountain Route, is a renowned tourist route through various spectacular mountain passes. It's far more scenic than taking the national motorway to reach these destinations, which is one of the reasons it's so popular. Along the route one finds exquisite lush green scenery, sparkling rivers, magnificent mountains and sheer cliffs. The route also covers the Western Cape's longest wine route, offering the chance to stop off and sample superb wines as you travel along.
[Tweet "Most of the world's proto-mammalian fossils are found in the Karoo region #MeetSouthAfrica"]
4. The Big Tree, Tsitsikamma National Park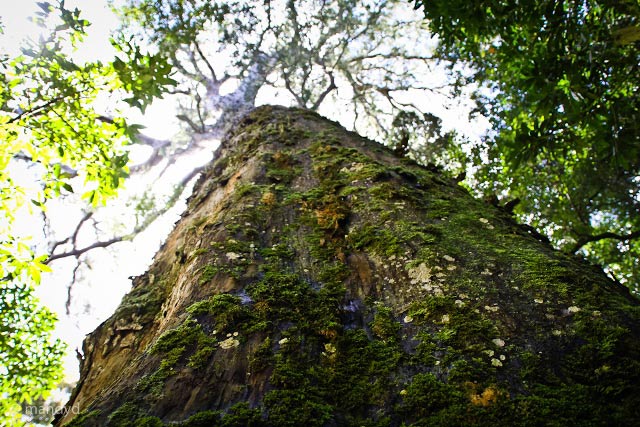 Image by FrauDeee from: flickr.com
The magnificent fairytale Tsitsikamma Forest on the Garden Route is renowned for its exquisite yellowwood trees, which are protected under the country's National Forests Act. The most famous tree of all is dubbed The Big Tree; at 37m it towers over all the rest, and has been standing here for around 800 years. Located in the forest near Plettenberg Bay and boasting a trunk circumference of 9m, the tree is the largest and oldest remaining yellowwood in the region.
Join the SANParks – Garden Route (Tsitsikamma, Knysna & Wilderness) National Park group on facebook
3. KwaMuhle Museum, Durban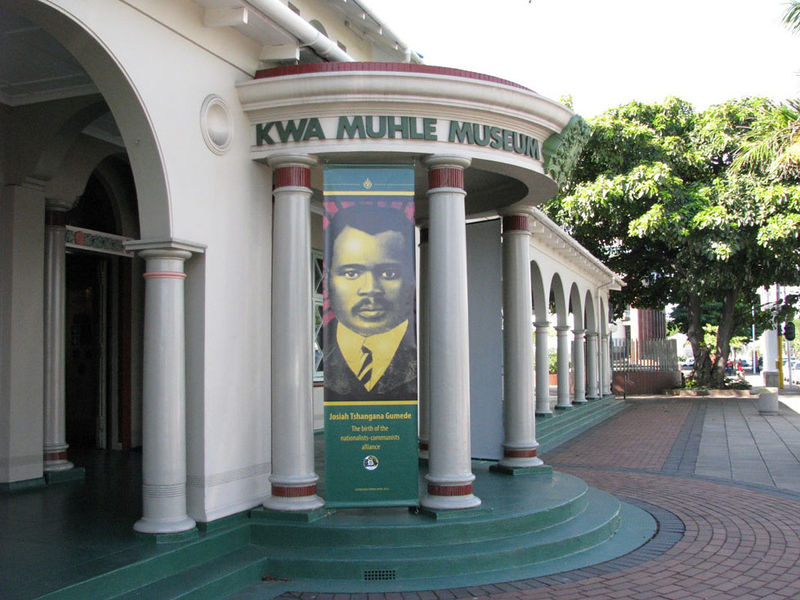 Durban's KwaMuhle is a museum dedicated to telling the story of Apartheid and how the oppressed overcame harsh conditions. Housed in what used to be the punitive Native Affairs Building, the museum is one of Durban's four major historical museums. Today it tells a thought-provoking story of those unjust years and how the new democratic South Africa has overcome its past. Emphasis is, of course, focused on Durban and the Zulu nation, but the strong South African message of freedom prevails.
2. Sedgefield
Image by Discover Sedgefield from: facebook.com
No longer a sleepy seaside town or a hidden gem, Sedgefield is one of the most famous places to visit in the Garden Route, and for good reason. Located within the Garden Route National Park just 490km from Cape Town and between George and Knysna, this scenic little town has just been awarded "Slow Town" status, which means slowing down to nature's pace. Visitors come here to enjoy spectacular scenery, exquisite beaches and a lazy summer holiday strolling through the village, enjoying the famous Wild Oats Farmer's Market, and interacting with some of the friendliest people in the province in one of the most idyllic settings on earth.
Visit the Sedgefield Wild Oats Farmer's Market on facebook
1. Cape Point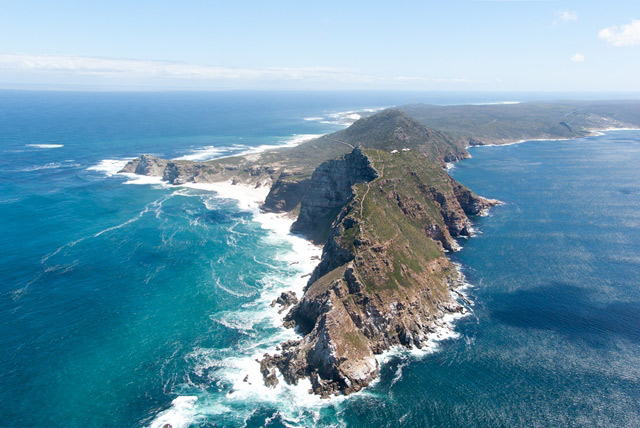 Image by Bas Leenders from: flickr.com
Even though rumours are rife that this is where two oceans meet (that in fact happens at Cape Agulhas), the peninsula that comes to a head at Cape Point is an impressive sight on a tour of South Africa. It's a wild stretch of coastline and must've been a nightmare for navigator's in the early days; even so, Cape Point is a must see – the dramatic views will make you feel as if you're standing at the definitive end of the world!
---
When we set out to create a list of the best destinations in South Africa we never thought we'd reach 101. But as the research went on, we uncovered even more impressive South African sights that we simply couldn't leave out.
What are your best destinations in South Africa? No doubt we've missed something close to your heart so let us know in the comments below or join us on the Travelstart South Africa Facebook page to discuss.