Sunday Times "On the Dop" beer writer Nick Mulgrew talks Craft Beer and burger combos in five South-African cities.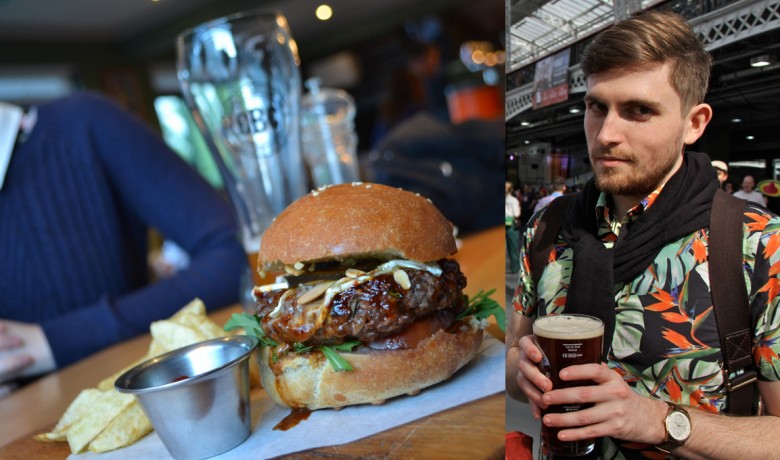 First up the Johannesburgers:
The Place: The Whippet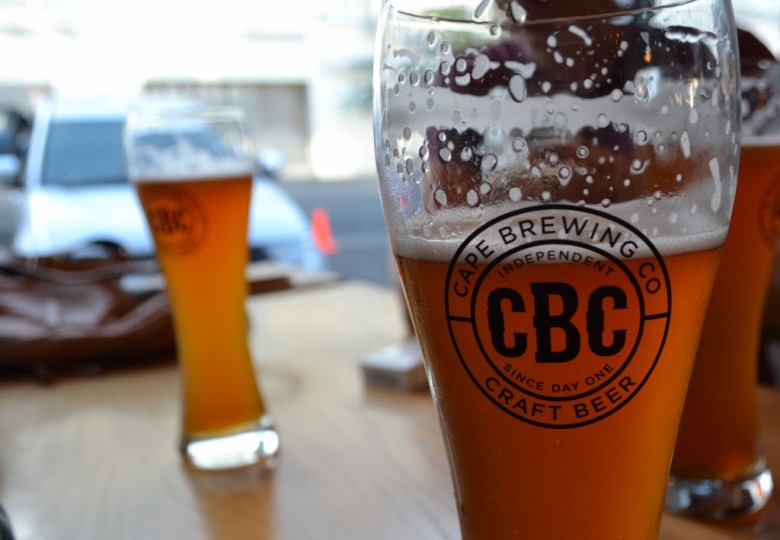 Photo by Amy Uzzell
The Burger: the Fondue Burger with breaded-chicken breast, three cheese fondue and jalapeños. R72.
The Beer: CBC PIlsener
Nick says: "When you have something as oil-heavy as a fondue burger, you need something to cut through the fat. CBC's Pilsner is one of my very favourite beers, and is perfect here: clean, slightly bitter and refreshingly sulphuric – enough to cleanse the palate and provide a nice counterpoint to the jalapeños."
Find them: 34 7th St, Randburg. Call: 011 782 7310.
The Place: Craft in Parkhurst
Smack! Beers by Reney Warrington
The Burger: "Less the Bread Chickpea & Coriander Burger" R89. Two grilled chickpea & coriander patties filled with avocado, red onion & tzaziki, served with micro greens and blooming onion.
The Beer: SMACK! Republic Hillbrow Honey
Nick says: "Everything SMACK! makes it top-class, and the Hillbrow Honey is one of the few beers in South Africa to do rooibos-infusion right – it's like liquid summer, full of litchi and floral notes. Spiced burgers and spiced beers might usually make garish combinations, but this is right on the money."
Find them: 33 4th Avenue, Parkhurst, Johannesburg. Call: 011 788 7111.
The Place: The Wolfpack
The Wolfpack by Emma Jane Harbour
The Burger: the Big Bad Wolf Burger with cheddar stuffed gourmet beef patty, pan finished in tomato stock, crispy lettuce topped with wasabi onion rings, jalapeños, pineapple, pancetta, fresh tomato and garlic aioli. R105.
The Beer: Wolfpack Big Bad IPA
Nick says: "Wolfpack's house American Pale Ale, made by Backwards Bean Brewery, is a bit light and creamy for an APA on its own – not really enough hop aroma, not really enough malt backbone. Nevertheless, it is decent and relatively rare; plus, it has enough flavour to compete with such a crazy, mish-mashy burger."
Find them: 21, 4th Avenue, Parkhurst. Call: +27 875503520.
The Place: The Griffin, Gastropub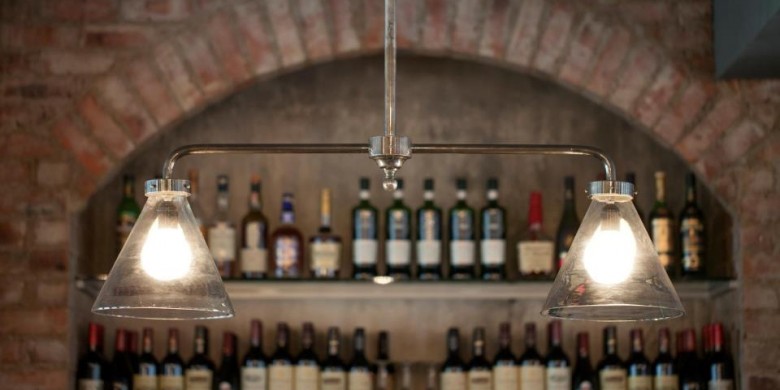 The Burger: Gourmet Cheeseburger with homemade pickle, chunky chips, smokey tomato relish, red onion tzatziki (add bacon) R85.
The Beer: Brauhaus am Damm Weiss
Nick says: "If they have it in stock, you can't go much further than Brauhaus' exemplary weiss, brewed near Rustenburg. Well-balanced esters of bubblegum, banana and clove combine with a chewy mouthfeel that will work well with Griffin's pickle and smoked relish. The addition of tzatziki might not be classically German, but it's still delicious."
Find them: Oxford Road, Johannesburg. Call: 011 447 9842.
The Place: The Foundry
The Foundry by Brett David Steele
The Burger: The Foundry Burger with sesame bun, rocket, tomato, avo, salsa, mature cheddar, bacon & onion chutney w/fries R92.
The Beer: Fuller's London Porter
Nick says: "It isn't local, but it's pretty much the purest example of porter out there. Rich, dark malt matches all the best notes in this burger – from sesame to bacon to onion – and it goes down dangerously quickly."
Find them: Parktown Quarter, 3rd Ave, Randburg. Call: 011 447 5828.
The Place: The Beer House Fourways, Johannesburg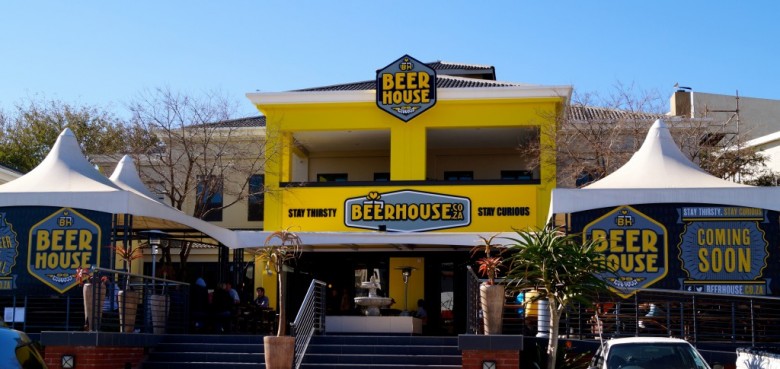 The Burger: Slow-roasted pork belly and onion marmalade roll (not a burger but close enough). R55.
The Beer: Citizen Alliance Amber Ale
Nick says: "Beerhouse has a ridiculously extensive list of local and imported beers – some of which you can't get anywhere else. It doesn't mean you have to get complicated, though. Amber ale and pork are best friends, and Citizen's Alliance's caramel backbone accentuates the onion marmalade, with a light-ish body that won't slow your eating. Save the more expensive beers for a clean palate."
Find them: cnr Witkoppen, 1 Sunset Avenue, Sandton. Call: 011 465 2402.
The Place: Voodoo Lily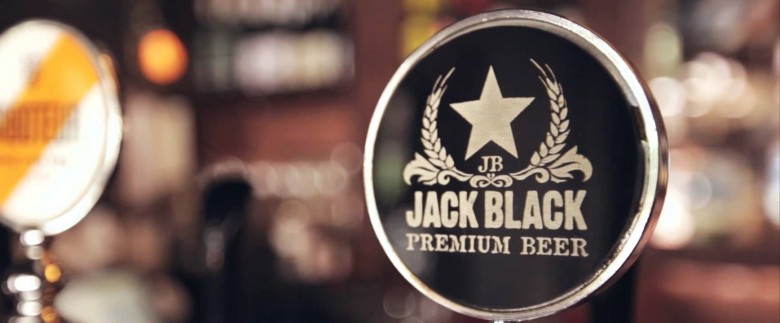 The Burger: The Voodoo Burger made with free-range braeside beef mince patty, roasted peppers, caramalized onion, rocket, local cheddar and mozarella cheese, served with hand-cut chips. R88.
The beer: Jack Black Lager
Nick says: "Jack Black Lager. Jack Black's Lager is a great match for this burger, especially straight from the tap. With slight earthen spice, modest malt and grain on the palate, it's never going to overpower the freshness of the ingredients here – but that's what you want, isn't it?"
Find them: 64 St Andrew St, Midrand. Call: 011 442 6965.
The Place: The Grillhouse & Katzy's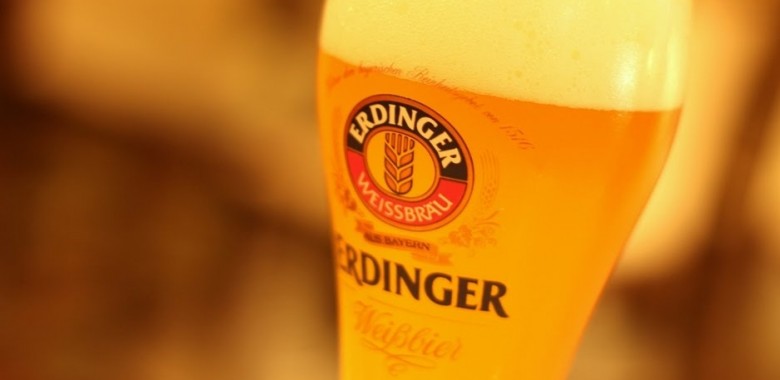 Erdinger Weissbier by Rachun Alf
The Burger: Classic beef burger with bbq sauce and the Grillhouse specialty spice- (100% pure beef patty). R74.95.
The Beer: Erdinger Weissbier
Nick says: "You don't always have to go for craft beer. Erdinger is the world's biggest producer of weissbier, and while it isn't exactly brilliant, its effervescent, citrusy and relatively acidic character combines well with heavier sauces. Simplicity is king, sometimes."
Find them: Shop 1, The Firs / Rosebank Shopping Centre, C/O Oxford Road & Bierman Avenue, Rosebank. Call: 011 880 3945.
Also read:
The Place: The Blackhorse Brewery in Magaliesberg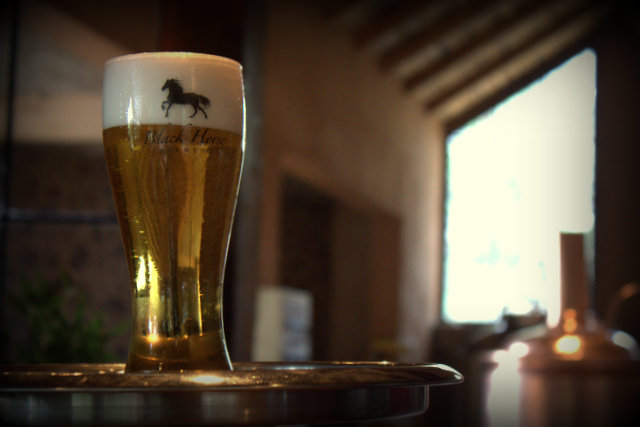 Black Horse Brewery Beer at My Memz Blogspot
The Burger: The Black Horse chicken burger with lemon and herb chicken breasts, crispy bacon, lettuce and mayonnaise. Served with rustic cut fries or a cup of salad. R85.
The Beer: Black Horse Golden Lager
Nick says: "A touch of honey makes Black Horse's lager stand out; a clean complement to a relatively fresh burger. For meatier dishes, try the red ale poured with nitrogen – a bit more creamy and indulgent."
Find them: 32 Zeekoeihoek rd, Magaliesburg. Call: 082 453 5295.
Durban
The Place: Unity Bar & Brasserie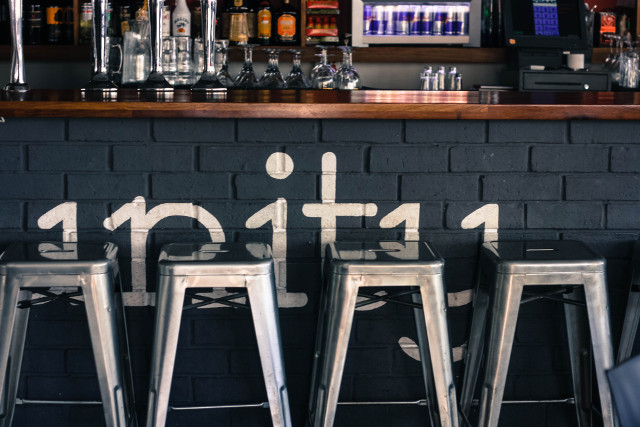 Unity Bar by Jenna Kelly on Durban Is Yours
The Burger: Bacon, Brie & Chicken Burger with peppadews. R75.
The Beer: That Brewing Co APA
Nick Says: "Honestly you can do no wrong with That Brewing Co, and even less so when it's fresh off the taps at Unity. While their creamy red ale gets most of the plaudits, the APA has a rich hop-fruity balance that finds resonance with rich brie and spicy Peppadews."
Find them: Silvervause Centre, 117 Silverton Rd, Durban. Call: 031 201 3470.
The Place: Dropkick Murphy's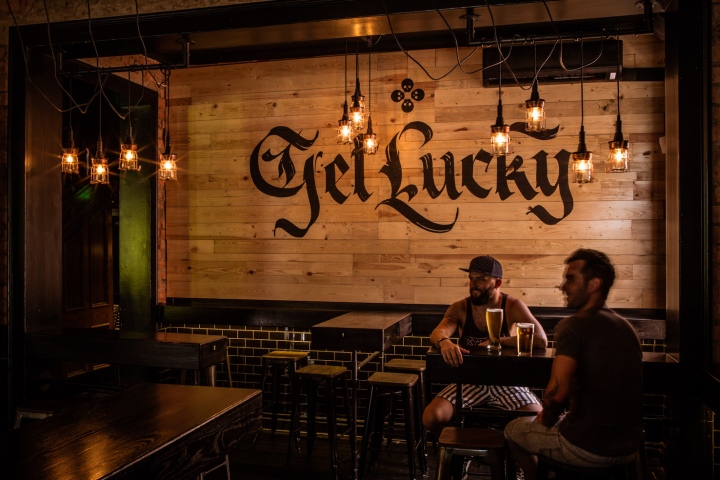 Dropkick Murphy's on RetailDesignBlog
The Burger: Paddy's burgers consist of a basic beef patty (R55) with shredded lettuce, tomato & home-made BBQ sauce but you can add what you like as extras (pineapple, avo puree, grilled pork sausage, onion marmalade, sautéed mushrooms, jalapeños, blue cheese, pepperdews, gherkins and biltong at R10-R15 per topping).
The Beer: Citizen Saboteur
Nick Says: "Dropkick's is an awesome pub that does surprisingly great cocktails, but, better still, is a beacon of light in what's still a relatively craft-starved city. Citizen aren't local, but their Saboteur English IPA is suited to a late Durban night, softly malty and sessionable, and flexible enough to go with any burger variation that you can create on Dropkick's night menu."
Find them: 219 Florida Road, Durban. Call: 031 825 1858.
Bloemfontein
The Place: Seven on Kellner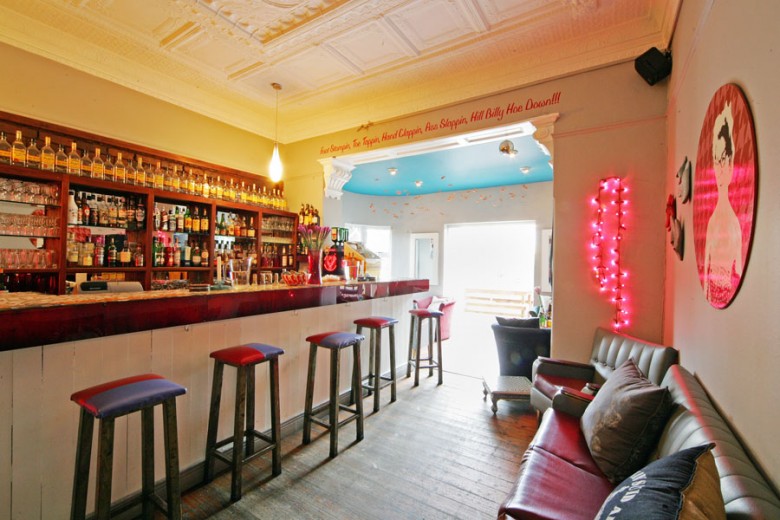 The Burger: Homemade burger with bacon, cheddar & onion marmalade served with thin chips, onions rings & jalapeño mayo. R77.
The Beer: Kaya Breweries Dark Moon Stout
Nick Says: "It's about time Bloem made a bigger stamp on the SA craft scene, and in Kaya they have a good contender. While Kaya's lineup has changed somewhat recently, they've always made a fine, crisp lager. Their stout, however, might be more appropriate for such a robust burger."
Find them: 7 Kellner St, Bloemfontein. Call: 051 447 7928.
Port Elizabeth
The Place: The Beer Yard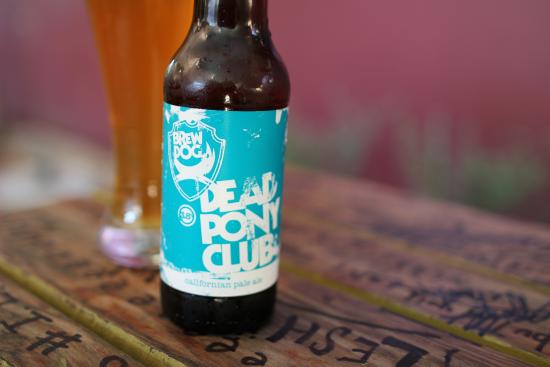 The Burger: Beef Burger with avo and blue cheese. Burger Mondays- any burger for R48.
The Beer: Brewdog Dead Pony Club
Nick Says: "You need something strong to battle blue cheese, and Dead Pony Club's quintessentially Californian-style resin-and-zest combination is up to the job. Its bold hop aroma is certainly more pungent than its palate, which leans more toward fruitiness, which means – happily – that there isn't too much of a clash here."
Find them: 1 Cooper St, Port Elizabeth. Call: 041 582 2444.
Cape Town
The Place: IYO Burger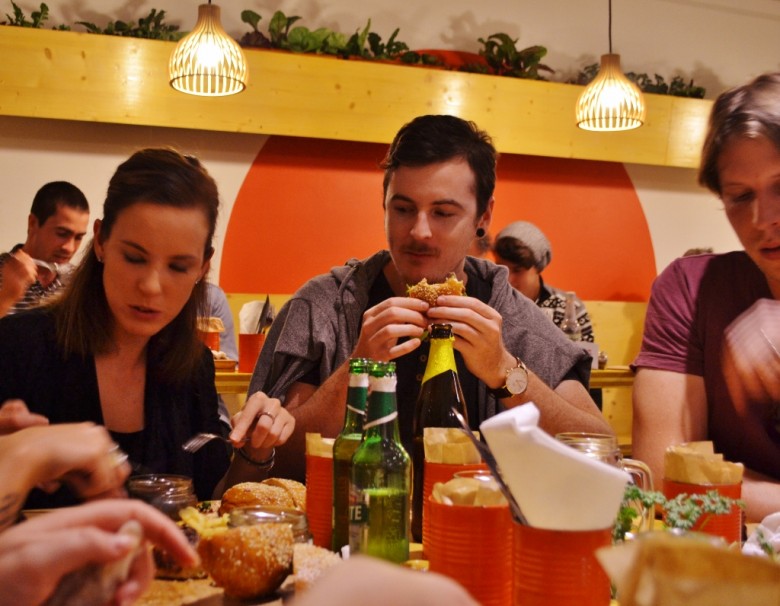 Photo by Amy Uzzell
The Burger: The incredible whisky braai-bbq burger with smoked cheddar beef patty topped with organic bacon, avocado, rocket and their famous whisky-bbq sauce. R84.
The Beer: Soweto Gold Lager
Nick Says: "Here you want your booze flavours from the burger, so it's best to go with something on the lighter side. Soweto Gold looks a bit too dark for the pale lager it's trying to be, but remains unintrustive – slightly metallic with grains, slightly hoppy and slightly sweet, and overall a good match."
Find them: Upstairs, 103 Bree St, Cape Town. Call: 021 422 1313.
Also take a look at our Cape Town Craft Beer Map:
Photo by Amy Uzzell
The Place: The Tap Room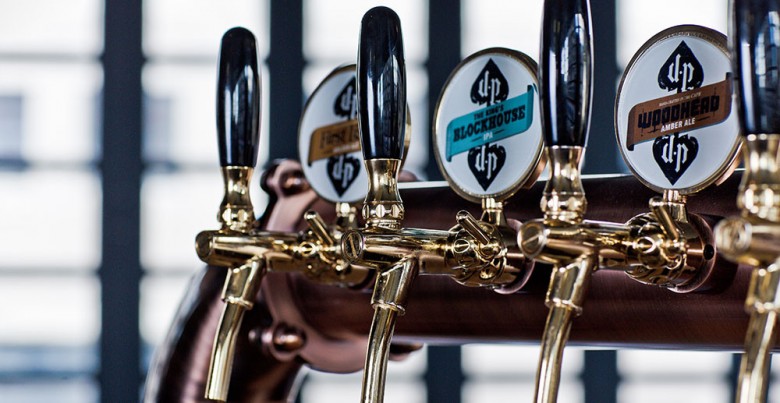 The burger: classic cheese burger. R72. R50 Taproom Tuesday First Light Golden Ale and cheese burger special between 16h30 and 18h30.
The Beer: Devil's Peak American Pale Ale
Nick says: "Devil's Peak's cheeseburgers are famous among the beer-hipster set in Cape Town, but their R50 special pairs it with a Golden Ale that wouldn't be my first choice. DP's English Ale – part of the explorer series – isn't a style of beer the brewery is known for, but its a robust, clean malt backbone is more suited to the cheeseburger's classic profile – and worth the extra cash."
Find them: Cecil Road, Salt River, Cape Town. Call: 021 200 5818
The Place: Odyssey Gastropub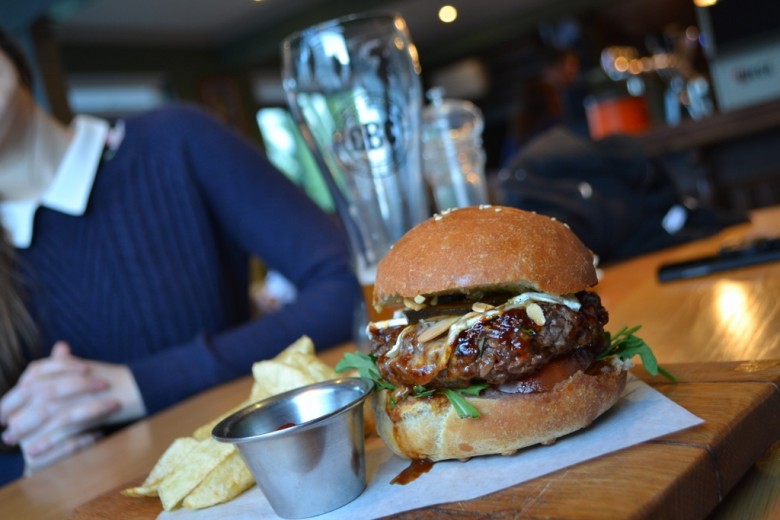 Photo by Amy Uzzell
The Burger: The fig, toasted almonds and Camembert burger. R90.
The Beer: &Union Beast of the Deep
Nick says: "The Odyssey is one of my favourite Cape Town gastropubs, and although they have ample good beer on tap, Beast of the Deep's oddly flowery and tropical character – with a nice 6.5% a.b.v. hit – works exquisitely with this off-centre burger."
Find them: 199 Bree Street, Cape Town City Centre, Cape Town. Call: 021 422 4084.
The Place: Hudsons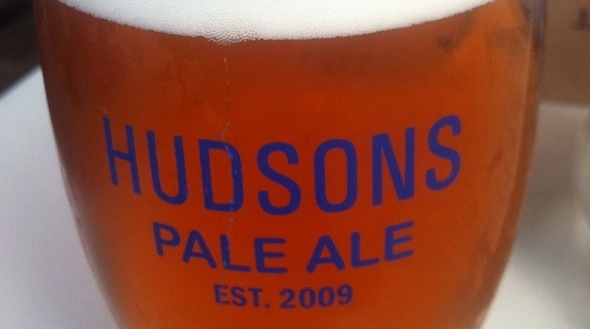 Hudsons at Food Spotting
The Burger: The BOOM BOOM Burger with a beef patty topped with tomato relish, biltong dust, chili cream cheese & beer caps (sliced battered jalapeño rings). R68.
The Beer: Boilermaker/Hudsons Pale Ale
Nick says: "This beer was specifically brewed for Hudsons; a pale ale with enough citrus hops to get the juices flowing, but not enough to overpower your burger. Hudsons Pale Ale (which is just Jack Black Pale Ale, as far as I can tell) is worth a shout, too, working as a rich palate-cleanser against more meaty and over-the-top burgers like the Boom Boom."
Find them: 69 Kloof st, Gardens. Call: 021 426 5974.
The Place: Hello Sailor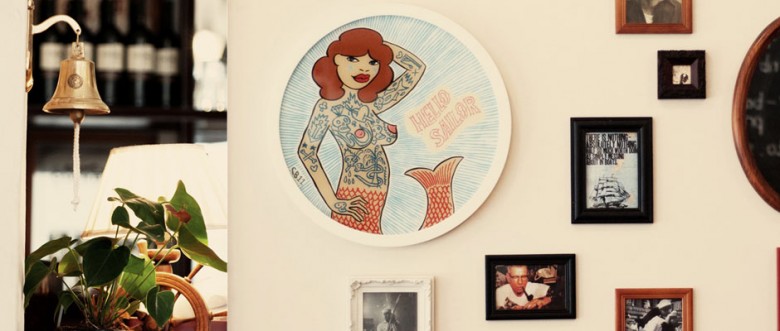 The Burger: their classic cheese burger. It's a basic patty with tomato, pickles, onion and basting- cheap and good. R43.
The Beer: Hermanus Brewery Old Harbour Lager
Nick says: "My favourite bistro in Cape Town does richly satisfying burgers at a great price. Their beer list is extensive for a place so small, and Old Harbour Lager, a new addition, is a great choice. Mildly guava-scented, it has light malty body that pairs with just about everything on Hello Sailor's American-inflected menu."
Find them: 86 Lower Main Road, Observatory. Call: 021 447 0707.
The Place: Clarke's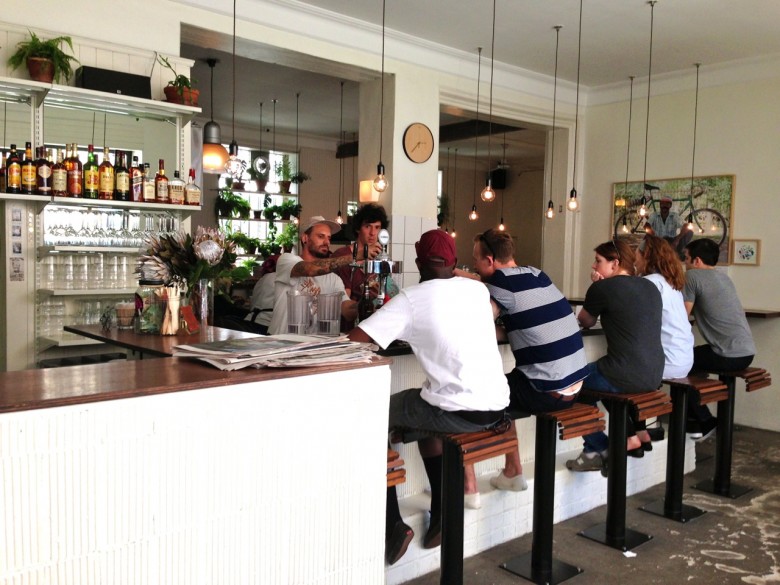 Clarke's by Carla Corr
The Burger: Veggie Sloppy Joe
The Beer: Windhoek Lager + a shot
Nick Says: "Clarke's might look like an uber-refined hip diner, but under that gleaming white exterior is a place just aching to satisfy your most basic desires. I've always loved the sloppy joe here – with added cheese fries, obviously – and washing it down with a Windhoek is my idea of Basic Dude heaven. Leave the shot of tequila for afterward, and get your weekend off to a good start."
Find them: 133 Bree Street, CBD. Call: 021 424 7648.
The Place: Neighbourhood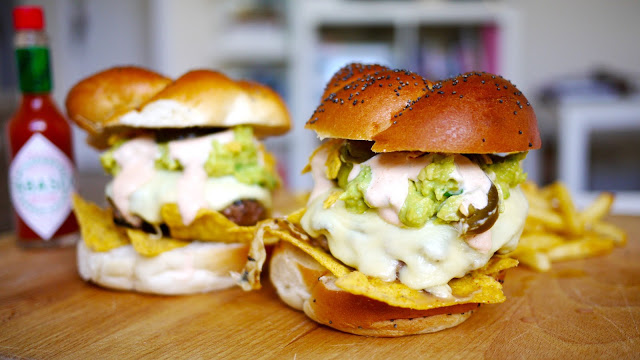 Nacho Burger- It's Mine at The Londoner
The Burger: Beef burger with nacho chips, guacamole, salsa, cheese, jalapeños. R70.
Beers: Darling Bonecrusher
Nick Says: "Darling haven't always been the most consistent brewery in my experience, but their Bonecrusher is still a fine wit, scrubbily carbonated with plenty of coriander, orange and bright yeasty flavours on nose and palate – and therefore a perfect accompaniment to these classic Mexican flavours."
Find them: 163 Long St, Cape Town. Call: 021 424 7260.
Upcoming Beer festivals:
Johannesburg: Oktoberfest- 11- 14 October 2015
Pretoria: Capital Craft Beer Fest- 13 June 2015
What's your favourite burger and beer place? Let us know in the comments below.