[Updated October 2018]
Our family amp to camp … not that we're inherently good at it. I remember us setting off with reckless abandon, caravan in tow, for campsites across the length and breadth of South Africa. We had all the enthusiasm in the world, but when it came to setting up, and configuring our campsite in such a way that we'd be comfortable for the next ten odd days, it always seemed to fall apart at the seams (of the tent).
But the outdoors nature that is so intrinsic to average South African families kept us exploring more. Rallying around the "African TV" on a frosty July evening in the Berg, or flipping the Coleman's to a kitchen table on a warm December at the coast, camping is a core part of our culture. It's not like we even have to travel far from our comfort zones; the best campsites in South Africa can be found within mere hours of major cities; and swapping the suburbs for sleeping bags will, as always, be a way of life this summer.
Mahai River Campsite, Royal Natal National Park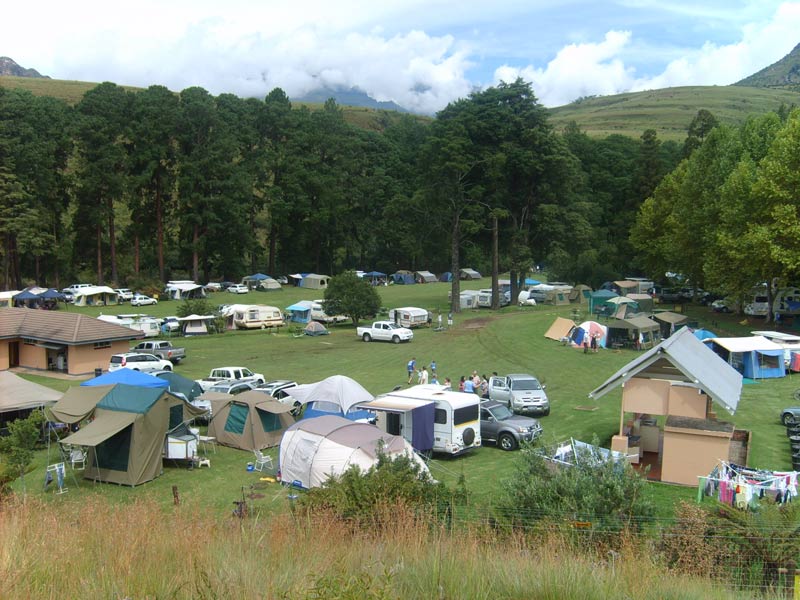 This big campground is set in one of the Drakensberg's most beautiful valleys. The Mahai Campsite offers clean ablution and washing up facilities, as well as electric and non-electric campsites. From the Mahai Valley where the campsite is situated, you can choose from a range of novice to advanced hikes, as well as fly fishing close to camp. The only thing you'll ever need to worry about is remembering to zip your tent on the way out so wayward Chacma baboons can't get in while you're out hiking.
Mahai Campsite is best suited to families and couples.
Mahai Camp Bookings: Call 033 845 1000 / 1071/75 / 1001 or email camping@kznwildlife.com
Find it: Mahai Campsite on Google Maps
Tietiesbaai Beach Camp, West Coast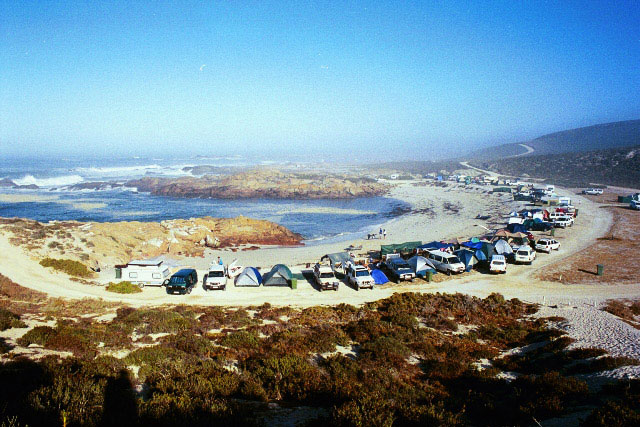 The amusingly named bay on the west coast is a favourite when it comes to rough and ready camping next to the sea. With its distinct rugged West Coast edge, the campsite at Tietiesbaai provides a diverse range of campgrounds to suit the tastes of every outdoorsman, even if cold showers and no electricity are par for the course. Set up near the ablutions for campsite convenience or choose a spot away from the crowd and nestle among the rocks for private holiday bliss. There are 60 caravanning and tenting sites available (grass and ground); none of them has power points. The possibility of strong South-Easters calls for sturdy tents, and if it gets all too much, the delightful village of Paternoster is just 6km down the road.
Tietiesbaai Campsite is best suited to families.
Tietiesbaai Camping Bookings: Titietiesbaai only accepts fax or snail mail bookings. So if you're up to the task of excavating a fax machine or figuring out how to post a letter you can get them on 022 752 2015 (fax) or mail The Municipal Manager, Cape Columbine Nature Reserve, Private Bag X 12, Vredenburg, 7380.
Find it: Tieitiesbaai on Google Maps
Fiddlers Creek Campsite, Orange River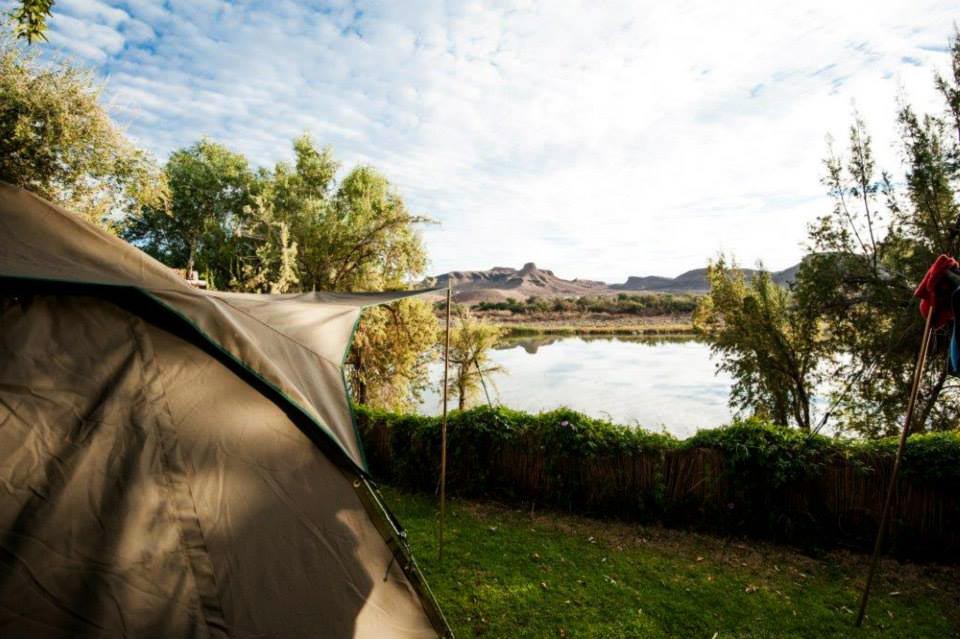 The banks of the Orange River are as enviable a location as any to set up camp this summer, and Bushwhacked Adventures' Fiddler Creek Campsite will surely not disappoint you and your friends. Nestled on the banks of the Orange River, Fiddlers Creek Campsite is a certain wilderness escape with some mod cons to enhance the outdoors experience. Each site is equipped with an undercover kitchen, washing up basins with running water, countertops, lights and power (220V) and a built-in braai area. There's a bar, pool table and volleyball court, and the Orange River Rafting excursions available at Bushwhacked, which range from half day to 5-day trips, come highly recommended.
Fiddlers Creek Campsite is best suited to friends.
Fiddlers Creek Bookings: Call 027 761 8953 or email info@bushwhacked.co.za
Find it: Fiddlers Creek Rest Camp on Google Maps
Bruintjieskraal Campsite, Baviaanskloof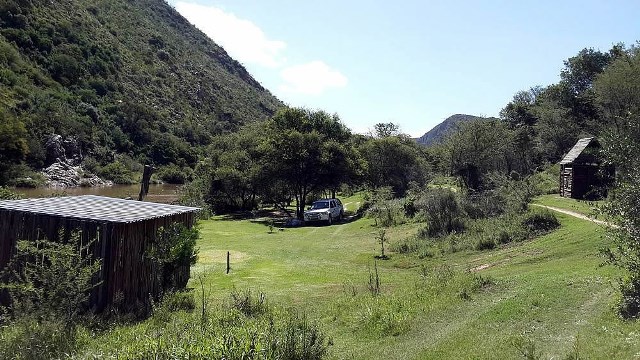 The perfect base from which to explore the spectacular Baviaanskloof Wilderness area, Bruintjieskraal Campsite boasts one of the most idyllic settings in which to roll out your tent. It's located at Grootrivier Poort, the entrance to the area, and spreads out on the shores of the Grootrivier. There are 10 spacious campsites on the riverbanks and another four further afield, each with a flush toilet and separate shower and braai facilities. Hot water is available, but you need to bring fresh drinking water with you. The Bruintjieskraal Campsite is an excellent base for exploring your surroundings from on scenic walks, or swimming, fishing and game viewing.
Bruintjieskraal Campsite is best suited to families and couples.
Bruintjieskraal Campsite Bookings: Call 084 515 0993 or email info@bruintjieskraal.co.za
Find it: Bruintjieskraal on Google Maps
Motswedi Luxury Campsite, Mokala National Park
Heaven for nature lovers and hikers, Mokala National Park offers "glamping" in a beautiful landscape in close proximity to wildlife. The luxurious Motswedi Campsite is home to just six camping spots, all of them are naturally fenced by camel thorn trees. Each campsite features its own ablution facilities complete with a solar-powered geyser, kitchen area equipped with a two-plate gas burner, a gas fridge/freezer, outdoor braai and washing up area. There's even a breakfast nook overlooking a waterhole where animals come to drink, which is just perfect for game viewing. Even with the comfort of the camp, there is no fuel, electricity point or shop here, so come prepared.  And if all else fails, the lodge has its own restaurant if you're in desperate need of a bite to eat. A knee-high electric game fence keeps large animals at a safe distance.
Motswedi Luxury Campsite is best suited to higher budget campers.
Motswedi Luxury Campsite Bookings:  Call central reservations on 012 428 9111 or 082 233 9111 or email reservations@sanparks.org
Find it: Mokala National Park on Google Maps
Beaverlac Camping, Cederberg
This comfortable, pet-friendly campsite is a great choice for a fun weekend getaway from Cape Town. Cosy up in the foothills of the Olifants River Mountains just 2 hours from the Mother City – Beaverlac offers excellent hiking opportunities and a chance to breathe some fresh air in a picturesque natural setting. It's a great place to enjoy mountain biking, hiking and exploring the wilds. There are two scenic mountain bike trails, one 14km long and another shorter, 10km trail for beginners. The famous 1-day leopard hiking trail is well worth a try, with stops at spectacular rock pools and waterfalls en-route. There are also numerous caves to explore, offering great rock art sightings.
You don't have to walk far to enjoy the area's stunning rock pools – the closest is a five-minute walk from the camp and the rest are just another 20 minutes from your tent. The campsite itself is rustic and peaceful with ablution facilities, some offering hot water, braai areas and a well-stocked shop.
Beaverlac Camping is best suited to friends.
Beaverlac Bookings: Call 022 931 2945 or email info@beaverlac.co.za
Find it: Beaverlac on Google Maps
Buccaneers, Cintsa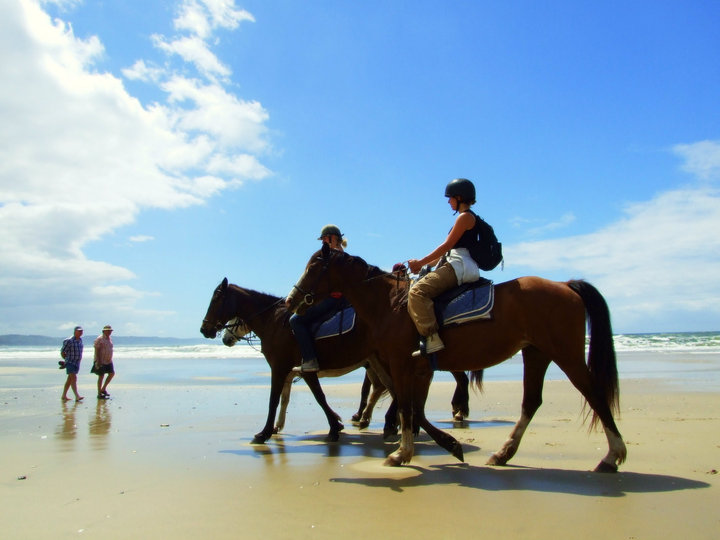 A favourite amongst nomadic backpackers and outdoorsmen, Buccaneers is located on the spectacular Wild Coast on the eastern shores of South Africa. The campsite is hemmed in behind the giant sand dunes of Cintsa Beach, bordered by giant guava trees overlooking the lagoon from the west. The campsite at Buccaneers is equipped with one of the most awesome communal kitchen areas I've ever seen! Buccaneers also offer chalets, a restaurant and lively bar, swimming pool, canoes and booze cruises. Of course, the beach, renowned for its breathtaking setting, is a big drawcard and it's a stone's throw away from where you camp. Guests here enjoy a variety of daily activities, most of which are free. In addition, you can learn to surf, take a horse trail, go mountain biking or visit a traditional Xhosa village. Buccaneers, Cintsa is ideal for a fun-filled camping holiday with friends, especially over the New Year period.
Buccaneers is best suited to friends.
Buccaneers Bookings: Call 043 734 3012 or email buccaneers@cintsa.com
Find it: Buccaneers on Google Maps
Tsendze Rustic Campsites, Northern Kruger National Park
Located just 7km from Mopani Rest Camp in the famous Kruger National Park, this rustic camp boasts 30 campsites set out in two circles, each surrounding excellent kitchen and ablution facilities. The facilities are basic; hot water, electricity and lights are provided via solar power and gas. This Tsendze Camp, one of the newest in the Park, has quickly become very popular for its superb setting and excellent bird and game life, including elephant, buffalo, zebra and various antelope. Lions and leopard have also been spotted here. Campsites offer privacy – another plus – and the feeling of being in the midst of the wilds is what makes Tzendze so special.
Tsendze Rustic Campsites is suitable for anyone looking for camping accommodation in the Kruger Park.
Tsendze Camp Kruger Park Bookings: Call 013 735 6535 / 6
Find it: Tsendze Campsites on Google Maps
Stoney Ridge Campsite, Colenso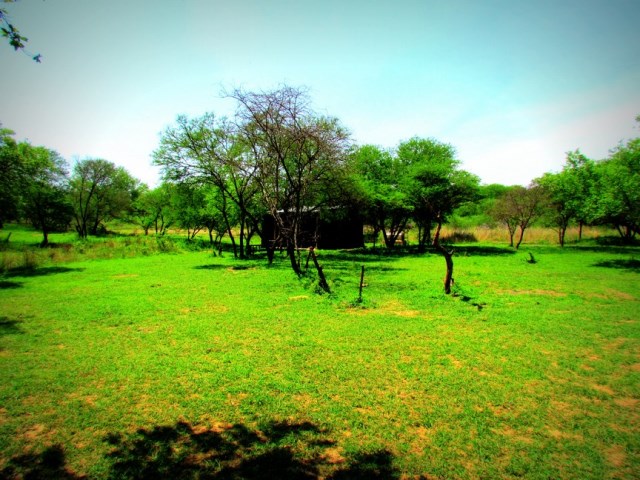 If you're heading for the scenic Natal Midlands, this is the ideal campsite. Stoney Ridge is located amongst 6,000 acres of unspoiled natural beauty on a private game farm offering superb game viewing and bird life, as well as 4X4 trails. The campsite is located in shady environs on the banks of the Bloukrans River and offers excellent ablution facilities. It's popular with 4X4 enthusiasts, both for off-road training and for the excellent trails in the area. Campers can enjoy the facilities of the restaurant if they wish.
Stoney Ridge Campsite is best suited to families.
Stoney Ridge Bookings: Call 036 354 7012 / 073 697 5108 or email info@stoneyridge.co.za
Find it: Stoney Ridge on Google Maps
Albert Falls, Pietermaritzburg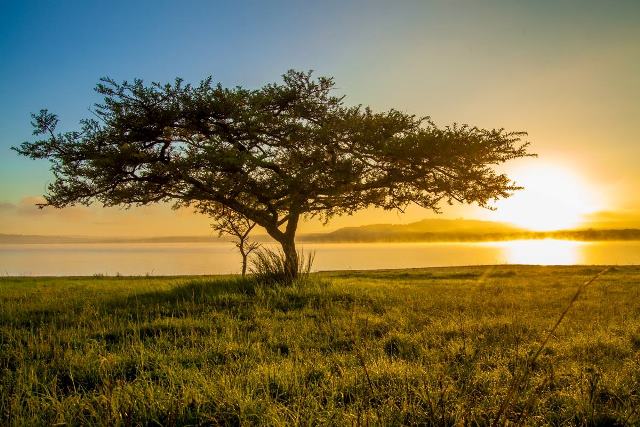 This family-oriented campsite is located just 24km from Pietermaritzburg in the 3000-hectare Albert Falls Dam and Game Reserve. Excellent bass fishing, and watersports on the dam are all part of the magic in this idyllic setting. The campsite offers camping for at least 20 tents and caravans, well-maintained ablution facilities with hot and cold water, electric lights and power points.
Albert Falls Campsite is best suited to families and friends.
Albert Falls Bookings: Call 033 569 1202 or email albert.falls@msinsi.co.za
Find it: Albert Falls Dam on Google Maps
Storms River Mouth Rest Camp, Tsitsikamma National Park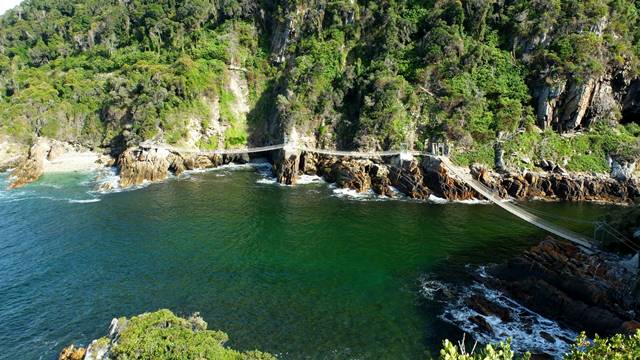 If you're planning to visit one of the most breathtaking regions in South Africa, the Tsitsikamma National Park on the spectacular Garden Route is an ideal choice. Storms River Mouth Rest Camp offers an unbeatable setting stretching 5km towards the seashore in the eastern section of the Park, where dolphins frolic in the waves and the Southern Right Whale makes it presence known. Guests here have access to 80km of dramatic rugged coastline and every facility for a pleasant camping experience. There's a communal ablution block, Laundromat, kitchen facilities, restaurant and store. But that's not the reason you're here. The birdlife is unbeatable and Otter's and animals native to the region are waiting to be discovered on the shore and in the forest.
Storms River Mouth Rest Camp is best suited to couples, families and friends.
Storms River Mouth Rest Camp Bookings: Call 042 281 1607 or email grace.valela@sanparks.org
Find it: Storms River Mouth Camp on Google Maps
Also read: 30 Amazing Ways to Explore the Garden Route
Glen Reenen Rest Camp, Golden Gate Highlands National Park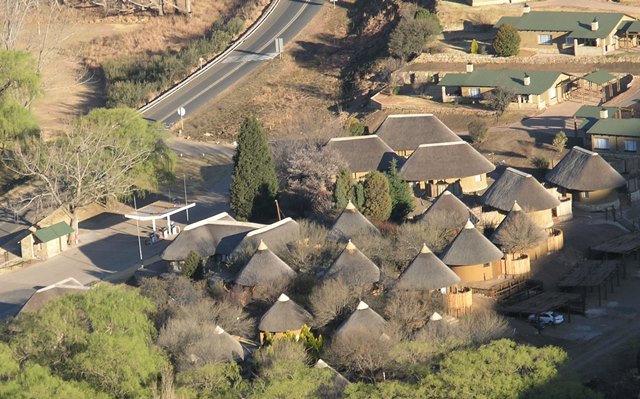 The magnificent Golden Gate National Park is named after the exquisite shades of gold reflected by the sun on its famous sandstone cliffs. Nestled here is the popular Glen Reenen Rest Camp, offering the ideal base from which to explore the Park's 11 600 hectares where a variety of wild animals roam free and exquisite birds have made their home. The campsite has a coveted spot in the Park, which is located in the breathtaking Maluti Mountains in the Northern Free State just 22km from Clarens. Its landmark is the famous Brandwag Overhang, a golden rock that stands sentry at the entrance.
Found in the trees on the banks of a stream, the campsite offers full ablution and braai facilities as well as power points at some of the sites. Hiking and mountain biking are common activities, but the exquisite setting is reason enough to come here and relax.
Glen Reenen Rest Camp is best suited to families and couples.
Glen Reenen Campsite Bookings: Call 058 255 0909 / 058 255 1000 or email goldengate@sanparks.org
Find it: Glen Reenen Camp on Google Maps
Mac Nicol's Caravan Park, Bazley Beach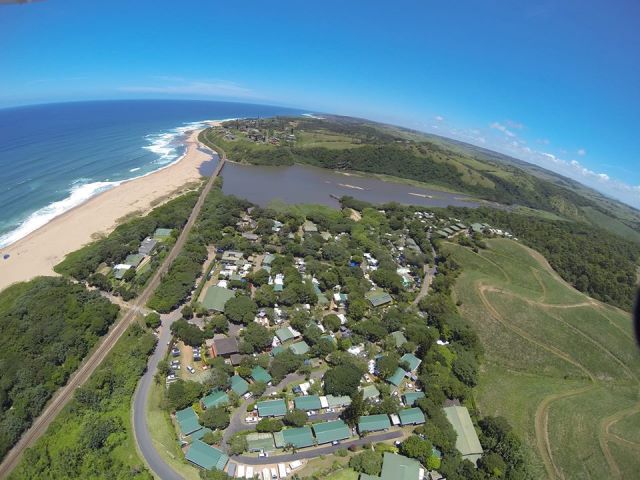 From the moment you arrive at Mac Nicol's on the South Coast of KZN everything is taken care of for you – surely this is how most camping trips should start? The staff helps you erect your tent while you enjoy a cup of tea and the sea air – relaxation is a natural progression of events. Located less than 100km from Durban on the magnificent KwaZulu-Natal coastline just 90m from beautiful Bazley Beach and the Ifafa Lagoon, the campsite offers every facility for the perfect holiday… spotless ablutions, laundry stations, entertainment, communal braais and lots of facilities for the kids. The chalets have a four-star rating, but you can enjoy all the benefits even if you're camping here.
Mac Nicol's Caravan Park is best suited to families.
Mac Nicol's Caravan Park Bookings: Call 039 977 8863 or email macnicol@scottburgh.co.za
Find it: Mac Nicol's Caravan Park on Google Maps
Soetwater Resort & Medusa Caravan Park, Kommetjie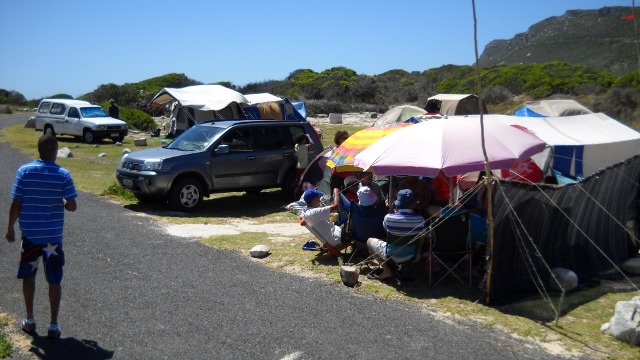 This stunning little coastal resort between Kommetjie and Scarborough in the Cape is a very popular weekend retreat. With a rocky coastline offering a few sandy bays and two artificial tide pools, swimming is popular here and watching fishermen and crayfish divers return with their catch is another regular pastime. You can also take a walk to the top of Slangkop to see an abandoned radar station from the Second World War, visit the quaint fishing towns of Kalk Bay and Simonstown, or explore famous Cape Point. The resort itself is located in the southern part of the Cape Peninsula on Lighthouse Road, an undeveloped coastal terrace that is preserved for its biodiversity. There are a choice of campsites here including those with, and those without electricity.
Soetwater Resort & Medusa Caravan Park is best suited to families.
Medusa Caravan Park Bookings: Call 021 783 4146 or email resort.bookings@capetown.gov.za
Find it: Medusa Caravan Park on Google Maps
Secret Falls, Tulbagh
Nestling in the foothills of the Groot Winterhoek Mountains amongst 150 hectares of spectacular countryside, this little campsite is only accessible via four by four vehicles. Located just 100km from Cape Town, Secret Falls offers room for just seven tents, but the site also offers a private swimming pool. This spectacular area is home to some excellent hiking trails and mountain biking is also popular here. This is camping in unmatched scenery for those who love the great outdoors and are happy to rough it.
Secret Falls Campsite is best suited to couples.
Secret Falls Tulbagh Bookings: Call 082 393 4704 or email marcnadia@mweb.co.za
Find it: Secret Falls Tulbagh on Google Maps
Cobham Campsite, Southern Drakensberg
Camping in the Southern Drakensberg doesn't get much better than this! Cobham Campsite is located 11km from Himeville Village in the southern part of the uKhahlamba Drakensberg Park, about 150km from Pietermaritzburg. The campsite is rustic and sites aren't designated, so you can pick your own spot. There are various braai areas and the ablution blocks do offer hot water. The location is quite beautiful and offers great hiking, bird watching, fly fishing and swimming.
Cobham Campsite is best suited to families and couples.
Cobham Campsite Bookings: Call 033 702 0831
Find it: Cobham Campsite on Google Maps (approximate location)
Waterval en Laatson, Porterville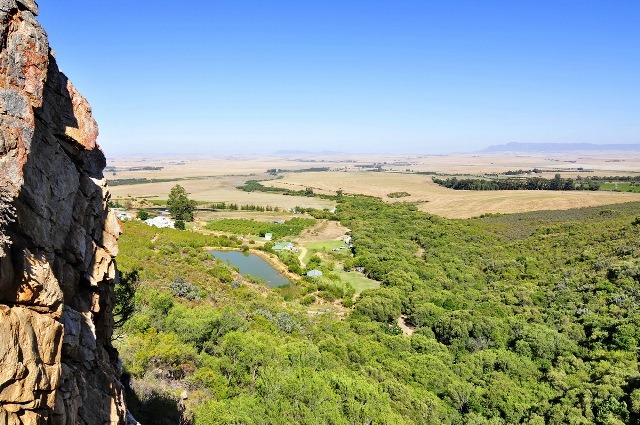 Set at the foot of the Olifants River Mountains 4km from Porterville in the Cederberg, the Waterval en Laatson Campsite offers an opportunity to get up close to game and birdlife. Named after the famous hiking trail which covers 22 Waterfalls along the way, the campsite here offers a rustic bush setting and a choice of sites with or without electricity. Campers can go game viewing in the nearby Cederberg Leopard Conservation area; enjoy superb bass fishing and mountain bike trails. There's even an animal farm for the kids. The area is famous for its rock paintings in various caves and there's a beautiful pool and waterfall close by.
22 Waterfalls Campsite is best suited to families.
22 Waterfalls Bookings: Call 022 931 2339 / 082 878 1358
Find it: 22 Waterfalls on Google Maps
Cape Vidal, KZN
Camping in the exceptional wetland beauty of the Isimangaliso Wetland Park is a unique experience, and this little campsite, which offers just 8 sites, is the ideal location from which to experience the magic and beauty of the surroundings. Go snorkelling, swimming, fishing or bird watching, laze on the beach or enjoy whale and bird watching. This exquisite coastal retreat is located in a sheltered bay offering pristine beaches and your choice of adventure along hiking trails exploring the fascinating wetland area. View hippo, crocodile, elephants and buffalo, loggerhead and leatherback turtles, playful dolphins and elusive whales. The Cape Vidal campsite offers shady spots, ablution facilities and electricity plug points. It is located 37km from St Lucia.
Cape Vidal is best suited to families and friends.
Cape Vidal Bookings: Call 033 845 1000 / 1071/75 / 1001
Find it: Cape Vidal on Google Maps
Gariep Dam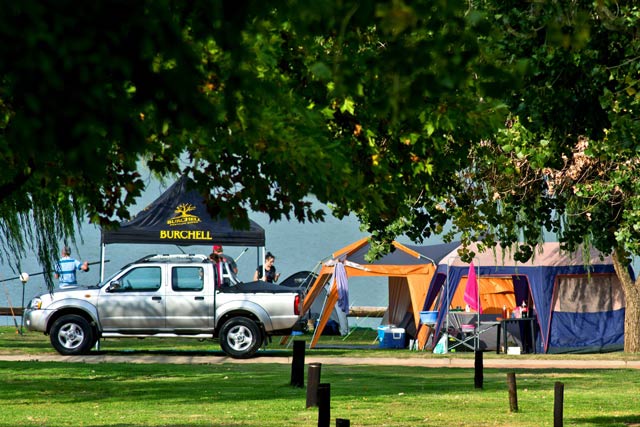 The perfect stopover point halfway between Cape Town and Johannesburg is Gariep, just off the main highway 200km from Bloemfontein. Camping here is at Gariep Dam, the largest dam in the country. The dam borders a huge nature reserve of the same name where many buck species and zebra roam free. Whether you're using this location as a stopover, or are planning to spend some time here, there's plenty to do, including various water sports, fishing, sunset cruises and excellent game viewing by boat. The campsite offers 122 sites in all, 16 of which have their own ablution blocks. Other facilities include braai areas or you can enjoy the restaurant located here, as the resort also offers chalet and caravan accommodation.
Gariep Dam Campsite is best suited to families and friends.
Gariep Dam Camping Bookings: Call 012 423 5600
Find your Mango flight to Bloemfontein with Africa's leading online Travel Agency, Travelstart!
Find it: Gariep Dam on Google Maps
Vic Bay Campsite, Garden Route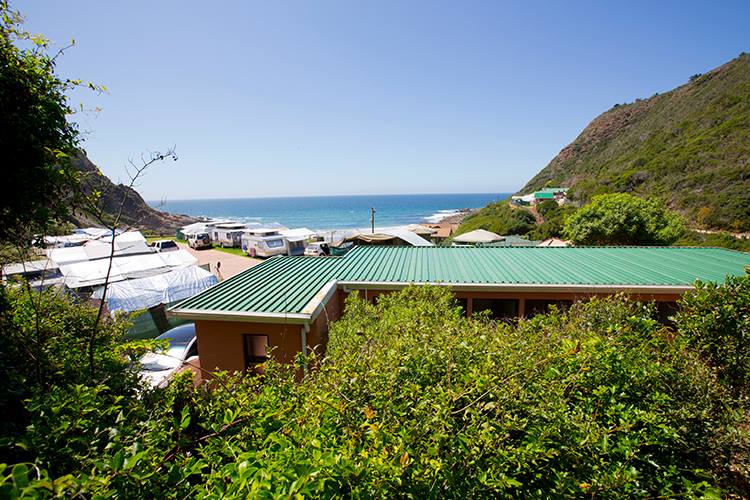 Victoria Bay is an immaculate alcove located between George and Wilderness on the spectacular Garden Route. The tiny inlet, squeezed between high cliffs, offers beautiful sea views from the elevated grassy Vic Bay Campsite. Surfers love it here as do fishermen. The beach offers safe swimming and an excellent restaurant. There are 36 campsites, many of which have individual ablutions and all with tap water. The campsite also offers electricity.
Vic Bay Campsite is best suited to families, friends and couples.
Vic Bay Campsite Bookings: Call 044 889 0081 / 073 800 7096
Find it: Vic Bay Campsite on Google Maps
Check out: Fun Things to do Along the Garden Route
Warm Baths Camping, Gauteng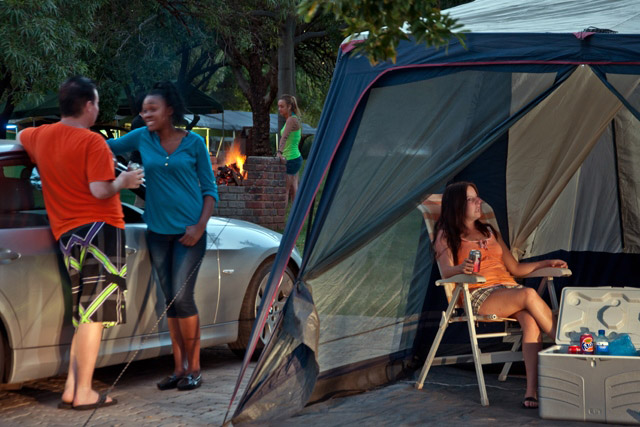 A total of 300 camping sites (15 luxury + 285 caravan sites) means Forever Warm Baths is well-equipped to handle the crowds that flock to this very popular location in the peak season. Guests are guaranteed a comfortable camping experience with every facility available to camp at ease. Warm Baths is a major tourist attraction, because of the mineral baths, and this luxury campsite makes visiting this region of Limpopo a pleasure. With excellent ablution facilities, the resort, which is very popular with families, is located close to Johannesburg and offers an exciting bush atmosphere. Over weekends and school holidays ,you have to stay for a minimum of two nights.
Warm Baths Campsite is best suited to families and friends.
Warm Baths Camping Bookings: Call 012 423 5600
Find it: Warm Baths Camping on Google Maps
Augrabies Falls Rest Camp
If you want to camp inside the remote Augrabies Falls National Park, this is the only place available. No matter – it's an excellent campsite that has found its rightful place amongst the regions iconic Quiver trees. It's spacious and well-organised, and the ideal base from which to explore the Augrabies Falls National Park at leisure. There's a restaurant here, a choice of three swimming pools, a central area with a fully stocked shop and a petrol station. A highlight of a visit here is the breathtaking views offered from viewpoints along wooden walkways in front of the camp. The 56-metre Augrabies Falls is quite impressive too, especially when the Orange River is in flood. The walking trails in the area are another big draw card.
Augrabies Falls Rest Camp is best suited to families and couples.
Augrabies Fall Rest Camp Bookings: Call 054 452 9205 / 9200 or email reservations@sanparks.org
Find it: Augrabies Fall Camp on Google Maps
Spekboom Tented Rest Camp, Addo Elephant National Park
Located in one of South Africa's most famous national parks, Addo Elephant National Park near Port Elizabeth, Spekboom Camp offers some glam camping in the bush. Tents are already set up so there's no need to bring your own. In fact, they are more like cabins than tents; you'll enjoy real beds on wooden floors, towels and cookware to make your stay more comfortable. In addition, the camp has its own watering hole, so you will see elephants, buffalo and warthogs up close when they come to drink. The camp is located in a fenced area inside the Spekboom Hide in the main game area of the park, around 27km from Matyholweni Gate and Camp, and 12km from Addo Rest Camp.
This tiny camp comprises just five fixed tents on decks with two beds, two chairs, a table, braai unit and solar-powered light per tent. Ablution facilities including communal showers, and toilets are within walking distance of the tents. Although there is a curfew at the camp and you cannot go on night game drives, you will still see various nocturnal animals come to drink at the camp's waterhole and the stars are so clear in the sky they look as if you can reach out and touch them.
You can bring your own linen and cooking equipment with you, or hire cutlery, crockery, cooking utensils and bedding. Guests are provided with dishwashing liquid and a cloth but must bring their own firewood and torches.
Spekboom Campsite is best suited to couples.
Spekboom Tented Rest Camp Bookings: Call 042 233 8600 or email addoenquiries@sanparks.org
Find it: Spekboom Tented Camp on Google Maps (approximate location)
Berg River Resort, Paarl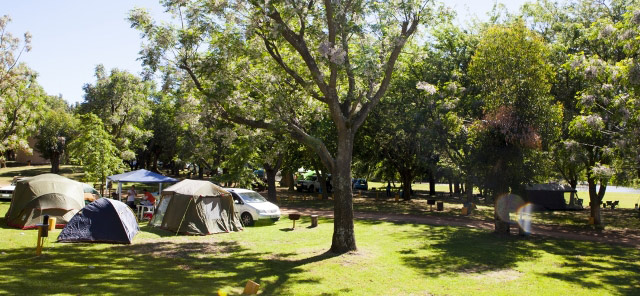 Camping in the famous Winelands is not only scenic, but it's also loads of fun for the whole family. Berg River Resort is located in the midst of this spectacular area in the Paarl Valley, just 60km from Cape Town, between Paarl, Stellenbosch and Franschhoek. The resort offers a variety of accommodation options, including a campsite, and various facilities include an Olympic-sized swimming pool, children's pool and waterslide as well as the river itself, where guests can enjoy swimming and canoeing.
The campsite offers 150 stands with grass for tents or caravans, most of which also have electrical outlets. There's a café for daily essentials, a play area where kids can enjoy ball games, an animal farmyard with goats and donkeys and free trampoline and tractor rides for the kids. The area is a joy to explore, with a number of museums, art galleries, restaurants and wine farms nearby as well as the Drakenstein Lion Park, Bien Donne Herb Farm and the Paarl Bird Sanctuary nearby.
Berg River Resort is best suited to families.
Berg River Resort Bookings: Call 021 863 1650 / 52 or email info@bergriverresort.co.za
Find it: Berg River Resort on Google Maps
Pitjane Fishing Camp, Borakalalo National Park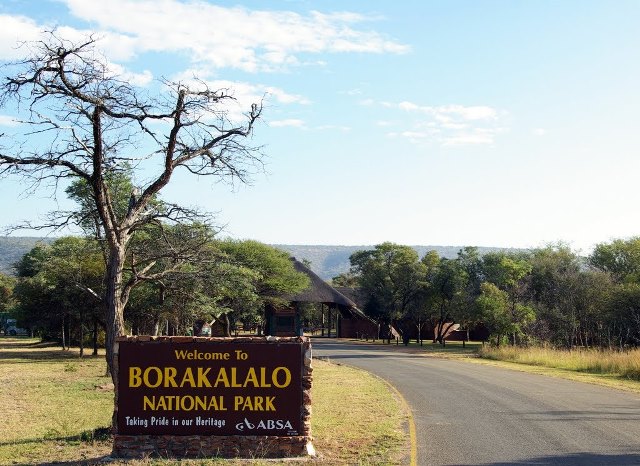 Located on the northern shores of the Klipvoor Dam in the Borakalalo National Park, this excellent campsite is shaded with Acacia trees and offers traditional reed-walled ablutions with flush toilets, showers and hot and cold water. Although it's mainly used by avid fishermen, the rustic campsite is an ideal spot from which to explore the spectacular eco game and nature reserve. There are 20 campsites scattered throughout the grounds, each with its own braai area and running water. Visitors enjoy relaxing in the spectacular surrounds, fishing, birding, going on picnics and guided walks.
Pitjane Fishing Camp Bookings: Call 012 729 4101 / 2 or email borakalalo@mtnloaded.co.za
Find it: Pitjane Fishing Camp on Google Maps
---
There you have it – 25 of the best South African campsites. Where are you planning to go camping this summer? Let us know in the comments below and remember to post your camping pics on our Facebook page!
Sign up to our newsletter to be the first to hear about our amazing flight specials and receive more ideas for travel inspiration.
You might also be interested in:
All information on this blog page was correct at the time of publishing and may change at any time without prior notice. Travelstart will not be held liable for loss or inconvenience resulting from the use of out-dated or incorrectly noted information.