There's more than one way to get up, out and experiencing this spectacular continent, whether it be roughing it by train or living lux on a yacht in the Kilwa archipelago. We share 6 novel ways to do it:
1. By Train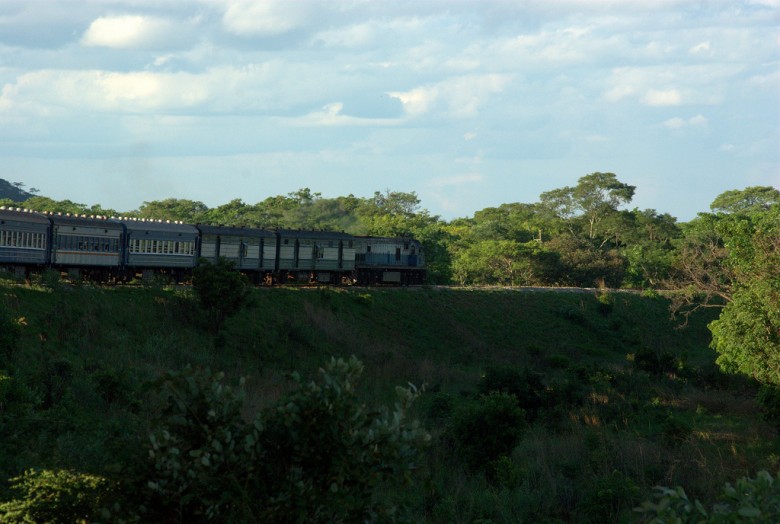 Tazara Rail II by Richard Stupart on Flickr
This may not be the most comfortable way to get around but it's certainly the most interesting. To quote travel writer Paul Theroux "luxury is the enemy of observation". And given the delayed nature of economy-class train travel there certainly will be lots of time to look around and take it all in. Despite no direct line from Johannesburg to Zimbabwe it is possible to take the train all the way from Cape Town to Dar es Salaam (via Joburg, Maputo, Chicualacuala, Bulawayo, Victoria Falls, Lusaka, Kapiri Mposhi and Mbeya). All you require is three weeks (give or take a few delays), the determination to go and lots of bottled water.
The Shosholoza Meyl from Cape Town to Johannesburg costs R630 for a tourist class ticket including shared sleeper cabin (R60 pp extra for bedding). This is not the Blue Train but it's safe, clean and the best-kept secret for seeing the South African landscape stress-free (say goodbye to long-distance driving). Fares to Dar es Salaam vary according to the rail company and class of travel but each leg of the journey costs around this or less. You can cover the entire distance of 4879 km by train except for the short walk from Komatipoort to the Ressano Garcia Railway line across the border (which you can cover on foot and Chappa bus) and the 14 km from Victoria Falls Train Station in Zimbabwe to Livingstone Train Station in Zambia (which you can cover by taxi). Remember to take some food rations as if there is a break down food is not always readily available. Call Shosholoza Meyl on 086 000 8888 to reserve the first part of the journey. Check out this video of the Tazara train to get inspired.
Luxury rating: Rich in experience, poor in opportunities to shower.
2. By Guided Self-Drive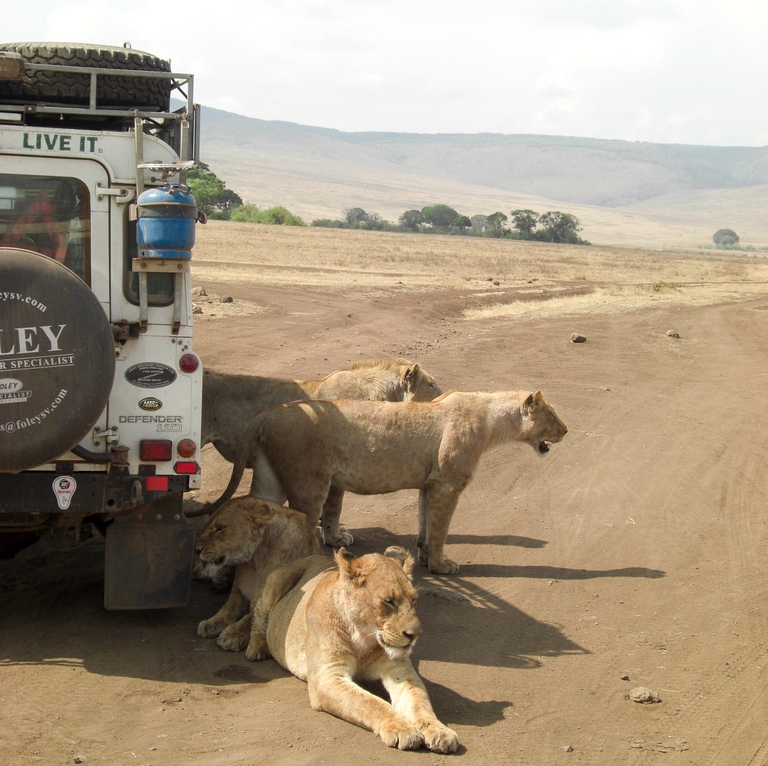 lions contre 4×4 by lecucurbitacee on Flickr
This is a good option if you want to retain some independence but be rid of the inconveniences of a malfunctioning GPS, flat tyres and limited local knowledge. Basically you travel in your own vehicle but you've got a guide vehicle there for support. You can use your own 4×4 or rent one from African Bush Safaris and it is possible to choose a ready-made tour or create your own itinerary to suit your needs. Camping can be basic or more luxurious depending on budget and preferences. Book here.
Luxury rating: This is not glamping but you may wake up to the sound of lions roaring in the middle of the night! If that's not good enough luxury tented camps and chalets can be worked into the itinerary.
3. By Bike, Foot and Mule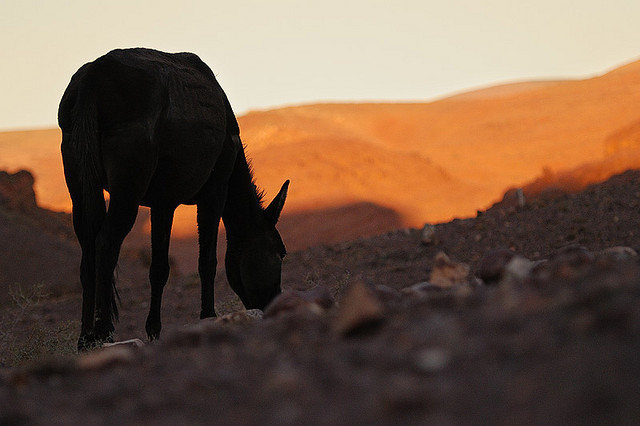 Sunset Mule by Dean Searle on Flickr
G Adventures are the people who brought you this amazing West-Coast African Sea Expedition. They also organise multi-sport adventures such as this 9-day Moroccan Active Adventure. You'll cycle, hike and ride mules through the desert as well as surf in your spare time. You'll also visit the exotic fortified city of Essaouira, once plagued by pirates.
Luxury rating: There will be opportunities to shower, but you'll be trekking through the rugged Atlas Mountains and sleeping in a tented beach camp for two of the nights- R10 079 for 9 days (flights to and from Morocco not included). Book here.
4. By Guided Trek (or DIY)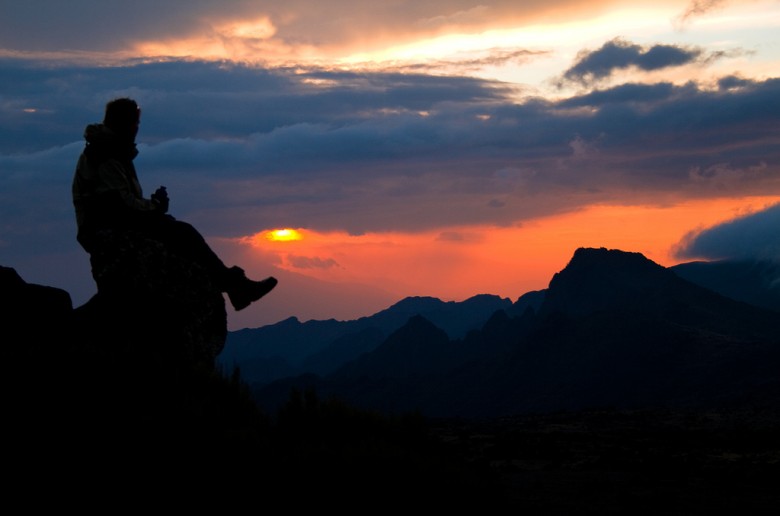 Kilimanjaro by Stig Nygaard on Flickr
G Adventures also offer a guided trek of Kilimanjaro. They take care of nearly every detail including permits, guides, porters and high-quality food and tents. Though I noticed that they only provide 7 breakfasts, 6 lunches and 5 dinners on the 8-day trek. So add another R800 to your budget for the extra food you'll need. If you do want to do it yourself it's best to organise it all when you arrive in Moshi to ensure you negotiate the best deal. If you DIY it you'll end up paying about R12 050.
Luxury rating: The headache of organising everything is taken out of the equation but you're still ascending the tallest mountain in Africa. Expect the best views you've ever seen, potential altitude sickness and lots of camping – from R19 124 (depending on which route you choose). For the adventure of a lifetime book here.
5. By Hoof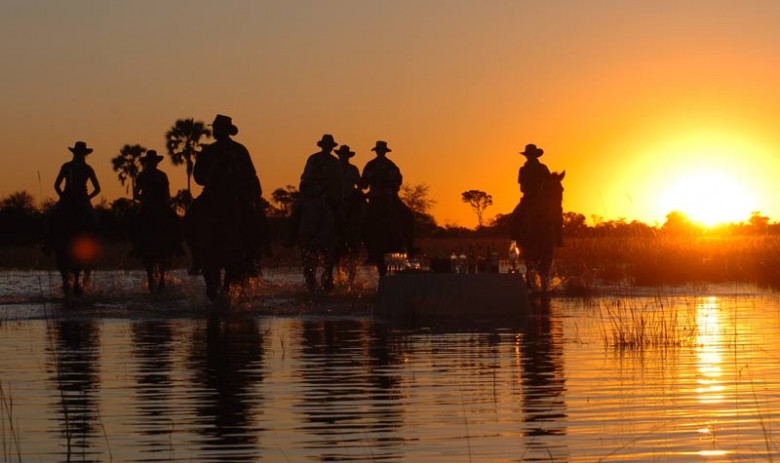 Horse Safari by Equus Trails
This is the luxury adventure experience of a lifetime. African Horseback Safaris offer equine tours of the Okavango Delta. 3-nights is the minimum stay permitted and there are no more than 7 riders per group. You'll catch a small plane from Maun to Mocatoo Camp (on a Cessna 206 or 208), where depending on the time of year you'll either take a drive or a boat-ride to the camp. Each day consists of opportunities to encounter elephants, giraffe and numerous other wildlife while on horseback. Your stay will also include a safari-picnic and a gallop across the Okavango flood plains depending on the season. You'll sleep in a  luxury tent on a wooden platform with a veranda overlooking the flood plains and the prolific Okavango Delta wildlife.
Luxury rating: As opulent as adventure safaris get. Bye bye savings! It's about R30 000 for three days, food and luxury-tented accommodation all-inclusive as well as return flights from Mocatoo camp to Maun, Botswana. Call African Horseback Safaris on +26 7 686 1523 or click here.
6. By Private Yacht Charter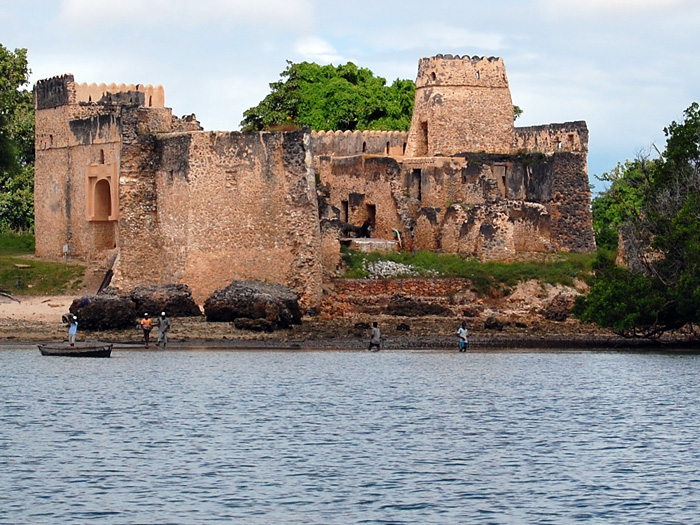 Kilwa Fort, Tanzania taken by The World Monuments Fund
Get 6 friends together and charter a boat off the Mozambican, Madagascan or Tanzanian coast. This is the way to experience the untouched beauty of the southern coastal strip of Tanzania. Here the ruins of Kilwa Kisiwani and Songo Mnara lie in decayed splendor. They are the relics of famed Swahili trading towns where the Sultans of Kilwa Kisiwani grew rich through their control of the gold-trade. The gold mined in Great Zimbabwe traveled by caravan and then by boat to this city and then onwards North to Cairo. East Africa Yacht Charters allows you to choose the length of your yacht charter, your itinerary and level of luxury. Contact them here.
Luxury rating: dreamy island hopping on a private yacht in unfrequented, azure waters. If only you'd bought stocks in Bitcoin before it was a thing. From $1600 dollars per 24 hours depending on the yacht (most sleep 6 people). It seems more reasonable if you break it down to around R3300 pp sharing per night.