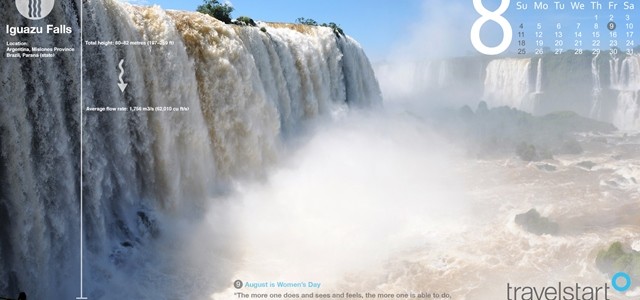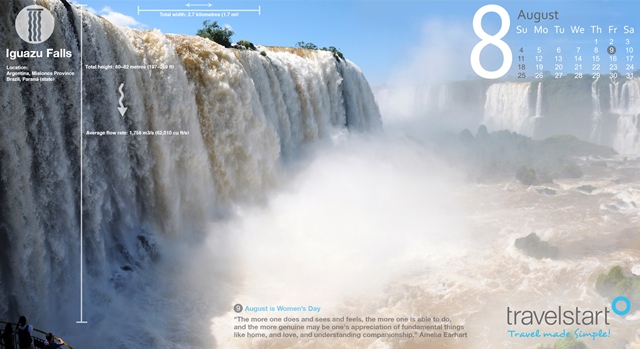 Starting this August, Travelstart is designing and giving away free desktop & home-screen wallpapers and Facebook header images! We'll be sending these out monthly, so keep an eye out for more to come.
This month, to help you keep your travel dreams front of mind, download these free travel wallpapers/calendars for August 2013 featuring one of South America's most spectacular sights: The Iguazu Falls!
Desktop Computers
1366 X 768 – DOWNLOAD
1980 X 1080 – DOWNLOAD
Laptops
1440 X 900 – DOWNLOAD
Tablet Computers
1024 X 768 – DOWNLOAD
960 X 800 – DOWNLOAD
Phones
320 X 480 (for iPhone 3/Small Android) – DOWNLOAD
640 X 960 (for iPhone 4/Regular Android) – DOWNLOAD
320 X 480 – DOWNLOAD
Facebook Cover Photo
851 X 315 – DOWNLOAD
The August wallpaper calendar features the Iguazu Falls on the border of the Brazilian state of Paraná and the Argentinian province of Misiones. The falls divide the river into the upper and lower Iguazu. The Iguazu River rises near the city of Curitiba. It flows through Brazil for most of its course. Below its confluence with the San Antonio River, the Iguazu River forms the boundary between Argentina and Brazil.
The name "Iguazu" comes from the Guarani or Tupi words meaning "water", and "ûasú ", meaning "big". Legend has it that a god planned to marry a beautiful woman named Naipí, who fled with her mortal lover Tarobá in a canoe. In rage, the god sliced the river, creating the waterfalls and condemning the lovers to an eternal fall. The first European to find the falls was the Spanish conquistador Álvar Núñez Cabeza de Vaca in 1541.
On November 11 of 2011, Iguazu Falls was announced as one of the seven winners of the New Seven Wonders of Nature by the New Seven Wonders of the World Foundation.
Getting to Iguazu
Many people ask which side is better and the jury is still out on this one! Most visitors prefer the town of Puerto Iguazu on the Argentine side to the bigger Brazilian town of Foz de Iguazu. However, when it comes to seeing the falls, both sides offer a unique perspective, so if you have enough time, do both.
If you're flying in, from Argentina (to the Argentine side) you'll be using Iguazu Airport (code IGR), to the Brazilian side you'll be using Iguassu Airport (code IGU). Both sides are visa-free for South Africans, so hopping over or using a different airport won't make much of a difference there. Check out flight prices to help you budget for your trip!
________________________________________________________
What do you think of our first wallpaper? Do you think we should include different sizes, or do anything differently? Leave your feedback in comments below: