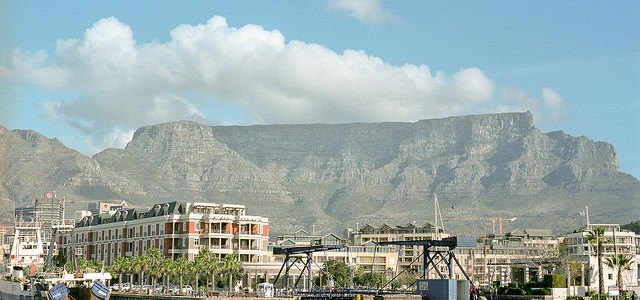 If you haven't heard, Table Mountain is in the running to become one of the new 7 natural wonders of the world.
Table Mountain is the pride and joy of Cape Town, South Africa and has long been a major attraction for international and domestic tourists. It rises above the Mother City skyline and casts a unique disposition over this beautiful African city in the South-West corner of Africa. This iconic natural beauty of the Cape Town skyline is one of only two African natural phenomenon's to have made the prestigious New7Wonders of Nature list along with Mount Kilimanjaro in Tanzania. However, competition is stiff and Table Mountain needs your help to remain in the running.
How to Vote for Table Mountain
There are 3 ways you can Vote for Table Mountain – via SMS, an online vote, or by phone. Join the official campaign to make Cape Town's Table Mountain one of the New7Wonders of Nature – SMS TABLE to 34874.
If you want to vote via telephone then dial 0044 20 334 709 01 and then insert the code 7725 (Table Mountain's voting code).
It doesn't take much and it's for a really good cause.
Every Thursday is Voting Day
If you've been following the Vote for Table Mountain cause on Twitter then you'll know that every Thursday is touted as voting day. Follow the crew on Twitter so you don't forget to cast your vote on a Thursday.
The New 7 Wonders of nature ceremony is set to take place in Zurich, Switzerland in November 2011 and Travelstart has high hopes that our local candidate will be there to take 1st prize.
It's up to you – Visit the official Vote for Table Mountain website now.
Table Mountain Photo courtesy of Doha Sam.
Update – 16 November 2011
On Friday 11th November 2011 Cape Town's Table Mountain was announced as one of the world's New 7 Wonders of Nature. After a 3 year race with 28 other finalists, our Table Mountain has come through for us.
Followers of the New 7 Wonders initiative should note that the verdict is not set in stone just yet. A message on the official website states "The final 7 are the provisional New7Wonders of Nature based on the first count of vote results on 11/11/11.
It's possible that there will be changes between the above provisional winners and the eventual finally confirmed winners. The voting calculation is now being checked, validated and independently verified, and the confirmed winners will be announced starting early 2012 during the Official Inauguration ceremonies."
With the recent World Design Capital 2014 win, it looks like Cape Town is on a roll to become South Africa's flagship city.