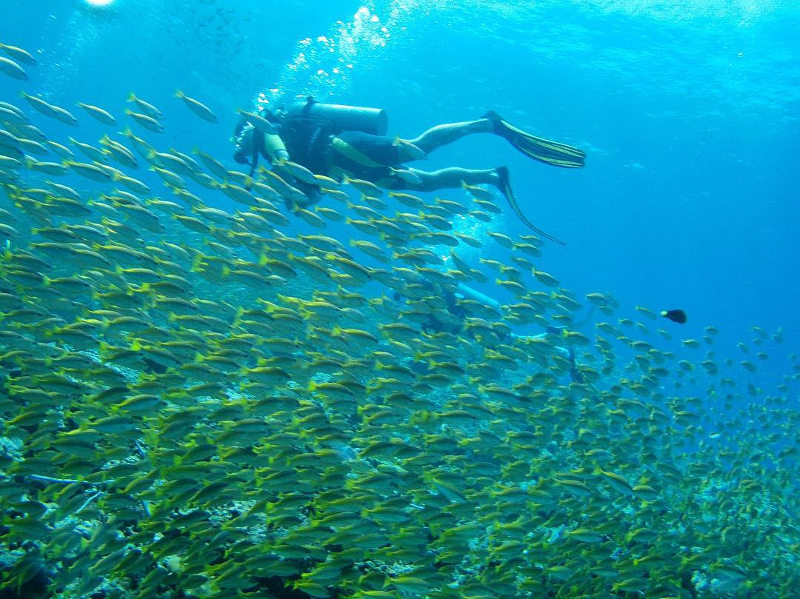 While many visitors to Mauritius are excited to lie on its soft-sand beaches and walk around the historical buildings, you'd be at a loss if you missed out on its incredible diving. With over 330km of pristine coastline, each of its wonderful beaches is home to some of the best diving and snorkelling in Africa. The best diving in Mauritius is found all around the island. Whether you're a fish-in-the-water pro, or have never tried scuba diving before, Mauritius is where you can experience it all. It is an underwater haven of incredible beauty, shipwrecks from the 18th century, winding caverns, over 200 types of coral, and over 430 different marine animals.
Sound incredible? Let's have a look at some of the top dive sites around this beautiful archipelago.
Best Dive Spots in Mauritius
North Coast – coral gardens, wrecks, adventurous dives
If you only have one or two opportunities to experience the best diving in Mauritius, make sure it's along the north coast. The dive sites off Grand Baie and Trou aux Biches are wonderfully diverse and within easy reach of many hotels in the area.
Beginner divers can float through Confetti Bay, Chilli Drop and Coral Gardens. The Coral Gardens off Grand Baie are a must-see with their unique coral formations and jagged rocks forming giant steps up to the hard and soft corals, home to octopi, lobsters and trumpetfish peeking out from between the colourful bristles. Intermediate to advanced divers can swim amongst the striking swordfish and hammerhead sharks around Whale Rock.
For more challenging dives, there are fascinating shipwrecks to explore. Dive down to the famous Stella Maru, sitting upright amongst a coral garden where clams, octopi and clown fish poke out from between the bright anemones. Observe the abundant marine life around the Japanese fishing boat, Djabeda, which sunk in 1998. Advanced divers will love swimming around Silver Star (22-39 metres deep) and the wrecks of Water Lily and Emily – two old water barges sitting firmly in the sand at 25 metres down.
One of the most beautiful diving sites in Mauritius is, without a doubt, Holt's Rock. Here you can dive through volcanic basalt rocks, blanketed with sea fans and soft corals. The caves and tunnels make for an interesting, exploratory dive where porcupine fish, titan triggerfish and moray eels dart between the crevices.
A little offshore, about 90 minutes from the mainland, the islands Coin de Mire and Flat Island are perfect for beginner divers and snorkellers. Some of the best snorkelling in Mauritius is around these turquoise lagoons. You might just be lucky enough to spot some dolphins and sharks further out in the bay!
West Coast – underwater photography, all diving levels
Some of the best diving in Mauritius can be experienced off the west coast. The beaches of Flic en Flac and Tamarin are excellent points from where you can enjoy a variation of the most incredible drift, reef and wreck dives. The most famous of these is Cathedral, perfect for all level divers. This dive site is a photographer's dream as the warm light filters through its caverns and arches. At 18-30 metres deep, you can easily spot snappers, groupers, angelfish, surgeonfish, squirrelfish and lobsters. The mysterious Snake Reef is just a 15-minute boat ride away, where scorpion fish, stonefish and lionfish dominate the waters. This site is recommended for experienced divers only.
Beginners will love swimming through the Aquarium, a colourful rocky reef teeming with clown fish, butterflyfish, stonefish, puffer fish and wire coral. This is an easy dive reaching a maximum depth of 15 metres and is often used as a training ground for diving courses.
Claimed to be one of the best drift dives in Mauritius, Passe St. Jacques is a playground for grey reef sharks, stingrays, turtles and moray eels. At a depth of between 3 and 30 metres, this dive site is perfect for beginners all the way to advanced divers.
Experienced divers should definitely make a stop at Manioc – an atmospheric deep dive site, plunging to depths of 47 metres. Look out for white tip reef sharks and emperor angelfish swimming around the rock face.
East Coast – wrecks, drift diving
The stunning drift dive of La Passe du Puits at Belle Mare Plage awaits, with eagle rays, barracuda, black jacks, tuna and whitetip reef sharks perusing the waters. Be aware of strong currents.
A little to the south, Colorado is a staggering 40-metre drop filled with parrotfish and groupers. Don't miss the opportunity to explore the historical naval wreck, The Sirius, off Mahébourg beach. At 25 metres down, you can swim amongst old cannons and cannonballs, and the interesting creatures that call this shipwreck home.
South Coast – beginner dives, snorkelling
While you may not find the best diving in Mauritius' southern region, it's the perfect place for first-time divers and snorkellers to get comfortable in the water. The waters off Le Morne beach offer great visibility for drift dives and snorkelling. Blue Bay Marine Park has a huge shallow reef and turquoise lagoon, brimming with snappers, clown fish, moray eels, batfish, nudibranchs, and reef sharks. Some of the corals here are over 800 years old! With visibility up to 50 metres, you'll feel like you're swimming in a never-ending aquarium.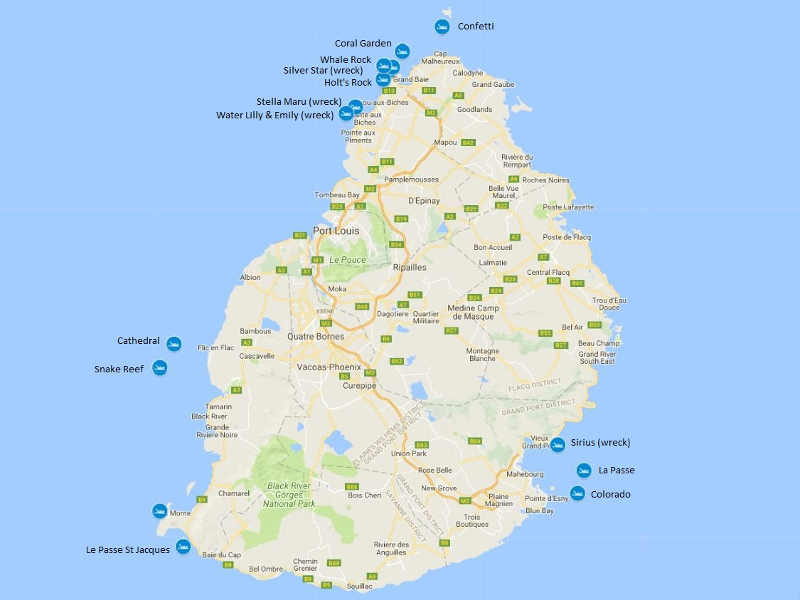 Best Snorkelling Spots
If you've had your fill of scuba diving and just want to have some fun in the water, the snorkelling off Mauritius' beaches is pretty impressive too. For the best snorkelling in Mauritius, strap on your mask and snorkel and make your way down to:
Blue Bay Marine Park
Look out for: Parrot fish, clown fish, Damselfish, mangroves, vibrant corals
Pointe aux Piments
Look out for: sea turtles, Flutemouth, Longnose Filefish
Trou aux Biches
Look out for: Triggerfish, Damselfish, colourful starfish
Flic en Flac
Look out for: White Spotted Boxfish, Moorish Idol, sea urchins
Ile aux Cerfs
Look out for: Blacktip Grouper, Bluestripe Snapper, bright corals
Also read: Amazing Beaches of Mauritius
Best Time to Go
The best thing about scuba diving in Mauritius? Any time is a great time! The water stays wonderfully warm throughout the year, but slight changes in weather conditions make certain months slightly more favourable. For the best visibility and underwater experience, the best diving in Mauritius can be experienced from October to December, and in March and April. Water temperatures in summer (November to April) linger at a warm 28 degrees and drop to around 22 degrees in winter (May to October). Watch out for cyclones during January and February.
Best time to see:
Turtles: November – March
Dolphins: June – October
Sharks: November – May
Humpback Whales: June – October
Sperm Whales: all year round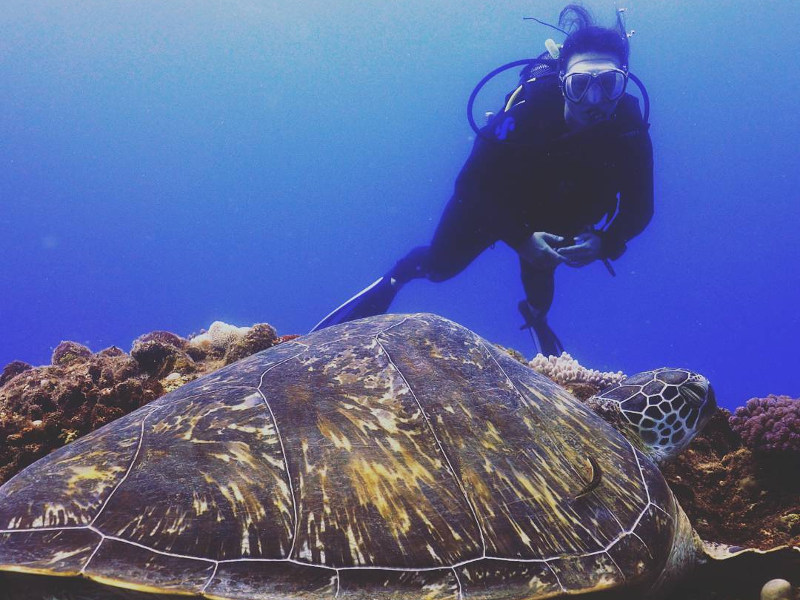 Practical Tips
Please be respectful of the sea life and do your best to practise responsible tourism when visiting Mauritius. To get the most out of your diving experience, make sure you're comfortable in the water and know the basic diving hand signals. There are over 40 diving centres scattered around the island. If you're not sure of a reputable one, go through the Mauritius Scuba Diving Association (MSDA), or your hotel can point you in the right direction.
A few tips to keep in mind:
Only dive with a licensed scuba instructor (PADI/ MSDA certified).
Reputable dive shops include Prodive Limited, Orca Dive Clubs and Sun Divers Ltd.
Do not touch or walk on the corals – they are delicate and can die.
Do not touch any sea creatures – you wouldn't want to return home missing a finger.
Avoid flash photography – fish get alarmed by bright lights.
When in the water, always be aware of your surroundings, especially potential boats passing overhead.
Snorkel away from boats – you'll see lots more fish in shallow lagoons.
Dive packages can work out cheaper than single dives. Popular 1-5 day packages are available.
All wetsuits and gear are available at the dive shops; if you have a GoPro, bring it!
And, most importantly, have fun!
Getting to Mauritius
Getting to Mauritius is a piece of cake. Direct flights from Johannesburg will land you in Mauritius in just under 4 hours, while Air Mauritius operates multiple flights a week from Cape Town, landing you in Port Louis in just over 5 hours. There is a bus service running every 30-60 minutes from the airport into town.
Getting around the island is very easy and convenient. You can flag down taxis from just about anywhere, and most of the hotels offer shuttle services to and from the airport, and around the island. If you're feeling a little adventurous, you can hire a scooter for a little over R200 a day and be your own tour guide!
Most of the hotels offer guided diving and snorkelling excursions. Click here to check out accommodation in Mauritius.
Mauritius welcomes you with its friendly people, warm beaches, exotic food and captivating sea creatures. Now that you've discovered where to experience the best diving in Mauritius, why not start planning that dream holiday? Don't forget to sign up for our newsletter to be the first in line for our flight specials to Mauritius throughout the year.
Have you been diving in Mauritius? We'd love to hear about it in the comments below!