"I have seldom heard a train go by and not wished I was on it."
– Paul Theroux
The whooshing sound of a train drawing into a station, billowing steam and the possibility of getting on and going somewhere completely unexpected… Trains remind us of the Golden Age of travel when people went travelling for months at a time and camels were possibly involved. Travel wasn't getting on a plane and two hours later alighting at warmer climes.
No, travel meant taking trunks with you, and possibly a compass and several good maps. Travel meant going to a place where you knew no one, where even the air felt strange and your letter home might only arrive after your return.
In homage to the most satisfying mode of transportation Travelstart brings you 15 of the greatest journeys by rail. We've included the once-in-a-lifetime splurges as well as our favourite budget options. In no particular order:
1. London to Venice on the Orient Express
Possibly the most famous and romantic train in the world, the Orient Express used to depart Paris on route to the Byzantine city of Istanbul. The glamour and intrigue of this luxury train famously inspired Agatha Christie. These days it's no longer operational in its original form yet its spirit lives on in Belmond's Venice-Simplon Orient Express. There are two trains in fact, one with carriages dating from the 1920s and 30s and the other is a historic British Pullman train.
The new route winds its way from London to Venice, on occasion including other destinations in Europe, and the once-a-year original Paris-Istanbul journey in August. Five-star luxury and nostalgia will set you back £2,210 per person one way (a little under R50 000).
Check out reasonable flight to London here.
Once-in-a-lifetime-splurge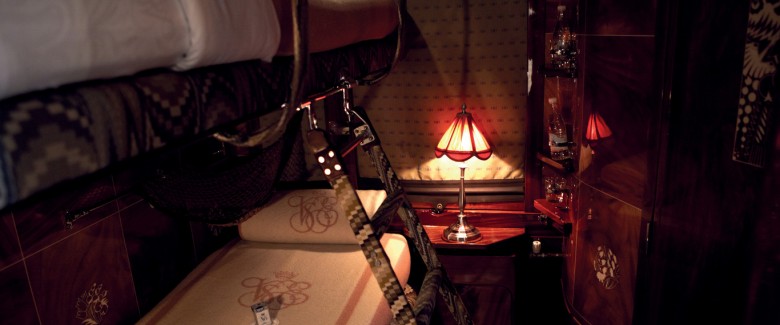 Image courtesy of The Belmond luxury trains
2. The Forgotten Route – the Train to the Karoo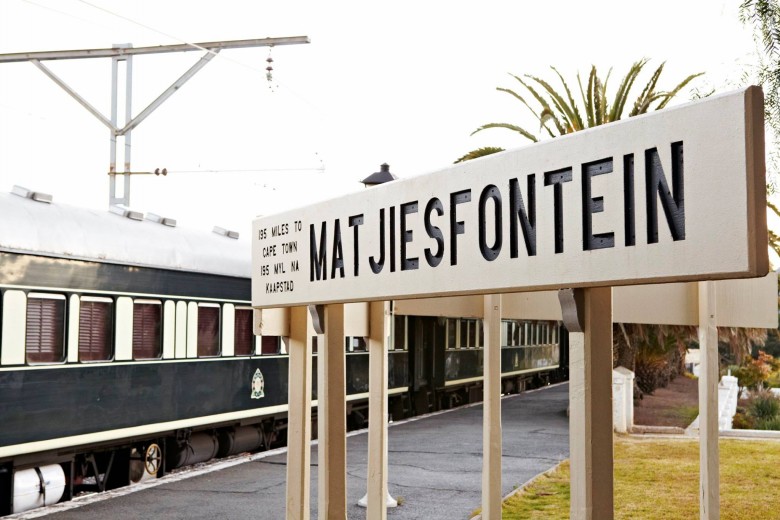 Image courtesy of Matjiesfontein Facebook Page
For something completely different trust "Wine Flies" to deliver the extraordinary at an affordable price. For R1475 per person you will get dinner, breakfast, padkos, all transportation by train (and bus) and a night's accommodation in Rietfontein nature reserve near Matjiesfontein. This all includes the benefit of a designated driver- bring on the vine-tasting. The train departs from Worcestor allowing you to enjoy the open semi-desert plains of the Klein Karoo with good conversation and board games to keep you company. Two and a half hours later you'll arrive in the atmospheric town of Matjiesfontein. You'll then join in a guided walk and 'city' bus tour followed by Karoo lamb braai under the stars and singing from local musicians around a piano in the local pub. You'll sleep the night in farm cottages situated on Rietfontein nature reserve nearby. Book here.
Budget
Also read:
"Anything is possible on a train: a great meal, a binge, a visit from card players, an intrigue, a good night's sleep, and strangers' monologues framed like Russian short stories."
– Paul Theroux
3. 5-star luxury on the Blue Train – Pretoria to Cape Town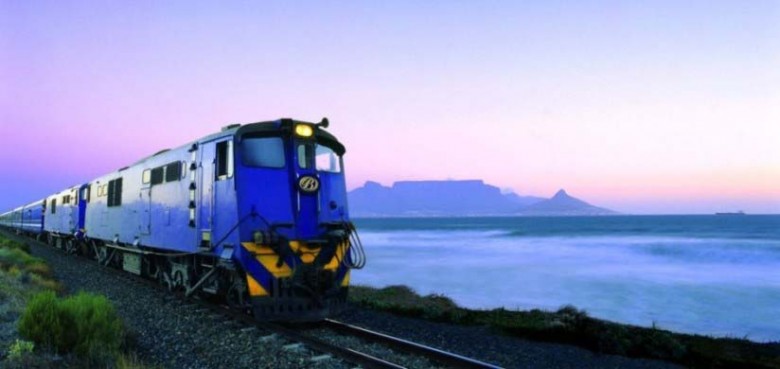 Image courtesy of The Blue Train
The Blue Train was born out of the dream of a railway stretching from Table Mountain in Cape Town all the way to the pyramids of Giza in Cairo. This was never to be however one of the most luxurious trains in the world sweeps the length of South Africa from Pretoria to Cape Town. Rates during the low season, per person sharing a luxury double are R15 465 and R19 245 during peak season. This includes all meals and drinks (alcoholic and non-alcoholic excluding french champagne and caviar). Find out more at www.bluetrain.co.za
Once-in-a-lifetime-splurge
4. Goteik Gorge, Myanmar -former highest railway trestle in the world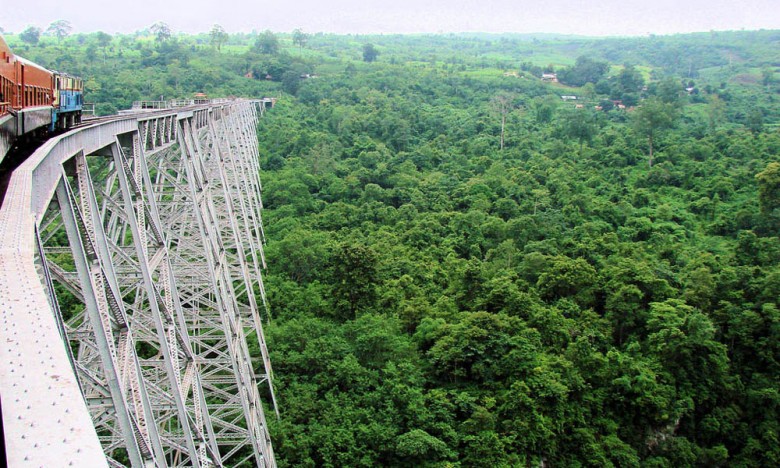 Image courtesy of Marisa Herrera via Backyard Travel
There are innumerable reasons to visit Myanmar and one of them is the old-fashioned creaky wooden trains. I had the privilege of taking this particular train from Mandalay to Maymo Hill Station and onwards to Hsipaw. You will pass buffaloes working in the fields and later cross over the Gotiek Viaduct which was once the highest railway trestle in the world, completed in 1900 and used by the British to gain control of the Shan states. Stick your head out the window as you go over the gorge and feel your stomach drop through your knees when you see the 250 metre drop to the river below.
The train from Mandalay to Hsipaw takes 11 hours and costs 4$ or 7$ First Class (but it depends on how the officials are feeling that day). The train should leave around 4am. If you get off the train at Pyin Oo Lwin then you can take a 7-hour train to Hsipaw.
Read more about why now is the perfect time to visit Myanmar here.
Budget
5. The Trans-Siberian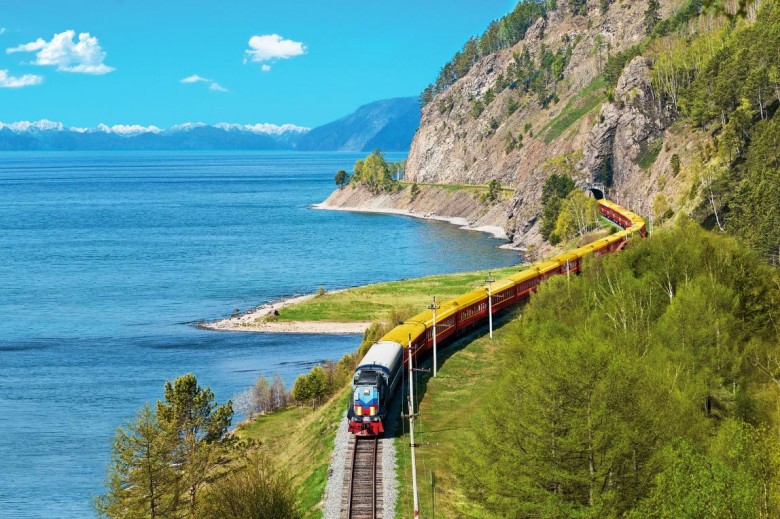 Image courtesy of E. Jung via Transsiberian Travel
High up on my dream list, the Trans-Siberian conjures up images of heated samovars, plains of snow and vodka shots as clear as rain. You can even take the train from London to Beijing! All you need is 15 days and minimum of £642. You'll also need at least 1 night in a hotel in Moscow, and of course you need to budget for travel insurance and visas for Russia, China and possibly Mongolia and Belarus. From R14 500 (a wise budget would be about R20 000).
Once-in-a-lifetime-splurge
6. Rovos Rail, Pretoria to Victoria Falls
Image courtesy of Victoria falls holiday
Take the luxurious Rovos Rail for the extraordinary three-night adventure from Pretoria to Victoria Falls. You'll pass through Hwange National Park and can spot wild animals from your bunk. Rates from October 2015 until September 2016 start from R21 250 all-inclusive of meals and drinks.
Once-in-a-lifetime-splurge
7. Cape Town to Kalk Bay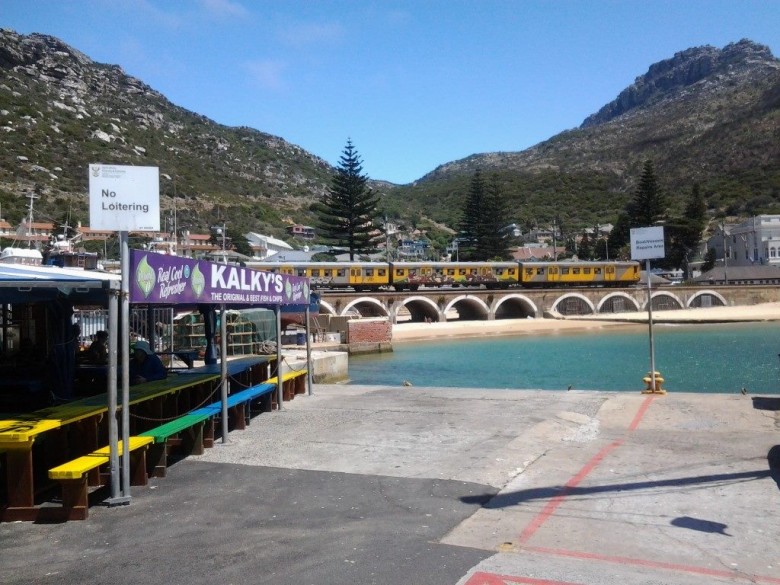 Image courtesy of Malcolm Hendricks via Kalk Bay Harbour Facebook Page
Familiar to Capetonians, the Southern line curves along a picturesque azure coast, past the colourful bath houses at St James and Muizenberg to charming Kalk Bay. It costs approx R18 a first class ticket from Cape Town station to Kalk Bay for a day of ice cream, sunshine, fish and chips and the Brass Bell for a friendly pint.
Budget
8. The Desert Express, Namibia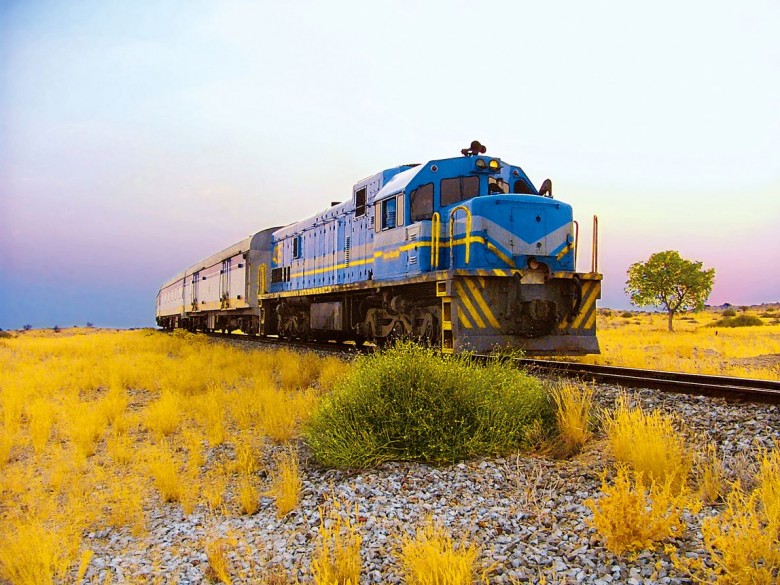 Image courtesy of Luxus-zugreise.de
Like something out of the latest Bond film, the luxurious Desert Express appears out of the Namibian desert like a spectre on the Skeleton coast. This is some of the most magnificent scenery you will see anywhere in the world. A return ticket between Swakopmund and Windhoek will cost R3340 per person sharing and R4330 for single travellers. A ticket for children up to 12 years old sharing with parents will cost R1670 per child.
Budget-friendly
9. Chiang Mai to Penang, Thailand – Malaysia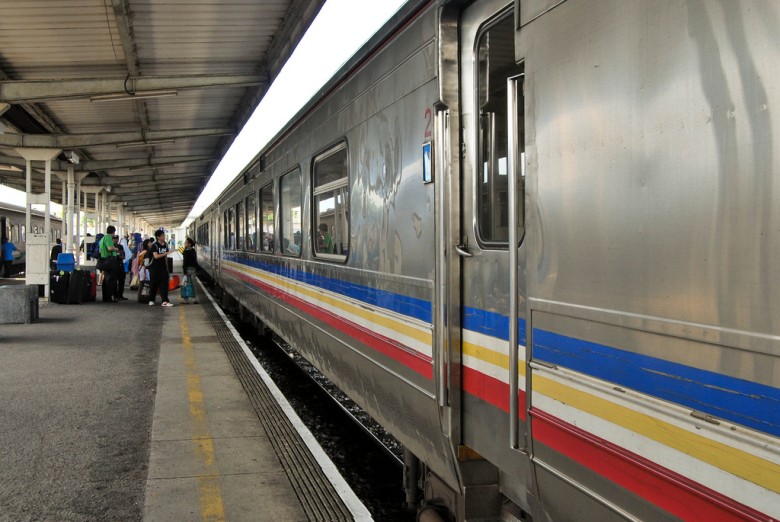 Image courtesy of Zhu via Flickr
Train travel in Thailand is delightfully slow, rewarding and affordable. You'll get to see and hear all the sights and sounds of the ever-changing landscape. You can share your pineapple and chili sugar with your fellow passengers and encounter monks and people from all parts of Thailand. It is possible to take the train all the way from charming Chiang Mai in the North to Bangkok then change over to a train to Penang, Malaysia which goes all the way to Singapore, should you wish – all from as little as $120 (R1845).
For affordable and convenient flights to Thailand go here.
10. The Maharajas' Express – India
Image courtesy of The Maharajas'
The Maharajas' Express is one of the most expensive train journeys in the world. It's a km long with 14 guest carriages, named after precious stones such as the Heera (diamond), Moti (Pearl), Neelam (Blue Sapphire), Monga (Coral), Feeroza (Turquoise), and Pukhraj (Sapphire). There are 5 possible routes. From $6840 per person (R105 839).
Once-in-a-lifetime-splurge
There are also many cheaper options if you are seeking a budget train experience as many people in India use the train as an everyday means of transport between cities.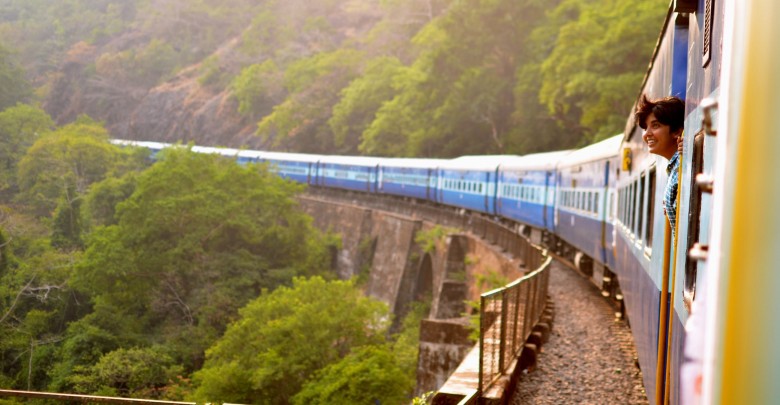 11. The Grand Hibernian – Ireland

Image courtesy of The Belmond luxury trains
This jewel of the Belmond group draws the passenger into a unique and unbelievable luxurious tour of the Irish coast. It costs approximately R86 000 for the the Legends and Loughs tour. The train will steam its way from Dublin to Cork, Killarney, Galway and Westport, including a private tour of the Jameson Distillery, a tour of the Lakes of Killarney by pony and trap, a sporting visit to Ashford Castle and numerous pubs.
Once-in-a-lifetime-splurge
12. The Train that goes on a ferry – Hamburg to Copenhagen
Image courtesy of Scandlines
Have you heard of the train that can be transported on a ferry? Luckily train passengers are able to get off the train and enjoy the scenery once aboard the ferry. You'll cross the Baltic sea in 45 minutes. The entire train journey lasts 4 hours and 45 minutes. You can purchase a ticket from as little as R500! Copenhagen with it's open-faced rye sandwiches and incredible design aesthetic is a reasonable train ticket away from bustling Hamburg, Germany. South Africans will need visas.
Budget friendly
13. Yangon to Mandalay, Myanmar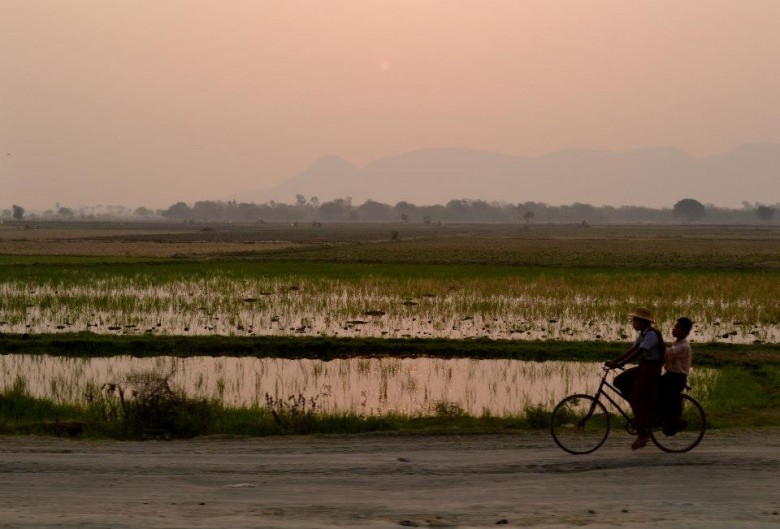 The 11 hour train ride from Yangon North to Mandalay on British colonial-era trains is worth the discomfort on the stiff wooden benches in economy class. Most likely you will make the journey meeting many of the local people, sacks of grain and possibly a chicken or two.
Budget
14. Sky Train, Tibet – Lhasa Express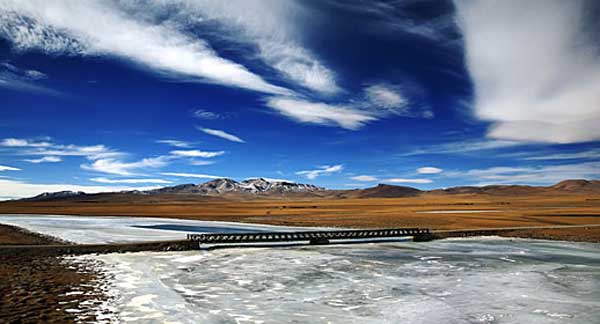 Image courtesy of China Tibet Trainn
Also known evocatively as the "rocket to the rooftop of the world" the Lhasa Express offers some of the most incredible scenery you will ever lay eyes on. The segment from Golmud to Lhasa has the world's highest passenger railroad (at Tanggula Pass – elevation: 5072m) and the world's highest railroad tunnel (Fenghuoshan – elevation: 4905m). Another startling fact is that 80% of the journey is at altitudes above 13,000 feet. There are three classes of ticket, for the soft-sleeper (worth it as the journey from Beijing to Lhasa is just under 41 hours) will cost $179 or R2770 at the time of publication.
Budget-friendly
15. The Ghan, Australia
Image courtesy of Adeel Ahmed wordpress
The inhospitable but magnificent blistering red heart of Australia is rendered hospitable on the luxurious Ghan. The journey of 2,979 kilometres from Adelaide to Darwin takes 54 hours to complete with a stop-over in Alice Springs where you can visit the legendary Uluru rock. The name of the train comes from the Afghan camels which were brought to Australia as a means to find a way to explore the sweltering interior of Australia. R12839 for a single gold service sleeper.
Once-in-a-lifetime-splurge
Bonus: The Franschhoek Wine Tram

Image via Flickr
Not a train but rather a tram we couldn't resist including this unique South African gem on a list of amazing locomotives. There are four lines; the yellow, green, blue and red which each stops at a selection of different world-class wineries in the verdant Franschhoek valley. R200 an adult ticket, R85 for kids aged 2 to 17, with return transfers from Cape Town at R550 per person (minimum 2 people).
Budget-friendly
Which are your favourites? We'd love to hear in the comments below.
And in the words of G. K. Chesterton:
"The only way of catching a train I ever discovered is to miss the train before."