With streets too small and tightly packed for cars to cruise along, Stone Town is perfect for pedestrians. And getting lost.
A UNESCO World Heritage Site, Stone Town is Zanzibar's biggest city and gets its name from the fact that many of the gorgeous 19th-century buildings are built from coral stone. It may look ramshackle at first but this intriguing town is a living time capsule.
Meander the labyrinths of this sensational destination – yup, a walk through the city will certainly activate all of the senses – watch dhows gliding lazily across the Indian Ocean horizon and browse Stone Town's fantastical buildings.
Exploring Stone Town is like disappearing down the Alice in Wonderland rabbit hole. You'll get totally lost in the maze of alleys, find many wonderful wide smiles, chat with intriguing characters, get a little annoyed at others, drink tea and enjoy how it all just gets curiouser and curiouser.
Also read: Mauritius vs. Zanzibar: Which is better? 
How to see the best of Stone Town for free
1.  See the fish auction at Darajani Market
Start your walk here in the morning because this market gets riper as the tropical heat smears its hand across the stalls. Here you'll find food, spices, colour, cloth and baskets. The fruit and vegetable market is in a separate area to the more aromatic fish and meat market (this is not recommended for those with sensitive stomachs). The displays are vivid and it's the perfect place for finding authentic spices, tasting the exotic rambutan and seeing how this island really operates.
It's also close to the Anglican Cathedral and ancient slave market, where you can see where the thousands of slaves were kept before being bought and sold. The East African Slave Trade Exhibit is also worth a look if you're keen to see more history,  but both stops require an entrance fee.
Also read: 12 Tantalising things to try in Zanzibar
2. Hamamni Persian Baths
Ok, this one's not free, but walking inside and up to the top of this ancient place is a wonderful way to gain some insight into the multi-layered and converging history of Stone Town. Built by a sultan, there is no longer water in the baths but it's easy to imagine the mists swirling across the mosaics and the ingenious ancient water architecture is marvellous. Entry costs about R30 per person.
3. Sip tea or coffee at Jaws Corner
Jaws Corner is a small square where many alleys meet. It's also where people (mostly men) meet and drink strong Arabic coffee or small cups of sweet ginger tea. Or watch the latest match. Or buy tropical fruit from the many vendors. It's a wonderful place to sit with those who live in Stone Town and watch the world go by.
Be sure to look closely at Zanzibar's famous doors on your way down these winding alleys. For centuries Stone Town was the site of intense seaborne trading activity between Asia and Africa.  This is beautifully illustrated in the iconic doors that line these alleys.
Back in the 1980s, the Stone Town Heritage Society reported that there were around 800 doors, but these numbers have dwindled since demand for them as decor items grew. You can find three kinds of doors in Stone Town: Arab, Indian and Swahili-style doors.
'Arab doors' are more richly decorated and often feature an inscription in Arabic. The older doors were all square at the top and the semi-circular frames were introduced later. The 'Indian doors', or Gujarati doors, have big brass knobs or studs that were originally used to deter elephants back in India, but here in Zanzibar, they communicated the wealth of those living behind them.
4. Marvel at the House of Wonders
This is a misnomer if I've ever heard one because the house was in a state of disrepair when I visited, but it does have an interesting story. Also called Beit-el-Ajaib, this was the first building to have electric lights and an electric lift on the island and it leads you to the beautiful seafront and harbour. There's also the Old Fort nearby, the oldest structure in Stone Town.
5. Stay for dinner at Forodhani Gardens
End your walk here for sunset over the Indian Ocean and a delicious dinner from the evening seafront market. There's an amazing energy out here. Watch the adventurous children throwing themselves off the harbour walls into the bright blue water and enjoy the setting sun.
This night market is a vibey streetfood spot famous for its Zanzibari pizza and other local delights, but be a little wary of the lusciously displayed seafood tables as the freshness can be dubious. If you try one thing, make it the highly recommended Urujo. A bowl of soupy goodness with a boiled egg to top it off. It's best washed down with a cup of sugarcane juice freshly pressed using the big metal spinning wheels and won't cost you a fortune.
By the end of your walk, it's easy to see why this place was crowned an important heritage site. For sure, 'The Stone Town of Zanzibar is an outstanding material manifestation of cultural fusion and harmonization'.
What to pack when walking Stone Town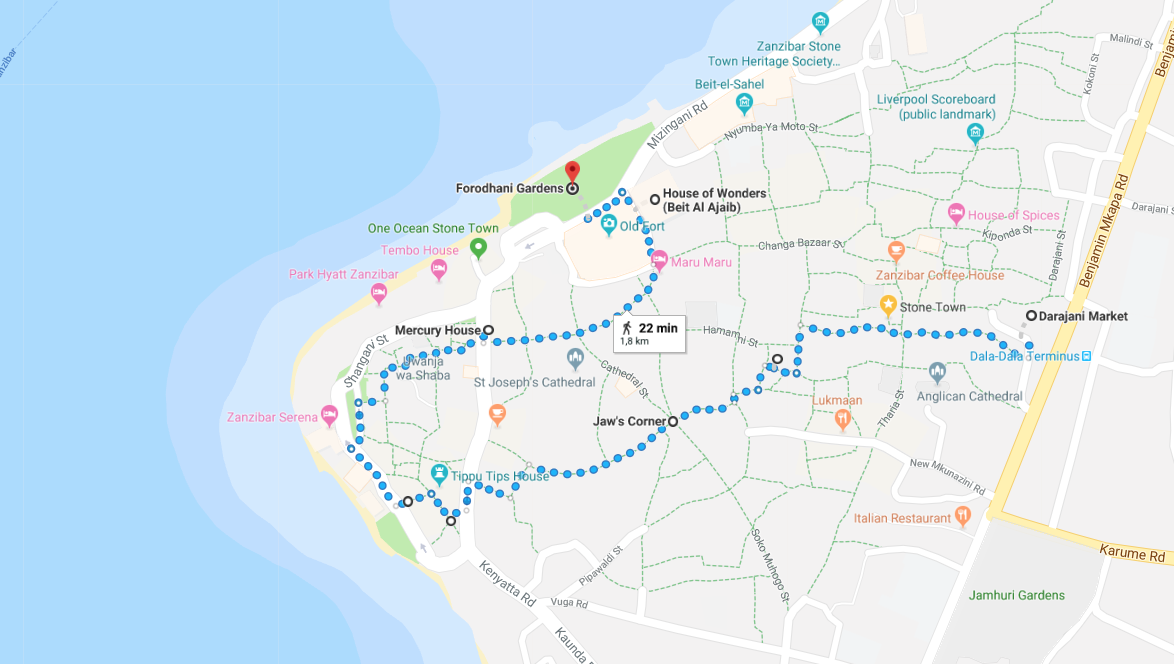 Women should cover their knees and shoulders as a sign of respect
A bottle of water
Hat and sunscreen
Offline Google maps (you're going to get lost – enjoy it! But use this for when you need to get back to the hotel)
Camera and a dry bag for the unexpected tropical storms
Some cash for street food and market buys
A sprinkling of patience. People will come up to you constantly and it can be a hassle.
Loads of gees. Enjoy it! And embrace the Swahili mantra, Hakuna matata.
Also read: Your guide to the best time to visit Zanzibar
Five key Swahili phrases to learn when visiting Stone Town
 'Jambo, habari?' , which means 'Hello, how are you?'
'Nzuri', which means 'Good'.
 'Beigani', which means 'How much?'
'Asante sana', which means 'Thank you very much'
'Hapana asante', which means no thank you
Have you walked Stone Town recently? Tell us some of your favourite spots in the comments section below!
*Disclaimer!
All information on this blog page was correct at the time of publishing and may change at any time without prior notice. Travelstart will not be held liable for loss or inconvenience resulting from the use of out-dated or incorrectly noted information.